Camping An der Friedensbrücke, Falltorstrasse 4, D-69151 Neckargemünd, Tel 062232178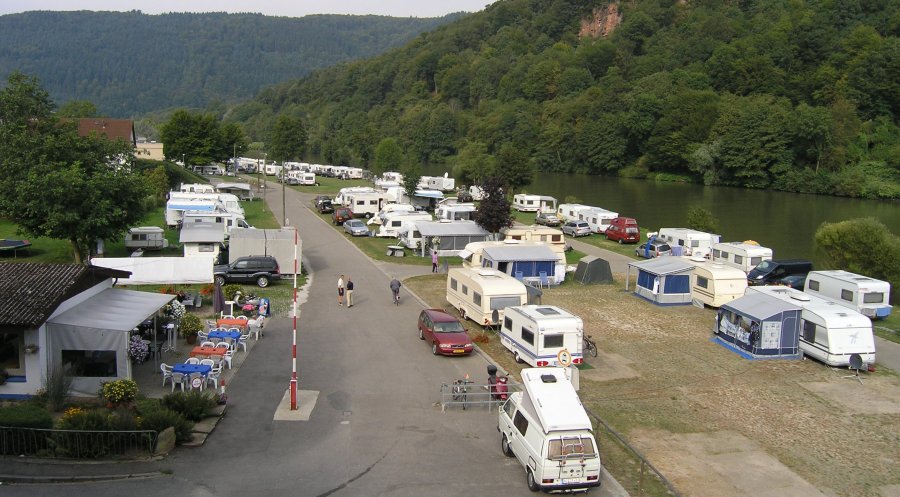 To find site:- This site can be approached from Heidelberg on the B37 or from junction 33 on the A6 Autobahn. From Heidelberg continue to Neckargemünd on the B37 once past the Bahnhof watch out for signs pointing to the left into Post Strasse and then turn right at end of road to the campsite. If this is missed you can continue to the bridge, get in right hand lane for Kleingemünd/Eberbach and immediately take slip road (by bus stop) down to car park and under bridge to site. From junction 33 take B45 to Neckargemünd. Either continue into Bahnhof Strasse and turn right at sign or approach bridge and use slip road as above.
This campsite has around 100 touring pitches which seemed to be used by either overnighters or those staying a little longer. The site has direct access to the River Neckar and the pitches directly on the river are sought after. Pitches are around 70/80 sq mts which is not large and can give the site a crowded feel when full. There is limited shade. There are electric points to each pitch but you are locked in so when you leave you must arrange to be released. This is no hassle unless you want to leave very early in the morning. Reception is open quite long hours for late arrivals. You can order bread rolls at reception and it has a selection of other essentials. There are two toilet blocks. The older of the two is situated in the middle of the site and access is up a steep flight of stairs, no doubt because of the river. Whilst kept perfectly clean the showers do have opaque glass doors that not everyone will be comfortable with. A second toilet block situated behind reception is newer and much more up to date. There is disabled provision at ground level. The River Neckar is still a working river with barges making their way up to Stuttgart, so expect a little river traffic noise, as gentle as it is. This campsite accepts Camping Cheques and the ACSI Card. Date of visit September 2005.
This site is very convenient for a visit to Heidelberg ( a must) and you have several options for getting there. Train and bus are nearby but if you want a treat go by boat which takes about an hour and includes negotiating a couple of locks. It is an easy walk into Neckargemünd where there is a choice of several restaurants. The nearest supermarkets are across the bridge, the first one is an Aldi but there is a much better one in the same complex.
Click on the thumbnails for a larger picture:-