Camping De L'Etang D'Or, Route du Chateau d'eau, 78120 Rambouillet, Tel 0130410734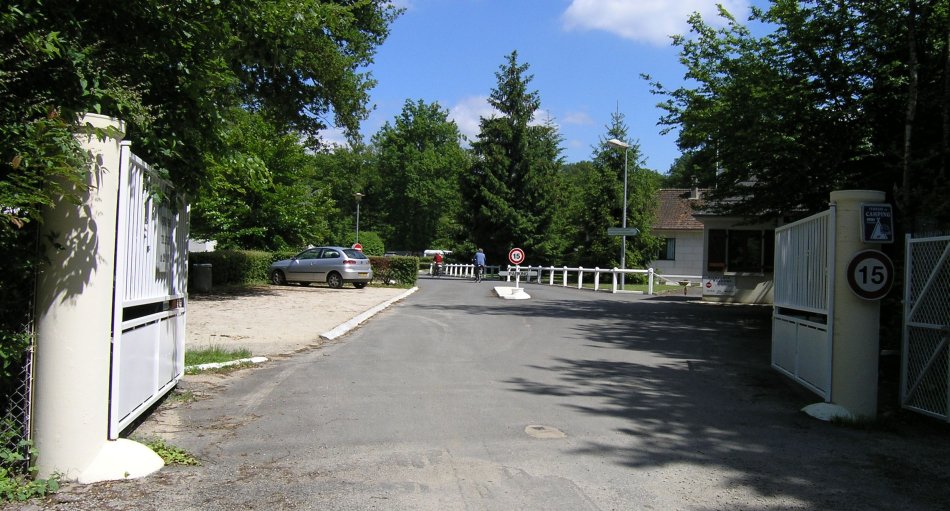 To Find campsite:- This campsite is signed from both north and south on the N10, initially as just Camping and then by it's name. From the north directions are quite simple. Leave N10 at exit named Rambouillet Les Eveuses and follow signs to site which is about 2 kms down a road that runs parallel with the N10 and then bares left past the lake to the campsite. From the south watch out for sign to exit the N10, follow signs for camping that take you under the N10 and then back onto southbound carriageway. Stay in right hand lane and take Les Eveuses exit as above.
I have to say that this campsite grew on me the longer we stayed. At first I got the impression that it was a bit run down. However during our 5 day stay at the end of May 2006 work seemed to in progress to get the campsite ready for the main season. Given that it is so close to the centre of Paris and near to the town of Rambouillet it is an oasis of tranquillity, certainly during the week. There is more activity during the weekend because of the adjacent country park. There are about 200 pitches, almost all with electricity and some with water and drainage. The site is heavily wooded with many magnificent mature trees which whilst providing shade can make some parts of the site a bit dark. However the pitches nearer to Reception are more open. It seems that the pitches are in various nooks and crannies which gives the site an informal feel. Most are on grass but some have a gravel base as in the past the campsite has been open nearly all year although now it seems to have a more restricted opening period. Size varies but most are quite large. There are two toilet blocks which whilst perfectly adequate are a bit past their best. Toilets are a mix of Turkish style with the odd English ones. There was a bit of a drain smell which I think was through lack of ventilation. One disappointment was that the shop/restaurant was closed and is not likely to be open for the rest of 2006. Bread can be ordered daily from Reception. This campsite is used equally for overnight stays and longer stays. In common with most French campsites there are some permanent caravans but not that many.
This site is convenient for visits to Paris by train. The Palace of Versailles is accessible by train or car. A little further away is Monet's Garden at Giverny. Rambouillet has a fine Chateau and Park and Chartres is an easy drive away. For shopping there are several supermarkets in Rambouillet, the best being the Carrefour. Being on the edge of a Country Park there are lots of opportunities for walks and cycle rides and it looks as if fishing is available in the adjacent lake.
Please Note:- Since our visit this campsite has become part of the Huttopia Group and is now called Huttopia Rambouillet. From the Huttopia website it looks as if there may have been some major changes since our visit. I have left this review in place from a location point of view. Should anyone visit this campsite I would be happy to have any updates.
Click on the thumbnails below for a larger picture