Camping Les Ripettes, St Benigne, 01190 Chavannes Sur Reyssouze, Tel 03 85 30 66 58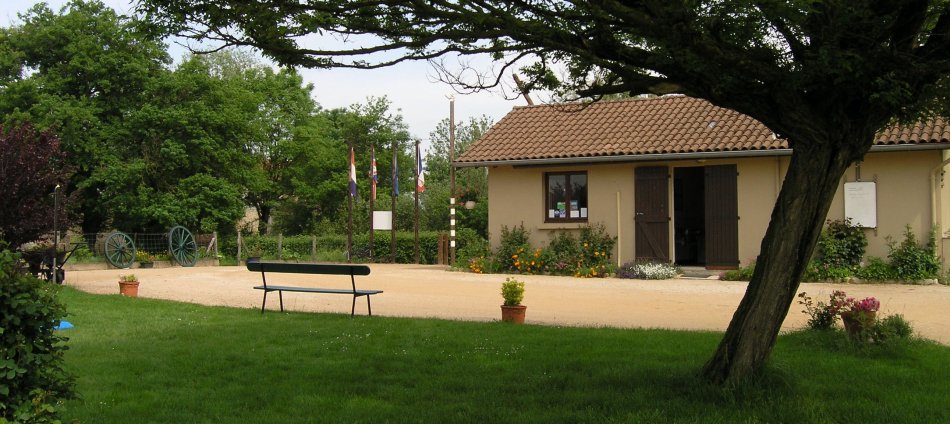 To find site:- Leave A6 Autoroute at either Macon or Tournus and head towards Pont de Vaux. From Pont de Vaux take the D2 signed for St Trivier de Courts. After about 4 kms you pass through a village called St Bénigne, as you exit the village there is a tall water tower on the right. Take the next left and then left again for the campsite, it is well signed.
This campsite has been owned and run for the last three years by an English couple, Angela and Bob, who are very welcoming. The campsite has about 55 pitches, all on grass and most are enormous compared to normal campsites. I reckon ours was in the region of 200 sq metres and there are larger ones! The electric points are a useful 10 amps. Water points are convenient to pitches. There are two toilet blocks, one which forms part of the reception block and another 'porta cabin' style on the other side of the site, both are uni-sex. The site has two swimming pools. You can order bread from the site office. There is a free WiFi point near reception.
This campsite is useful for an overnight stop heading South or North on the Autoroute. It is also a good site for a rest for a few days or longer as it is so peaceful and relaxing. Pont de Vaux has a couple of supermarkets as well as several restaurants. Macon and Tournus are within easy reach.
Click on thumbnails for larger picture
These are updates provided by Angela and Bob in their annual newsletter:-
2007 They have a new chemical toilet disposal point. However they do add that because they are not on mains drainage only 'green' chemicals can be used. They will keep a small supply at reception. They have also introduced a WiFi zone around the reception which can be used by campers for a small fee.
2008 The site roads have been widened and more stone added. Some of the older electric points have been replaced with new ones. Angela and Bob also mentioned that a new, ATAC supermarket and fuel station has been built by the new roundabout at St Benigne and a DIY store also relocated there
2009 After 5 years of running Les Ripettes Angela and Bob have decided to retire and have sold their campsite to a French couple Isabelle and Marc who will be taking over in late May, early June. Angela and Bob are intending to buy a house in local are so should you need to contact please contact the new owners.