Caravan Diary 2007
Cotswolds, Lincolnshire/Norfolk, Rookesbury Park, Top Lodge, Southam Cheddar/Banbury Ferry Meadows Lincoln Christmas Market
Cotswolds March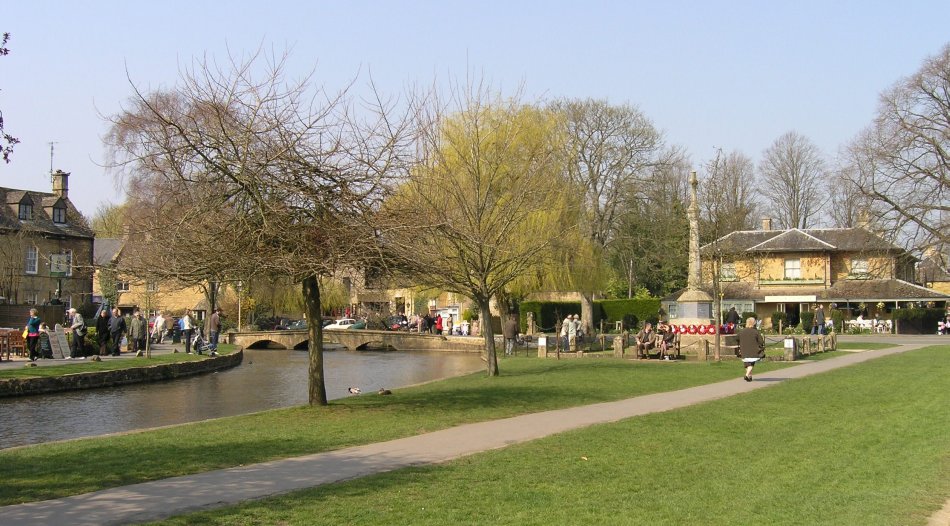 Our first trip of 2007 was a return visit to the Cotswolds, which is in easy reach of Milton Keynes. Little did I realise when I started looking for suitable campsites for this trip that it came under Easter peak rates which were startlingly high! Fortunately the Caravan Club do still have a few sites with no toilet blocks which are a lot cheaper. Not that I am a skinflint but prices approaching £20 a night are a bit on the high side. As this was a shakedown trip Notgrove, near Bourton on the Water, would suit us fine. It was sunny on the Friday when we arrived but there was a distinctly cold breeze. We set ourselves up on one of the remaining hardstandings down one end of the site. This part of the site is in a cutting and was a bit more sheltered.
How did we manage before Satellite Navigation? Before it I did not remember getting lost too often! On the Saturday we drove to Cheltenham and wanted a few bits in the Waitrose. I knew the postcode and had set TomTom accordingly. He did get us there but the only problem was that we were on the wrong side of the building with no access to the car park. In the end I have to abandon the wonders of modern technology and ask a fellow human being! Talking of modern technology I get too concerned when I can't connect to the internet, OK I know I need to get a life! Anyway the signal at the site was very poor so I took the opportunity of a good signal in the Waitrose car park to download e-mails. On the way back to the campsite we drove out to some of the villages nearby because there were rumours of some good pub restaurants. The trouble I find is there is often very limited parking, last thing I want is to turn up starving and not find anywhere to park.
As we went through the weekend the weather was getting better, and warmer. On Sunday we decided to drive into Bourton on the Water which is only about 5 miles from Notgrove. The spring sunshine had certainly encouraged a few visitors to this Cotswold village. I was even able to get a decent phone signal and managed to get through to our eldest son who had just return from Chicago.
By Monday the weather was still being kind to us so we made the short journey to Stow on the Wold. I suppose Stow would be regarded as the capital of the Cotswolds and I am sure in the past was an important to the region. Now of course its mellow stone buildings attract thousands of visitors each year. On a more prosaic level the town also has a large supermarket which, no doubt, does nothing to ease traffic congestion but none the less its useful that its there.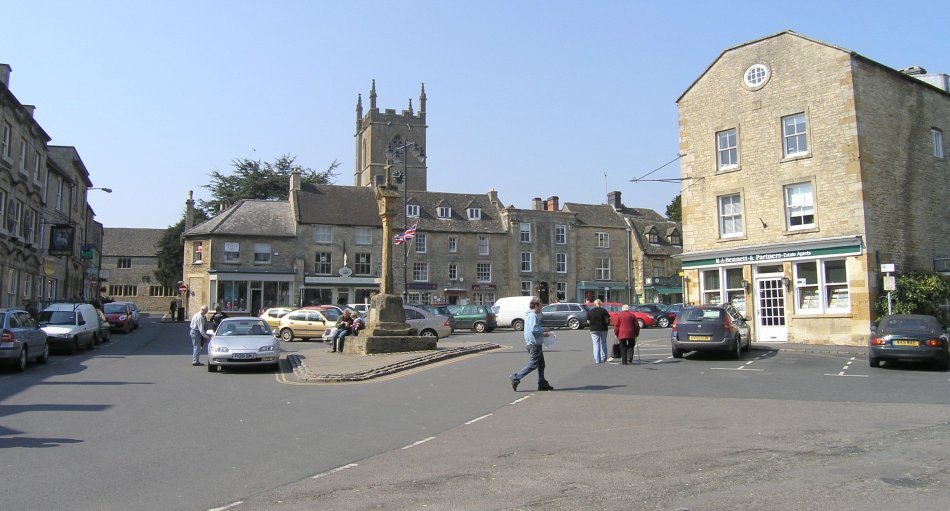 As well as being our first trip away with the van it was also our first serious tow with the Sorento. We traded in the X-Trail in October last year and decided on the base model Kia Sorento but with an automatic gearbox. I don't know about anyone else but I really agonise when it comes to selecting a new car. The X had been a really good tow car and a really practical vehicle. We swapped it early because I prefer not to buy a new tow car immediately before our camping season starts. I was also concerned that if we left it another year it would be out of warranty and there have been a few problems with turbos on the X and I did not want to risk a hefty bill. Anyway back to the Sorento. Its not as though we put it to any sort of demanding test on this trip but it was comforting that it coped exceptionally well with both routes to and from home. It seems a very solid car and despite not being quite so quick off the mark as the X Trail it deceptively moves up to road speed and sometimes beyond, if not careful! I am still getting used to the automatic gearbox as its about 18 years since I last owned an automatic car. On winding country roads it is a joy. It can also be used with the Tiptronic Box which allows you to use it like a normal gearbox but without the need for a clutch. Its a bit early to give any real news on economy but it looks like a little over 20mpg which is not so bad for such a heavy car. Be interesting to see how that turns out on the Autoroutes of France!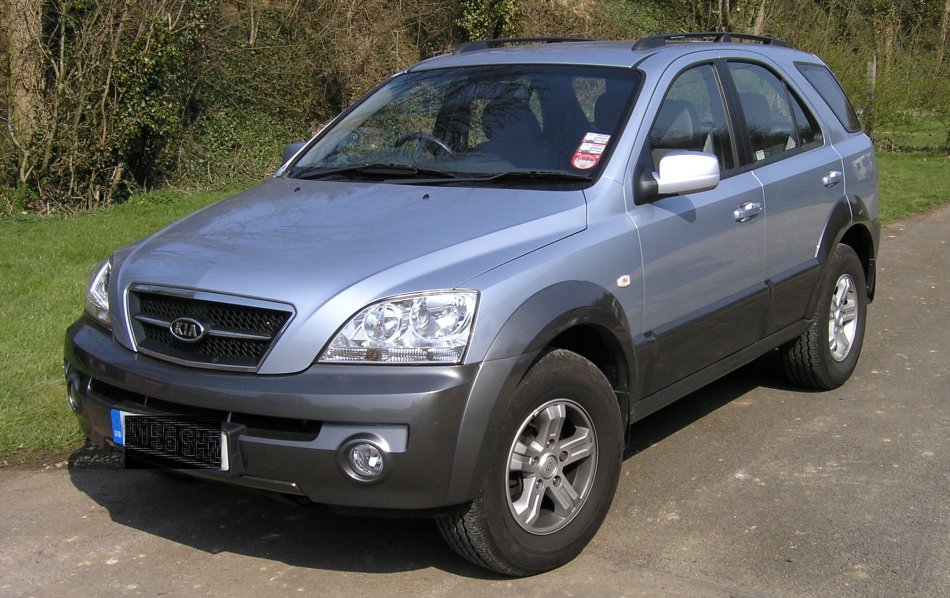 Lincolnshire and Norfolk April

This is Margaret's first trip away as a fully paid up retired person! One advantage of Margaret not working is that I only have to take 3 days holiday to get an 11 day break away! We decided that our first stop for six nights would be a re visit, after about 20 years, to Hawthorn Farm at Sutton on Sea. This was to be our longest journey so far with the Sorento. The route was mainly two way road, some better than others, but of course it was steady rather than fast!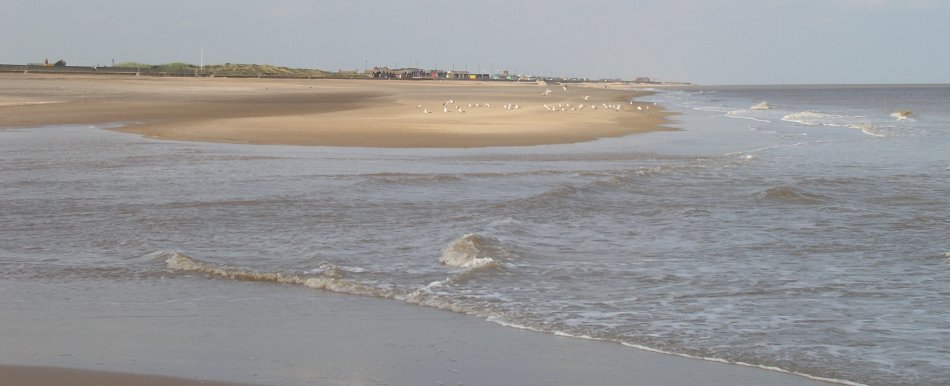 Sutton on Sea is a genteel oasis sandwiched between the vulgarity of Skegness and Mablethorpe! Now that should get me into trouble! I suppose I tend to judge seaside resorts by what I have found in France where the 'Kiss me Quick' type of place does not seem to exist. Anyway back to Sutton Sea, the beach at Sandilands is about a 20 minute walk from the campsite and there is a vehicle free promenade, save for cycles, which takes you to Sutton on Sea and beyond. On our first day we decided to do walk along the sea and back via the road. Sutton on Sea would be an ideal place to bring kids who just want to play in the sand but who won't demand the brashness of the nearby resorts. The beach is lined with beach huts which I am sure are popular in the summer. We even found a pub on the beach where a pint of Guinness went down very well, very Continental although perhaps the bacon buttie was stretching that comparison a bit far! Clearly Sutton on Sea is also a favourite of retired people if the number of bungalows is anything to go by. Compared the where we live property prices have to be considered really good value. I suppose the downside would be that you are out on a limb and I have no way of judging what the support levels are in later years.
We were surprised to discover a lovely CL right next door to the Hawthorn Farm CC site. It was called Lenton Villa. As we walked by we had a bit of a nose round. This did not go unnoticed by the owners who invited us to have a look round including the toilet facilities. If we were to find ourselves in this neck of the woods in the future we would certainly consider using this CL, especially that it was almost half the price we paid for the main site! See pictures below.
On the Sunday we thought we should do some shopping so proceeded down towards Skegness where we had the choice of a Tesco or Morrisons. In the absence of a Waitrose the choice will always be Tesco simple because of their reward programme, where else will I be able to get a crossing on Eurotunnel for £16? The road between Sutton and Skegness, the A52, is not a particularly good road as it twists and turns and in the main has been forgotten by any possible upgrade. Matters are made worse by drivers who think that it is good road craft to drive at 30mph when 40/50mph would be more appropriate - I sometimes forget I am on holiday!
Monday was a bit dull and damp so we stayed on site. It did give us the opportunity to do some planning for our holiday in Italy in June. Although some might think your scribe is well travelled and experience at Continental travel we will be going to so many new places that a rainy afternoon could be time well spent.
Being a bit unsure on what we would find we decided that on the Tuesday we would venture up to Mablethorpe. The place is the complete opposite of Sutton on Sea. Streets lined with arcades and pound shops is not my idea of sophistication, but it has a nice beach! We did not stay long, just long enough to enjoy a Mr Whippy! After lunch back at the van we went the other way down the coast to a Garden Centre near Chapel St Leonards. We drove back along the narrow coast road. Dotted along the road are some secluded parking areas and just over the dunes the wide expanses of sandy beach.
Our final day dawned bright and sunny and we decided that another walk to the beach was in order. It was almost deserted except for the odd couple walking along the promenade. We stopped at a convenient seat and sat in the balmy sunshine. Difficult to imagine that it was the latter end of April.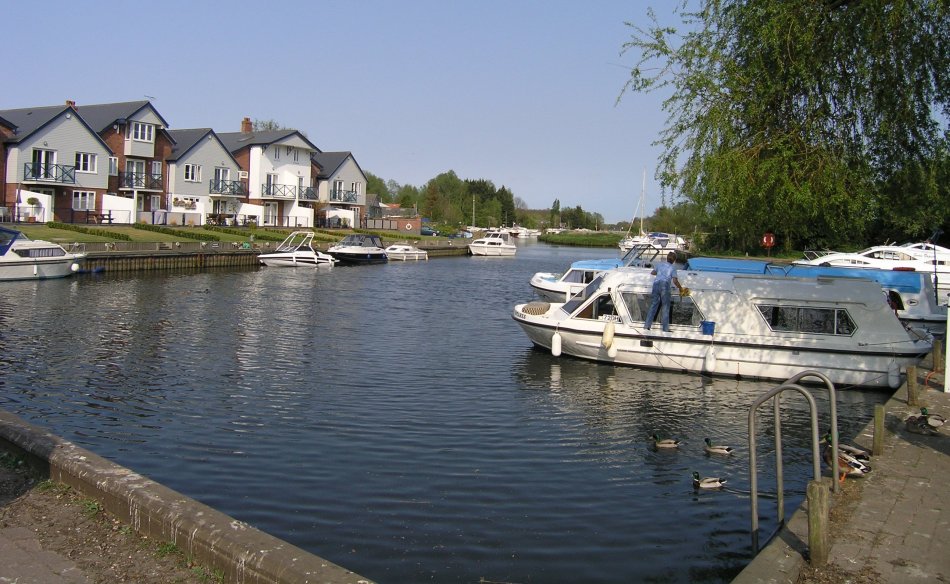 Time to move on to our next stop, a CL in the Norfolk village of Chedgrave which is on the river Chet. It was quite breezy as we set off and this easterly wind was noticeable as we made our way between Boston and Kings Lynn. Although I had the instructions from both the website and the CC Sites Book I always like to see the lay of the land so had printed some maps from Autoroute. Having been down some quite narrow roads we found Gale Riverside. It must have been 25 years since we stayed on a CL. There was a gap for us and our neighbour confirmed that it was our pitch. It was a little while after we had got ourselves set up that the owners of the CL turned up to make sure we had settled in. After some lunch we found a footpath that took us along the backs of the boatyards and into Loddon. As a place Loddon has almost everything you need. A small supermarket, several pubs, newsagents, butchers and a couple of fish and chip shops as well as a Chinese and Indian takeaway - so a well equipped little place.
Friday was our first full day so we thought it best to fill up with fuel and buy those supplies we could not get locally. For this we went to Beccles which is only a few miles away. It benefits from both a Morrison's and a Tesco. It is also a nice little town in its own right and is worth a look. There seem to be a good selection of shops as well.
Rookesbury Park, Mid May
This was not really a weekend away as much as an opportunity to see everyone in Southampton before we go away on our forthcoming trip to Europe. From memory the last time we stayed at Rookesbury Park was way back in 1984, the boys were quite young then. Its interesting to see how the site has really matured in that time. Weather was not great but we had so much to do we hardly had time to bother. Not quite sure why people bother about the M25 as the M27 is almost as bad!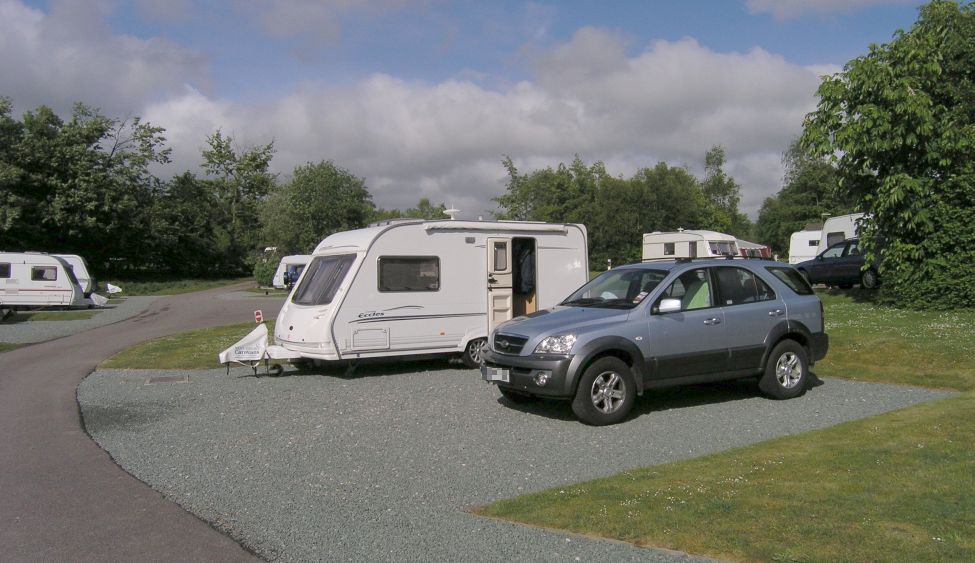 Top Lodge, Stamford mid July
Our first trip away after our return from our trip to Switzerland. The Caravan Club site at Top Lodge is a no facility site but at least that allows you to get in where as other sites you seem to have to book months ahead. Its been a few years since we have visited this site. There seem to be a few more hardstandings and we were lucky enough to bag one. The major change is the Forestry Commission Visitor Centre which has been completed since we last stayed here.
On the Sunday we made the short journey into Stamford to have a look around this very nice town which has be use as the backdrop of many television programmes.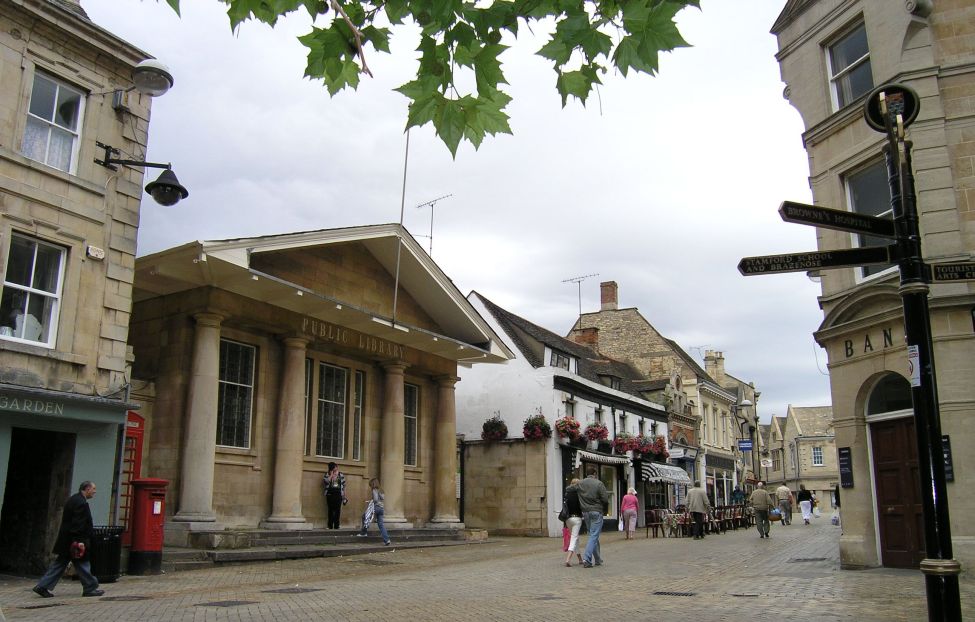 We discovered that Geoff Hamilton's Bransdale was not far away near Rutland Water. Having been a avid fan of the gardening programme we decided to visit on the Monday. The weather was kind to us and it was sunny for most of our visit. As you might imagine the place divided up into individual gardens with different themes. Its a good place to get ideas on layouts and of course planting. It makes for a nice day out and they have a reasonably price cafe should you want a snack or something more substantial. There is also a nursery where many of the plants on display can be purchased.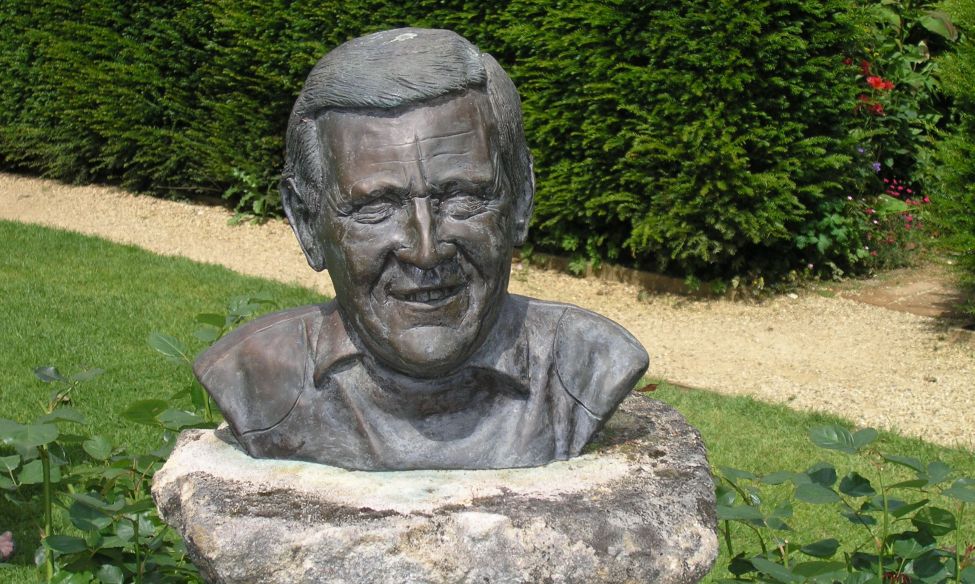 Southam, Holt Farm, early August
We are always looking for sites not far from where we live in Milton Keynes. Holt Farm seemed to fit the bill as it was only about 40 miles away. Given the spell of recent very bad weather it was good to see blue skies and the promise that the weekend was set fair. Having missed our turning we continued on the Southam bypass until we could turn round and come back on ourselves. As we approached the Farm we were met by the friendly owner who showed us the various pitching options and suggested we come to the farmhouse later on to pay our fees. I had not realised that there were so many permanent caravans on the site, about a third of the available pitches. We were also concerned about the television reception because it was the weekend of the Hungarian Grand Prix. The race turned out to be as controversial as our choice of pitch! We found a gap between the permanent caravans right next to a caravan that looked as if it was never used as the awning had collapsed. How wrong could we be within and hour a family arrived, sorted out the awning and proceeded to fill the free standing fridge in the awning with cans of lager! By the evening several other families had started to populate other rather run down caravans between our neighbours and the corner of the site. In total there must have been 6/7 families all with at least two children. Both children and adults were loud. Least I give the impression that I am a form of Victor Meldrew I should add that the adults were not unfriendly and some of the children, individually, were quite charming. Suffice to say the weekend left us quite shell shocked and with a resolve to look for a CL or Adults Only site during school holidays! It was possible to get away from things because the Napton flight of locks on the Oxford Canal was only a short walk from the campsite. I fact Holt Farm also has moorings on the canal. If you needed more solace there was also the cream teas that the Farm sells.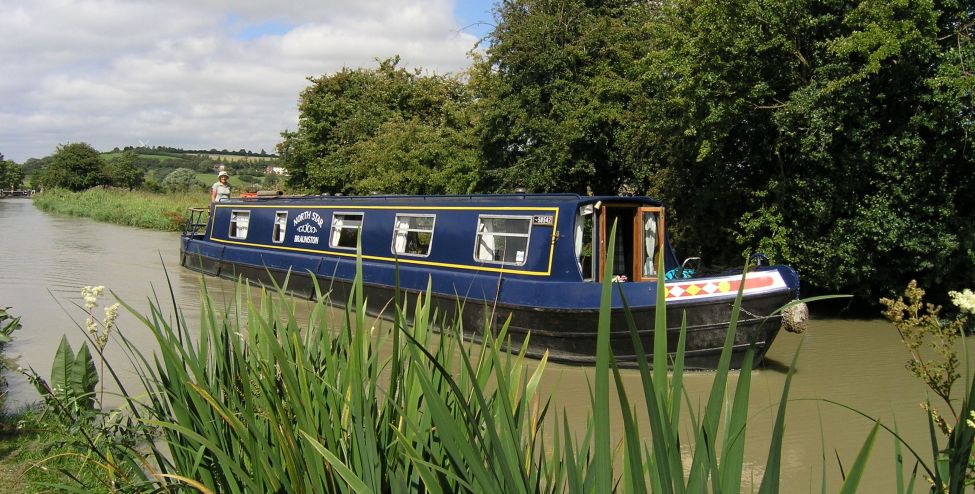 Winchester, Cheddar and Banbury, October
It seemed like an age ago that we returned from France but the reality is that it was only three weeks. Our plans were for a circular tour starting at the Caravan Club Morn Hill site at Winchester. Despite leaving home a bit later than normal the journey from MK to Winchester was surprisingly easy with not as much traffic as I expected. Morn Hill was pretty full although there were spaces so just as well we booked. A pitch was found on the upper section in an open situation. We were blessed with warn sunshine and clear blue skies and it was warm enough to sit outside in shirtsleeves. We plan to stay for three nights to allow us time to visit Margaretís mum and also other relations.
As and aside booking Caravan Club sites at short notice has become almost impossible at the very popular sites. An example is Black Knowle in the New Forest. We have tried a couple of times this year without success. Its, at this time of year, one of the reasons for this shortage of pitches is the decommissioning of those on grass. Given the demand for pitches at all times of year perhaps its time for the Caravan Club to think about installing more all weather pitches. Some will throw up their hands in horror but it is the only way forward unless the CC can introduce a lot more sites into the network. It would also help if some of the smaller sites stayed open beyond early October.
Unfortunately Saturday was not as bright as the previous day. First thing I went off the buy papers. Although we knew the result we still watched the Grand Prix qualifying from Shanghai. After lunch we went to see Margaretís mum in the nursing home. Whilst there has been a little improvement in her condition from the time we last saw her she is looking even more frail. Its odd that even in the most serious of times that funny times can happen. To keep her company the nursing home staff leave the television on in her room. I am not sure Margaretís mum has ever been a rugby fan but England v Australia was on. She would have been oblivious to what was happening, which is a pity as England won! When we got back to the van we went to the Percy Hobbs pub for a meal. Since our last visit it has become independent, although this does not seem to have improved anything.
Having done the relatives bit we had Sunday to ourselves! We decided to visit Towsure in Southampton as there were one or two bits we wanted. I was born in Southampton and lived there for the first 30 years of my life and would drive into the City on a daily basis. How things change. Whilst I got to Towsure OK on the way back I missed a turning and had to rely on my memory to find my way around the backstreets. Landmarks that I once knew seem to have disappeared to be replaced by blocks of flats.
Back to the reason for going to Towsure. I wanted to look at hose kits as we seem to be visiting more campsites with water connections, particularly in Europe. I was not bothered by the automatic systems, a hose would do! Towsure advertise extension hose for about £9 each so I thought a couple of those would do. Got to shelf Ė empty. Asked an assistant who went off to check the computer, no luck even the website had back orders. The assistant then got top marks for asking a couple of questions and then suggested that I buy a length of clear food hose which worked out even cheaper. Not only is it in one length but also very lightweight.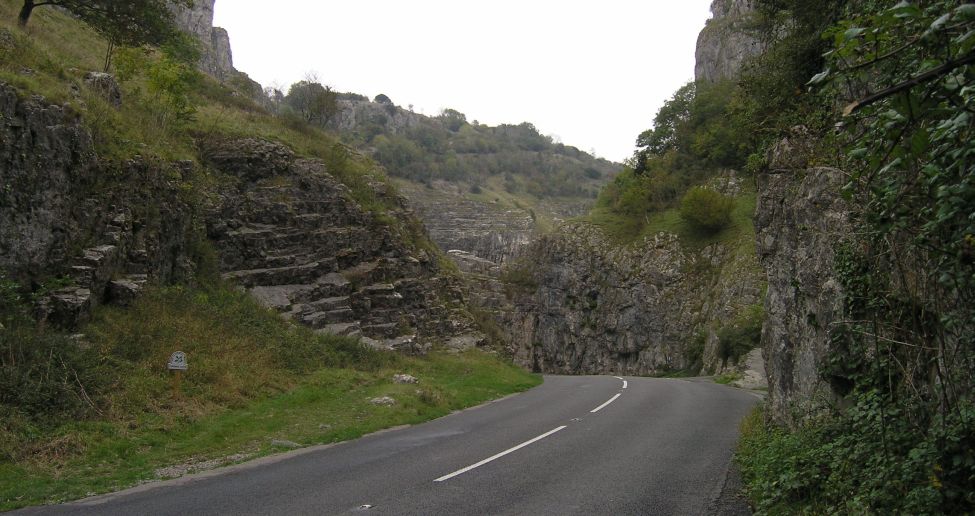 Monday and time to move on. Our next destination is the Caravan Club site at Cheddar, it was a journey of just over 80 miles. For most of the journey the roads were very good. However the road from Wells to Cheddar was very narrow and twisty with short lengths where two large vehicles would have trouble passing. Anyway we made it unscathed but I am not surprised the CC donít suggest that route to their campsite! The Cheddar campsite is not large but has recently been redeveloped by the Club to an excellent standard. It has a mixture of grass and hardstandings with only the latter being used at this time of year. Apparently a first for Cheddar is that the TV hook-ups are the first in the network to allow a digital signal if you have a digibox or a TV with a digital tuner. Trouble is that you spend more time flicking through the many channels than watching a particular programme, or is that just a man thing!!!
The campsite is situated on the edge of Cheddar and the wardens suggest that if walking, you use the footpath behind the site rather than using the road which has no pavements. Apart from a rather fine church the part of Cheddar that straddles the main A371 is not particularly attractive. Surprising considering it is near to so many tourist spots. On the way back to the site we had a look round the campsite next door, Cheddar Bridge Touring Park which is adults only. It is not a large site but it has a mix of grass and hardstandings. It has won several awards and much to our surprise, in October it worked out at half the price of the CC site. Interesting!
Its funny how weather forecasters always get it right when the weatherís bad! That was certainly the case on Tuesday but it did clear up a bit by lunchtime. We decided to drive up through the Gorge, which is quite spectacular. On the way back to the van we made a detour via a garden centre we had seen on the way to the site.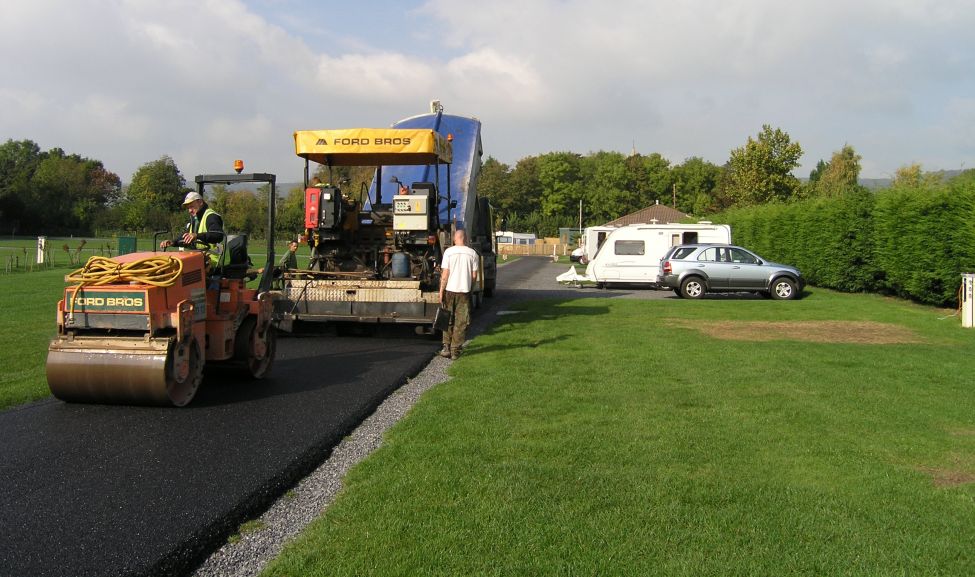 Its not often you are woken up by a pneumatic drill on a Caravan Club site but that was how it was Wednesday! We were warned by the warden that access in and out of the site was going to be difficult as they were going to top dress the site roads with tarmac. It did not particularly bother us as we had decided to walk up into the Gorge so did not need to use the car. However it did seem to bother other campers on site by some of the comments that were made to us. Given that the site closes in early November it was a surprise that the Club did not wait a few weeks before undertaking this work. Perhaps a modest goodwill gesture would have gone down well but I am not sure the Club is flexible enough to take this approach. We left the tarmacing gang to get on with things as we walked up to the town and veered off in the direction of the Gorge. First you encounter all the gift shops and a couple of nice looking restaurants but gradually as the road gets steeper the buildings end and you are left with an impressive looking Gorge. We only went up a few bends but it was enough to get a good impression of the size. On the way down we paid a bit more attention to the shops, well Margaret did! The Cheddar Cheese Company offer free demonstrations of cheese making but not on the day of our visit. We discovered The White Hart pub just back from the main road. We enjoyed a nice ĎPloughmanís Lunchí and for me a pint of Guinness. It looked to have a nice dinner menu which unfortunately we did not get the opportunity to try.
Back at the site the tarmac gang were on the final stretch of site road which happened to be in front of our van. Being of the age when, as a lad, I used to enjoy the Eagle Comic with its cut away drawing of all things mechanical I found the process fascinating. The wardens were concerned that when the gang had finished there as a three inch ridge down to all the pitches which some action had to be taken.
Thursday had a much more peaceful start to the day. No restrictions either on access to and from the site. Today we are going to Wells. Like most cathedral cities it has a certain air about it. The Cathedral itself is magnificent and there are lots of places within easy walking distance like the old castle. Wells is quite a good shopping centre as well.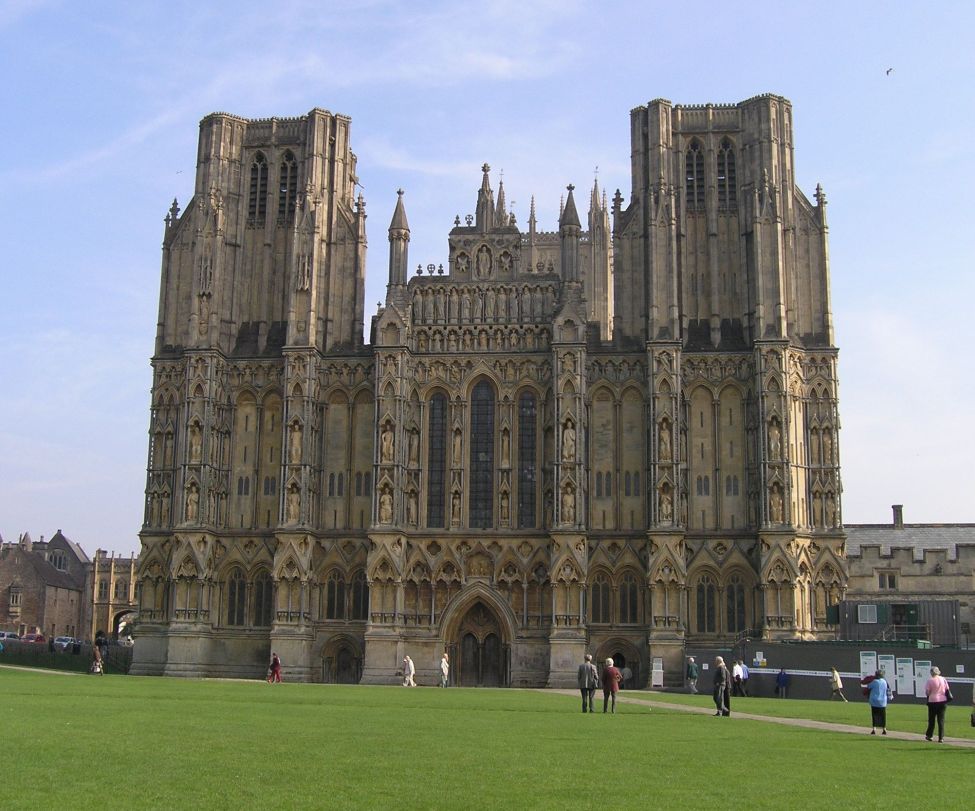 Friday and time to move to out third campsite of this little jaunt. The road to the motorway seemed almost as exciting as the road from Wells, somehow you have to keep faith that you will be OK. One thing I have learnt from this trip is just because a road has an A classification does not mean that is a well made wide road!!! The M5 was OK and traffic fairly light. We pulled into a Service Station and as we approached the lorry park we seemed to have someone directing us to a certain spot. As it happen it was a case of mistaken identify, the chap was waiting for his chum who also had a Sorento and Eccles! It was only a bit further on that we left the motorway to cut across country to Banbury. Our journey took us right across the Cotswolds, it seemed strange to be passing by our normal haunts! On this leg of the journey we did encounter some pretty odd weather conditions. At first I thought it was fog but I think it was more likely low cloud. Our campsite, Barnstones, was not to difficult to find as its just off the A423 and just before the Great Bourton village sign. It is not a particularly large site although it seems quite popular and there were not many spare pitches. For the price of £12 a night we had secured a fully serviced pitch which also included a TV connection. It was nice not to have to cart water, both clean and dirty for miles. After we had set up we went for a quick drive through the village before going to find a supermarket in Banbury.
The weather was not being as kind to us here as it had been in Cheddar, it was just dull but fortunately not cold. In the afternoon we took a drive out to Caravanland which is not quite as grand as the name suggests but it does have a very good accessory shop. On the way Margaret had spied the National Herb Centre so that was our next port of call. Unfortunately we got there a bit late to have a proper look around but I would imagine that on a nice sunny day it would make an ideal spot to spend a couple of hours if you are into this type of gardening.
Over the weekend in Banbury was a Folk Festival. We had no knowledge of this until the people next door to us said that they were going to help marshal the event. We had intended to visit the town on the Sunday. When I first went to Banbury many years ago it turned its back on the canal, now, at least they have included it into the townscape with a nice walkway through the town.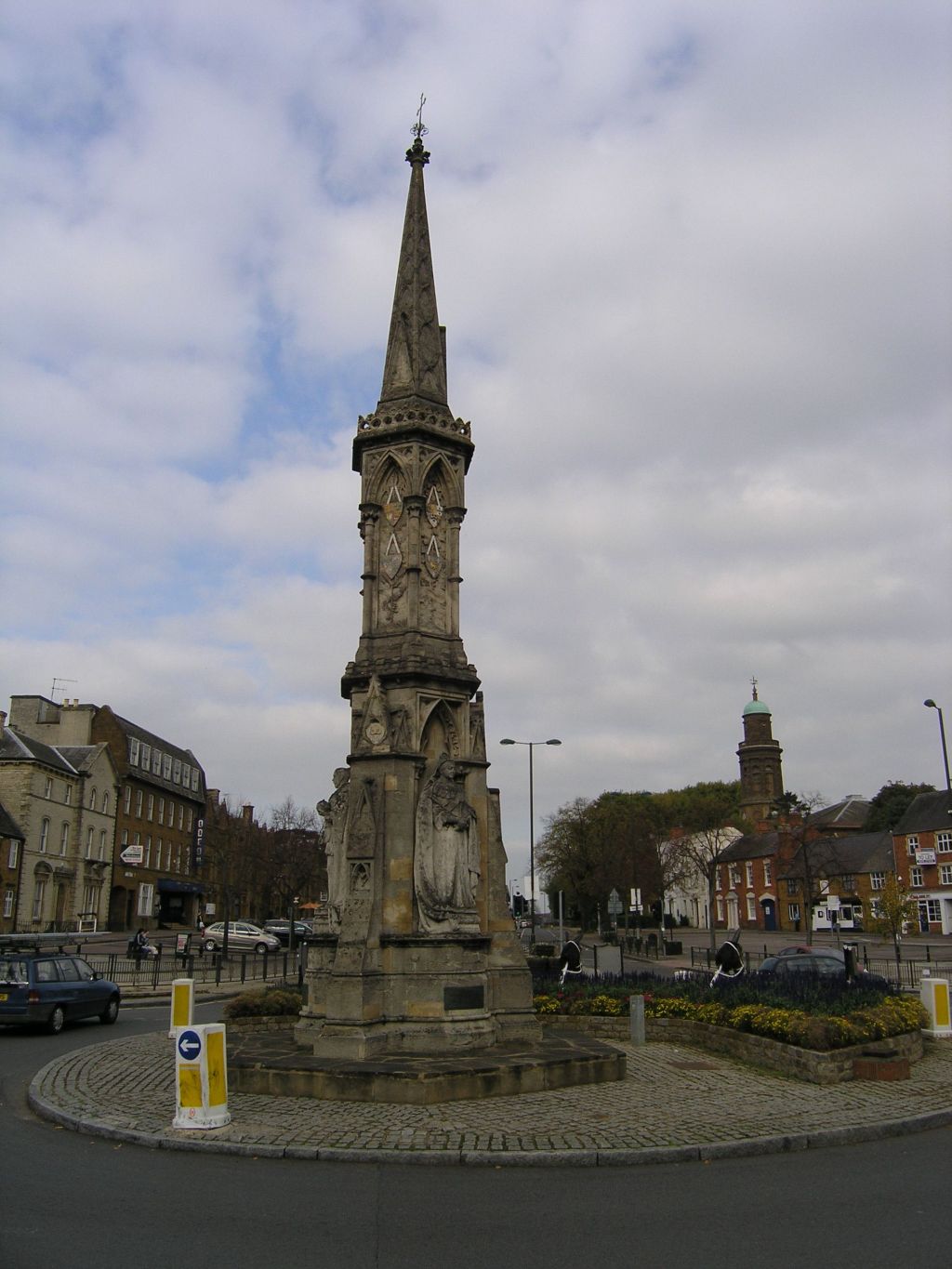 Long before my interest in caravans my main interest was in our canal system. The Inland Waterways Association was formed in the year I was born. When I first got interested, the canal network was far from safe and the thoughts of major restoration projects a thing of dreams. There were a few exceptions like the Kennet and Avon and the canal to Stratford upon Avon. Despite projects like this and a few others there were still people wanting to fill in disused canals or more frequently wanting to lower bridges and therefore making future restoration much more difficult if not impossible. Although I don't recall the Oxford Canal, which runs through Banbury, as being under threat it does have its own place in waterways history. It was at Tooley's Boatyard in the centre of Banbury that Tom Rolt had his Shroppie Fly Boat, Cressy, converted into a habitable form which enabled him to tour the canals and write his memorable book 'Narrow Boat'. It was this book that caught the imagination of many and some would say was responsible for starting the waterways restoration movement. Tooley's Boatyard, or at least the covered dry dock, remains. Although I have to say I much preferred the ramshackle place that still existed on the Oxford Canal in the early seventies.
Ferry Meadows, Peterborough, November
November 2007 was a bit of a milestone for me as on the 2nd I retired for the second, and probably, the last time so when we went away was not really a problem. We don't usually go away as late a November but we wanted to give it another try. Whilst the weather can't be guaranteed at any time of year there are a few other considerations when thinking about camping in the winter. Temperature being one thing and shortness of the days being another. For several days before hand I had watched the five day forecast and it seemed to change everyday so I just booked. Although we were going mid week anyway it was interesting to note that the site was fully booked at the weekend. We were told by a fellow camper that this was because there a Christmas Market on in Peterborough that weekend. So on Tuesday 13th November we set off for Peterborough. I was in two minds as to what route to take, up through Olney to Wellingborough and across on the A605 or down to junction 13 on the M1 and across to the A1 and north to Peterborough. In the end I plumbed for the latter. The first half of the journey was slow but got better when we joined the Bedford bypass. In the future the road from the M1 to Bedford will also be improved which will help. The weather was dull during the journey but it did clear a bit once we had settled into our pitch at Ferry Meadows. This was one of the first, if not the first campsite we stayed at when we started caravanning. In those days it was only the grass site across the road that was here, the part with the hardstanding which we are now using came later. After some lunch we reacquainted ourselves with the Visitors Centre of the Nene Valley Park.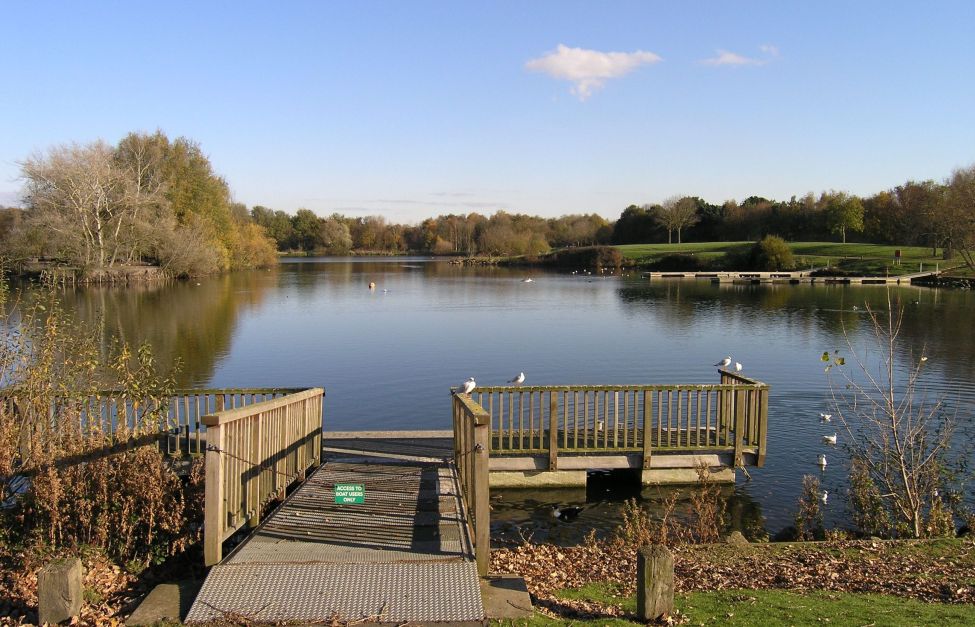 Ferry Meadows is one of the Caravan Club sites that has WiFi installed so I had to have a go. You purchase a card from reception which has a log in details and a scratch off password. When your computer makes contact you open your internet browser and it automatically opens at the log in page to which you enter the details on the card and off you go. Some people think that £6 and hour is expensive but it does seem to equate with what I have been charged in France and it is similar to commercial charges. Would be better if it was free but I suspect insufficient members make use of the facility to persuade the club to run it either as a free service or at a lower charge. I had some difficulty getting the signal in the caravan so had to sit outside. OK in the summer but you can't operate a laptop with gloves on!!! Despite it's short comings I am glad the Club have gone down the route of providing internet facilities and I understand they are going to role it out to more sites.
Wednesday dawned bright and sunny although it was on the cold side as there had been an overnight frost. Ay least if you wrap up well you can keep quite warm whilst walking. Firstly we had a wander round the East site with only grass pitches. The toilet block was being refurbished and extended. It seemed strange to see it completely empty of caravans and you could imagine it being full on a summer weekend. We then walked into Nene Park which was surprisingly busy with people walking and cycling and it was good to see it being well used. It seems that people on the lunch breaks do a turn round the lake. No doubt the Park was created out of old gravel workings and was designed to give the expanded City of Peterborough a green lung. If you are energetic enough you can walk right into the City Centre. We contented ourselves with a walk around the lake and then diverted off towards a suspension bridge only to discover we could not get back over the river so we retraced our steps and headed for the bird hides where you can observe all manner of bird life. Moving on we continued along the river and really had little idea where we were but realised that if we headed around in a right wards arc we would likely end up where we started from! We saw a couple on bikes who I recognise from the campsite so I confirmed with them that we were heading in the right direction. We were walking along the Nene Valley Railway track and we soon found the station where we took refuge on one of the station seats with the full sun in our face. We ate our lunch with our fear of train load of passengers descending on us as they don't seem to run trains in November but as you get nearer to Christmas they run Santa Specials which I am sure is a delight to all the youngsters. Before returning to the site we did a detour to the Garden Centre to have a look round.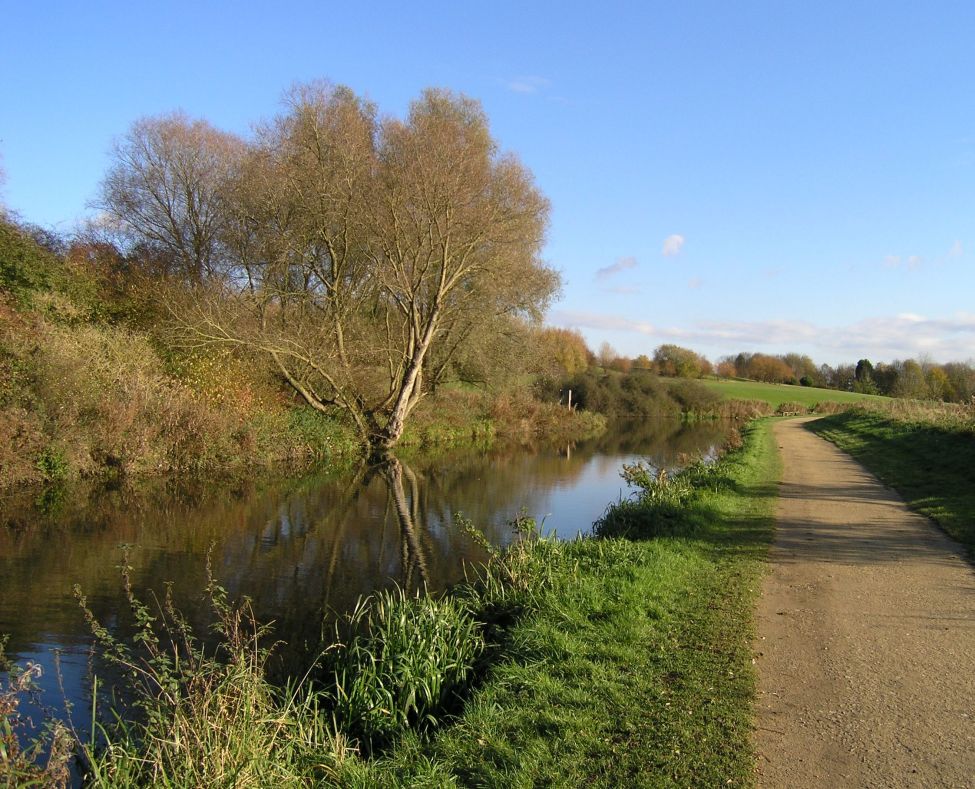 Despite the weather forecast saying it was going to be foggy we were again treated to another beautifully sunny day on the Thursday, so perhaps cold nights are not such a bad thing! It was to good to miss another walk in the park albeit a bit shorter than the day before and back to the van for lunch. In the afternoon we drove out to Pioneer Caravans at Eye as they were Bailey dealers and we don't seem to have any close to us. Its interesting comparing brands, and I mean this in no disrespectful way to owners of Baileys caravans but I can see why we like the Sterling caravans we have owned for the last 10 years. I suppose its what you get used to but I am glad we went to see. We managed to by some more melamine plates and bowls whilst were there. Our current melamine is getting on but we have had difficulty finding a subtle enough design. The Beefeater was doing a special deal if you ate before a certain time and it seemed to good an opportunity to miss.
We had enjoyed our short stay at Ferry Meadows and I think we surprised ourselves that we coped with the cold better than we thought. We did take a small oil filler radiator with us which we used overnight. I did not fancy leaving the blown air heater on overnight as it was right next to my ear! We were so warm in the van that when we arrive back home the house felt so cold that it took us 24 hours to warm up! We decided to use the Olney/Wellingborough route on the way home which is a few miles shorter and no real problems with traffic. Given the forecast for more cold weather I drained everything down in the van when we got home.
Milestone, Newark for the Lincoln Christmas Market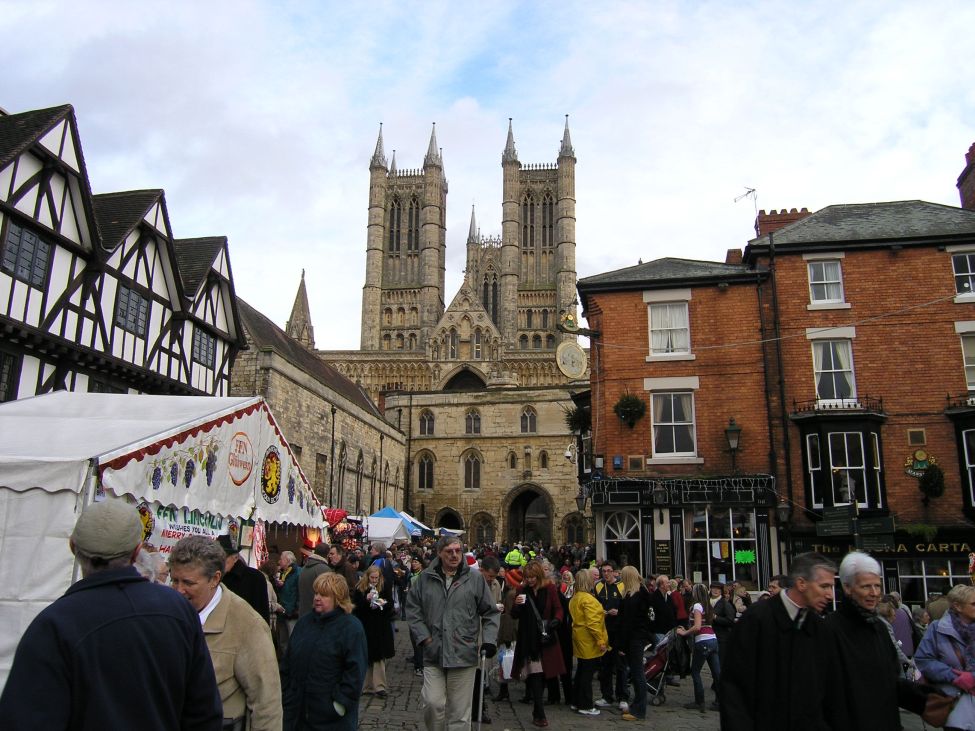 Margaret had always wanted to visit a large Christmas Market. Normally this would have involved nipping over to Germany but circumstances made the planning of that more difficult. We had heard about the Lincoln Christmas Market which takes place the first weekend in December. We had never been away that late in the year before so we were entering the unknown. We also had to find a site nearby that was open. Milestone Caravan Park was chosen as it was not far from Lincoln.
Thursday 6th December, what on earth were we doing the weather forecast was awful but we had paid a deposit! Anyway Thursday dawned grey but not quite as bad as it had been suggested. We were soon on the M1 heading north with surprisingly light traffic and without the gusty wind that we had feared. We made a stop at Leicester Forest Services for a welcome cup of coffee. This time home made as we always seem to be miles from the facilities. Back on the M1 for a short distance but soon heading across country on the A46 towards Newark and then a short distance north on the A1 to the campsite at Cromwell. The first campsite I have been to with a brewery next door!
The campsite was quite busy but we found ourselves a pitch near the water point, it was close enough to enable me to use my hose. Once set up we set off to explore Cromwell. You could perhaps imagine what it must have been like before the village was by-passed. The romance of the Great North Road had long since disappeared from Cromwell itself. There was a village shop, the owners reminded me of characters out of the League of Gentleman!
There was some discussion on what was the best way to get to Lincoln. The site warden wondered whether parking in Newark and getting the train to Lincoln. We knew that parking in Lincoln would be very difficult but there was a park and ride which we eventually decided on. It was located at the Lincoln Showground which is a little out side the City limits but is well signed from the A46 and A15. The cost was £10 per car and includes transport to and from the Market. It was all very well organised. The bus took us right to the outskirts of the market. Its worth pointing out to those thinking of visiting the market that many of the car parks near the Cathedral, as shown on the Lincoln website, are not available during the Market as they are used for the stalls.
There was a real throng as we made our way from the bus towards the Market, obviously a popular seasonal destination. The stalls are set out in numerous areas of the higher town around the Cathedral and Castle, in one place they even had a one way system. We had a look round a few nearby stalls but decided that it would not be a bad idea to find something to eat to set us up for the rest of the day. Now there are any number of food stalls to choose from but to me fast food is just a snack! We happened upon the White Hart Hotel, which is the type of establishment you get in most large country towns. They had advertised a buffet lunch for ten pounds and very nice it was to. We could eat in civilised surrounds and more importantly in the warm! Our lunch stop finished we worked our way towards the Cathedral and then round the stalls by the Castle which then continued into what must normally be a park area. So there was plenty to see. Some of it useful some of it not but then I was there for the atmosphere not necessarily to buy things!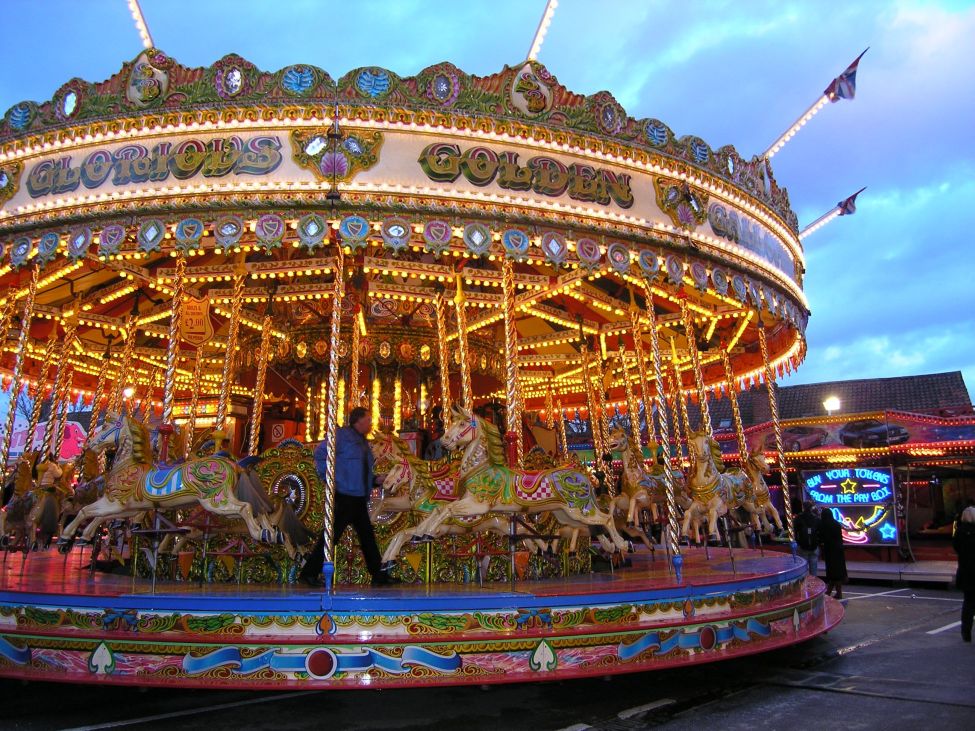 Interestingly from a rather grey day the sun emerged by mid afternoon bathing the Cathedral in a golden glow of sunlight. It was time for one final wander around and as the light started to fail we made our way back to the coach departure point. I had never seen before a coach with 5 seats across the body and it seemed that many other passengers had also not come across this before. It was not to bad for a short journey.
On Saturday we went into Newark to buy a few things t the Waitrose along side the station and to fill up with fuel. It was too wet to explore the town so we just went back to the van. Likewise Sunday was also wet, cold and windy so apart from a stroll around the campsite we stay inside reading. Monday looked a bit brighter but seemed very windy. We took it easy on the motorway and the journey did not seem to bad and we got home around 1.00pm. Because the van will not be used for a couple of months I quickly changed the wheels (I keep a couple of spares for over wintering). I was hoping to beat the bin man who was due which I managed, just! That's all now to next year!