Camping L'Escale,74450 Le Grand-Bornand, France, tel. 04 50 02 20 69,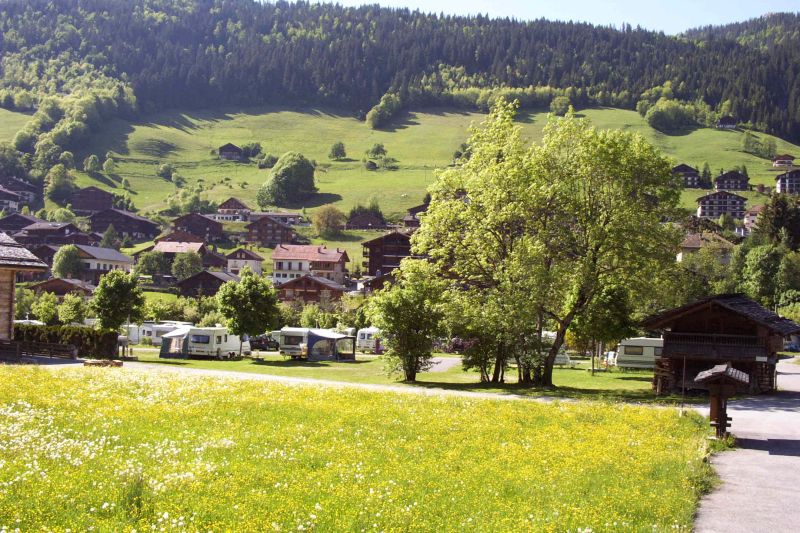 To find site:- From Annecy follow signs to Thônes and then take D909 to La Clusaz. At St Jean-de-Sixt turn left at roundabout following sign for Le Grand-Bornand. After about a mile turn right and follow camping signs, also signed as Valleé du Bouchet. At the roundabout exit right into the site.
This site has 149 pitches set out on terraces, the site is open from 1st December to 30th September as it caters for both winter and summer visitors. The site has a superb location situated at the head of a valley about 20 miles from Annecy in the small town of Le Grand-Bornand which is surrounded by mountains. A walk of a couple of minutes from the site will take you to the town centre. Wednesday is market day but there are also a couple of small supermarkets and a Boulangerie. At the far end of the village are two ski lifts. Le Grand- Bornand is a popular centre for 'Para Pente' or Para Gliding. In fact their arrival in early evening creates a fascinating display which you can either watch from the comfort of your pitch or walk a hundred yards out of the site and you can stand and watch them land close up. There is one main toilet block on site, of excellent standard, divided into showers and toilets, both unisex. Under the reception and washing up facilities as well as a laundry. Pitches vary in size from quite generous to tent size. Since our last visit the site has built a swimming complex, part of which is indoors. Booking for this site is available via the CC ABS. The site also accepts the ACSI Card in the low season.
The possibilities for tours from this site seem almost endless. Annecy is an easy excursion from the site, Chamonix-Mont-Blanc is a little further. Geneva can be achieved via a mix of bus and train. There are several spectacular tours up the various mountain passes within minutes of the site. This one of our favourite sites second only to Camping Natterersee near Innsbruck for an impressive location. Highly recommended.