Prümtal Camping, In der Klaus 5, D 54636 Oberweis, Tel 0652792920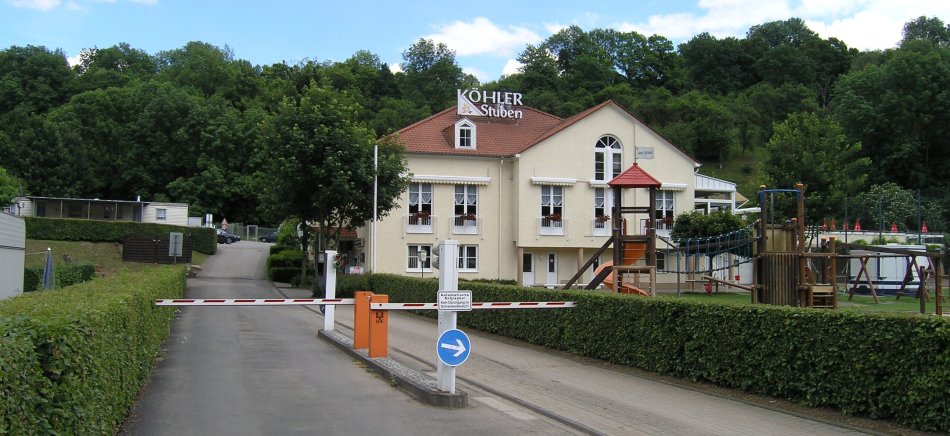 To find site:- From Bitburg take road 50 for 10kms to Oberweis. Just after village sign look out for sign to left for Köhler Stuben Restaurant. There is plenty of parking space outside campsite. Reception is housed below the restaurant.
Prümtal Camping is a relaxing campsite with excellent facilities 10kms from Bitburg in the Eifel region of Germany. On one edge of the site runs the River Prüm which gives it a very natural feel. Pitches, which are of a good size, are all on grass and in several sections. Like most German campsites there are some permanent vans but these are in a separate area. The pitches at the end of the site are some way from the facilities. When you book in members of your party are issued with a card that allows access not only to the site barriers but also the main toilet block and the swimming pool. The main toilet block is to an excellent standard. There is a second, smaller block, which consists of mobile units. Perfectly serviceable but not as luxurious. Electricity supply is 16amps. Water points are dotted conveniently around the site. Bread rolls can be ordered from reception the day before, there is also a small shop selling some essentials. Next to the entrance to the campsite is a swimming pool which campers have free admission to. The on site Bar/Restaurant, which is also open to the public, is really excellent with friendly staff and a wide choice. It also has a section at the rear, overlooking the swimming pool which specialises in Italian food, but mainly pizzas. In the low season the site accepts the ACSI Card which offers a useful discount on regular prices. The site offers a free WiFi connection, the strongest signal being near to reception but it can be received further away if in a direct line outside. Children seem to be well catered for with an adventure style playground and a football pitch.
For serious shopping it does mean a trip to Bitburg where there are several supermarkets. Whilst in Bitburg you could visit the home of the famous Bitburger beer, they do guided tours. Less than 20 miles away is the Luxembourg border and the delightful town of Echternach and Luxembourg City is only another 25 miles further on.