Abbey Wood CC Site, Federation Road, Abbey Wood, London, SE2 OLS, Tel 02083117708.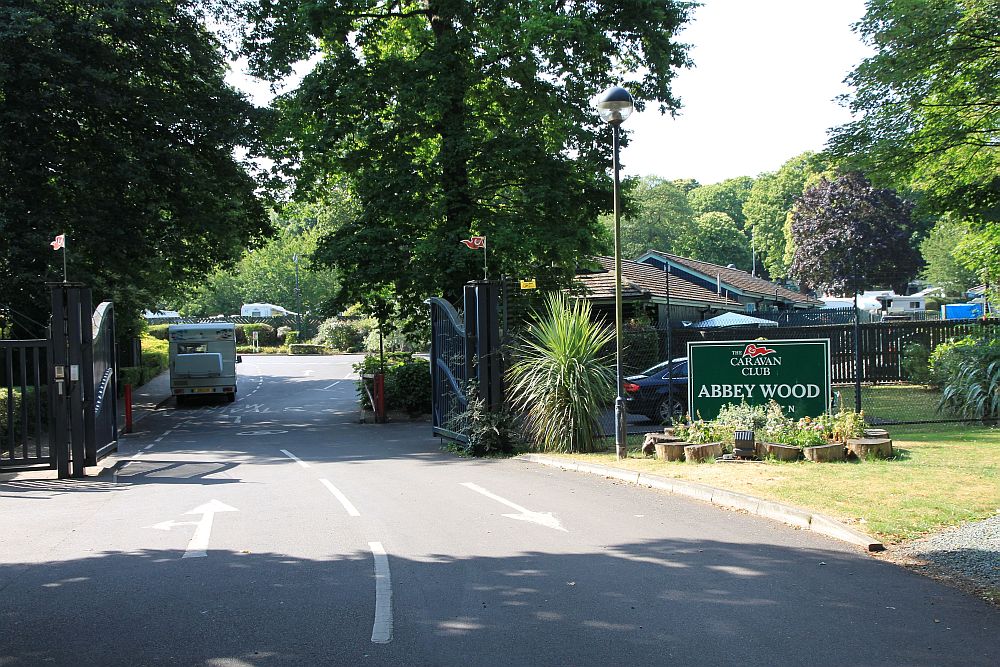 To Find Site:- From M25 leave at junction 1A and take A206 in the direction of Erith and Thamesmead. The road changes to the A 2016. (don't take any other signed route to Abbey Wood as this could prove difficult) Exit A2016 onto A2041 signed for Abbey Wood/Thamesmead. Continue on the road which takes you over Abbey Wood Station to next roundabout and take first exit into Knee Hill. Within a couple of hundred metres turn right into Federation Road (site signed) and site is on left. (This is not the official CC route which takes you to Abbey Wood from the A2 and is signed throughout, however the route above is easier with better roads)
NB. This campsite is in the London Low Emission Zone (LEZ) zone. To check the suitability of your vehicle to enter this zone use this form on the Transport for London website
Abbey Wood is one of two Club sites actually in London. Although situated in a very urban environment once on site this is not noticeable, in fact the site is a green oasis with many mature trees and is fairly peaceful given that in the summer it is very busy. The site is open all year and accepts non-members and tent campers. During the summer months there are a surprising number of overseas visitors. There are 156 pitches in total including 73 hardstandings and 50 tent pitches. The site slopes from the top down towards reception and in part pitches are on terraces. Levelling may be required on some pitches. Towards the top of the site is a large tent field. This is one of the Club sites where Camping Pods have been introduced and currently there are four available. Electric points are convenient to pitches and are rated at 16amps and use CEE17 blue connectors. Electric bollards also have TV co-ax connectors which are free to use but you need to provide your own cable or purchase one from reception. This is a handy addition as satellite reception from some pitches is difficult because of tree cover. There are three toilet blocks around the site which are of a very good standard. Fresh water, waste water disposal and toilet emptying points are dotted around the site. There are two motorhome emptying points but both require drain covers to be removed prior to use. For children there is an adventure style playground. There is site wide Wi-Fi available and time can be purchased online. I found it fine most of the time but it did slow down at busy times. The site has a small storage compound. There is also a decent late arrivals area although perhaps best to check with the site about using this facility. Reception sells a few essentials.
The beauty of this site is that it has easy transport links to Central London from Abbey Wood station, which is about a ten minute walk away, and all points between. Abbey Wood is also part of the Cross Rail project which is due to open in 2018 and will provide fast links right across London. Greenwich is with easy reach either by train or by bus from a stop which is a bit nearer to the campsite than the station. Buses are free to use for National bus pass holders. There is a lot to do in Greenwich with the Cutty Sark, National Maritime Museum and the Royal Observatory and more. There is also access to the DLR if you want to visit Canary Wharf. From Greenwich Pier you can also take the Thames Clipper along the river into Central London with several interesting stopping places en route. There are discounts for Oyster Card and Travelcard holders on the boats. For food shopping the nearest is a Co-Operative store in McLeod Road ten minute walk away from the site. For more serious shopping there is a large Sainsbury's being built just the other side of Abbey Wood Station.