Berwick Seaview CMC Site, Berwick upon Tweed, TD15 1QU, Tel
01289305198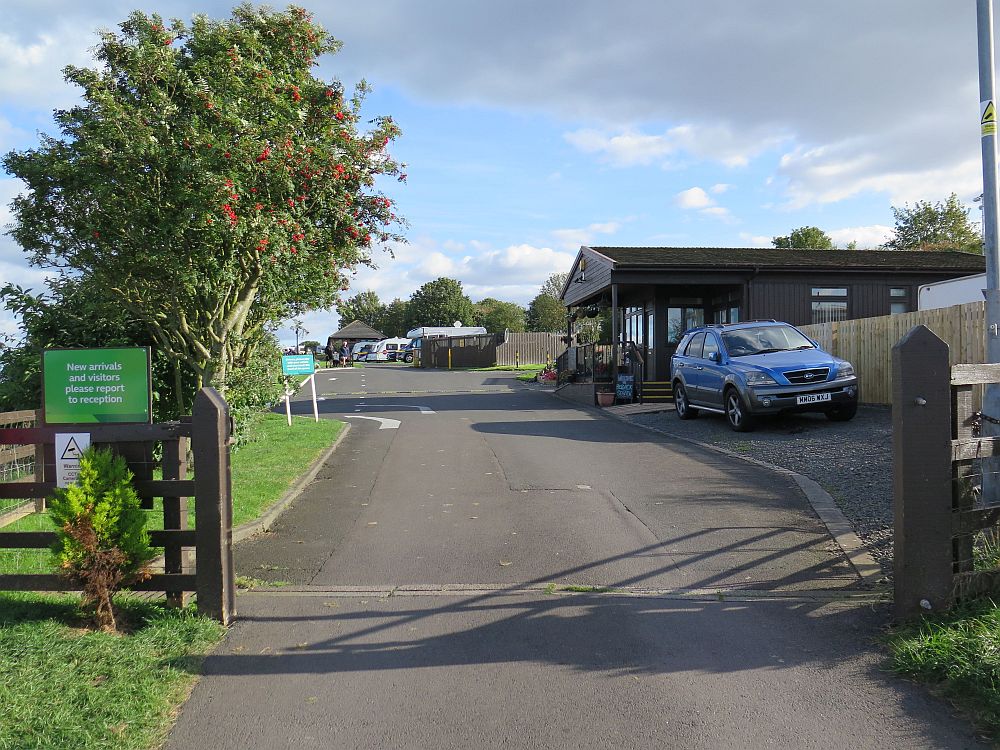 To Find Site:- Approach Berwick from the southern end of the A1 bypass exiting onto the A1167. In about 1.4 miles turn right at roundabout into Billendean Terrace signed for Spittall. This road has some quite severe traffic calming speed ramps so care is required. Continue under railway bridge and watch out for the site entrance road about 300 metres on the right. Please note no arrivals before 1.00pm.
Berwick Seaview whilst being in an urban environment has wonderful views out over the Tweed Estuary and Berwick upon Tweed beyond. It is a long narrow terraced site running alongside the East Coast main railway line. The latter does cause some noise but it is only momentarily whilst a train passes. The frequency does not seem excessive and for scale the warden's tractor makes more noise! There are in the region of a hundred pitches all but a handful on gravel hardstandings, plus a few tent pitches. If the site is busy it would be wise to discuss with reception where the free pitches are because at the extremities of the site it is difficult to turn, particularly with a car and caravan. Owners of outfits over 8 metres longer are required to book directly with the site as not all pitches can take long caravans/motorhomes. Electrical connections are convenient to all pitches and use CEE17 blue connectors rated at 16 amps. The site has only one toilet block which is of a good standard but because of the site layout it is a long way from some pitches. There are service points dotted around the site for fresh and waste water, plus chemical disposal. There are two motorhome service points both with open grill dump points. Reception sells a few essentials and next door there is an information room. There is site wide WiFi although best the check with reception as there is a map of the best signal. I found using my 4G data to be perfectly satisfactory.
This site is ideal for visiting Berwick upon Tweed which is only a short distance from the site. There is a half hourly bus service from immediately outside the site. The rest of the Northumberland coast is within easy reach. There is a nice walk down to the Tweed estuary from the site. For shopping there is an ASDA on the bus route into Berwick, and for the fit even in walking distance, and further out there is a Tesco and a Morrisons.