Black Horse Farm CC Site, 385 Canterbury Road, Densole, Folkestone, Kent, CT18 7BG, Tel 01303 892665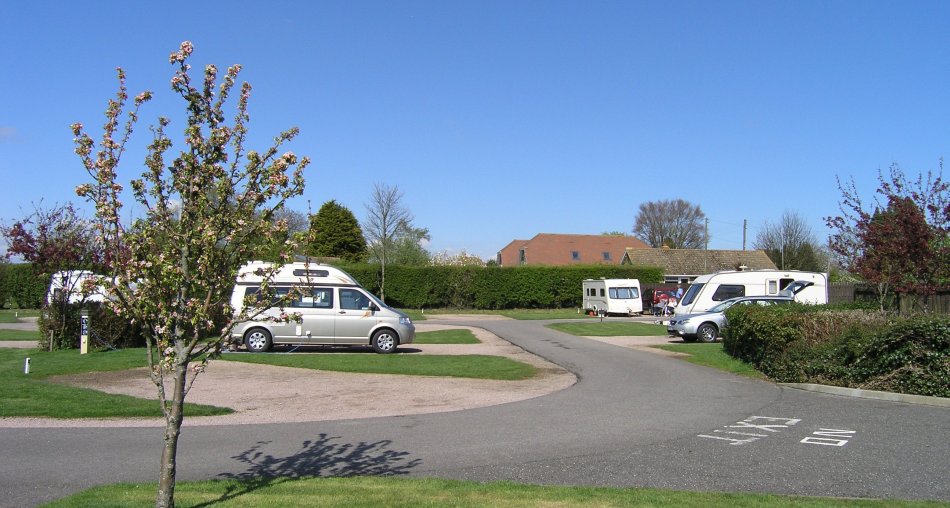 To find site:- Continue to the end of the M20 towards Dover, just past the tunnel on the A20 take slip road signed for A 260 and follow signs for Canterbury. The first part of this road is new and bypasses some of the narrower parts of the old road which it rejoins near to Densole, continue through village and the site is just past the Black Horse Inn on the left.
Site is open all year and accepts non-members and tents. I would think that it would be advised to book ahead in peak season. This is a lovely site situated about 10 miles from Dover and about 8 miles from Eurotunnel. As a result those making their way back and forth to the Port, or the Tunnel, frequently use it. Just behind the reception, with no need to go through the security barrier, is an area of hard standing pitches, which are reserved for those staying overnight in order to catch a crossing to France. (see main picture) This allows minimal disturbance to those staying on site for several days. For those coming from the UK the latest you can arrive at the site is 8.00pm, please contact the site for more information. There are also additional ferry pitches inside the barrier which are allocated on arrival. If you book for just one night you are automatically allocated a ferry pitch to avoid disturbance to those on a longer stay. Payment for one night stays is required at time of booking. Black Horse Farm is a site which is well worth a stay in itís own right. The site is divided into several pitching areas some on hard standing and the rest on grass. There is a small area for tents with itís own separate parking area. The tree planting and shrubs are just starting to mature which enhances the look and feel of the site. The other pitches are further into the site beyond a card-controlled barrier. There are two really excellent toilet blocks although the one in the ferry area closes very early for cleaning. Other facilities include a childrenís play area, a dog walk and an information room. This site also has storage facilities. Black Horse Farm has WiFi installed and time may be purchased online.
Just across the road from the site is a small general store, which includes a Post Office. Further along the road is the Black Horse Inn, which does meals. There are many other opportunities to explore the surrounding are if you stay is longer than just over night. There is a regular bus service from near the entrance between Canterbury and Folkestone. At Hawkinge there is a caravan dealer.
Click on thumbnails for larger image.