Bridlington CMC Site, Flamborough Road, Bridlington, YO15 1DU, Tel 01262672707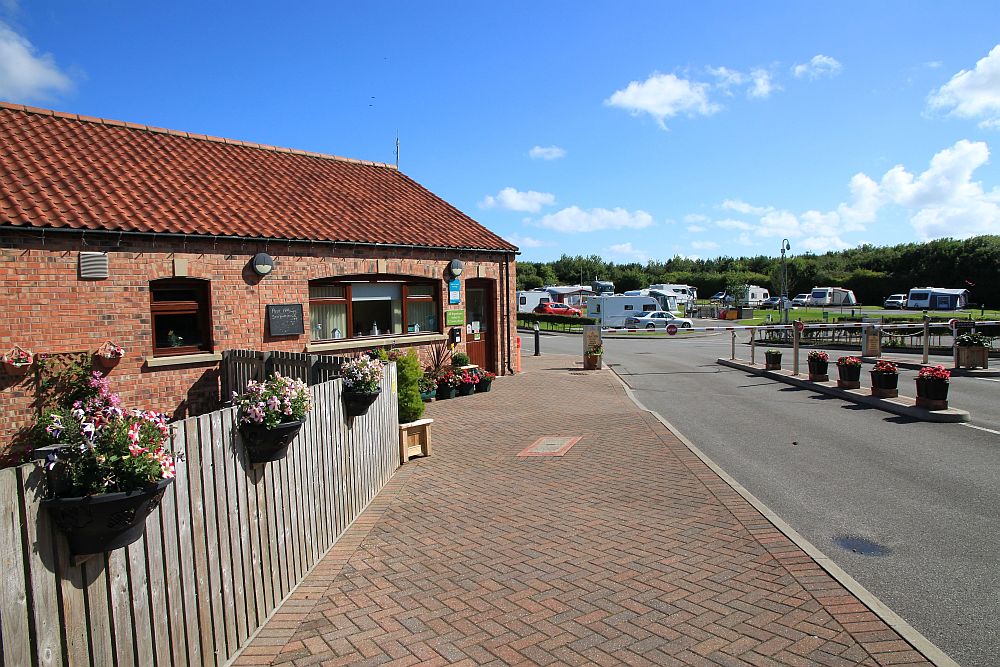 To Find Site:- On the approach to Bridlington on A164/A165 take the B1255 towards Flamborough. Watch out for Marton Farm Shop and Café on left and entrance to the site is about a couple of hundred metres on the left.
This site is situated about three miles outside of Bridlington and is set back from the Flamborough road. The site is open all year and accepts non-members but not tents. There are currently has 75 pitches all on hardstanding and include a number of serviced pitches. The site is currently being extended which will its double size. ( This work may create some noise from time to time although during our stay any noise was minimal) Electric points are convenient to all pitches and are rated at 16 amps and use CEE17 blue connectors. Electric bollards also have a co-ax TV connection, free to use but you need to provide your own cable. There is currently only one toilet block although this will change when a second block is built as part of the extension. It is of an excellent quality. Service points are dotted around the site. The motorhome service point is adjacent to the toilet block. Unfortunately if still requires heavy steel drain covers to be removed in order to drain grey water waste. For children there is an adventure style playground although it is out of sight of the pitches. There is site wide WiFi which performs reasonably well although at peak periods it can slow. Mobile signal on site is fairly good. There is an information room with local information although a large scale map would be useful. Reception sells a few essentials and newspapers can be ordered. This site also has a storage facility.
There is a lot that can be done from this campsite either by your own transport by foot or by public transport. There is an hourly bus service into Bridlington from main road next to the site entrance road. You can walk across the adjacent Golf Course and join the coastal path into town. Likewise you can walk from the site to Sewerby Hall to visit the house and gardens. Further afield there are options for rail services from Bridlington Station to Hull or Scarborough. For shopping there is a Tesco Supermarket next to the station in town. The local taxi service is also reasonably priced.