Broadway 2021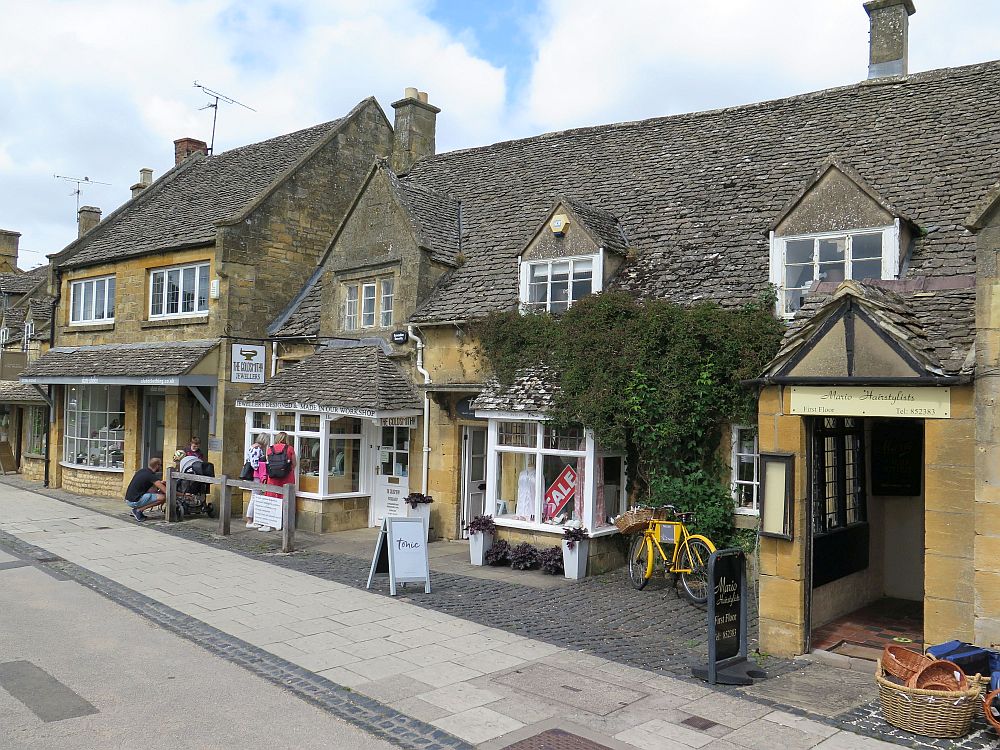 Tuesday 10th August. Thought we would grab a few days away in August even though we knew it would be busy. We are heading for the CMC site at Broadway. We were away by 10.30am. As we crossed the roundabout, I looked down on the A5 dual carriageway and was surprised how little traffic. How wrong could I be! A little further on and we came to a grinding halt. There was no obvious reason for the delay except volume of traffic. My best guess would be that they were diverting traffic off the M1 at either junction 13 or 14 via the A5 to junction 15. We eventually got clear of the queues and headed out to Buckingham and Finmere before cutting across country to Adderbury and Deddington. Making a stop, as seems usual now, at the layby with Buzzy Beans Coffee which seems more popular than ever! Onward to Chipping Norton and Morton in Marsh for the final stretch of the journey to Broadway. Before arriving at the site, we had to negotiate Fish Hill down into the village which is pretty steep whether you are going down or up! Got to the site at around 1.15pm. We found a pitch near a service point which we like.
Wednesday 11th August. Been an odd day weather wise, often dull but with some sun. We walked into Broadway today. It was packed and the prospect of getting a coffee seemed slim as everywhere seemed full. We walked up through the arcade that leads to the car park and there was a café there called "Guilt Trip" run by someone who would not be out of place at a Festival! The real guilt trip was that the only food sold was doughnuts!!! When in Rome I suppose. Both coffee and doughnut were excellent. We wandered across the road to where the Budgens supermarket once was but like in Moreton in Marsh it seems to have been taken over by the Co-Op, perhaps this is more widespread than I realise. On the way into Broadway, we noticed a large new medical surgery was in the process of being built on what appeared a green field site. Just wondered if this is just the start of further development towards the campsite?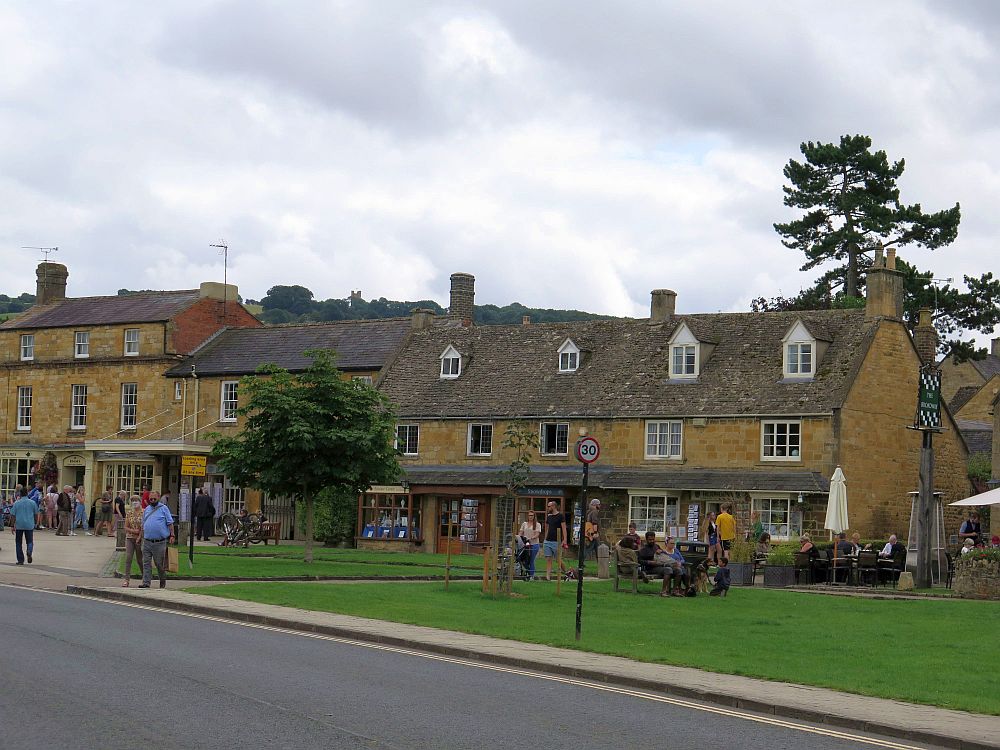 Thursday 12th August. Today we wandered up to the restored/replaced station at Broadway which is just across the road from the campsite. When we were last here, about five years ago, it was still work in progress. Broadway is the northern limit of the Gloucester Warwickshire Steam Railway. This gives a restored length of track of about 14 miles. It's terminal at Cheltenham, near the Racecourse, means that you can travel between two Club sites by steam train should you wish. We did wonder if we should go for a ride into Cheltenham but decided that £25 per person was a bit steep! We did have a coffee in the station buffet as a small means of support. There is more track that can be restored beyond Broadway. Whilst that track is currently route protected you get the impression that protection won't last much longer? The charity that runs the railway don't feel they are in a position to take on the responsibility at the moment because of the recent restoration to Broadway and the fact that COVID has robbed them of much needed funds in the last 18 months. Fingers crossed that something can be worked out so that future restoration can go ahead. Back at the site we walked up to the old Goods Shed, which many years ago used to be the entrance into the site. You pulled into the Goods Shed to book in! There are a few pitches near to the railway line for enthusiasts.
Quite a few people left the site today but they have soon been replaced. Looking out the window at the comings and goings it did make me think what it might be like in 10/15 years' time. By then electric cars will be the norm and who knows how petrol and diesel will be treated in terms of tax? Will there be electric cars that the man in the street can afford that will also tow a caravan? Motorhomes are an even more uncertain future because currently electric vans that can be converted are very expensive and have relatively short ranges. Will we see a general decline in touring as those now retired folk, ourselves included, have given up the hobby? It must be a difficult one for the two main Clubs, especially when it comes to future investment.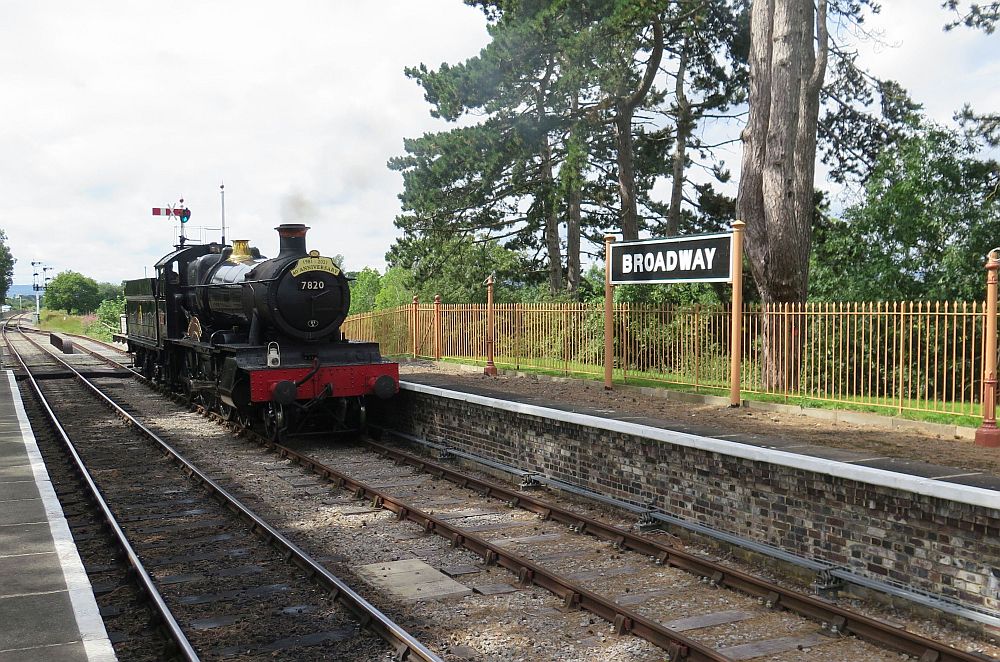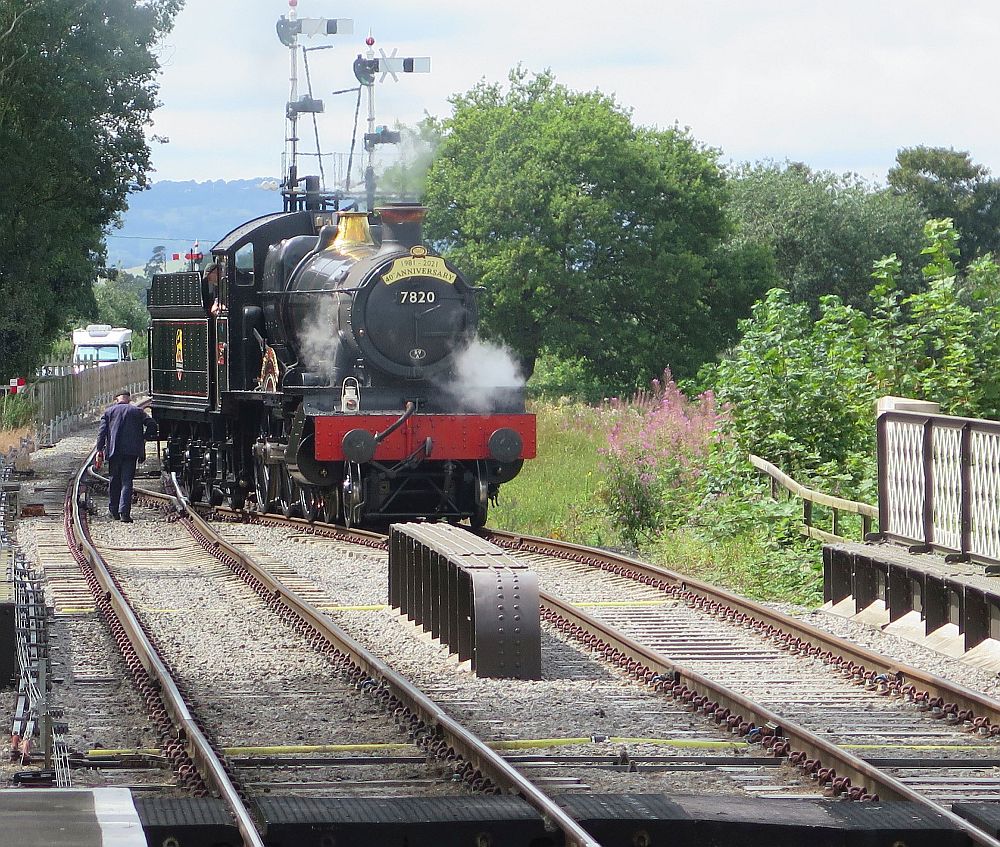 Friday 13th August. A pretty lazy day today. The weather was dull for most of the morning but did perk up in the afternoon. Apart from routine things we did drag ourselves over to the Garage, opposite the site, as we needed some milk. Normally such a requirement would be met by site reception but I am not sure that some site wardens have bothered this year? We were able to sit out in the late afternoon sun which was nice. Currently reading a book about an ex-Nurse who has gone to live in Puglia in southern Italy. As one of our favourite countries we would love to go to Italy again but we are increasing feeling that our days of long trips to Europe are not going to return and reading about them might be as far as we get!
Saturday 14th August. A dull start to the day which lasted until we got home when the sun came out!!! We were up and away reasonable early. We noticed quite a few "classic" sports cars in and around Broadway so I imagine there must have been some sort of gathering? When either arriving or departing from Broadway, Fish Hill is always in the consciousness, being, will the brakes hold out going downhill or the clutch survive going up!!! In our early years of touring, it was an influence on whether we went to Broadway! Fortunately, the Pug seems to have plenty of power and we even had to overtake a tanker going up the hill. The rest of the journey was uneventful. We noticed Buzzy Beans was still busy as we passed by. More traffic as we approached MK but at least we were on familiar territory. It seems to take longer to get the car off the drive and the back gates open than it does to get the van back into the garden. We both seem a bit exhausted, not quite sure why as we haven't done that much. Perhaps it's just the change of location and routine?