Broadway Caravan Club Site, Station Road, Broadway, WR12 7DH, Tel 01386 858786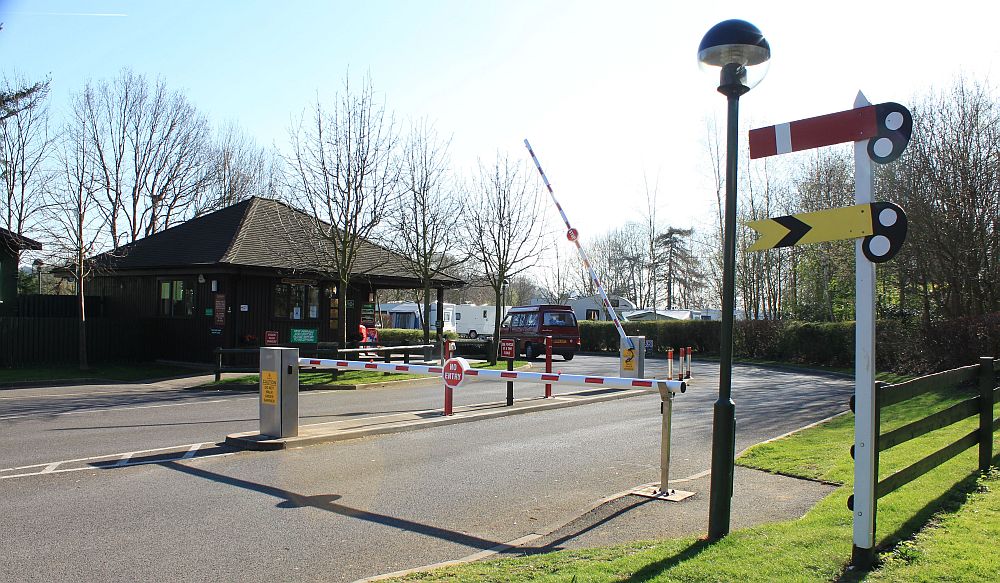 To find site:- From Oxford on A44 and as you approach Broadway, after Fish Hill take the Broadway Bypass. Exit at second roundabout signed for Broadway on the B4632, the site is on the right in about half a mile immediately under railway bridge. Best to avoid towing through the village.
This site has 115 level, good sized, pitches all but a handful are hardstanding. The upper section, with the old railway Goods Shed, formed the original part of the site. The site has since been considerably increased in size by the addition of the lower section where the pitches are all hardstanding. The Club has ensured that there is grass area around all pitches and as the shrubbery grows it will become more intimate. The site has TV hook-ups on each electric bollard, these are free to use but you must have your own cable or buy one from reception. We did have some picture breakups in reception during the evening on some channels. There is a nice centrally situated children's playground. There is a toilet block on each section. On the lower section the block is of modern design and everything you would expect from the Caravan Club. On the other hand the toilet block on the upper section is something rather special. It is housed in what was the old railway sheds in the Broadway goods yard. There are three service points around the site plus water, waste and toilet disposal at the main toilet block. Some pitches seem a distance from the nearest point so perhaps consider this when selecting a pitch. Also next to the main block is a motorhome service point. Reception sells a few essentials and newspapers can be ordered. Next to reception is a good sized information room. There is site wide Wi-Fi and cards can be purchased from reception. Date of most recent visit March 2012.
This site is within an easy 10 minute walk of the delightful Cotswold village of Broadway. There are several restaurants in the village as well as shops and galleries. A recent addition is a small Budgens supermarket. Evesham is about 10 miles away and has both a Tesco and Morrisons supermarket. There are various other attractions around and about including Broadway Tower and several National Trust Properties. Details of these and other attractions can be found in the site information bureau.

Click on thumbnails below for larger picture.