Bromyard Downs Caravan Club Site, Brockhampton, Near Bromyard, WR6 5TE, Tel 01885482607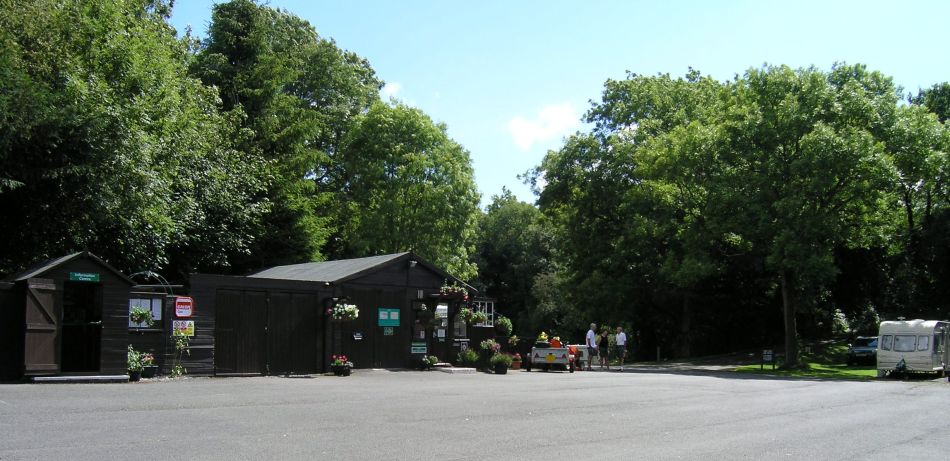 To Find Site:- The site is directly off the A44 Worcester-Leominster road. Approaching from the Worcester direction the site is about a mile and a half from Bromyard. Watch out for the entrance to the National Trust property called the Brockhampton Estate on the right, the site is about a 100 metres further on, down the hill from here on the left.
This is one of the Club's no facility campsites without a shower and toilet block. It does accept non members but not tents. The site does have 16amp electrics and of the 40 pitches about a third are on hardstanding and the rest grass. The site (formally a quarry) is set out in two separate areas, one lower near to reception and a higher section both with their own service points. The whole site is well wooded which gives an intimate feel. There are no facilities for children although from the comments book a lot of them enjoy playing in the woods that surround the site. The reception keeps limited hours as there is just one couple running the site, however there are clear instructions on how to find a pitch. When reception is open they sell a range of local products including milk and eggs and newspapers can be ordered the day before. During our visit in 2008 site fees were £7 a night which is excellent value.
There are many excursion that can be taken from this site. Worcester and Hereford are not so far away but there are also many smaller towns well worth a visit including Tenbury Wells, Ludlow, Leominster and Malvern. For the more energetic Bromyard Downs are very near to the site and details of walks are posted in the site information hut. For food shopping there is a nice Co-Op Supermarket in Bromyard. (follow signs to Tenbury Wells) For the larger supermarkets, Malvern, has a good selection. The National Trust Brockhampton Estate is well worth a visit especially the half timbered, moated, Manor House. They also have a nice tea shop near the main entrance.