Burrs Country Park Caravan Club Site, Woodhill Road, Bury, BL8 1DA
To find site:- Leave M66 at junction 2 onto A58 to Bury. Follow A58 through Bury following signs for Burrs Park. Bear right into Brandlesholme Road and watch out for right fork into Woodhill Road signed for Burrs Park. Continue right to the end of this road, the final section is over cobbles and through the remains of the old mills and then up a ramp to the site. A double barrier system is in operation. At the first barrier follow the instructions on the intercom and reception will raise the barrier allowing to pull forward to the site entrance proper.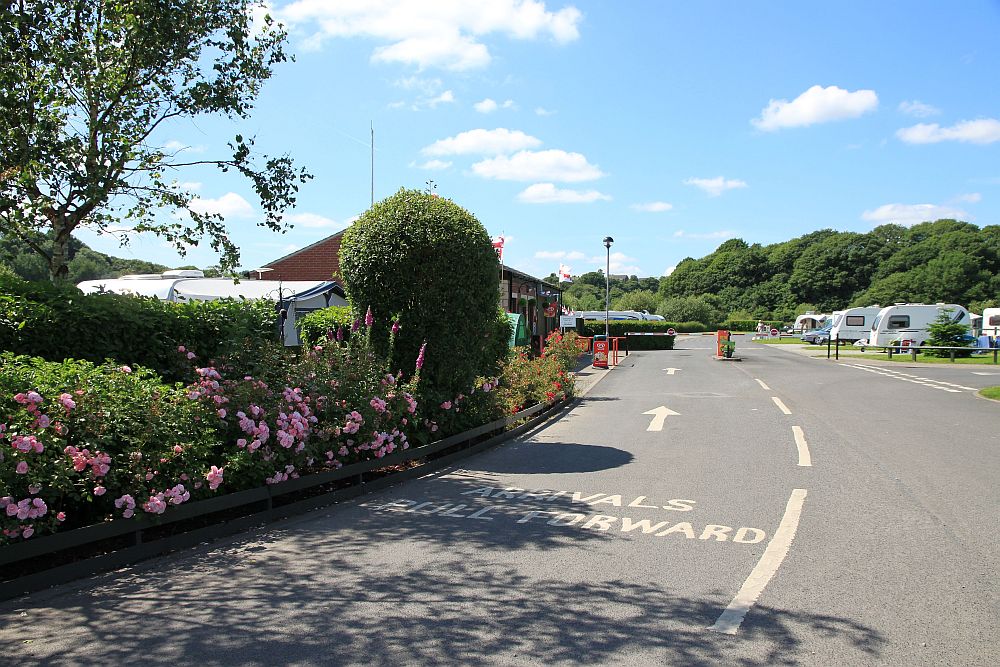 Burrs Country Park CC Site is situated in the Country Park which is on the outskirts of Bury. The site is open all year and accepts non-members. There are 103 pitches all of which are on hardstandings and all accept awnings. 33 of the hardstanding are serviced pitches with fresh water and grey water waste. Electric points are handy to all pitches and use CEE 17 blue connectors and are rated at 16 amps. The electric bollards also have co-ax TV connectors which is free to use but you have to provide your own cable. We found the TV connection more reliable put straight into the TV rather than via the outfit system. The toilet block is centrally situated and is of a high standard. There are four service points dotted around the site plus a motorhome service point which now incorporates an open grill grey waste water dump. However the grill is set some way back so larger motorhomes my still need to use the covered drains. Reception sells a few essentials. Next door is a small information room. There is site wide WiFi which I found pretty reliable. There is no on site children's play area although there is a playground not far away plus of course plenty of kick about space in the Country Park. A rather nice touch is the small herb garden at the front of the sites with an invitation for members to help themselves to what they need.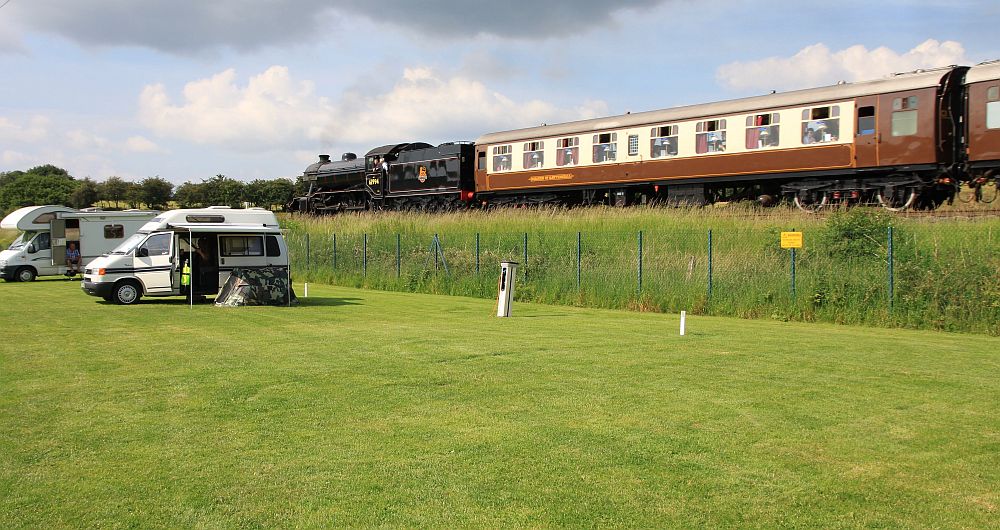 Along one side of the site is the East Lancs Railway with regular steam and other vintage trains depending on time of year and the day of the week. The East Lancs Heritage Railways runs from Bury through Ramsbottom and onto Rawtenstall. In 2016 a new station was opened to serve Burrs Country Park Next to the site. Club members can claim some discounts on train fares. Also near the site entrance is the Brown Cow pub. Whilst this is a handy hostelry for a drink or even a meal it does also create some day time noise but usually only at the weekend. Likewise events held in the Country Park can create some noise. This site is ideal for a visit to Bury and its famous market or perhaps a trip into Manchester on the tram system direct from Bury. There are buses available from near the site, about a 10/15 minute walk, into Bury and Ramsbottom. There are two eating establishments within easy walking distance of the site. For shopping major supermarkets are available in Bury.