Cambridge C&CC Site, Cabbage Moor, Cambridge, CB22 5NB, Tel 01223841185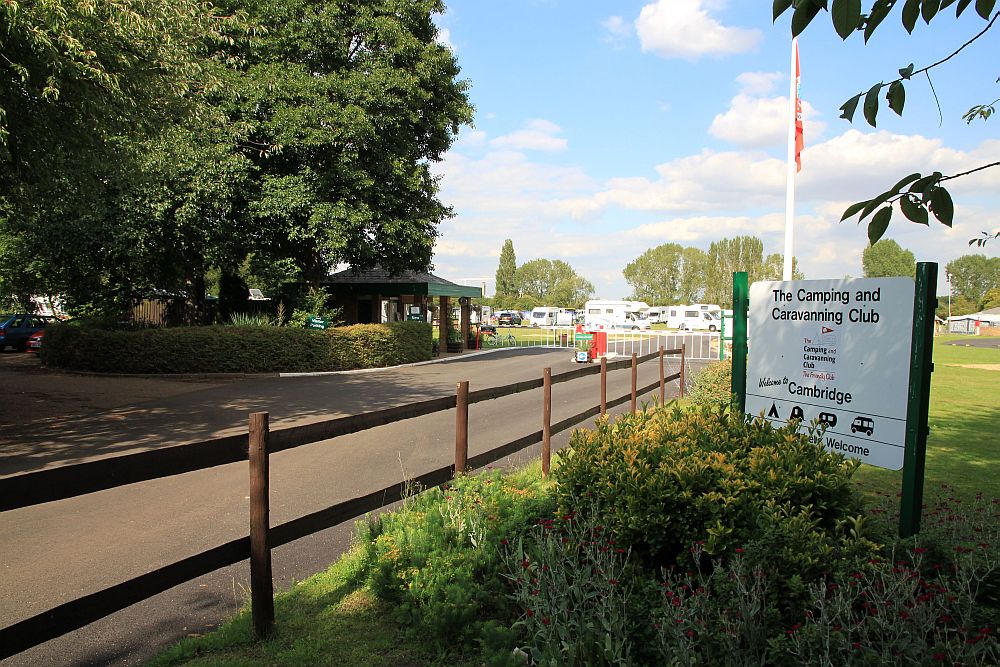 To Find Site:- Leave M11 at junction 11 onto A1309 towards Cambridge. At first crossroads turn Right into Addenbrooks Road. At next traffic lights turn right into Shelford Road. Watch out for camping signs, at brown sign turn left into Cabbage Moor. This road is quite narrow so check that you have clear access before proceeding, perhaps best not to time arrival before midday. The entrance to the campsite is at the end of this lane.
This is one of the nicer Camping and Caravan Club sites we have visited. It is situated in a semi urban environment on the eastern outskirts of Cambridge. There are around 120 pitches with a mix of hardstandings with electrics, grass pitches with electrics and grass pitches without. At the far end of the site is a tent field. The site accepts non-members and is open from late March to early November. Electric points are rated at 16 amps and use CEE17 blue connectors and are convenient to all electric pitches. There is one facility block which is of a very nice standard which has apparently recently been refurbished. The block also contains a covered washing up area and a laundry room. Whilst the main block is closed for cleaning there are two separate toilets available for use during that time. The only chemical disposal point is situated at the rear of this building and is rather smart with hand wash facilities and a hand dryer. It does mean that from the furthest pitches it is quite a walk. There are several fresh water and grey waste points around the site. The motorhome service point is excellent as it is large enough to deal with vans with drain taps on either side. Grey wastes is disposed of through an open grill with an additional, covered, point for black waste. For children there is an adventure style playground and a kick about field beyond the tents. There is site wide WiFi and time can be purchased online. Reception sells a few essentials and most of the local tourist information is posted on the outside of that building.
Many people visiting this campsite will be here to visit the City of Cambridge. Perhaps best not to rely on taking a car into the congested centre. Near to the site at Trumpington there is a Park and Ride. There is also a regular bus service along the main road about 300 metres from the site. This service also stops at Addenbrooks Hospital. Most routes into the City also have cycle ways or marked ways on the roads. As well as visiting Cambridge the Duxford Aviation Museum is a few miles to the south. There is a direct bus service (132) to the Museum but only on a Sunday, the bus stop for this service is near Waitrose. About half a mile from the campsite is an excellent Garden Centre. For shopping there is a small convenience store fairly near to the site but the nearest supermarket is Waitrose at Trumpington which is about a mile from away. For eating out the best bet is in Cambridge, perhaps one disappointment of this site is that there are no eating places within easy walking distance.