Camping and Recreatiepark Klein Strand, Varsenareweg 29, 8490 Jabbeke, Tel 050 811440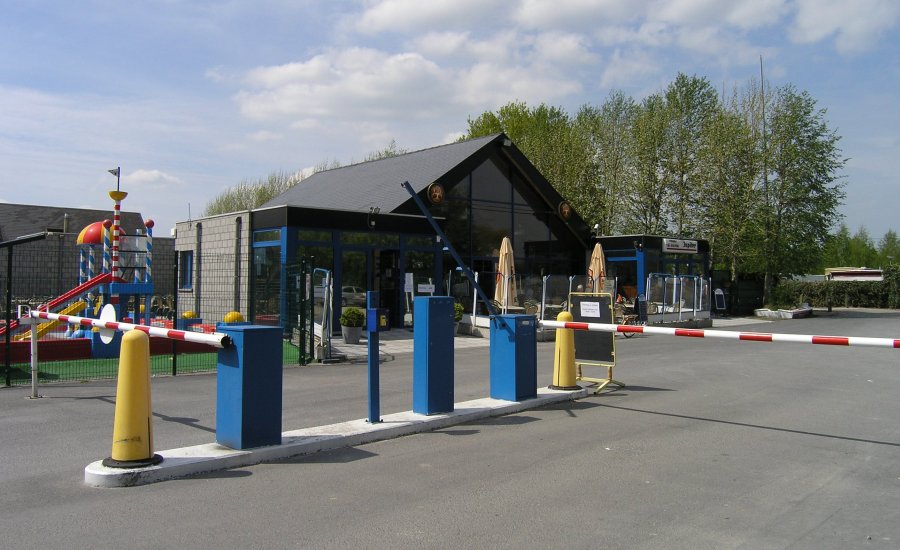 To find site:- From the direction of Dunkerque follow A18 motorway, which merges with the A10. Leave motorway at junction 6, signed for Jabbeke, and keep right (don't follow signs for Jabbeke Services) Whilst initially it seems confusing you are travelling away from Jabbeke but after a couple of hundred metres you arrive at a roundabout which you go round and head back towards Jabbeke. The campsite is signed from here but just watch for a left turn in the town of Jabbeke and follow the narrow road to site on the right. Some directions suggest going through the main site (entrance on left) but I don't see any advantage in this. From the Gent direction you leave at the same junction which exits onto the roundabout mentioned above.
Klein Strand is a large Recreation Park which combines a large area of static caravans with a separate tourist area. The centre piece of the site is a large lake which is used for swimming, boating and fishing with its own sandy beach. The pitches are of a good size, being, on average, in excess of 100 sq metres. The are set out on a grid system with some in groups of six. When the site is full it can feel slightly crowded. All pitches have easy access to electrics (a useful 10amps) water and waste points. There is a single main toilet block in the touring section which are a to a perfectly acceptable standard. When you check in you pay a €30 deposit for a key which operates the barrier. It also is used to take showers with the €30 balance reducing per shower. On a long stay the key can be recharged with more money. The site has a shop selling essentials and there are two restaurants, one being a Chinese. The site has a WiFi facility which can be accessed in the touring area for €1 and hour. For children, apart from the lake and beach, there is a good adventure playground near the entrance. Klein Strand is open all year. One side of the site, the opposite side on the lake is adjacent to the motorway so there is often a hum from the traffic but not too intrusive. My one gripe with this site was the general state of some of the pitches with many no more that earth because of excessive use of groundsheets. The weather here is similar to the UK and when its wet the pitches become very muddy.
This site is ideally located to visit Brugge which is about 8 miles away. You can drive in although at popular times the many car parks get full. Alternatively there is a bus service from the stop outside the church in Jabbeke.