Camping Bella Italia, 2-37019 Peschiera del Garda, Tel 390456400688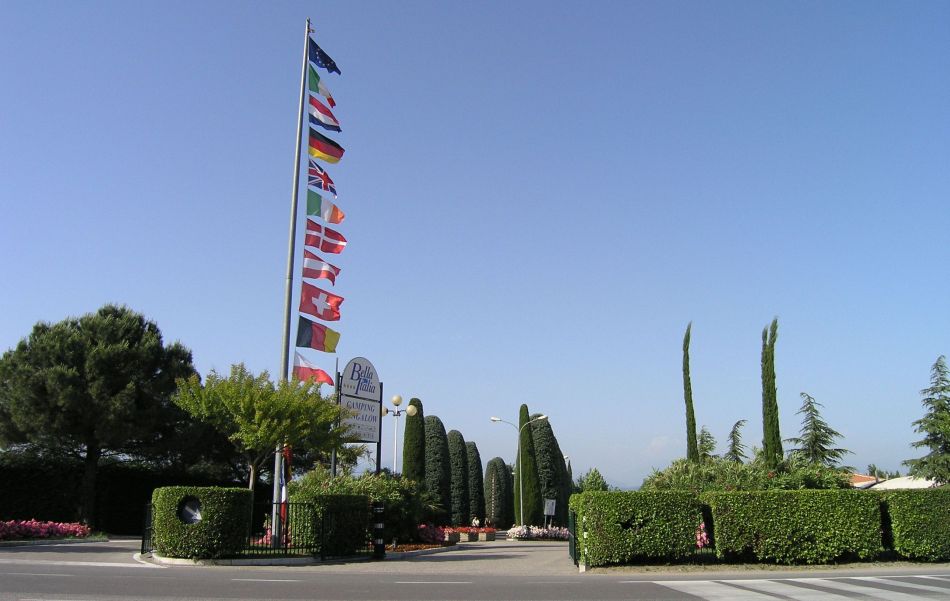 To find site:- Exit autostrada at Peschiera and take SP11 in the direction of Brescia, after about two kilometres turn sharp right as though heading back into Peschiera and campsite is immediately on your left. The entrance is large so difficult to miss!
Bella Italia is not so much a campsite but more of a massive holiday centre which readers may wish to take into account when deciding whether to use this campsite. Quite a bit of thought has gone into the planting of the main routes on the site which adds to the feel. It has a superb location right on the bottom end of Lake Garda. Being so large it also has superb facilities including a very large leisure pool complex, several restaurants and takeaways and a good selection of shops. The site has a beach area on the Lake shore. There are numerous large toilet blocks dotted around the site which are to a good standard with seated toilets but no paper provided. There are about 400 touring pitches of a reasonable size although some can be a bit uneven and where there was once grass could be baked earth. Many have direct connection to water and waste disposal. Electrics are 6 amps via CEE17 connectors. In the main season (including Dutch and German holidays end of May early June) the site is very busy and can be full although there is usually a daily turnover of pitches. If the site is full when you arrive but there will be pitches available the following day they offer you the opportunity to stay overnight on the sports field which does have electrics and water. Those with longer outfits need to plan their route to their pitch carefully (map provided by reception) as some turnings off some pitch access roads can be a bit tight. Reception will require your passports overnight as they don't accept the Camping Carnet as proof of identity. Internet access is available but seems to be by fixed terminal but WiFi may be available at one of the Bar's. Other than touring pitches there are many tour operators on site as well as apartments and bungalows owned by the campsite. No dogs are allowed on this site. This site accepts Camping Cheques. Date of visit late May 2009.
The attractive fortified town of Peschiera is only a walk from the campsite and it also has good transport links by bus, boat and train if you want to leave the car on site. About two kilometres away is Gardaland, ideal if you have children in the party. About 15 kms from the site on the road to Verona there is a large Auchen supermarket that also sells fuel at excellent prices. Click on thumbnails below for larger pictures.