Camping Clair Vacances, Route de Herrlisheim, 68127 Ste-Croix-en-Plaine, Tel 03 89 49 27 28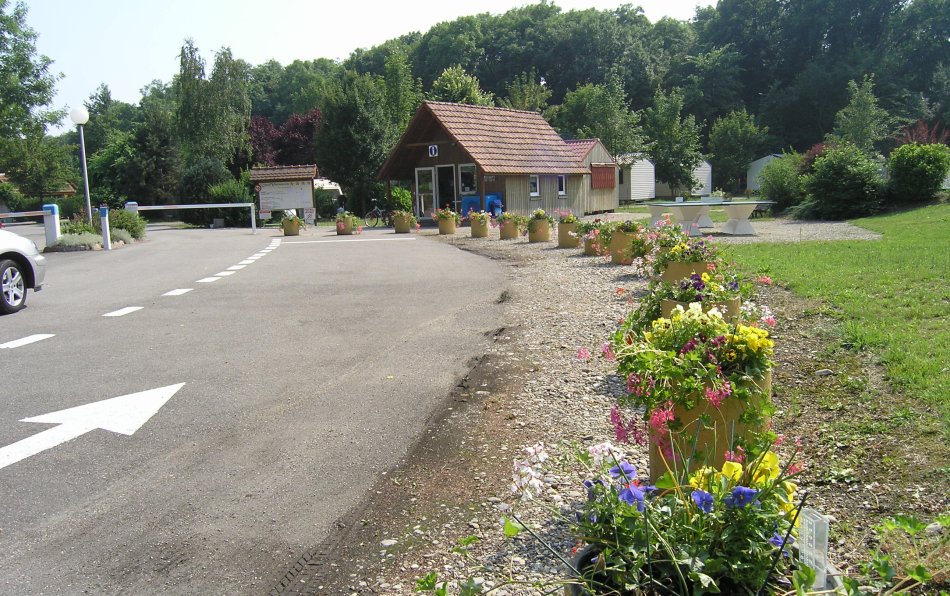 To Find Site:- Leave A35, south of Colmar, at junction 27. Follow signs for Herrlisheim and site is just over one kilometre from the autoroute and is well signed.
The pitches on this site are set in groups off the main site road and there are lots of mature trees to provide shade. Pitches are of varying size from adequate to large. At the far end of the site is an area set aside for tents which avoids noise from passing traffic. The pitches are all on grass although some have a slightly stony base. There is a choice of electrical ampage either standard 4amp or at an extra fee 8amps. Water points are dotted along the site roads. They are of the press type with poor pressure so it takes ages to fill an aquaroll. There are two really excellent toilet blocks which are maintained to a very high standard. At reception you can order bread and other bakery items, they also sell some wine and beer. If you want to use your own computer the site provides an Earthernet socket which can be used free of charge but a small donation is welcomed. I understand the site will loan to a network cable. Given that we ended up here by default, our previous site could not accommodate us, we really enjoyed our stay and would be happy to return. It is very convenient to the A35 although far enough away not to be bothered by noise. This campsite accepts the ACSI Card.
There are many delightful wine villages only a short drive from the site and they are well worth exploring. For serious shopping Colmar is your best choice with a couple of supermarkets not far from the motorway. Whilst this site deserves a stay in its own right it is also a useful stopping off point en route to Switzerland and Italy. Date of visit, early June 2007.
Click on thumbnails below for larger picture.
Story of our trip when we visited this campsite and others here