Camping De La Plage, 83310 Grimaud,Tel: 04 94 56 31 15
www.provence-campings.com/sttropez/camping-plage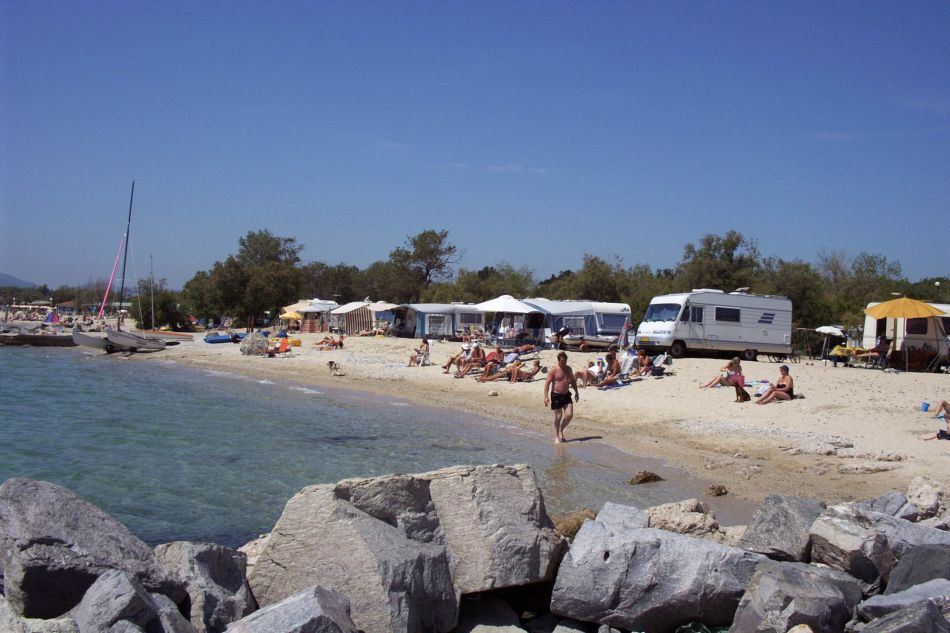 To Find site:- Camping De La Plage has direct access to the N98, if you miss the entrance coming from Ste Maxime continue to the roundabout outside the next campsite Prairies de la Mer and come back on your self.
This site is a complete contrast to bigger, more commercial sites in this area and they do not have one mobile home on site, which by today's standards is quite unusual. However the site is used a lot by customers who store their vans locally and they are moved on site just before the owners arrive to set them up. This seems popular with the English as well as the French. The site has two parts either side of the N98; on the beach side there is little shade except towards the road. On the other side of the road pitches are in wooded surroundings so there is plenty of shade. I understand that this part of the site is only open in the main season. There are several toilet blocks dotted around the site. They are of a reasonable standard although not all toilets are English style. On site there is a good supermarket, a bar/restaurant. There are no real sports facilities. The beach on this site is both larger than and consequently not as busy as the other two sites. Pitches are of a good size and level. There are plenty of water/electric connections although a longer lead may be required on some pitches. When pitching the van it is important to consider where the sum and maximum breeze will be as there is little natural shade, we found that we ate our evening meal much later than usual in order to eat when the heat of the day got a bit cooler.
We liked this site; it was friendly and certainly just before the high season had few children present. Out of season you could probably find a vacant pitch and this may be true in season but you will have to be prepared to move pitches if they are booked. This site is popular with repeat bookers; one we met had been coming for 26 years. To book go direct to the site in season but there is an alternative address when the site is closed.