Camping de Nevers, Rue se la Jonctions, 58000 Nevers, Tel 0684986979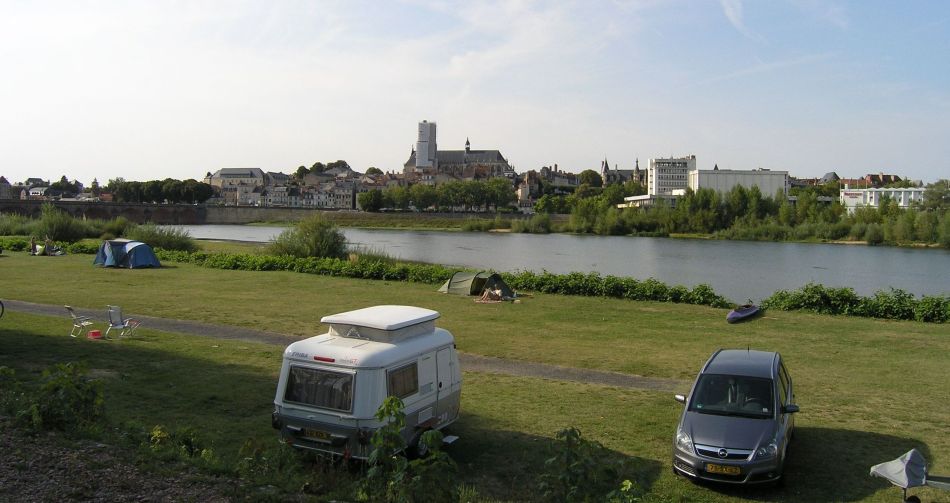 To find site:- Leave A77 at junction 37 and take road D976 in the direction of Bourges. At first roundabout take road to Nevers. Just before bridge over the Loire turn right and campsite immediately on the left. Be warned that site reception is closed between midday and 3.00pm and there is no space immediately outside the site to wait so best to time you arrival to avoid the closure.
Camping de Nevers has a lovely situation on the banks of the River Loire overlooking the town on the opposite bank. There are two parts to the site, a higher terraced section and a lower section on the river bank. There are around 70 pitches although only the terraced ones seem to be numbered and with the exception of a couple of mobiles they are all touring. Pitch size is not over generous particularly on the terrace section and newly planted trees don't help access and they are longer than they are wide. I would have thought it would be difficult to place the averaged sized UK caravan on some pitches without the aid of a mover. Likewise setting up an awning could also be difficult due to the provision of space. Electric points, CEE17 connectors, are rated at 6amps. a long lead might be required for the lower section. Water points are dotted around the site. Chemical toilet disposal is combined with the motorhome service point, not sure I would use the water points in this area for caravan water supplies! The reception building is on two levels with the bureau at the higher level and the bar and toilets facilities at the lower level. The bar also does snacks. The toilet facilities are modern and of a high standard with seated toilets but no paper provided. Both toilets and showers are unisex. Internet access is available by a fixed terminal but the WiFi was not working during our stay. Camping de Nevers is a popular night halt and tends to fill up by late afternoon although I would have thought you would find space but I suspect electrics could not be guaranteed. Date of visit early September 2009.
Apart from being a useful north/south stopover the pleasant town of Nevers, just across the river from the site, is worth a visit. The motor racing circuit at Magny Cours is about 10 miles south. There are numerous supermarkets in the area as well as full shopping opportunities in the town.