Camping Eichenwald, Schiesstanweg 10, A-6422 Stams, Tel 00435263/6159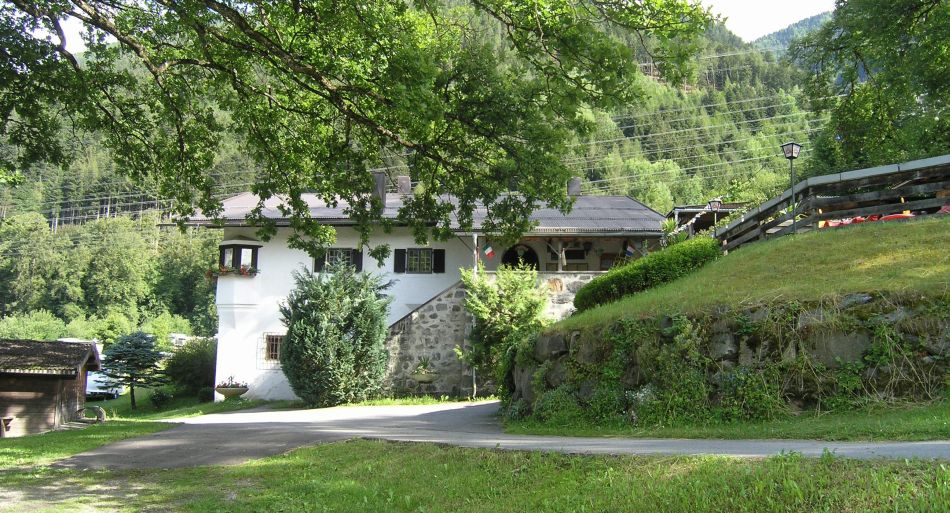 To Find Site:- Leave Inntel motorway at junction for Stams/Motz and take road 171 towards Telfs. Turn right off the 171 at Stams. Turn left just past Monastery and follow Eichenwald Restaurant Camping signs to campsite. Reception is halfway into site so its best to pull in and park near the entrance and walk up as the nature of the site makes turning difficult.
Camping Eichenwald is what I would call a rustic campsite where the facilities whilst perfectly functional and clean do give an impression of being in something of a time warp but that in some ways is part of its charm. If reception is closed when you arrive you are invited to select a pitch and book in later. It has a superb setting overlooking the Inn Valley and Stams Monastery. The pitches, unmarked, are set out in small pitching areas, some being on terraces which offer the best views but are a little more difficult to access. They are of a good size although access will restrict the use of longer outfits. Some pitches have water, waste and electrics close by but the higher sections you have to collect water from the main reception/toilet area which is fairly close by. Electric points are 16 amps but have a mix of standard CEE17 Euro plugs and the more old fashioned Continental 2 pin round plugs. The main building houses reception, bar and restaurant. The toilet facilities are also housed here and are on two levels. During our visit the toilet areas seemed to be under going a face lift. The facilities are of a good standard with seated toilets and paper provided. Brighter lighting would be an improvement. The site has a small swimming pool although it was not open during our visit in mid June 2009. There is some play equipment for young children and table tennis table and table football. There is supposed to be internet access but when I enquired it seems they loan/hire you a 'stick' so not sure how that would work, I assume its something like mobile broadband but availability is not advertised on site. There is no shop on site but they do sell bread but you have to be there early as it sells out quite quickly. Some English is spoken but it depends who is manning the reception. The campsite accepts Camping Cheques in the low season however be aware that some of the facilities in the Camping Cheque site book don't seem to be available and the sting in the tail is that local taxes, to be paid in addition to the cheques, amount to about €4 a night.
This site is a handy stop off point between Italy and Germany if using the Fern Pass. We found it pleasant for our stay of 5 nights. The site is ideally located for exploring the Inn Valley with Innsbruck being about 25 miles away. This can be accessed by road or rail from Stams. The world famous Stams Monastery is right on your doorstep. For shopping there is a nice supermarket at Sliz and couple of miles west of Stams.