Camping L'Amfora, 2-17470 Sant Pere Pescador, Costa Brava, Tel 34972520540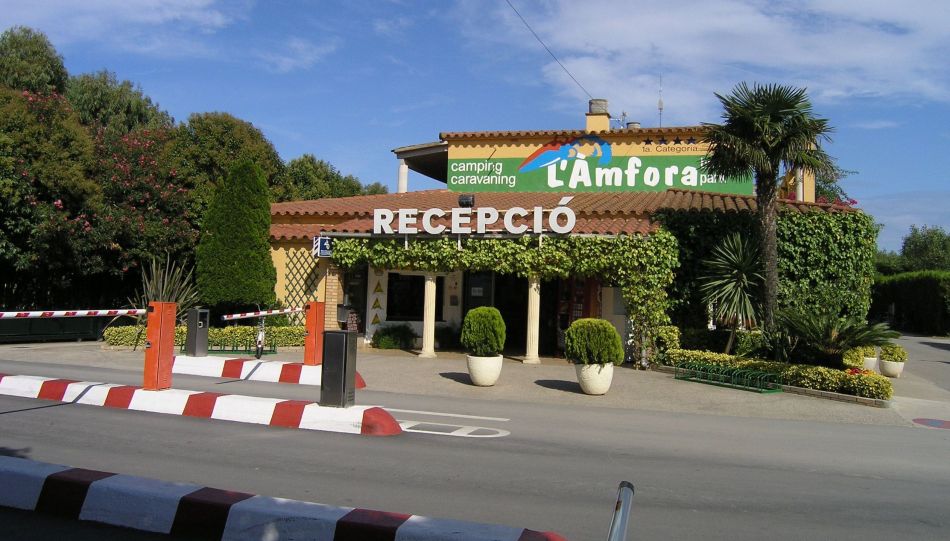 To Find Site:- Leave AP7 motorway at junction 3, Figueres north taking N11 bypass and then C260 signed for Roses. At Castello d'Empuries take GI 6216 signed to Sant Pere Pescador. In Sant Pere Pescador follow camping signs, some roads quite narrow. Once out of the town and over river bridge campsite is well signed. If coming from the south it might be best to avoid C31 to Sant Pere Pescador as there are major roadworks at the moment which makes identifying the correct turning more difficult.
Camping L'Amfora is a large, busy but professionally run campsite right next to a lovely sandy beach. There are in the region of about 700 pitches most of them touring. They vary is size from good to massive! Many have water connections on the pitch (but no waste) and are well shaded. Towards the beach there some pitches of about 90 sq mts which have a more open aspect and no water hook-ups. A further category of pitch has its own private toilet/shower facilities. These come in two sizes the smaller being about 90 sq mts and the larger 180 sq mts, again with good shade. Electric connections, 10 amp, of the older continental style without the male earth pin so if you find reverse polarity the plug can just be reversed in the socket. Toilet facilities are superb and are continuously cleaned by site staff. The toilets are seated, paper is provided but on individual rolls outside each cubical! The site has extensive restaurant/takeaway/bar facilities. Internet provision is by either fixed terminal or site wide WiFi which costs about €2 a day. There is a large on site supermarket with a good range of products which should reduce the need for off site shopping expeditions. The site has a lovely swimming pool complex as well as other sporting facilities and children's play equipment. The Spanish tend to eat and go to bars later rather than earlier in the evening so you should expect some noise, particularly at weekends, if on a pitch near the main road down from reception. Pitches situated further away are unlikely the be affected. Camping Cheques are accepted in the low season. Date of visit mid September 2009.
No doubt the excellent beach will be the main draw of this site however there is lots to do within a relatively short radius of the site. Figueres is not far away and if you are looking for a surreal experience visit the Salvador Dali Museum in the town. The resort of Roses is just across the bay and short drive away. Near L'Escala are the Roman ruins of Empuries which is worth a visit. There are numerous shopping opportunities in the area including large supermarkets.