Camping La Brande, Route des Huitres, 17480 Le Chateau D'Oleron, Tel 0546476237
www.camping-labrande.com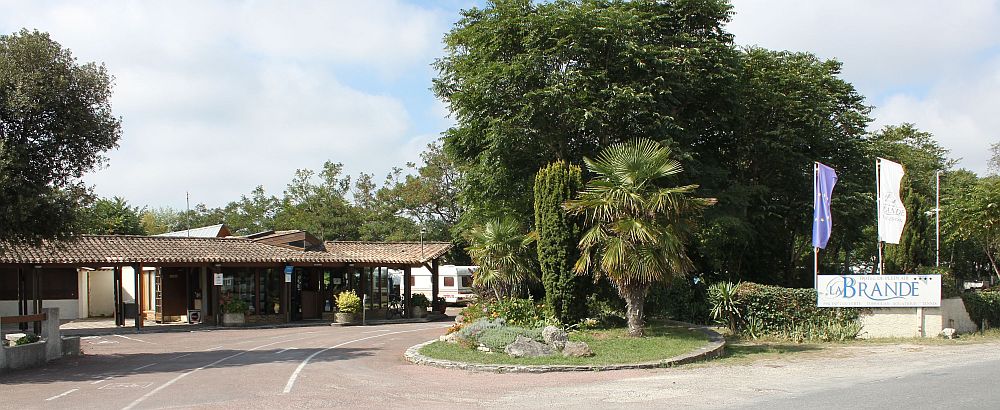 To find site:- From the Viaduc (which is the bridge from the mainland to the island) take the road towards Chateau d'Oleron. Watch out for signs to the Route des Huitres and you will soon pick signs to the campsite.

Camping La Brande is on the Île d'Oleron which is an island off the west coast of France. There are about 220 pitches of which 140 are for touring units. The statics are grouped together rather than being dotted within the touring are. Parts of the site are under quite heavy shade but there are other pitches with a more open aspect. At the furthest point from reception is a new touring section with little shade, as yet. Pitch size varies but the majority are of a good size and several are larger than average. Electricity is rated at 6 amps and connections are via Continental 2 pin adaptors. There are water points dotted around the site but they are a bit sparse in parts. The site has two toilet blocks, both of a good standard but are unisex. There is a mix of British and Turkish toilets. The British style toilets have seats and toilet paper is provided. There is a nice swimming pool complex which includes a water slide and the main pool can be enclosed in poor/cooler weather. Next to the pool is a bar and a games area. Free WiFi is also provided in the Bar area. Bread can be ordered at Reception. In the main season there is a shop but this, along with other facilities is not available throughout the site's lengthy opening season, check with the site for more details as this may change from year to year. Children are well catered for with a playground, crazy golf and for older children electronic games. One slight downside of this campsite is a continuous low level noise coming from a nearby oyster production facility. In time it does become less intrusive and noticeable. It effects pitches around the perimeter of the site from the swimming pool. Camping Cheques are accepted out of the high season. Date of visit September 2010.

The Ile d'Oleron is only about 20 miles long by 8 wide so it is relatively easy to explore either by car or bike. Other than the main road running the length of the island many of the other roads can be narrow, winding and bumpy so best not to be in a rush! For serious shopping there is a nice Shopping Centre in St Pierre d'Oleron which includes an E LeClerc supermarket. Sea food is the life blood of the island and there are many seafood restaurants to enjoy. There are, of course, many local markets.
Click on the thumbnails below for a larger picture.