Camping La Briquerie, Equemauville, 14600 Honfleur, Tel 02 31 89 08 52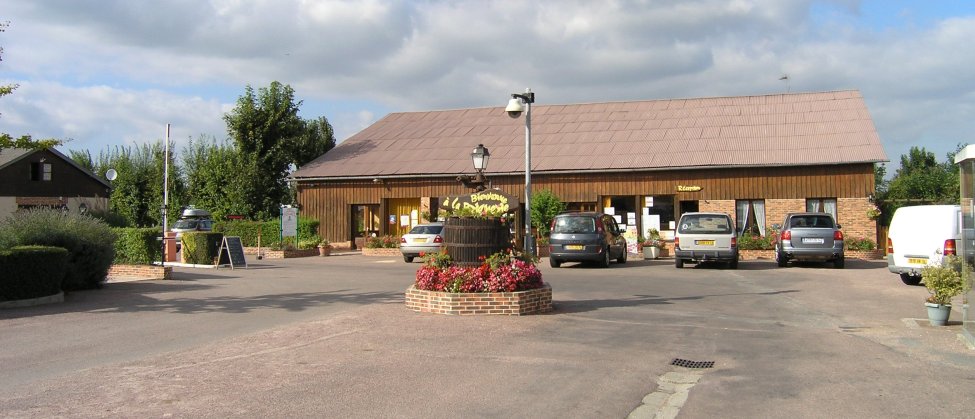 To Find Site:- Leave A13 and join A132 in the direction of Deauville/Trouville. Leave motorway after only a short distance and take D579 in the direction of Honfleur. After about 8kms continue on D579 towards Equemauville. At roundabout in village with the water tower on your right follow signs for Intermarche Supermarket, the site is about 200 metres further on the right. (It is possible to reach this site via Honfleur but be warned that some roads are quite narrow and it is a very busy place, particularly on Saturdays when a large market is held)
Camping La Briquerie has around 375 pitches with about 150 being for touring units, the rest are taken up with mobile homes. Pitch size is around 100 sq mts with some being larger and they are all delineated by hedges. All have electric supply which is either 5 amp (the norm) or 10 amps is available on the larger pitches at a small extra charge. Water supply and waste water disposal is shared between pitches. Rubbish bins are provided at the rate of one every two pitches, which whilst convenient they don't enhance the look of the site! There are several toilet blocks dotted around the site which are of a acceptable standard with seated toilets but no paper provided. The site is certainly well equipped with other facilities which include a Bar/Restaurant/Takeaway. There is a good swimming pool complex, a fitness room and solarium. Bread can be ordered from the Reception for the following day. Also available in reception is internet access via a PC, at present the site does not have WiFi although they hope to have this installed for next year. The site offers a discounted rate for holders of the ACSI Card in the low season. Whilst this site is a useful stop over point for a short stay I am not convinced I would want to use it for a longer stay. With one exception I did not find the reception staff particularly friendly or welcoming. It is only my impression but I thought that touring units were the poor relation to the owners of the mobile vans on site. Date of visit, second week of September 2007.
Reader Up-date 2013:- WiFi is now available site wide. New high quality toilet block now open.
This campsite makes a convenient stopping off point for all Ports from Cherbourg to Dunkerque. It also has the advantage that it is only a fairly short journey from the site to the delightful town of Honfleur. The coast towards Deauville is also close by. For shopping the supermarket is virtually next door, about five minutes of foot.