Camping La Fountaine des Clercs, 1 Rue de L'Eglise, 62170 Montreuil-sur-Mer, Tel 0321060728, http://campinglafontainedesclercs.fr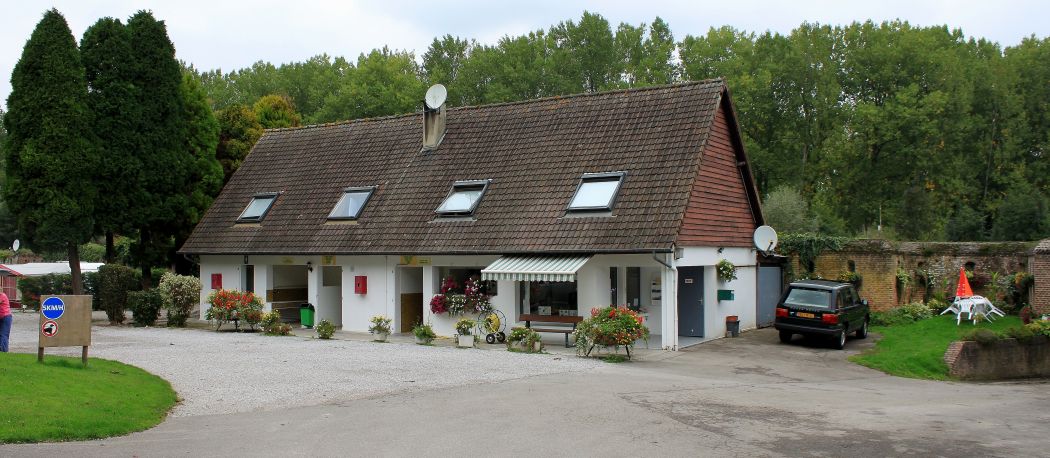 To Find Site:- From north or south on the D901 (formally the N1) take the D349 towards site and follow signs. (Do not enter the walled town.) The final approach is quite narrow.

Camping la Fontaine des Clercs is set out in terraces directly under the walls of the town on Montreuil. This site is open all year. There are about 76 pitches on a mix of grass and hard standing. They vary in size from small for tents to quite generous for caravans and many sizes in between. There are two sections of hard standing pitches either side of the Reception building with level access all other pitches are of quite steep terraces working their way up from Reception to the fortified walls of the town. Some of the pitches are taken up with permanent caravans. Electric points are rated at 10amps and have CEE17 European blue connectors. On some pitches it may be necessary to run your electric lead across a site road. Water points are dotted around the site. There are two toilet blocks. The one next to Reception is adequate and clean with seatless toilets and no paper provided, however it could do with a makeover to bring it up-to-date. There is no onsite shop but the town is only a relatively short walk away. Reception has limited opening hours and the form seems to be to select a pitch and go back later to book in. The site has free WiFi, we were able to pick it up in the van but we were near reception. Cost per night during our visit for two persons and electricity was €18 a night. Date of visit early October 2010.

The delightful walled town of Montreuil is a few minutes walk from the campsite and is well worth a visit. The coast is not far away either. For shopping there is a supermarket on the ring road and of course any number of individual shops in the town.