Camping La Riva, Via Poncione 3, 1-22010 Sorico, Tel 034494571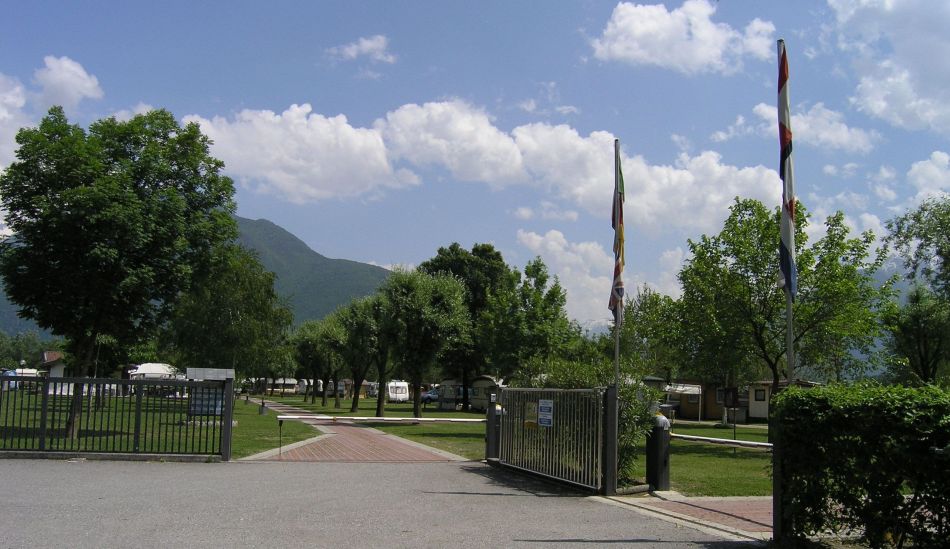 To find site:- It is advised to approach this site from the eastern side of Lake Como via Lecco on the SS36. (The western side of the Lake from Como is not recommended for towing.) At the northern end of the lake as the road divides follow signs for Como. This requires a left turn in about a kilometre, there is a centre selling garden ornaments on the corner. It should be signed to Como but the sign is quite difficult to see. Continue along this road and after river bridge watch out for signs to site and left turn into site road. There are two campsites on this short approach road, Camping Poncione is the first and La Riva is at the end of the road by the river.
La Riva has a superb location situated on a river about 1 kilometre north of Lake Como and is surrounded by mountains. All pitches are on grass and level, they vary in size but most are quite generous. Most pitches have easy access to water and waste points which should allow water connection but it would be more difficult to connect to waste as access is via a metal drain covers would be difficult to leave open. There are electricity points close to most pitches and they have CEE17 connectors rated at 6 amps. There is one toilet block which is of an excellent standard with seated toilets but no paper. For showers you need a token which costs 80 cents. Reception, where English is spoken, is in the middle of the site and also contains a small bar where bread can be ordered for the morning. Between reception and the toilet block there is a nice swimming pool and sun lounge area. About a third of the site is taken up by permanent caravans but they are mostly sited the other side of reception. Just outside the site, over a public footpath, along the river bank the campsite maintain an open area between the site and the river where there is space to sit or launch a boat. From our observations of other sites nearby La Riva is certainly the best in the area. However it is quite expensive, especially as you also have to pay for showers although pricing is not out of place compared to other similar Italian campsites. It can be booked via the Caravan Club which can give you a bit of a saving depending on the exchange rate. The site does not have WiFi but reception did suggest you could use the office computer if it was necessary to check e-mail. Date of visit mid May 2009
The footpath that runs past the site is handy for cycling/walking into Sorico and along the shore of Lake Como. There are many excursions possible from the site by car. The campsite loans each new arrival with a folder of local attractions which is a nice touch. If you like Gardens then Villa Charlotta at Tremezzo is worth a visit. There is a large supermarket about 4 kms from the site in the direction Sondrio. Click on thumbnails below for a larger picture.