Camping Les Prairies De La Mer, St Pons-les-Murs, 83360 Grimaud, Tel 04 94 79 09 09
Camping les Prairies de la Mer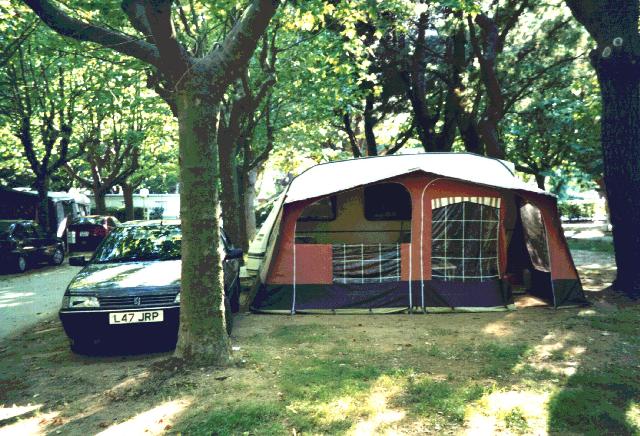 A very large site with some 1400 pitches. It is situated on the N98 with easy access via a roundabout. There is an alternative entrance opposite Port Grimaud.
The pitches at the N98 end of the site are well shaded. The ones nearer the beach have much less shade. Pitch size is fair but not the best and some large outfits could have problems if they also wanted to erect an awning and have space for the car and sitting out. Over the years the site has increased the number of mobile homes as a consequence there has been a steady reduction in touring pitches. This site used to be in the Caravan Club Advance Booking Service but this stopped about two years ago, something the CC regret but it was a site decision. Advanced booking would be essential from early June to the end of August on this popular site. All toilet blocks have been refurbished over the last three years and are now of a good standard but they will be very busy in peak season. Drinking water is only available at toilet blocks so there is often a long walk to replenish water containers. The same is true of waste water and chemical disposal. Prairies has two good supermarkets which reduce the need for the trek to the bigger mainstream supermarkets. There are several bars and restaurants and an Internet Café. Entertainment is provided several nights a week in season but this does not go on beyond 11.00pm.
Being popular with families, especially those with older children, the site can be noisy and feels very busy and their section of beach can get crowded. There is also noise from the N98 if you are near the back of the site. Prices in high season are quite high.