Camping Les Truffieres, 26230 Grignan, Tel/Fax 00 33 (0)4 75 46 93 62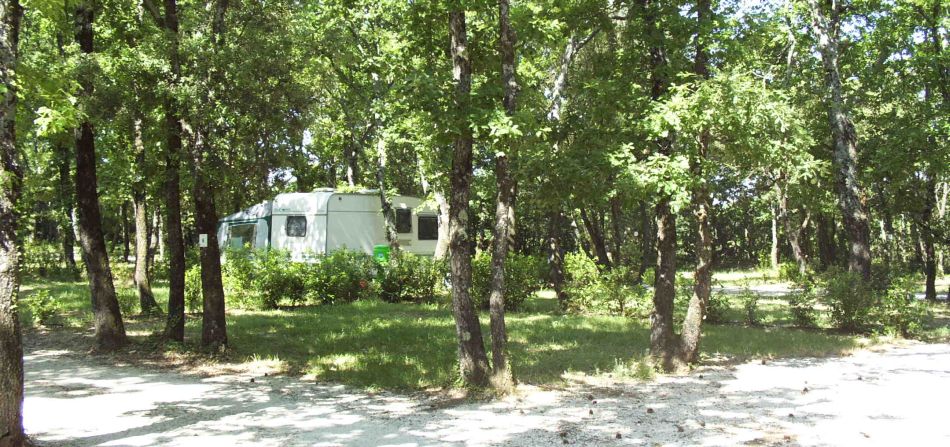 To find site:- Leave A7 Autoroute at Montelimar Sud and take N7 south in the direction of Pierrelatte, after about a kilometre turn left onto the D133, which becomes the D541 and follow signs to Grignan and Nyons. Just before Grignan, you will see the fortified village ahead of you, turn right onto the D71, after about a kilometre turn left at site signs.
This is a medium sized site with 85 pitches and electrics to 10 amps. It is open from 1st April until 30th September. Booking is advised in the main season. The original part of the site has well delineated pitches with good shade. At one end of this section is a nice swimming pool with a smaller children's pool. As part of the swimming pool complex there is also toilets and showers but these tend only to be open in the peak season. The main toilet block is in the middle of the site, is of an excellent standard, and kept very clean. Contained within this block is a washing machine and dish washing facilities. More pitches have been developed to one side of the main toilet block in what was an oak wood. (This is how the site got its name.) They are of a good size delineated by hedges and oak trees. However the nature of the site does mean that on some pitches there are trees that can restrict the use of the full area of the pitch. This would likely only be a problem to someone with a large van and help is always on offer from the site owners to help position vans on pitches. Also on site is a Bar and Restaurant which again only opens in the main season. From early June a baker calls each morning. Entrance to the site is controlled by a barrier system, which requires a key for which you pay a €20 returnable deposit. Dogs are not accepted at this site.
We very much enjoyed our five-day stay here. We were made to feel very welcome by sister and brother team Jacqueline and Patrick who obviously have a lot of very loyal customers. The site is peaceful and perhaps avoids the roasting heat of the Ardeche, which lies across the A7 to the west because there is plenty of shade. It is also deep in Cote du Rhone country, so if this is one of your favorite wines there are plenty of places to sample it. The fortified village of Grignan is only a few minutes from the site and is well worth a visit. I would also suggest that you visit the Chateau and pay €1.50 to access the grounds; there are superb views of the surrounding countryside and distant mountains. There are two supermarkets in Valreas which is a few miles on towards Nyons.