Camping Municipal de la Route d'Or, Allée du Camping, 72200 La Fleche, Tel 02 43 94 55 90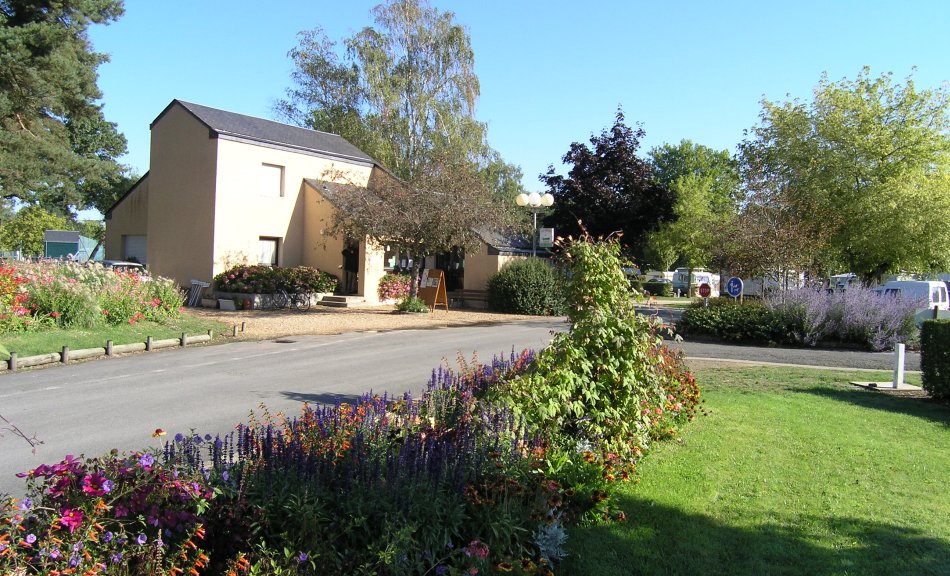 To find site:-From the A11 head towards La Fleche and take D308 towards Baugé and follow signs to campsite within a short distance. From the D306 from the East of the town the directions route you through a built up area. An alternative would be to go through the town on the road adjacent to the river and at the roundabout at the far end of the town follow road to Baugé and watch for left turn to campsite.
This is a most delightful Municipal Campsite situated on the opposite side of the Loir from the town of La Fleche. The site roads radiate out from behind the reception. All pitches are on grass, although some have a small base area of sand. The majority are divided by hedges and are of a generous size. Some even have a drive through layout which makes it easy if you are staying just over night. Depending on what part of the site you choose there are some mature trees to provide shade but the general aspect of the campsite is open. Water and electricity (10 amp) are handy to all pitches. The campsite also boasts a tennis court and swimming pool. There are two main toilet blocks of high quality with English style seated toilets but no paper. There are excellent disabled facilities in a small block behind reception. A fourth toilet block near the swimming pool has seen better days but is perfectly serviceable. Site fees are very reasonable, it cost us just a little over £9 a night which I thought was excellent value. Date of visit late August 2006.
This site is very handy, 8 miles from the A11, as a stop over site for those going over to the west coast or further south to the Dordogne. It does seem a shame just to use it for an overnight stop as it is worthy of a longer stay. It is a lovely spot and the town of La Fleche is well worth a visit and is only a short walk away. There is a supermarket about a mile from the site on the road to Le Mens. Click on thumbnails below for larger picture.