Camping Nostradamus,D17 Route d'Eyguieres, F-13300 Salon de Provence, Tel 04 90 56 08 36,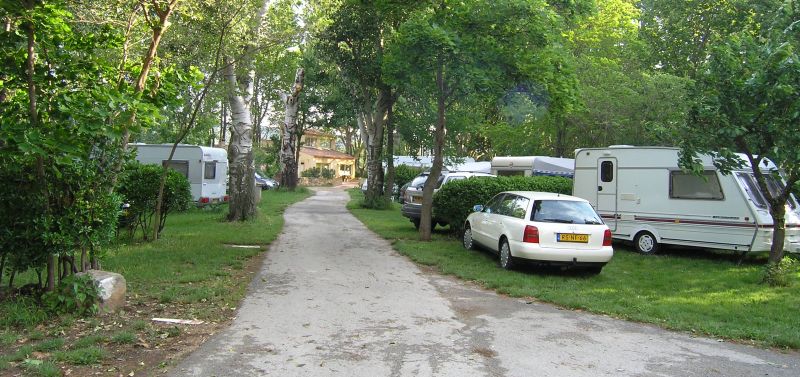 To Find Site:- Leave the A7 Autoroute at junction 27 and follow signs for Salon de Provence, in Lamanon follow signs for Eyguieres. As you approach the town you come to a roundabout, take the turning for Salon de Provence, road number D17. A short distance along this road is a right turn signed to the site. After a 100 metres or so the site is on the left over a small stone bridge. Once over the bridge don't pull too far forward as the entrance to the is immediately on the right through the barrier.
Its just as well first impressions don't immediately put you off a campsite. Considering that we were less than 50 miles from the Mediterranean the rain was coming down in stair rods, every pitch was awash with water. We had made it thus far and it had been raining since north of Orange and it seemed to be getting dark despite only being late afternoon, perhaps there was something in the name! The first saving grace was the owner Gilles, who insisted on coming out of reception in the pouring rain to personally meet Margaret. She was impressed, better keep an eye on these Frenchmen!
The campsite has about 75 touring pitches which are of a good size although they vary in shape, a few being long and thin. All have good shade from tall mature trees. There are two toilet blocks but only the smaller, newer block was fully open during our visit. The block was of a good standard with seatless toilets and no paper. The campsite does have a swimming pool and bar but this was not open in the low season. Bread and a few essentials, including wine, can be purchased from reception. This is a convenient stopover site for those travelling further along the Mediterranean or would be worth a longer stay in its own right. Date of visit mid May 2005.