Camping Pavillon Royal, Avenue du Prince de Galles, 64210 Bidart, Tel 05 59 23 00 54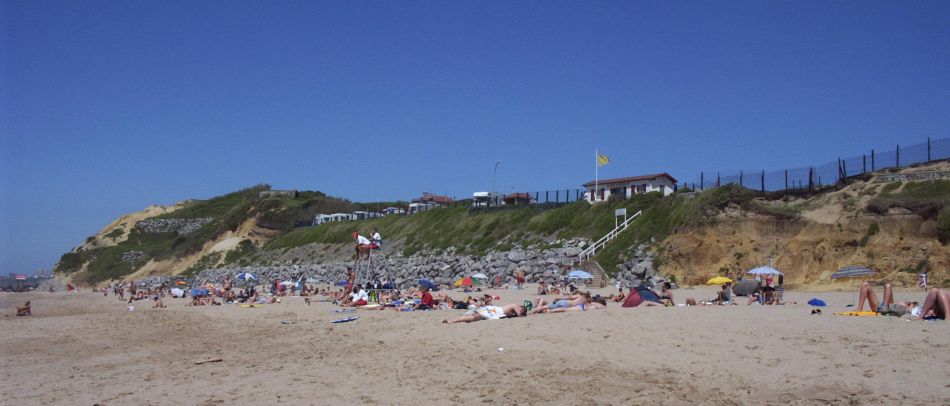 To find site: - Leave A63 at junction 4 and turn left onto N10 after tolls. In about one mile turn right by roundabout next to the Intermarche supermarket. At the T-junction turn right and watch out for signs to site in a couple of hundred yards. There is also convenient access by rail (Biarritz) and by air as at least one of the low cost airlines use Biarritz Airport.
This site has about 300 pitches, all touring set out on terraces. They vary in size depending on the type of outfit. Some tent pitches have separate parking areas. The pitches for caravans are of a generally good size although they do vary, some seem tight and others seem massive. The ones nearest the beach seem to be slightly smaller and more difficult to get into. Most of the site has a slight slope. Water, waste and electrics are handy to all pitches. There are two shower blocks and two toilet blocks all of an excellent standard. Other site facilities include a first-rate shop, restaurant/take away, and swimming pool complex. The site has a security barrier system for which they charge a 20 Euro returnable deposit. Not only does it allow access to the site but also the beach. This site does not accept dogs. I have no hesitation in recommending this site. although not the cheapest I have used, , as it will be difficult to find another with such good facilities as well as a really lovely beach so close at hand. The only health warning would be the weather, which seems to be very changeable and in no way consistent, although I was told it was a bad year!
The beach, which is really wonderful, will be an important ingredient for most people, from June it is supervised although because it is on the Atlantic coast swimmers do have to be careful and watch for sea conditions as indicated by the flags. There are many opportunities for outings from the site with Biarritz only a mile or so away and the Spanish border about 10 miles away. If the weather is good I suspect most will be happy to make use of the beach. Shopping is well catered for. If the comprehensive site shop canít satisfy your needs then the nearest supermarket is the Intermarche on the N10 but there is a larger Carrefour near St Jean de Luz.