Campinginsel, Spulinsel 6, Havelberg, Tel 03938720655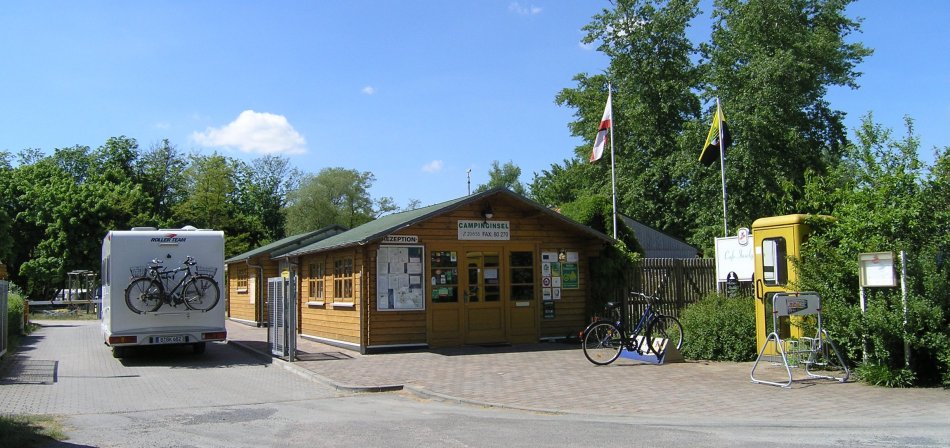 To find site:- Approaching Havelberg from the south on the 107 cross bridge and follow river on your left, do not go into old town. After second river crossing watch out for camping signs almost immediately on left. Take this road and watch out for another camping sign to the left by large car park. Follow narrow lane along river bank past rowing club to site entrance.
Campinginsel is in a very pleasant position on an island in the River Havel overlooking the old town. Like a lot of German campsites there is no access between 1.00pm and 3.00pm. There are about 80 touring pitches of a pretty good size, some are open and others are in the wooded area. There are also some permanent vans. Some pitches will need levelling as the ground might be uneven. Water points are dotted around the site and if you were close enough there are sufficient taps to allow individual connections. Electricity supply is 16 amp although depending on where your pitch is you could need a long lead. There are several small toilet blocks dotted around the site with really excellent installations. The chemical toilet disposal is situated in the furthest corner of the site which could involve a long walk! The campsite offers a WiFi connection, or W-Lan as they call it, this is provided free, although you are given a pass phrase. The campsite has no shop but there is a bar which also seems to be open to passing customers.
The old town across from the campsite is also on an island and is reasonable compact, so easy to explore. It has a full range of shops and restaurants, some of which offer a discount to campers. To visit the Dom requires a bit more effort as its up hill all the way! There are at least 4 supermarkets in Havelberg, some with familiar names like Aldi and Netto although perhaps the Edeka and Plus ones are the nearest to what I would expect from a supermarket! There are also a couple of fuel stations.