Campingpark Lemgo, Regenstor Strasse, Lemgo. Tel 0526114858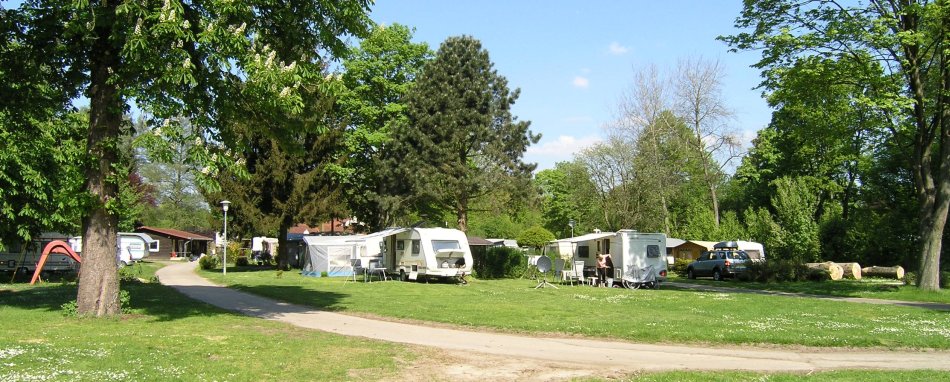 To find site:-On the approach to Lemgo follow camping signs. Sat Navs tend to take you through part of the old town rather than round the ring road.
Campingpark Lemgo was formally two separate campsites almost next door to each other. The first part nearer to the road has those concrete blocks which the grass grows through and is mainly used by motorhomes although it does have touring and a few static vans as well. The part further down the lane is quite a rustic site surround by mature trees and similar in nature to a large CL. It can take in the region of 25 touring units although pitches are not delineated in any way. Like a lot of German sites is has a mix touring pitches and permanent vans. The electric supply is 16amps although some pitches require a long lead. Water points are dotted around the site. There appears to be no low level waste water disposal. The toilet block, whilst not new, is perfectly serviceable. The site is under enthusiastic new ownership and they are aiming to gradually upgrade the facilities. The first stage involves the refurbishment of a meeting/TV room for campers which will also have cooking facilities for tent users. In the autumn they plan to upgrade the toilet block. There is a tendency, when the site is busy, to cram too many vans into the one open area but allow others around the edges of the site plenty of space. I think I would be happy to recommend the site but be aware that it can be busy at weekends. This site accepts the ACSI Card.
This site is ideally situated for a visit to the delightful town on Lemgo which is only a short walk away. Almost next to the site is a Municipal swimming pool/lido which is popular with the locals. We found at least two supermarkets in the town. There are plenty of opportunities for cycle rides on the many cycle paths around the town. Further afield Hameln is 25 miles away and there is a local train to Bielefeld.