Campingpark Sanssouci, An der Pirschheide 41,14471 Potsdam/Berlin, Tel 03319510988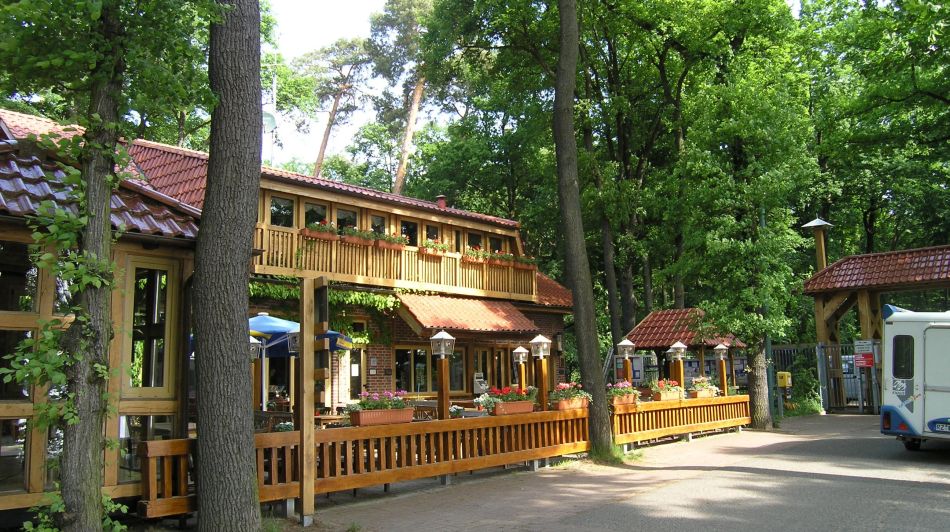 To Find site:- Leave A10, Berliner Ring, at junction 22 towards Potsdam on B1. About 2km after Geltow turn right immediately before railway bridge at sign for campsite. The site is about 2 km along this road which is narrow in places but you can pull over on either side to pass. The site is at the end of the road.
Campingpark Sanssouci has about 170 touring pitches plus a number of permanent caravans situated on the shore of Templiner See. Pitch size varies but is generally OK although some tend to be long and less wide which can give the impression of being packed together. The larger pitches tend to be further into the site. Because of the wooded nature of the site large twin axle caravans would need to proceed with care. Fresh water and waste are handy to all pitches and there is the possibility for water and waste hook-up from the majority. For water you require a key which is provided for a modest returnable deposit of €3. Electricity supply (10amp) is convenient to all pitches. There is a separate tent area near to the lake. The general campsite facilities are all to a very good standard with the addition of private bathrooms to rent and a large room that can be used by tent campers to cook and eat meals under cover. Reception (closed between 13.00 and 15.00 daily) is a good source of local information and they sell a variety of maps and travel cards via a machine, most of the staff speak good English. You may need to enlist the helpful staff in reception to understand exactly what tickets you need! Behind reception is a small shop selling basics and bread rolls can be ordered the day before. There is a bar/restaurant. Only cash is accepted in payment at this campsite. The site has a WiFi point, although only available in the vicinity of the bar and it requires the use of the site's own dongles which requires software (provided) to be loaded onto your computer. The only cost is the hire of the dongle at €2 a day. This is a very busy site where the main purpose of a stay is to visit either Potsdam or Berlin so be aware that, like other sites near main tourist attractions, it is not the place for a peaceful/restful stay! It is also quite an expensive site with average fees for 2 of around €30. (Date of visit May 2008)
The majority of people that stay at this site do so to visit either Potsdam or Berlin via the excellent transport links. The site provide a free shuttle bus to/from Pirschheide Bahnhof/tram stop. There is a Park and Ride facility at Pirschheide but this gets full during the week so the site shuttle might be the better option. Local transport tickets can be purchased at reception. There are lots of cycleways in the vicinity of the site. Park Sanssouci is a level, mainly off road, cycle away. Supermarkets and fuel stations are dotted along the B1 although traffic wise going away from Potsdam is quieter. Click on thumbnails below for larger image.