Campingpark Sonneneck, D-56154 Boppard, Tel 067422121.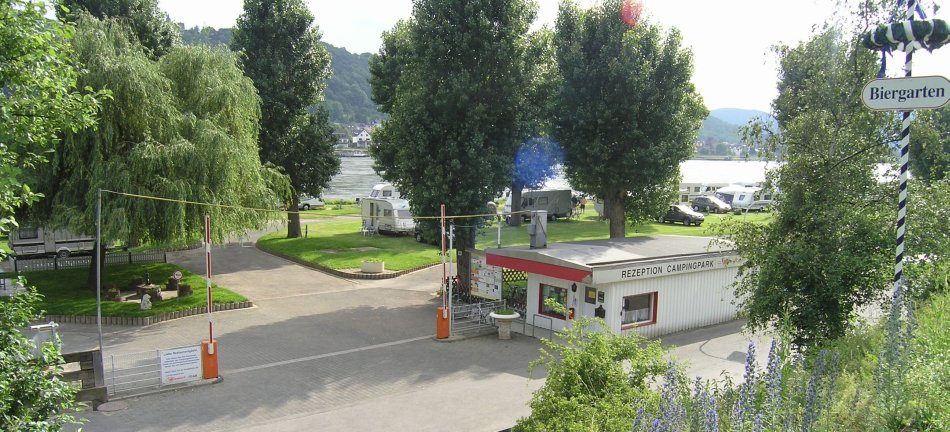 To find site:- The site is off the B9 south of Koblenz and about 5kms before Boppard. The site is well signed from both directions.
I think with this site its a case of location,location,location! The location is superb being right alongside the Rhine. However you do get the impression that the site management trade on this a bit as a reason for not improving the facilities. When we arrived in early/mid June it was clear the grass had not been mown for several weeks, although a start was made on the second day of our stay! The swimming pool is not available until the higher season fees kick in. The toilet block whilst perfectly adequate, could do with an upgrade. There is a second block with showers (locked during our visit) plus a washing up/laundry area. Although the toilets are centrally located some pitches are a long way, away. Pitches are not marked in any way which is fine in the low season but could cause problems when the site is full. Electric points I was informed by reception are 16amps, which seems to be borne out by the appliances we could use but mysteriously some of the electric boxes mention 4amps! Water points are dotted around the site. There is a restaurant/bar on site which has a nice terrace next to the river. Reception does not keep extended hours but the barriers are not closed so the form seems to be to find a place and check in when reception is open. The real downside of this site is the intrusive noise from the busy railway lines on both sides of the river with the one next to the site being about 100 metres away. During the low season the site accepts the ACSI Card but watch the dates. The site does not have any form of internet connection. This site only accepts payment in cash.
There are many opportunities for excursions up and down the Rhine Gorge. There are excellent transport links and good cycle ways. For food shopping Boppard is close by. Alternatively you could just sit and watch the river transport.
Click on thumbnails for larger picture.