Campingplatz Rudesheim am Rhein, D65385 Rudesheim am Rhein, Tel: 06722 2528
www.campingplatz-ruedesheim.de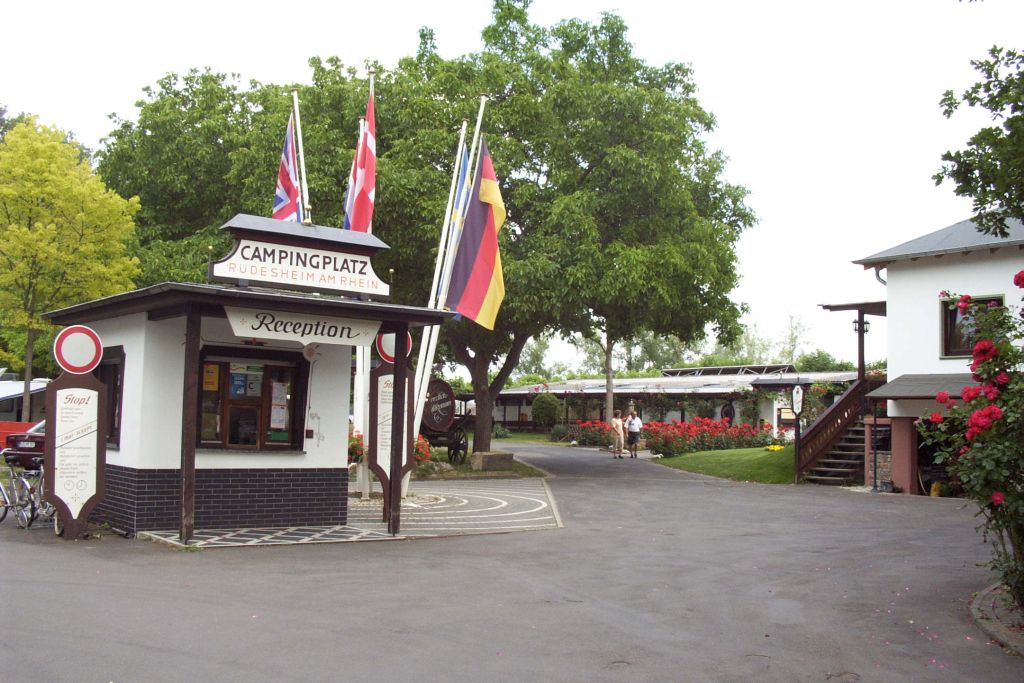 To find site:- This campsite is situated on road 42 which runs between Kobelnz and Wiesbaden. The road is better coming from the Weisbaden direction although approach from the north is spectacular because you follow the Rhine almost all the way but be prepared for it to be slower because of the numerous towns and villages along the way. To get to site in Rudesheim follow signs for car park 6, this avoids a low (2.8mt) railway bridge. The site is just past the tennis courts and the swimming pool.
2004 Was our second visit to this site. The site is directly on the Rhine which makes it more interesting but like any Rhine side sites there is a certain amount of noise from river traffic, although I have to say we were unaware of this when it was time for bed. There are lots of mature trees which afford shade to most pitches. The caravan and tent pitches are all on grass but not marked out so the pitching can seem a bit hit and miss. This is more of a problem when the site is busy. The exception to grass is a couple of areas set aside for motor caravans which have a concrete block base which allows grass to grow through. If you have a problem with cross polarity with your electrics the man who sets your electrics up can flick a switch to correct the polarity. On site there is a bar and small shop although it is advisable to order bread. The toilet block is of excellent standard but you do have to pay 1 Euro for as shower, which is a bit on the expensive side! Water is only available from the toilet block area, there are no taps around the site. The site has a children's play area and there is a municipal swimming pool just out side the campsite.
You can walk into the attractive town of Rudesheim along the river from the site. It is an ideal base for exploring this part of the Rhine. There are lots of excursion boats/ferries that call at Rudesheim so you can tailor a river trip to suit your needs. There are a couple of supermarkets very near to the campsite so supplies are not a problem. I have no hesitation in recommending this site which can be booked via the Caravan Club ABS.