Caravan Travels in the UK 2021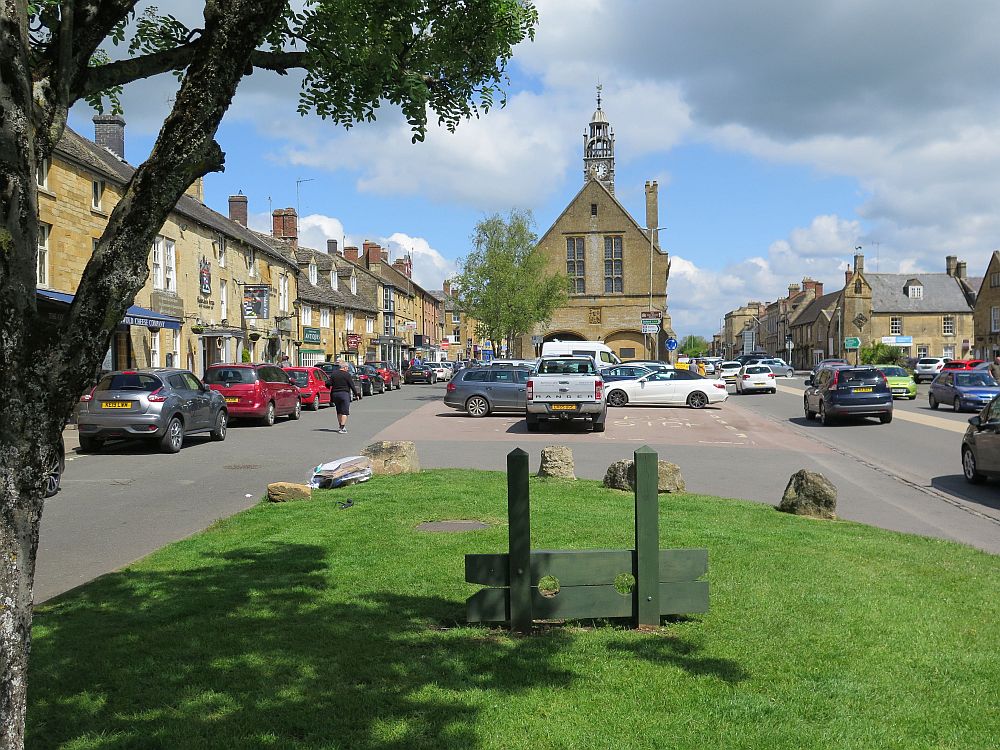 Well, this is our first trip away in 2021, seven and a half months since we were last away. During that time so much has happened, not only to the UK, but to the rest of the world. If it had not all been so tragic it would have made a good story line for a dystopian novel. ( just as an aside Margaret has just started to read a Peter May novel called Lockdown, not really to do with COVID but along similar lines and written six years ago!!!) COVID has confined many, including us, to barracks, for virtually months on end. Whilst many will analyse what went wrong, who was to blame the one miracle to emerge from the chaos were the various vaccines that started to be administered at around the turn of the year. We have both had two doses of the AZ vaccine which we hope will keep us safe. But having said that it has not gone away. As I write there are increasing concerns about a variant of the virus from India which is spreading fast in certain communities which may yet undo all the good work achieved so far. I think what annoys those of us who have done so much to protect ourselves is that our Government has not acted quickly and decisive enough to close certain borders to stop the spread of the disease.
From reading many caravan/motorhome forums it seems that many couldn't wait to get away once campsites opened on 12 April. Understandable I suppose as people have felt that have been locked away for so long! We took a slightly longer view and waited until three weeks after our second vaccination. Not wishing to venture too far we decided on the Caravan and Motorhome Club site in Morton in Marsh which is only a little over 50 miles from home. We had booked a three-night stay to get us back in the swing of things.
Moreton in Marsh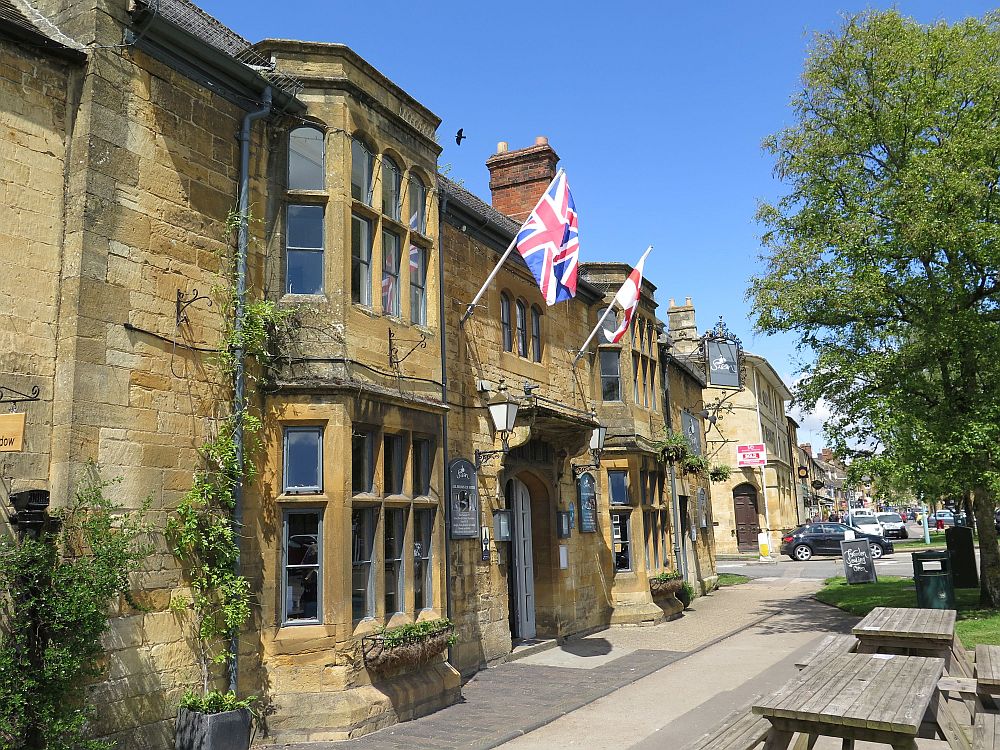 Tuesday 25th May and time to set off. May has been an exceptionally wet month and no doubt will prove to be one of the wettest on record so we had both fingers crossed that the last days of May might be better. As we were ready to leave it still seemed pretty damp but once on the road out towards Buckingham there were encouraging signs of it brightening up. En route we made, what is becoming, a regular coffee stop at Buzzy Beans mobile coffee shop between Adderbury and Deddington. We arrived at the site about quarter past midday. Due to COVID precautions check in was a bit more complicated than usual but well organised. Margaret didn't like the first pitch so she set off to find another! We are in a little cul de sac of eight or nine units. There have been many complaints about the size of the pitches on this site but it seems this little section, at least, has been refurbished. They have also added some service pitches as well. One thing that was bothering me was that we I went to restart the engine at reception the engine management light remained on. The handbook just says to contact an agent when you can so we will see what it's like on the way home!
It seemed strange setting the van up as it's so long since we have done so. Had a bit of trouble with the TV connection as the F socket to Co-Ax was missing. Obviously, a regular thing as the lady in reception produced a bag full of the connectors and gave me one to repair the bollard. Thinking we had everything sorted thoughts turned to dinner but we have a menu malfunction. The food we had planned, despite having been in the fridge and so should have defrosted hadn't. We did have a tin of baked beans but that hardly seemed enough for a growing lad! As luck would have it there is an onsite Pizza seller on a Tuesday so Margaret trotted along to the site entrance armed with a £10 note to buy an Italiano Pizza. This turned out to be very nice and I think the red wine went with it more so than the baked beans!!!
Wednesday 26th May. The improvement in the weather has continued although far from hot it was a nice temperature for wandering around Moreton in Marsh which we did today. For those that worry about how far they have to walk it is half a mile from the site to the High Street and circuit of the town to the railway station and back to the site is two miles. Plenty of options to take a rest en route. There seemed to be a few empty premises although some where having work done on them. Another change we noticed was that the Co-Op have moved from the High Street to what used the be the Budgens at the north end of the town. Fortunately, they have retained the coffee shop so we enjoyed a coffee although I got the wrong one but it was so noisy that it was hard to hear yourself speak! I am not a lover of milky coffee but it was OK. After gathering a bit of shopping, including some Elastoplast as we discovered we had none in the van. We made our way down the other side of the High Street. We looked at the bus times for Stow on the Wold which appear to be every hour and a half. A possibility for tomorrow? Mind you we have not been on a bus for well over a year! On the way back to the campsite we stopped to look at the lambs in a field. One must have been very newly born as there were signs which I won't go into but I have obviously spent far too much time watching Call the Midwife!!!
Thursday 27th May. Dawned another nice day and if anything, a bit warmer. Decided against a bus trip as Margaret was a bit concerned about frequency of service for getting back and probably also concerned that we have not been on a bus for so long! So decided on a lazy day although we did have a wander around the site to observe the changes since our last visit two years ago. There has been quite a lot of change. Both motorhome service points now have open grill disposal points. They have introduced some serviced pitches and some of the other pitches have been reconfigured to upgrade them. There are still some of the older smaller pitches around the site but I imagine the upgrading is a rolling programme. The Club had previously added some static accommodation and this is being augmented by the addition of what looks like four Safari Tents.
We also discovered a new footpath from the site which offers a non roadside walk into town and also to Batsford Arboretum. Whilst wandering around the site we came across a lovely old Fiat Camper which looked in excellent condition
I am sure I am not alone when checking into a CMC site that the wardens seem to go into more detail about parking to the peg than discussing COVID precautions! Whilst I am happy to oblige and always park to the peg, after all I have been doing it for 40 years, many of my fellow travellers seem to totally ignore the instruction. Given the time and effort to explain any sort of enforcement seems totally missing! I suppose what I don't understand is why some seem to totally disregard what they have been told, usually at length!!!!
Friday 28th May. When I started up the engine warning light was still on. After only a couple of miles we pulled into a lay-by because something was rattling in the bathroom area. Once sorted we set off and I noticed the engine light had gone out so hopefully it had reset itself as the handbook suggested. Otherwise the journey home was uneventful, we just made fuel stop before we arrived home. The first time we had filled up in seven and a half months! It did just cross my mind that having such old fuel in the tank might have contributed to the engine warning light coming on. When we got home there was a delivery lorry parked across our drive and access to the garden so I parked up whilst they sorted themselves out. I might not have been as relaxed about it had we still had a caravan!!!
Kessingland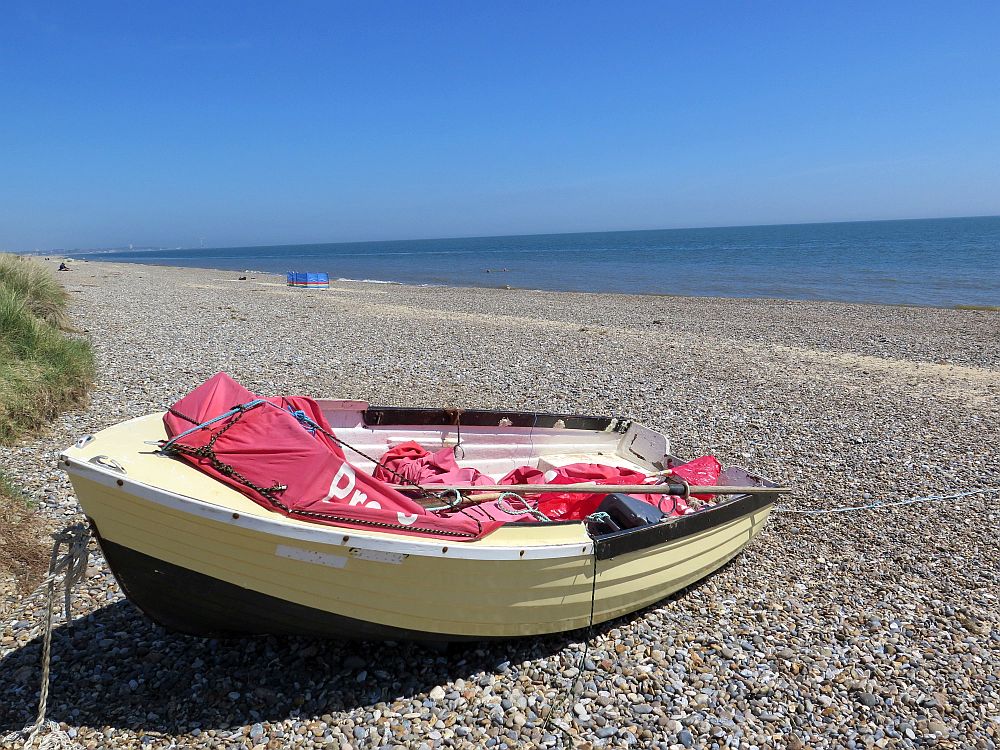 Tuesday 8th June. Our second trip of the year coming fairly close on the heels of our first one. We seemed to have hit a patch of good weather and as we were getting ready to leave it was sunny and hot. We are heading for the back of beyond, or Kessingland as some people call it which is just south of Lowestoft on the East Coast. We were away not long after 10.00am. The sat nav wanted to take us via Norwich which I felt was a bit out of the way but probably thinking about it I suspect there wasn't much in it. The route we took was via Bury St Edmunds with a fair slice of two-way road of differing quality. Perhaps we will try the Norwich route on the way back?
We arrived at the site just before 1.30pm and we were in a queue and as we waited more arrived behind us. The site is pretty full but we managed to find a hardstanding pitch near a service point so not far to go for water and waste. After the long journey we were both a bit tired. I don't think we would be able to do the long journeys we once did on our Continental trips. Last trip we had a menu malfunction, well, we discovered when we came to cook our pizza this time that we appeared not to have any gas! I checked both bottles which appeared to be full so my concern was that the regulator was causing a problem. I decided to take the hose off and wiggled it around and reattached it. Fortunately, this seemed to work so it looks as if I need to at least buy new hoses.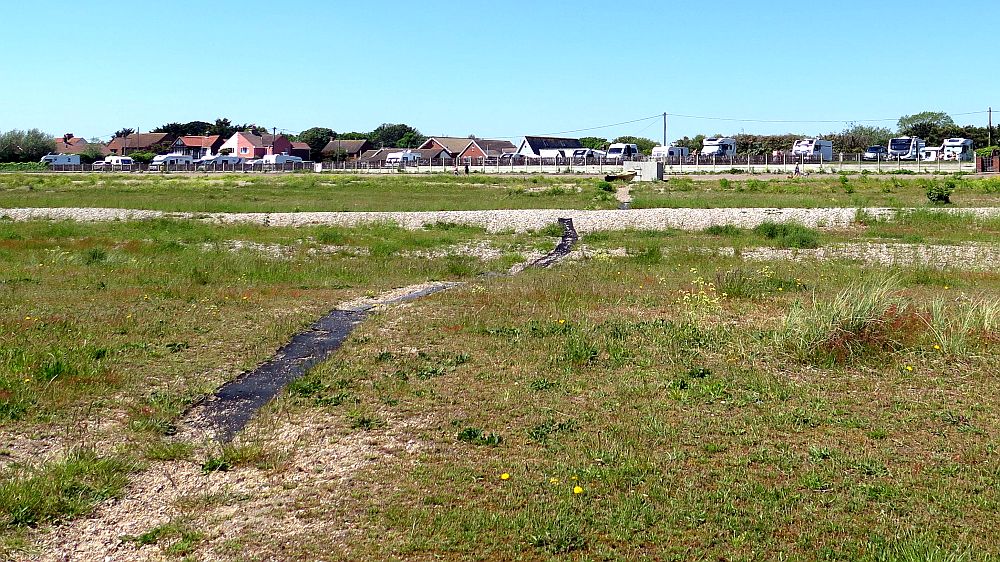 Wednesday 9th June. We had a walk just in the local area of back of beyond today. First out to the beach which consists of pebbles rather than sand. Strange that a mile or two north there are some superb sandy beaches. Someone had thoughtfully laid what looked like the belts from conveyors which made walking on the stones so much easier. Back to the land side of the beach. The café at the end of Beach Road seemed to be doing good business as did the pub next door. Obviously, things are not so straight forward with COVID as they have to have your details before finding a socially distance spot for you. We wandered up to Wash Lane where the buses depart from and a friendly local pointed out which bus went where .
Back along Beach Road towards the sea. It's difficult to quite establish why Kessingland is here, perhaps initially because of fishing although there is not much evidence to suggest this is anything other than a minor contribution to the local economy. The notice board opposite the pub does give a potted history of Kessingland. The houses along Beach Road are a hotch potch of styles and periods. It looks as if it was very much like Topsy and grew and grew. Seven years ago, when we last stayed here, I took a photo of a lovely Clapper Board styled fisherman's cottage. Sad to say the same cottage, is today, in a very poor state of repair and looks as though the plot is soon to be redeveloped. We have been treated to another lovely sunny day today, although there was a stiff breeze which could be chilly out of the sun.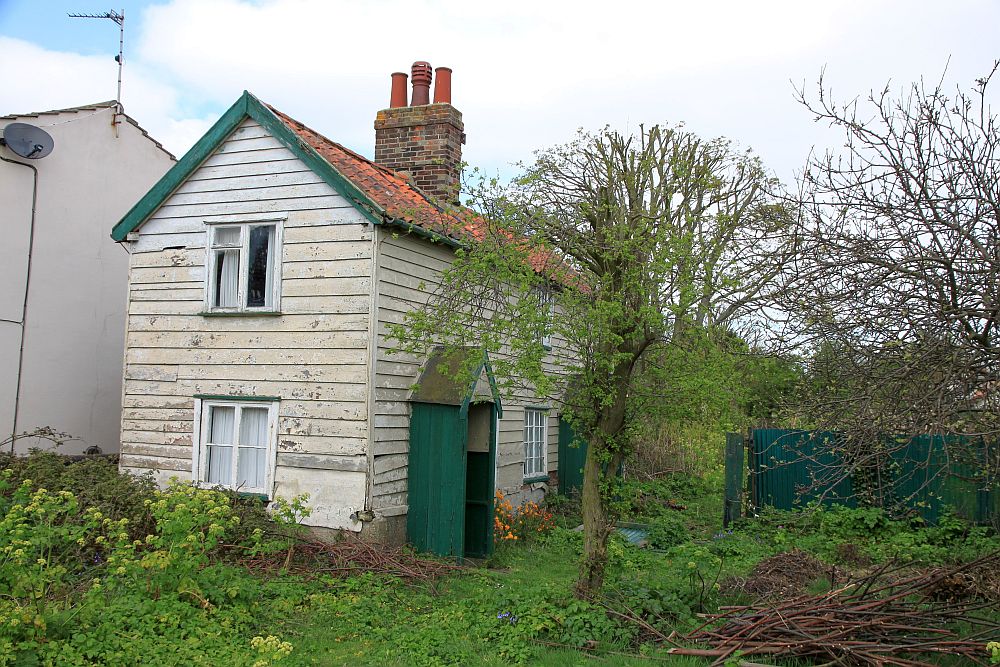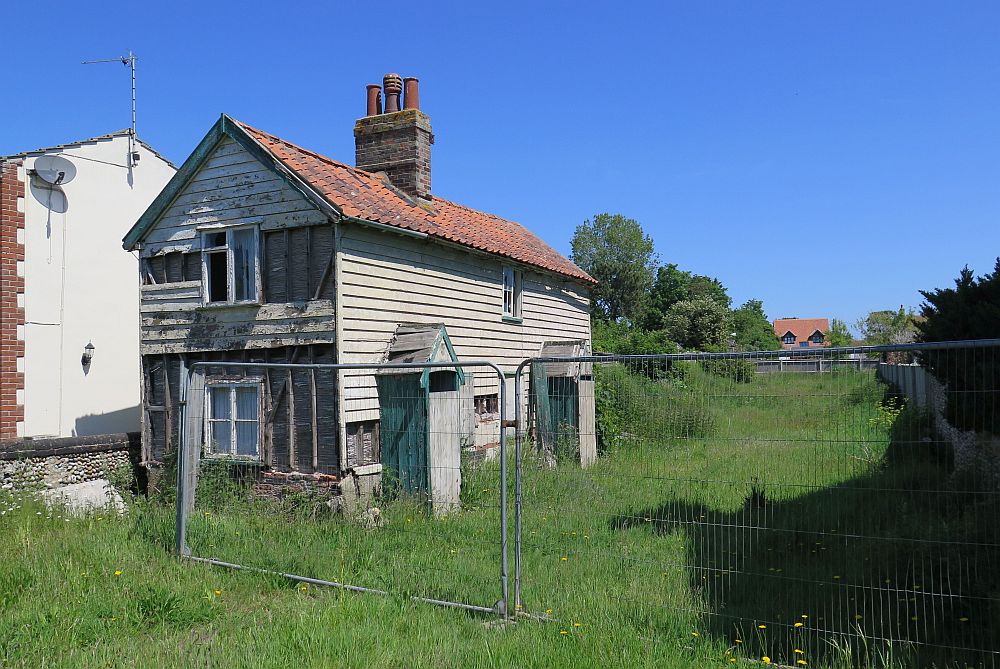 Thursday 10th June. We made the decision to try and get to Southwold today. This entailed returning to Wash Lane to get the bus. This is the first time we will have been on a bus for getting on for 18 months so the decision wasn't as easy as one would think. It turns out that Kessingland has quite a selection of bus services to Lowestoft, Norwich and Southwold. In the past one of the services used to come right down to the beach opposite the Sailors Home but this stop now refers you to the Wash Lane bus stop. It takes about 20 minutes to get to Southwold.
A slight disappointment with the day was it was not as sunny as the previous few days. One bonus was that it was more comfortable to wander around. Southwold was surprisingly busy. First stop was for a coffee. We found a café which we discovered was run by Tiptree, the jam people. Refreshed we went off in search of the famous Lighthouse only to discover we were going the wrong way!! What would we do without Google Maps? Unusually for a lighthouse it is inland, or a few hundred metres back from the sea shore. Adnams Brewery is in the centre of the town and they do tours of the brewery should that float your boat. There is a good range of shops in Southwold probably reflecting that some of the locals are probably well heeled? Having done a bit of shopping we made our way back to the bus. Slightly different route but I counted at least three motorhomes heading for the town, goodness knows where they were going to park?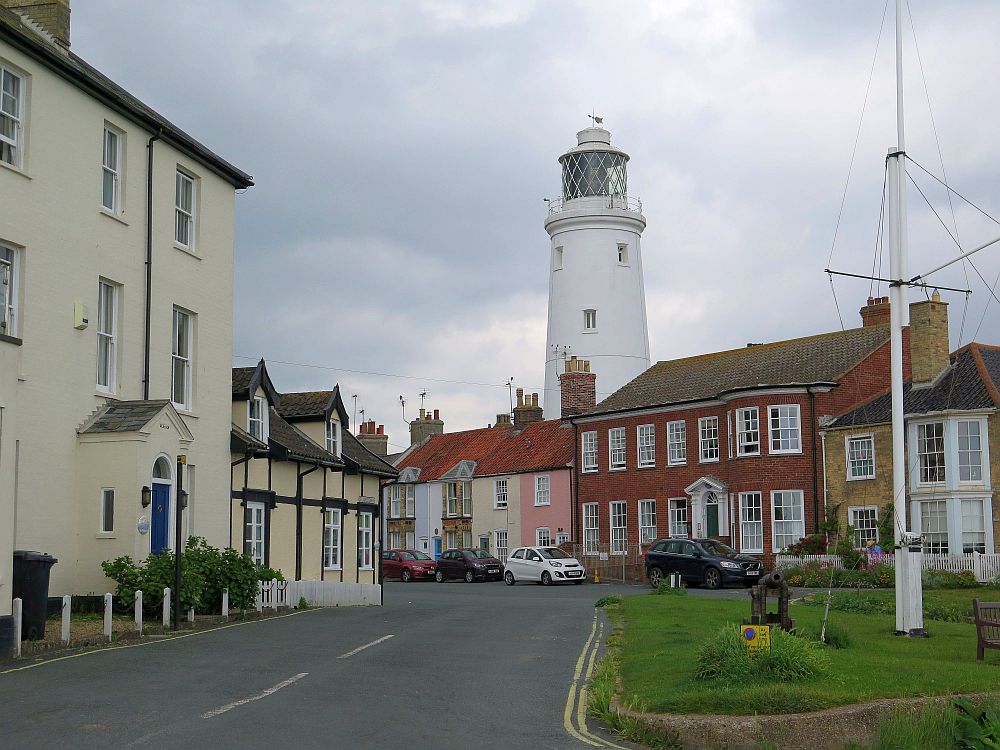 Friday 11th June. A lazy day today after our busy day yesterday. We have really not done much today beyond reading and sitting around. We did have a wander around the site which is pretty much full. We noticed that the smaller section of the site has a far better motorhome waste point although I doubt many drive over there to empty their waste!!! Whilst I appreciate that I could be biased it does seem that there are an increasing number of motorhomes on site. I suspect that it is not yet a 50/50 split but it is getting there. Also, interesting to see a lot more, small camper vans.
Saturday 12th June. Much sunnier today, although there was a brisk wind which made it chilly out of the sun. We had a walk along the promenade in the direction of Lowestoft, although to be fair we ran out of Promenade quite quickly. Shame they had not continued it further. I am sure the more robust walkers could make it along the shore all the way. We were wondering what you call the strip of land between the sea wall and the sea. It can hardly be called dunes as there is little, if any, sand! Perhaps we should call it no mans lands? What at first glance looks like waste land does have some interesting flora which adds to the interest. I was fascinated by the wild lupins which grow better in this inhospitable environment than my pampered garden!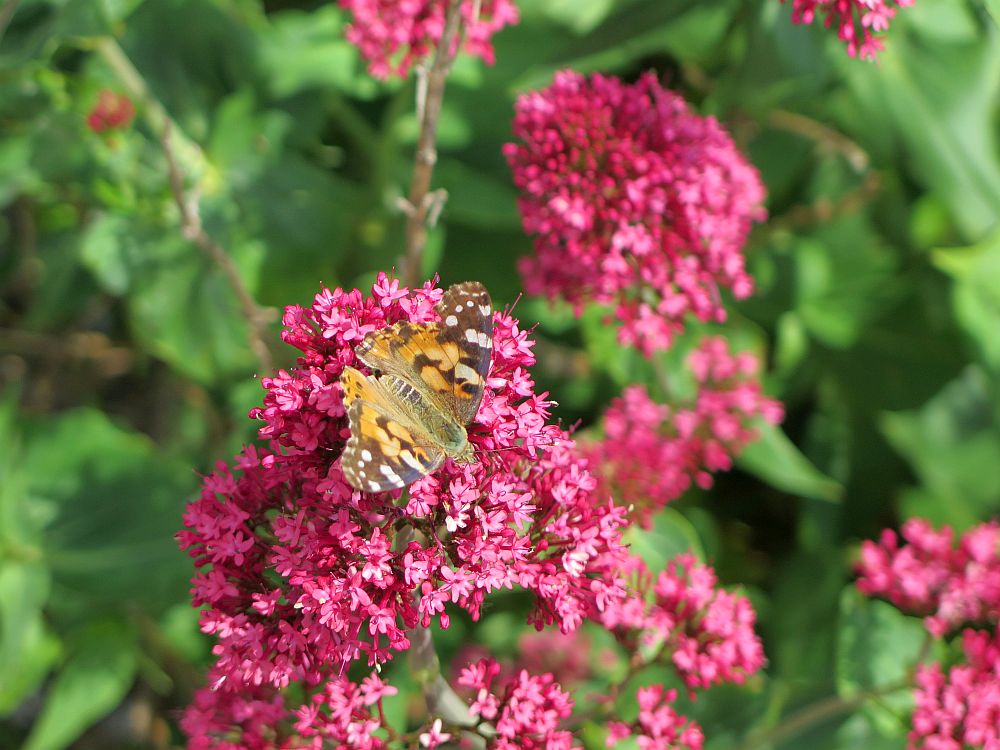 Having got to the end of the manmade promenade we decided to cut inland up one of the set of steps rising from the beach level. This was unknown territory with no obvious way of knowing where we were. This part of Kessingland certainly belongs to the higgledy-piggledy school of planning! There were Victorian Villas next to modern day bungalows. We extracted ourselves from this cornucopia of housing design and made our way down to Beach Road stopping en route for coffee and cake at the Waterfront Café. It has been quite peaceful here at White House Beach apart from the occasional double thud of a bird scarer, oh and perhaps I should mention the Saturday night live music event at the pub!
Sunday 13th June. Our five-night stay has soon passed and its time to go home. It is predicted to be very hot today although strangely last night in the van was quite chilly. We left the site just before 10.00 am. We left the sat nav off and just followed the signs to Norwich. When we got to the Norwich bypass there was a contraflow in place which slowed things down a bit but it wasn't long before we exited onto the A11 that would take us all the way down to Cambridge. As we have used this road quite a bit over the years, we have discovered a small service station near Thetford which makes a useful homeward stop. It has a Greggs and a Costa Coffee so the sausage roll and Americano went down well. This route was ten miles longer than the outward journey but being on better roads probably was a bit quicker but not by much!
Isle of Wight Trip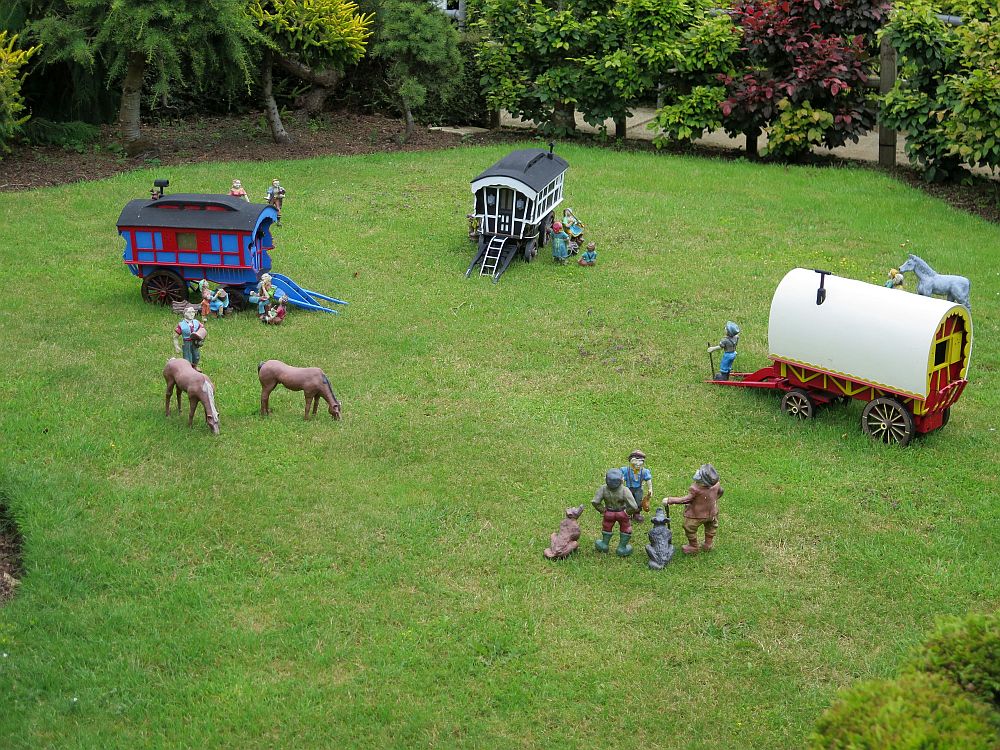 Friday 9th July. Since 2019 this will be our first multisite trip. Today we are heading for the CMC Centenary Site at Bransgore in the New Forest. We needed fuel so a quick stop at Tesco in Buckingham, which was en route. Interesting to note that prices have increased by 10p a litre in two months! Perhaps one of the penalties of travelling on a Friday is that traffic can be heavy and that was certainly the case from Bicester south. Not stand still, except for a few areas, but heavy nonetheless. We made our usual stop at Sutton Scotney for a lunch stop. M3 and part of the M27 quite slow. We had to override the sat nav to avoid being taken around the houses and taken down narrow roads so against my better judgement I decided to go via Lyndhurst which is renowned for traffic queues. There was a queue but not that long and the delay was quite short. Another eight miles and we arrived at the site.
The CMC Centenary Site at Bransgore in the New Forest is a large site, 275 pitches! Disappointing that less than half the pitches are hardstandings which meant we ended up on a grass pitch. Fortunately, it seemed quite firm. Interesting site, very large with not a lot of character. I suspect a destination for those that want to stay a couple of weeks rather than a couple of days?
As the site name suggests it was opened to celebrate the centenary of the Caravan Club, now the Caravan and Motorhome Club. To mark this anniversary the site has a Centenary Garden where you can escape the hustle and bustle of the site.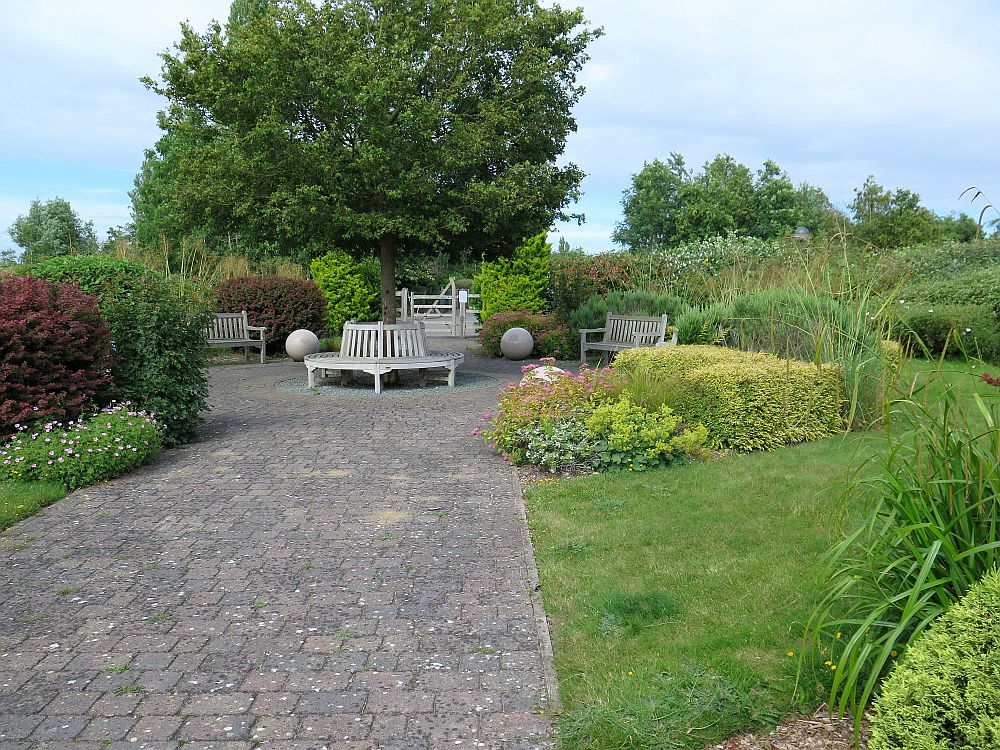 Saturday 10th July. Today we were being treated by my sister to celebrate her 70th birthday back in November 2020. Her and Neil had arranged to pick us up at the campsite. Although no visitors were allowed on site, I did clear it with the warden that they could come as far as reception. We were heading for a restaurant called Pebble on the Beach at Barton on Sea not that many miles from the campsite. This was the first time we had been to a restaurant since my sister in laws 80th birthday in January 2020! Whilst spacing had been meticulously worked out we were far closer to more people than we had been in all that time. The meal was very nice with good service and it was good to catch up in person. This is our last day in the New Forest before moving onto the IOW tomorrow.
Sunday 11th July. Our ferry to the IOW was due to depart at 11.00am from Lymington, so we were up fairly early. In fact, a bit too early as we had to wait around to make sure we didn't arrive too soon at the ferry terminal as we were once turned away at Southampton for doing that! Just as well we had a bit of time in hand as somehow, I had got the A35 mixed up with the A337. The built in sat nav was telling me to go one way but I was so fed up with it being wrong I ignored it!!! After a few false starts, including turning round in a pub carpark, we eventually found the right road. We got to the ferry departure point with plenty of time to spare and we were allotted the first place in one of the queuing lanes! Plenty of time for a coffee and to watch the incoming ferry unload. Some cars went on ahead of us as they were going on the higher deck but we were on pole position on the lower deck. The crossing is just over half an hour. The exit down the Lymington River is quite narrow and twisty and there was just about room for the incoming ferry to pass. Somehow, we managed to navigate our way across the Island to Newchurch where the Club site is situated.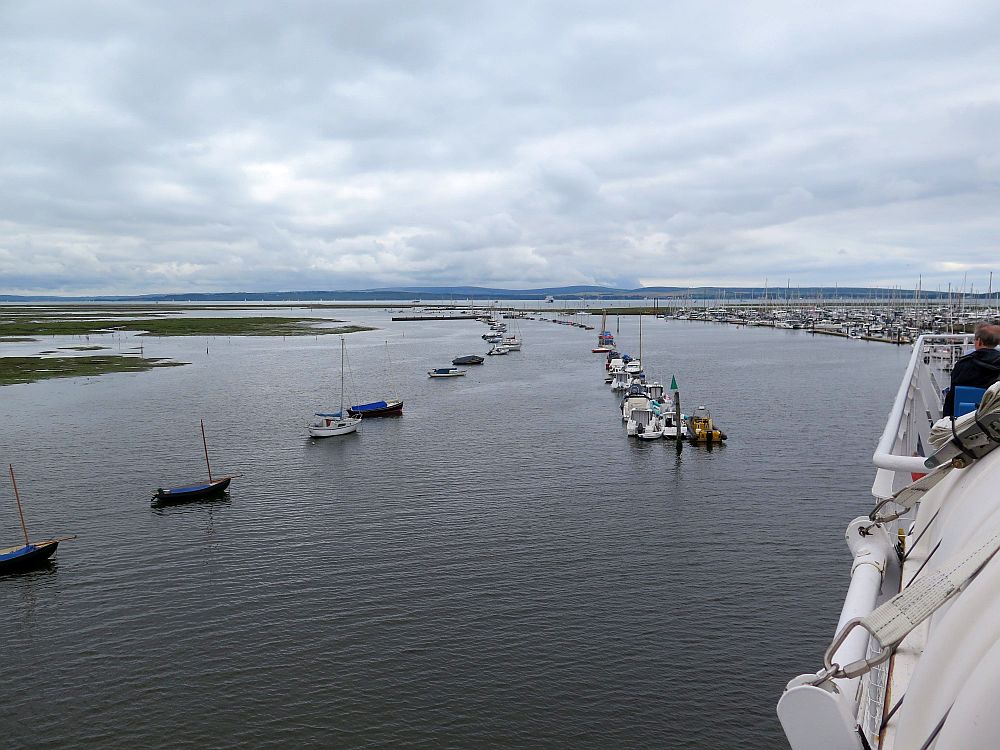 This was our first time using the Wightlink crossing to the Isle of Wight. Whilst it was interesting to use a different route, I think any future crossings will revert to the Southampton – East Cowes route. It is a bit longer but generally it is also cheaper. It is difficult to understand why ferry fares to the Island are so expensive, even more difficult to understand why the shorter routes are even more expensive!! You almost imagine the ticket clerks wearing balaclavas and a sawn-off shot gun by their side!!! About time for a Bridge or a Tunnel?
I knew that Southlands CMC Site had more grass pitches than hardstandings so wasn't hopeful that we would get one of the latter. Luckily there were still a handful of hardstandings available to choose from. We must have tried three or four to check for level just as Margaret was bagging our final choice, we seemed to have competition from a caravanner. Fortunately, they didn't seem too bothered so we set ourselves up. We obviously didn't upset them as not long after the lady from the couple came across and said they were going shopping and wondered if we needed anything, which was exceeding nice of her and the first time I can recall that happening.
Monday 12th July. The morning after the day before. Despite much anticipation the English Football Team failed in its bid to win its first major title since the World Cup in 1966. They came close, managing to get to the Finals of the Euro's. They were up against an Italian team of considerable renown. It all started well. Within two minutes England were ahead but then began a two-hour assault by the Italians which ended in a draw by extra time but ended in tears after a penalty shoot-out. Gareth Southgate has a young team excellently groomed for better things so who knows what will happen in the years to come?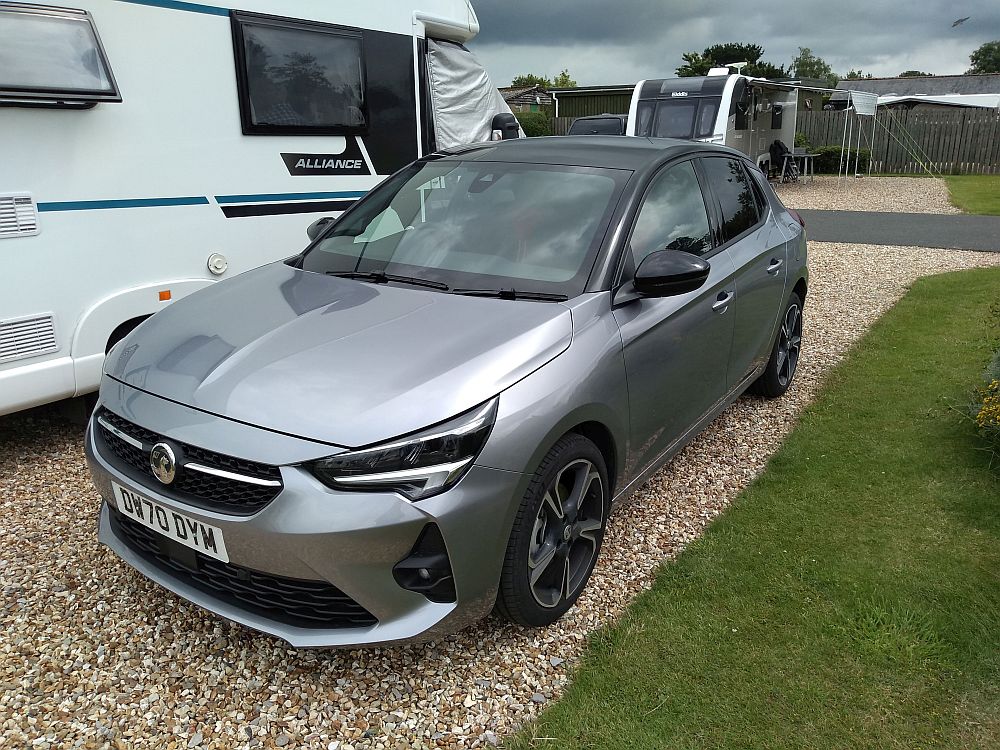 Putting the frustrations of the football behind us we had an important date today. For the first time we are hiring a car whilst away in the motorhome. We had arranged for Enterprise (they have a deal with the CMC) to pick us up at the campsite to collect the car from Newport. We hired a fairly new Vauxhall Corsa which whilst would not be a car I would buy it will do for our four-day hire period. Given that the Isle of Wight has a population of less than 150,000 there seems to be a lot of congestion on the Island! Fortunately, I knew some of the roads from previous visits so we headed for the Waitrose at East Cowes once we had extracted ourselves from the labyrinth that is Newport. We returned via Ryde and Sandown spotting some useful shopping locations en route. Weather thus far on this holiday has not been brilliant but not a complete washout.
Tuesday 13th July. At long last a day where we didn't have to get up early for something. Not that we stayed in bed to an unrespectable hour but it was more like normal! This is the first full day with the car to explore the Island. Our choice for today was Carisbrooke Castle which is quite near to Newport. Unfortunately, Newport is in a terrible state due to road works so trying to navigate your way around is troublesome. We eventually woke up our, now, ancient TomTom sat nav to rescue us from some large housing estate! We managed to find the Castle carpark and the machine seemed to suggest you could use cashless payment but this did not seem to be the case, luckily, I had some coins.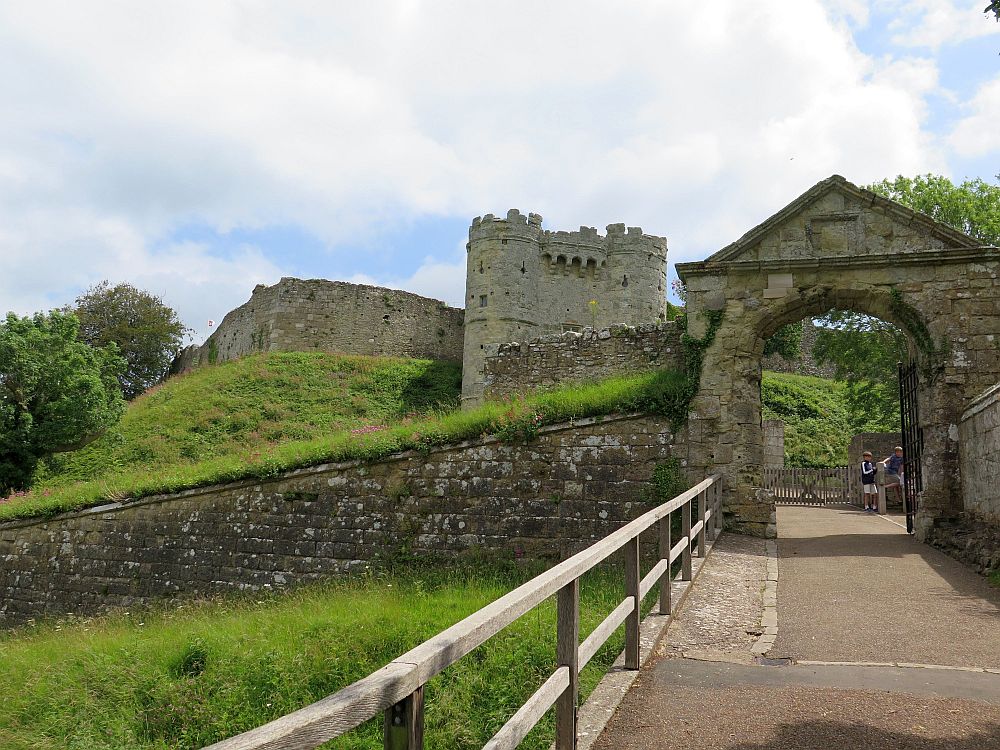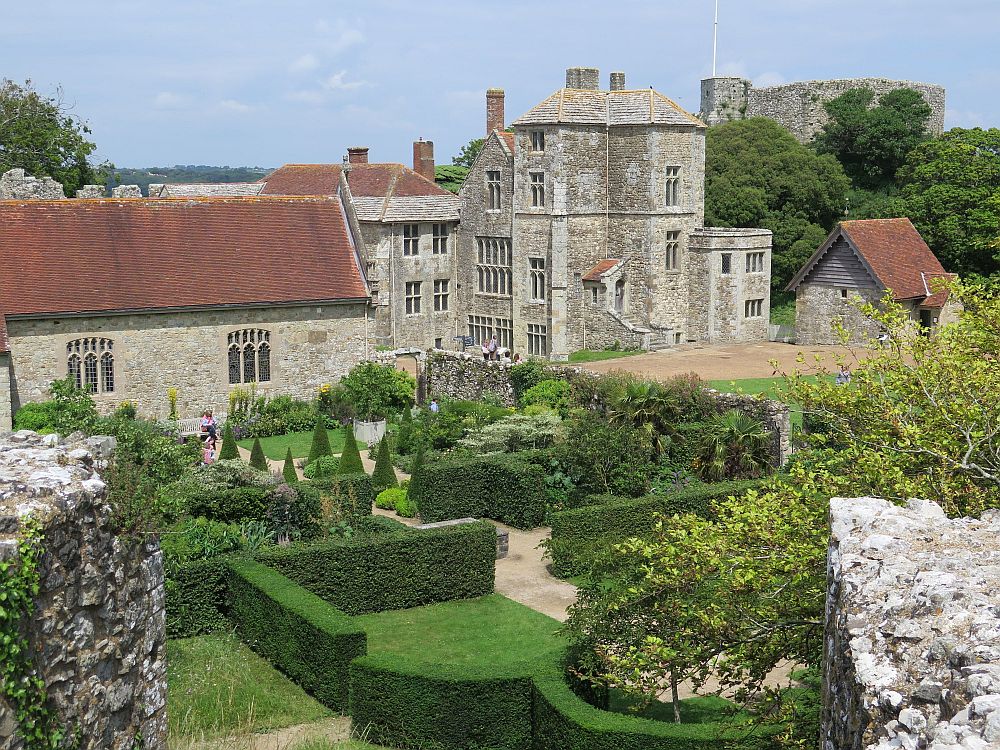 Given the strategic position of the location it is possible some form of fortification existed during pre-Roman times. But it seems that it was during the reign of Elizabeth 1st that serious work took place because of the threat of a Spanish invasion. As castles go it is in pretty good nick. You can walk round the walls. If the knees can stand the climb! You can also get up into the Keep but we called it a day once we had been around the walls. Carisbrooke Castle does have a café although under covid it is restricted to takeaway. We had a sandwich and a weak coffee! Ancient TomTom managed to get us out of Newport ( which is almost impossible to avoid going anywhere on the Island) and take us to a Morrisons which we discovered was fairly near the campsite.
Wednesday 14th July. Lovely and sunny today and getting hotter. The plan was to visit Shanklin and Ventnor and then the south/western side of the Island. Arrived in Shanklin and nowhere convenient to park but it looked lovely. Similar with Ventnor. Some of the roads up and down to the beach would put Alpe d'Huez to shame!!! Not only this but roadworks seem to be everywhere, peak holiday season as well!! Thinking we would be due for more of the same we changed plans and diverted to Godshill. A decent cup of coffee this time! Just across the road is the famous Model Village which is quite fun to look round and doesn't cost an arm and a leg. Apparently, it was set up in 1952 and based on the real Godshill, there is even a model within a model. On the way back we stopped at Arreton Barns which is a collection of arty, crafty outlets and a pub. Not really our sort thing.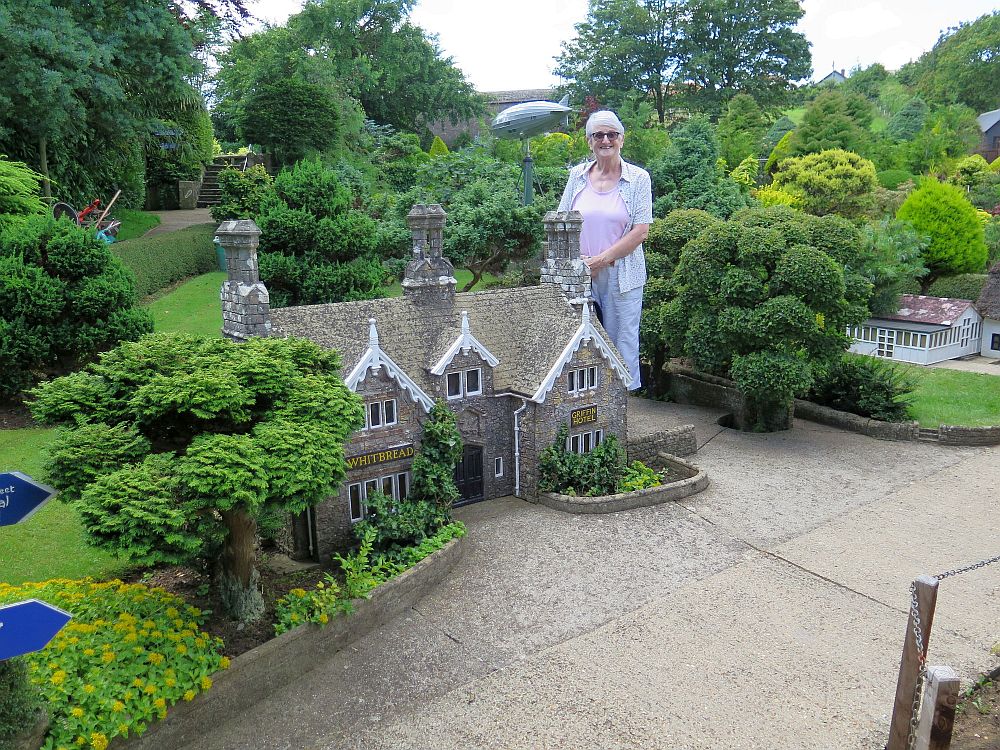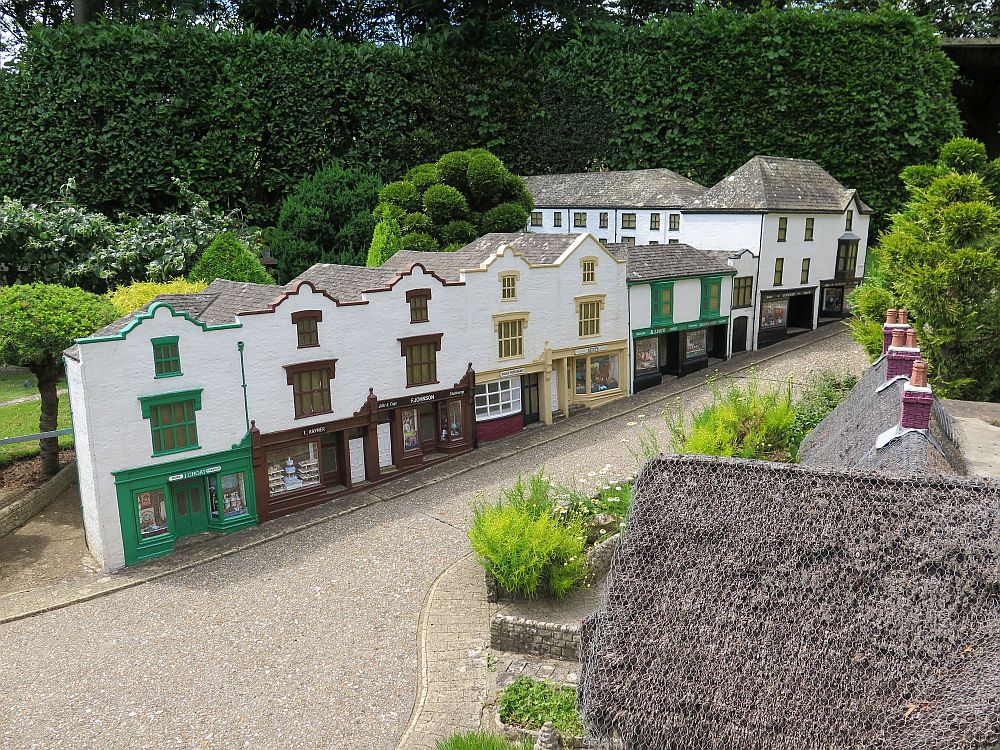 Driving around the Island I noticed that Hydrangeas seem to thrive here. They appear in gardens everywhere. Even on the campsite there are a couple of really good examples. They seem to tend towards the blue/lilac/purple colouring. I don't know if it is an old wives' tale but I have heard that the minerals in the soil can affect the colour. I have a couple at home, in pots, but they tend towards the white/pink spectrum.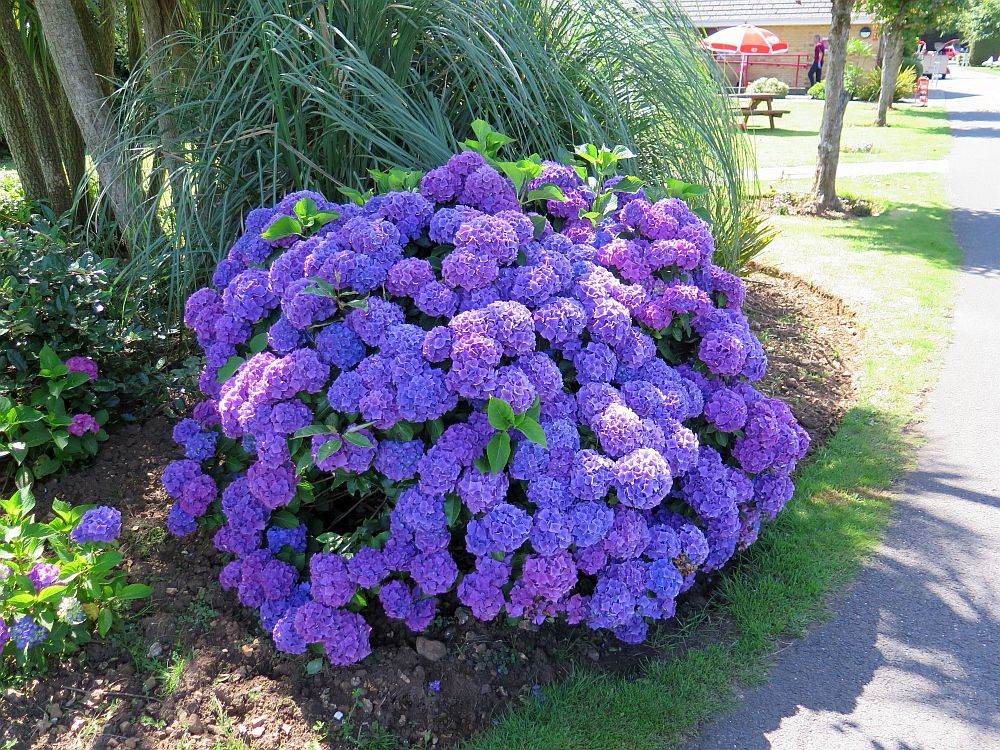 Thursday 15th July. Our last full day with the car so we thought we would drive out to the east of the Island. First, we had to fill up with fuel so we stopped at the Morrisons not far from the site. The condition of hire is that you return the car with the same amount of petrol as you started with, in our case three quarters full. Thus far we have driven about 80 miles so it has not gone down that far but I decided to top it up to full. 22 litres when the tank was more than half full, how big is the tank!!! Full of confidence that we would meet our contractual requirements, we set off for Bembridge. We even managed to find somewhere to park but other than a view of Bembridge Life Boat Station and the beach there did not seem much there. Although the day started nice and bright it was now dull but still warm. Did we want to return to the van or continue to Ryde. As we had already been to the latter on a different holiday, we made our way back but called into the supermarket to stock up for our final few days of our holiday.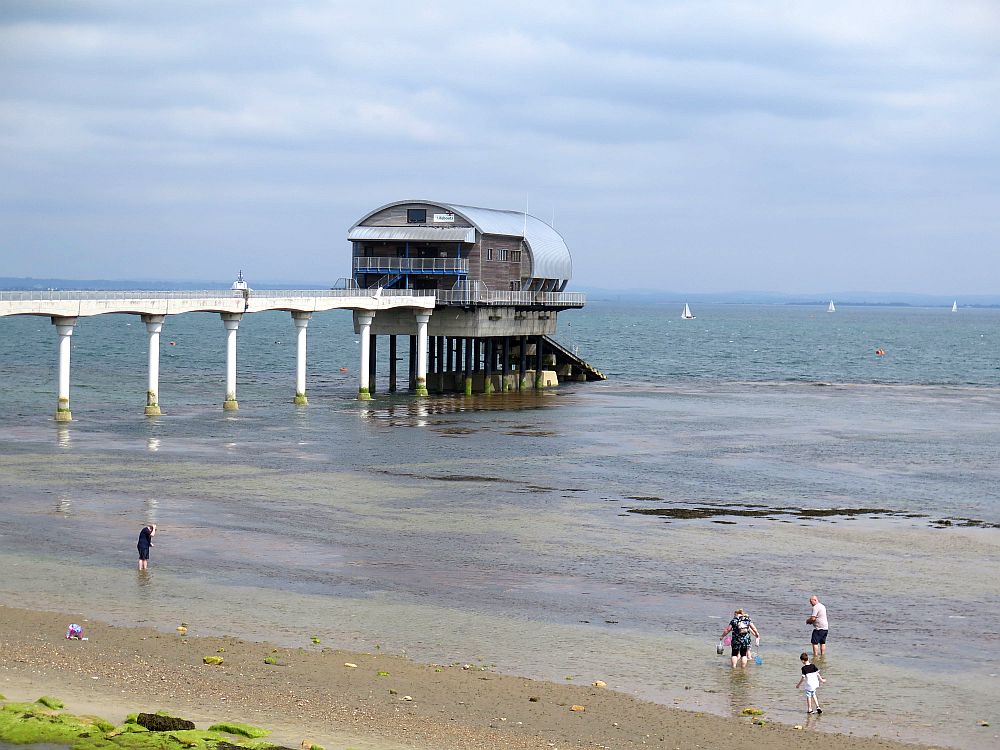 Pros and cons of car hire. As a motorhomer you either take the van off site or you make use of other options like public transport. Others will chime in and say what about bikes but our view is that we are getting too old for that to be a worthwhile option. Having seen the roads and the lack of options, in certain places, to park a motorhome, we decided that the IOW would be the ideal spot to hire a car to get around. Our four days has cost in the region of £200, so not the cheapest option by any means. The hire company pick you up from the campsite and do the opposite when you return the car so all very well organised. The arrangement with the CMC and Enterprise gets you a small discount. The car gives you the freedom to decide your own timetable so there are a lot of pluses. In the past we have been spoilt by using public transport which drops you off in the middle of everything so no need to worry about parking. One thing I regret is not doing more research beforehand on the parking options because I think we have lost out a bit by not knowing where easy and available parking was. Two of the places we visited, Carisbrooke Castle and Godshill both had good parking. Unfortunately, the seaside towns did not. Would we hire a car again? Wouldn't rule it out but would balance the options more carefully. If we found a campsite on the IOW with a good bus service from near its entrance, I think that would have been a better option. Still looking for that site!!!
Friday 16th July. A lovely hot and sunny day today, in such a contrast to the terrible and tragic weather they are having in Germany and surrounding countries. We returned the hire car to Enterprise in Newport today. The old TomTom helped us find the location but not without going around the houses a few times!!! Perhaps time to invest in a new sat nav? We were a bit early so had to hang around a bit before our lift was ready. Interesting young lad who drove us back. He had finished his degree but decided to stay on the Island, at least in the short term. We explained how busy we were finding everywhere and he said that the Island is a lot busier than normal for obvious reason. They even have difficulties getting additional cars across from the mainland because of how busy the ferries are. We covered a lot on the eight miles journey back to the campsite! He mentioned that during COVID the Islanders were very opposed to visitors but it seems this position persists whether there is a medical emergency or not. It seems that many Islanders want to keep things as they are and the thought that I suggested of a bridge he felt would go down like a lead balloon!!! Currently the Island only has one Member of Parliament but because of the population it really should have a second seat which depending on who got elected could liven things up a bit!!!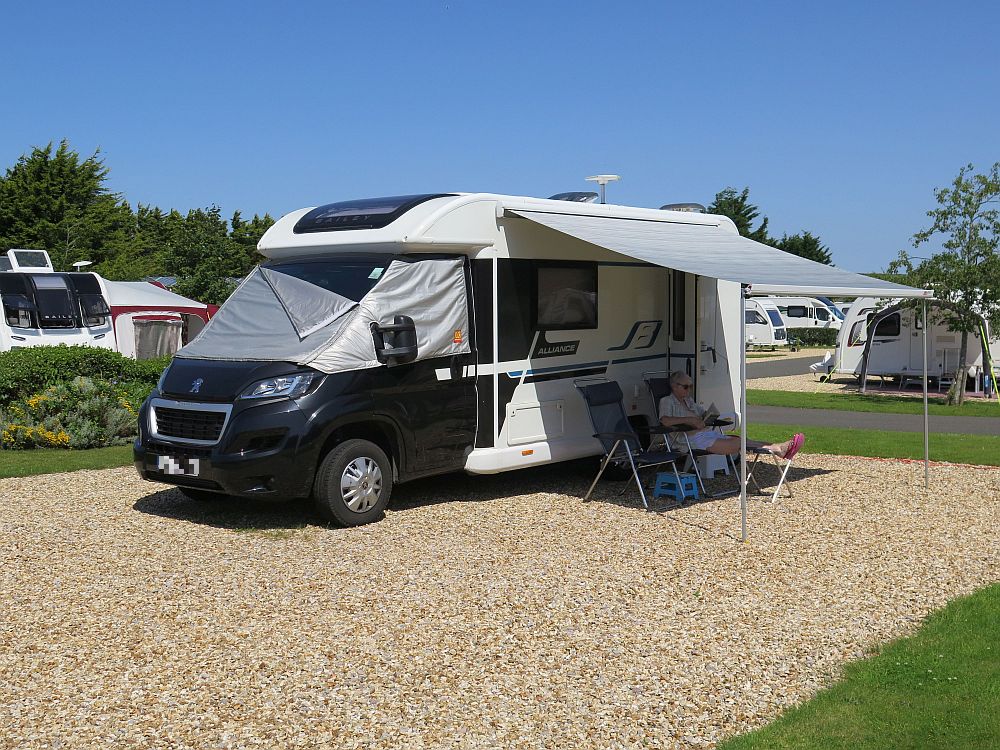 Saturday 17th July. Our last full day on the IOW and a pretty lazy one at that. It has been very hot and sunny. Two of our neighbours departed today. They were soon replaced. Unfortunately, the motorhome that parked next to us decided to pitch nose in which meant (being a UK side door) that when they sat right opposite us so we had no privacy. I appreciate that they may have wanted to face the sun but surprised they were selfish enough to do that without due regard? In the afternoon we watched the new qualifying system for the Sunday Silverstone GP. To liven things up they have decided that qualifying is on the Friday and then teams have a second bite of the cherry by taking part in a sprint race on the Saturday which decides the final positions for the GP proper on Sunday. There are a few more points available but only for the top three places. As it happens Lewis was on poll after the Friday qualifying and Max, second. For the Sprint race Max out dragged Lewis to the first corner and won the three points and is now on poll for the race. All a bit off but no doubt something we will have to get used to?
Sunday 18th July. A day of many journey segments! It was also very hot today. We left Southlands at around 10.20am, our ferry was at 12.05pm so we didn't want to arrive too early. We arrived just before midday to find the previous ferry had already left so we got in the queue of motorhomes and caravans. Even on deck there was little rest bite from the heat even with a pleasant Solent breeze. Once ashore we had to find our way out of Lymington as we were going by a different route from our journey here. We found the road to Brockenhurst and Lyndhurst and onward to the M27. Edging through Brockenhurst my nearside wing mirror clipped something, probably a parked car, but it was impossible to stop. Looking at the mirror a while later there seemed no massive damage so hopefully the same can be said of the vehicle I hit?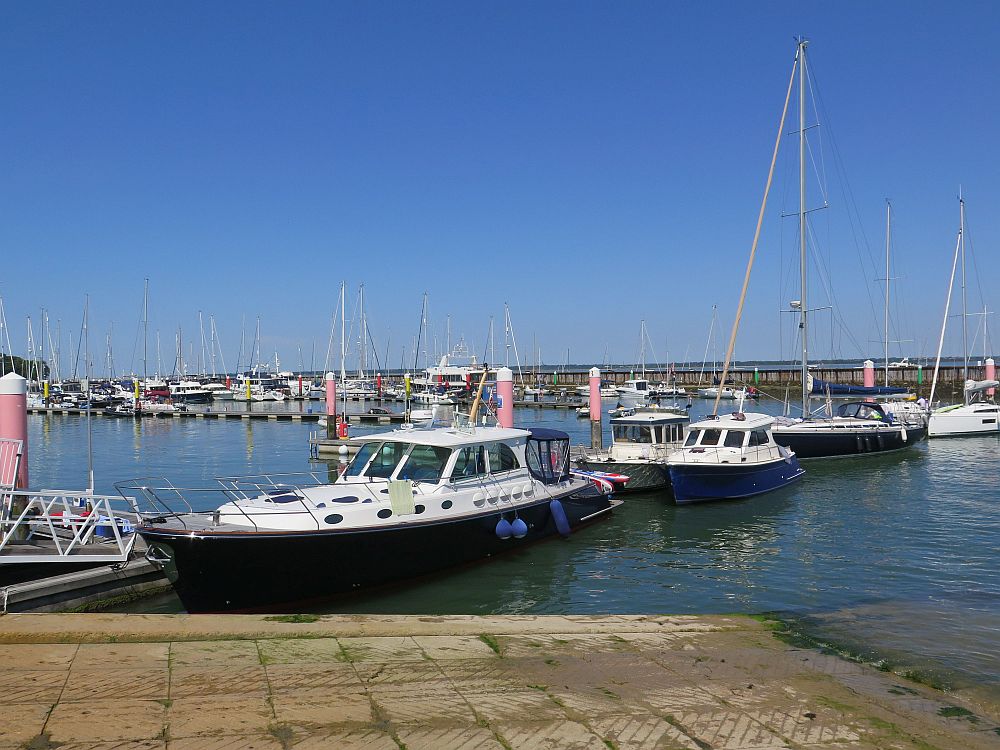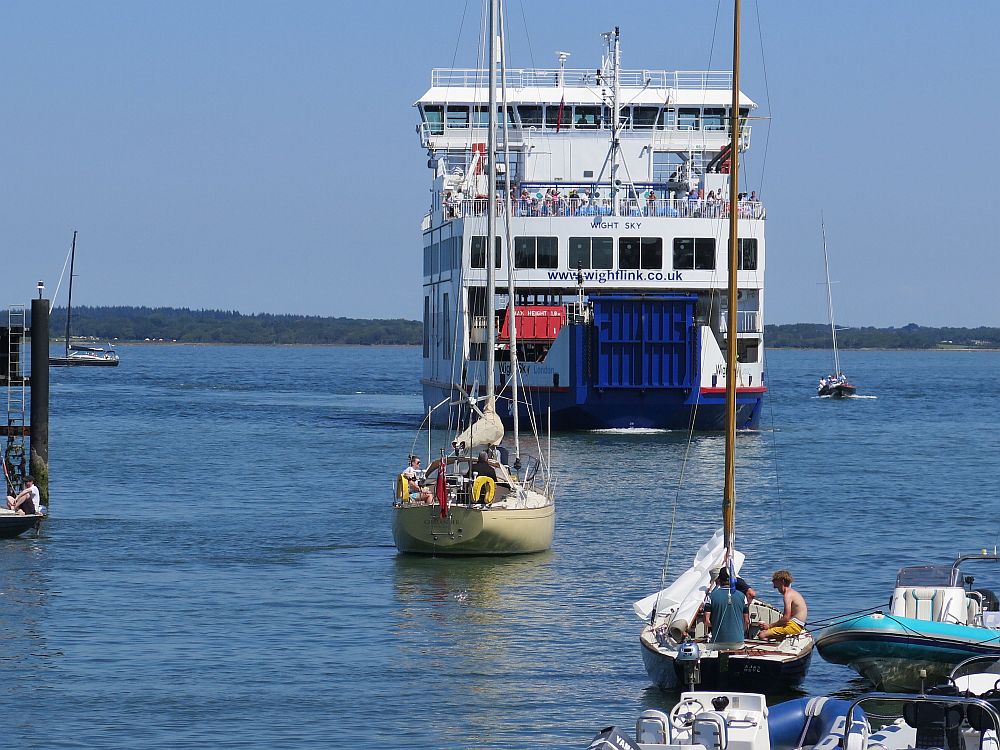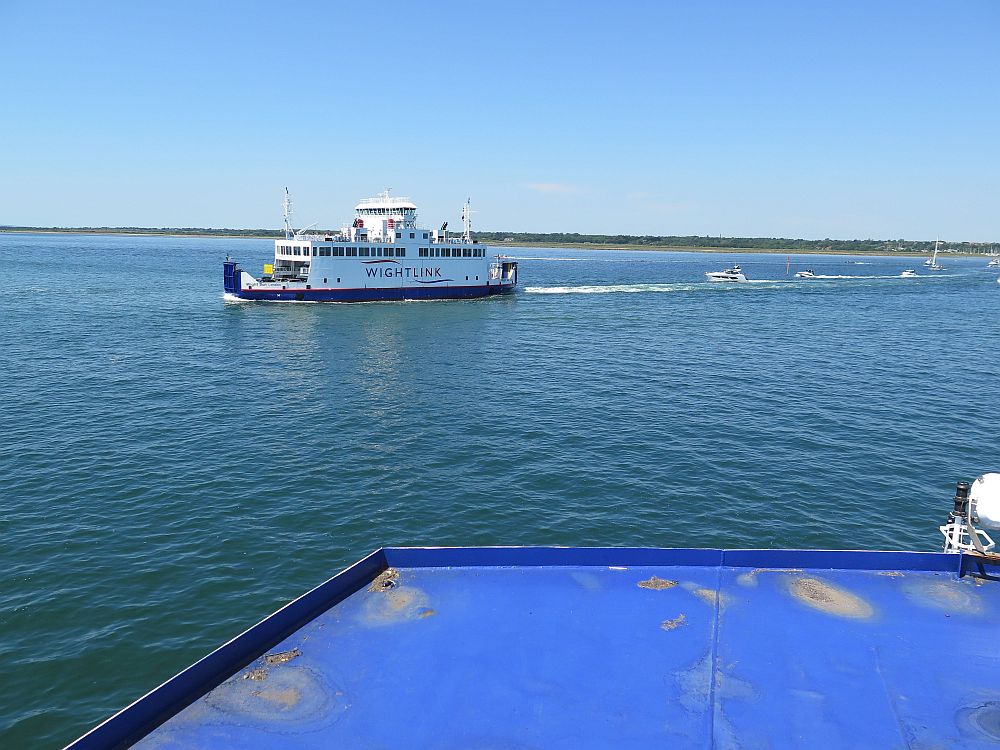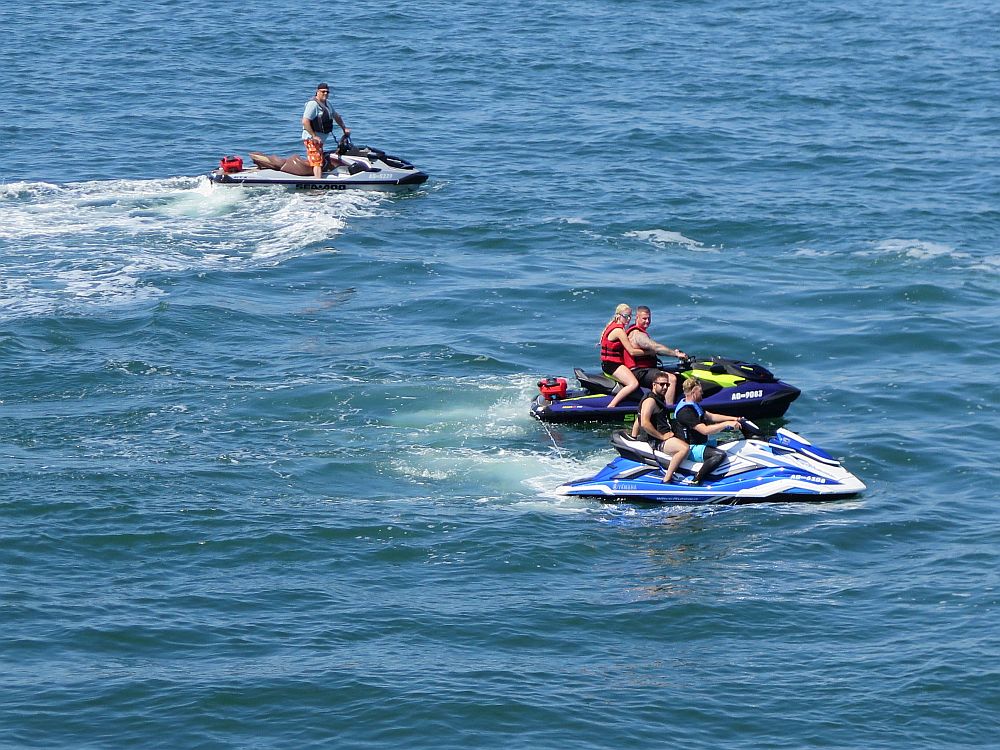 The queue coming into Lyndhurst from the motorway was massive, so glad we were going the other way! A short stop at Rownhams Services which was absolutely crowded. The final part of the journey was to a site near Stockbridge. This site is not open to the public but is part of a large farming estate owned by our former employer. There are holiday lodges and ready erected tents plus a camping site. The access road was a bit hairy, nearly two miles of one-way road although there did seem to be a few passing places, we were lucky in that we didn't have to put it to the test!
Monday 19th July. Still very hot and difficult to sleep with daytime temperatures of around 30 degrees which does not offer much chance of cooling down overnight. Most of the time we have been managing with the MaxxAir which has been very good but even that has its limitations as the only two options are to extract air or draw air in and if both sets of air are hot you get my drift!!! We do have an additional small tower fan which we also bring into operation on really hot days. Pretty lazy day here today, mainly watching other campers dismantle their tents and new ones set up! The trouble with nice weather is that everyone wants to BBQ and with very little wind the stench of smoke gets everywhere. The site does have a restaurant which last night we used for a takeaway and tonight as a sit in restaurant.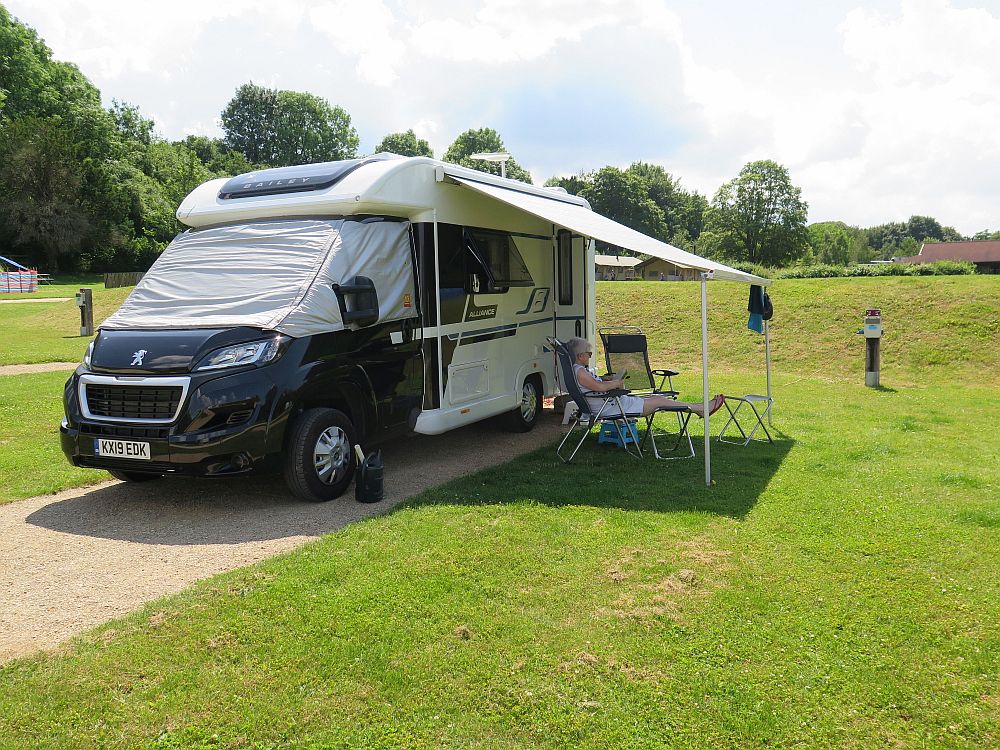 Tuesday 20th July. Time to make our way home. Escape from Leckford was fine until we got to the village where we found a large lorry delivering something, fortunately there was just room for us to squeeze by. We re-joined the A34 a junction further north than where we left. The rest of the journey was uneventful and there wasn't even a queue south of Bicester to get onto the M40! The last few times we have come this way the sat nav wants to take us to the west of Bicester but we have always stuck to the bypass to the east. This time we turned left just as we were entering the built-up area which took us on a good road all the way around the outside of Bicester so we will certainly try that again. The original Bicester bypass is a bit awkward in my view as you can get tangled up with traffic for Bicester Village and the large new Tesco supermarket. Our final task was to fill up with fuel at Wolverton before the final two miles to home.
Broadway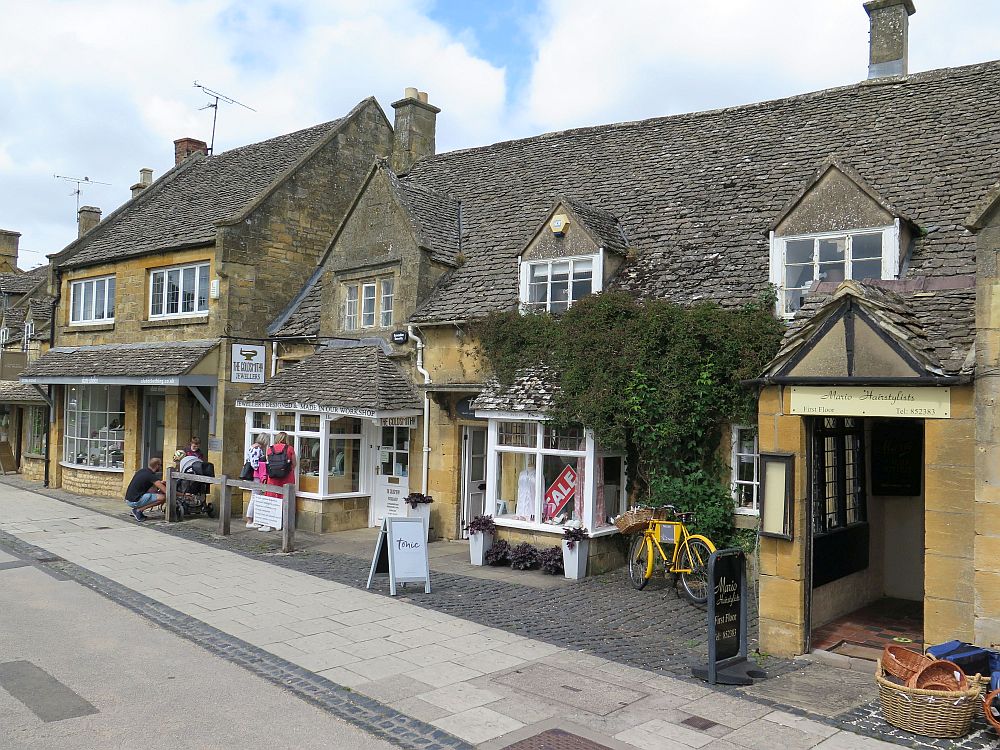 Tuesday 10th August. Thought we would grab a few days away in August even though we knew it would be busy. We are heading for the CMC site at Broadway. We were away by 10.30am. As we crossed the roundabout, I looked down on the A5 dual carriageway and was surprised how little traffic. How wrong could I be! A little further on and we came to a grinding halt. There was no obvious reason for the delay except volume of traffic. My best guess would be that they were diverting traffic off the M1 at either junction 13 or 14 via the A5 to junction 15. We eventually got clear of the queues and headed out to Buckingham and Finmere before cutting across country to Adderbury and Deddington. Making a stop, as seems usual now, at the lay-by with Buzzy Beans Coffee which seems more popular than ever! Onward to Chipping Norton and Morton in Marsh for the final stretch of the journey to Broadway. Before arriving at the site, we had to negotiate Fish Hill down into the village which is pretty steep whether you are going down or up! Got to the site at around 1.15pm. We found a pitch near a service point which we like.
Wednesday 11th August. Been an odd day weather wise, often dull but with some sun. We walked into Broadway today. It was packed and the prospect of getting a coffee seemed slim as everywhere seemed full. We walked up through the arcade that leads to the car park and there was a café there called "Guilt Trip" run by someone who would not be out of place at a Festival! The real guilt trip was that the only food sold was doughnuts!!! When in Rome I suppose. Both coffee and doughnut were excellent. We wandered across the road to where the Budgens supermarket once was but like in Moreton in Marsh it seems to have been taken over by the Co-Op, perhaps this is more widespread than I realise. On the way into Broadway, we noticed a large new medical surgery was in the process of being built on what appeared a green field site. Just wondered if this is just the start of further development towards the campsite?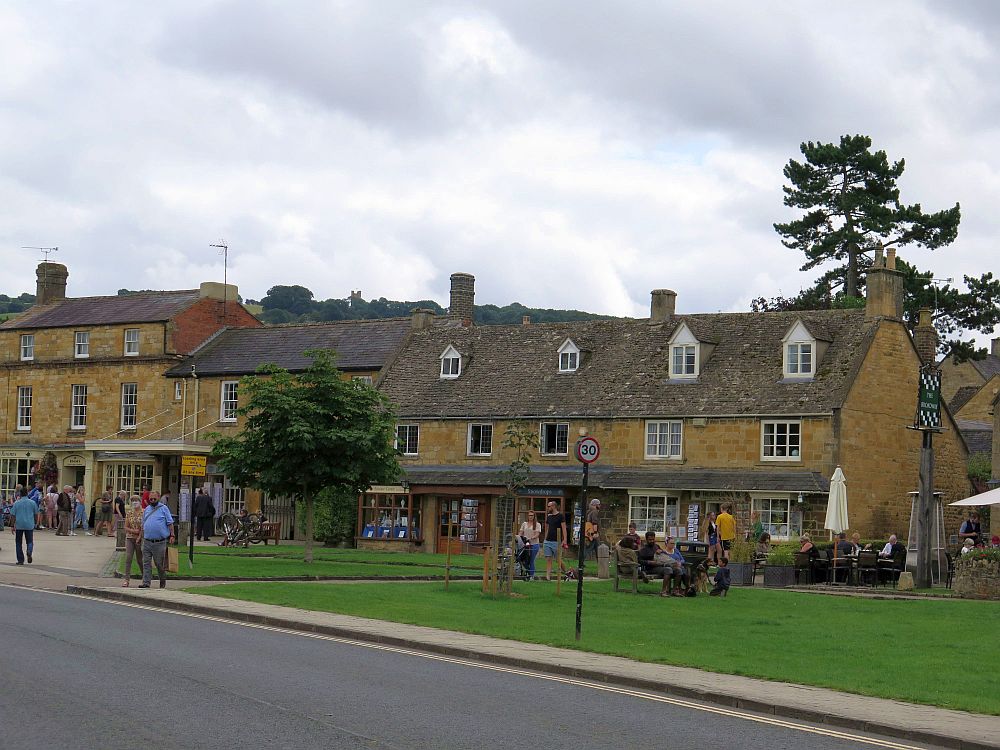 Thursday 12th August. Today we wandered up to the restored/replaced station at Broadway which is just across the road from the campsite. When we were last here, about five years ago, it was still work in progress. Broadway is the northern limit of the Gloucester Warwickshire Steam Railway. This gives a restored length of track of about 14 miles. It's terminal at Cheltenham, near the Racecourse, means that you can travel between two Club sites by steam train should you wish. We did wonder if we should go for a ride into Cheltenham but decided that £25 per person was a bit steep! We did have a coffee in the station buffet as a small means of support. There is more track that can be restored beyond Broadway. Whilst that track is currently route protected you get the impression that protection won't last much longer? The charity that runs the railway don't feel they are in a position to take on the responsibility at the moment because of the recent restoration to Broadway and the fact that COVID has robbed them of much needed funds in the last 18 months. Fingers crossed that something can be worked out so that future restoration can go ahead. Back at the site we walked up to the old Goods Shed, which many years ago used to be the entrance into the site. You pulled into the Goods Shed to book in! There are a few pitches near to the railway line for enthusiasts.
Quite a few people left the site today but they have soon been replaced. Looking out the window at the comings and goings it did make me think what it might be like in 10/15 years' time. By then electric cars will be the norm and who knows how petrol and diesel will be treated in terms of tax? Will there be electric cars that the man in the street can afford that will also tow a caravan? Motorhomes are an even more uncertain future because currently electric vans that can be converted are very expensive and have relatively short ranges. Will we see a general decline in touring as those now retired folk, ourselves included, have given up the hobby? It must be a difficult one for the two main Clubs, especially when it comes to future investment.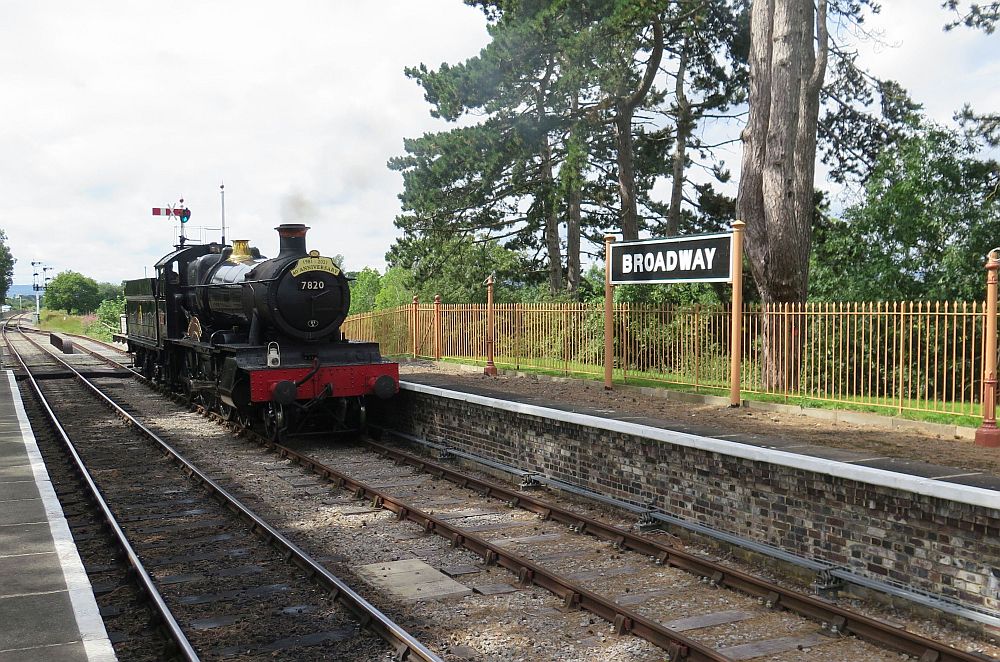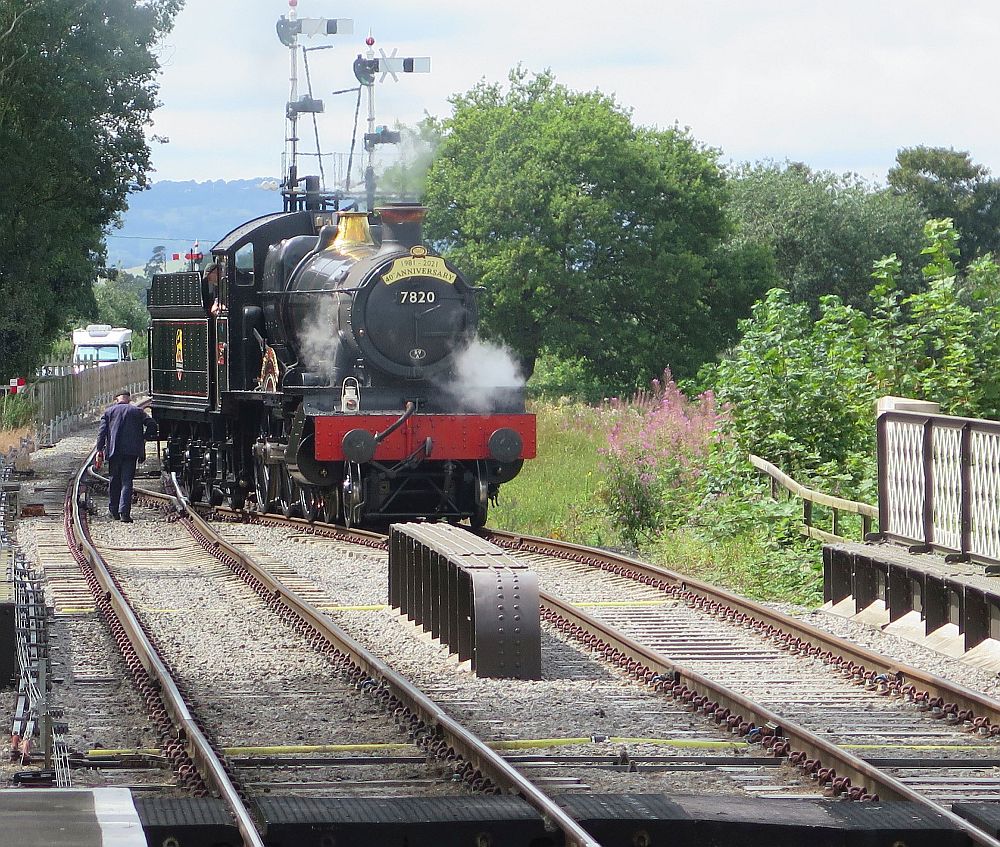 Friday 13th August. A pretty lazy day today. The weather was dull for most of the morning but did perk up in the afternoon. Apart from routine things we did drag ourselves over to the Garage, opposite the site, as we needed some milk. Normally such a requirement would be met by site reception but I am not sure that some site wardens have bothered this year? We were able to sit out in the late afternoon sun which was nice. Currently reading a book about an ex-Nurse who has gone to live in Puglia in southern Italy. As one of our favourite countries we would love to go to Italy again but we are increasing feeling that our days of long trips to Europe are not going to return and reading about them might be as far as we get!
Saturday 14th August. A dull start to the day which lasted until we got home when the sun came out!!! We were up and away reasonable early. We noticed quite a few "classic" sports cars in and around Broadway so I imagine there must have been some sort of gathering? When either arriving or departing from Broadway, Fish Hill is always in the consciousness, being, will the brakes hold out going downhill or the clutch survive going up!!! In our early years of touring, it was an influence on whether we went to Broadway! Fortunately, the Pug seems to have plenty of power and we even had to overtake a tanker going up the hill. The rest of the journey was uneventful. We noticed Buzzy Beans was still busy as we passed by. More traffic as we approached MK but at least we were on familiar territory. It seems to take longer to get the car off the drive and the back gates open than it does to get the van back into the garden. We both seem a bit exhausted, not quite sure why as we haven't done that much. Perhaps it's just the change of location and routine?
Worthing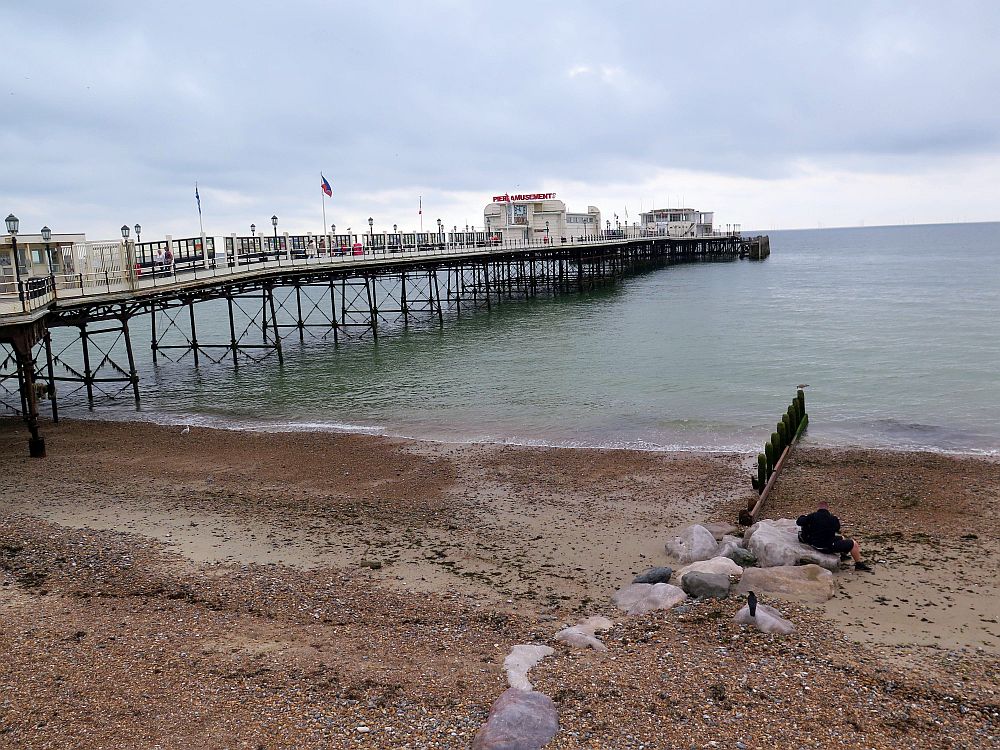 Sunday 12th September. Mainly a sunny day with pleasant, if not hot, temperatures. We are heading for the CMC site called Northbrook Farm just north of Worthing today for seven nights. We got away around 10.00am but had to detour via our eldest son to drop off a key. We joined the M1 at junction 14. It looks as if the conversion to a "Smart Motorway" is almost complete. We decided to travel on a Sunday because we thought the traffic would be quieter. Unfortunately, that proved to be not the case! The M1 was busy but the M25 was at a standstill going in the other direction. We stopped at Cobham Services but it was pretty busy and where we parked was so far from the shops we didn't bother with coffee. A fairly decent caravan parking area although we pulled through the regular parking. We left the M25 at junction 9 and headed down the A24 which varies in quality. Probably thinking of a different route back?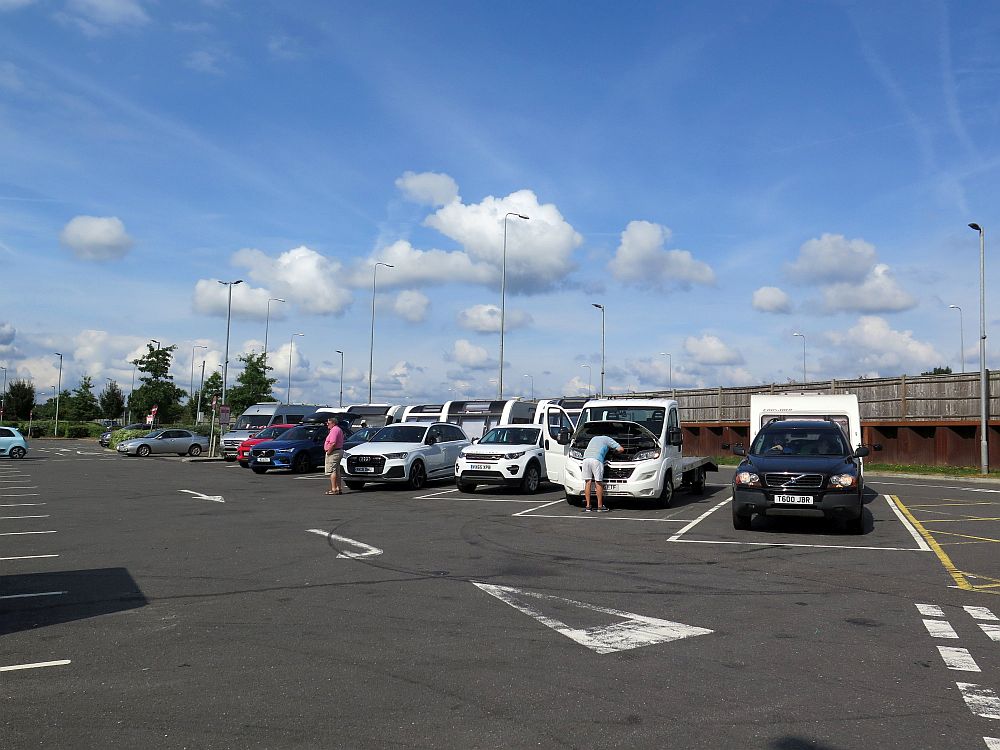 When we arrived at the site, I was surprised how busy it was given that Northbrook Farm does not have a toilet block or at least a functioning one. Apparently, it suffered from subsidence and given that the site is on a short lease, reviewed each year, it is not worth the Club putting in the investment. The site is in two parts and it seems the local Council want to develop the front section for more houses and it is rumoured that they are willing to sell the main part to the Club for redevelopment.
When we were setting up, we couldn't get the electrics to work. The bollard was a new type where you have to the reset the circuit breakers. I was concerned that I had turned off the electricity to the van next door, which I had!!! By the time I got back from reception, the guy next door had sorted us out. It seems that the action of disconnecting your electric lead will trip the circuit, so we had better get used to resetting when arriving on a site with these new type of bollards. What is a little confusing, at least to the non-electrical professional, is that when the circuit breakers show red they are on and green when off? Intuitively one would have thought it would be the other way round but I suppose the rational is that red indicates live and green means off? Oh, for the plug in and twist bollards!!!
Monday 13th September. The day dawned bright but with quite a bit of cloud cover. We were a bit lazy first thing with no rush to get up and out. The trials of the M25 must have exhausted us!!!. Strangely, we saw on the news that several groups of protestors had reeked chaos on the M25 today by setting up protests at several junctions around the Orbital Motorway!!! Perhaps it wasn't so bad yesterday?
After breakfast we decided to have a wander around the site which is surprisingly large. We also wandered outside the gate to check where the buses depart from which is conveniently close to the site. We also worked out the footpath that would take us to a nearby garden.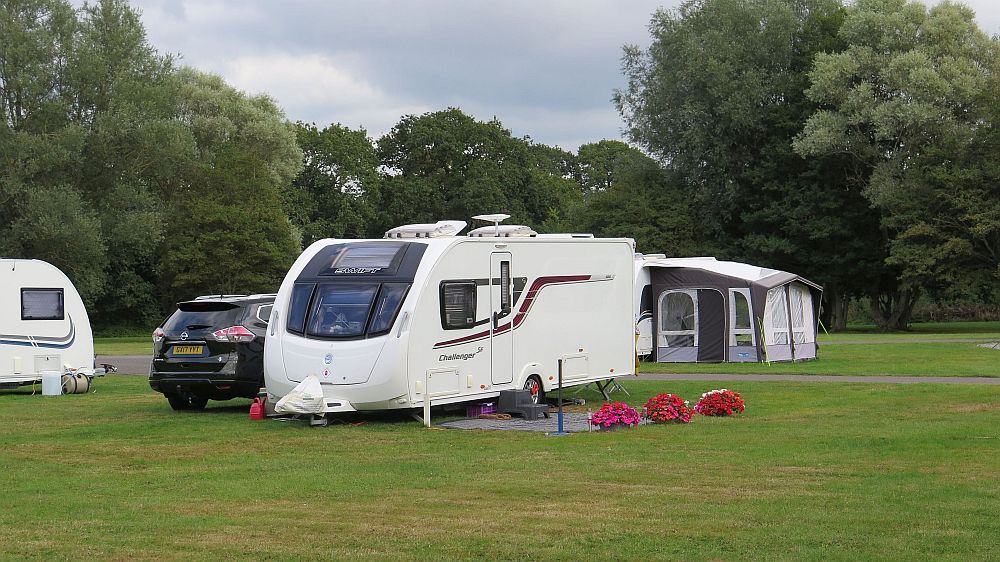 It was nice sunny in the afternoon so we sat out. Not hot but perfectly pleasant. A few more have arrived on site today to replace those that left earlier today. Seems to be a few outfits here that are perhaps owned by people who don't have bricks and mortar and perhaps move around from place to place where they can. Northbrook Farm has the advantage of being quite cheap, about £14.50 a night with the VAT reduction so is no doubt attractive. One guy near us with a large Hobby caravan had obviously been parked up somewhere and been a victim of a graffiti attack. Yesterday he was applying a large Road Runner sticker to the side of the van to cover it up! Next door to the site is a Tennis Club. We watched a motorhome arrive in its car park and then leave as soon as he arrived. He had clearly mistaken the Tennis Club entrance for the campsite entrance as minutes later he turned up at reception.
Tuesday 14th September. A very wet day today which made us decide to have a quiet day in the van. The sun did make an effort to come out later in the day.
Wednesday 15th September. It was a dryer day today and we had more sun. We decided to walk to the local Tesco Extra which is about three quarters of a mile away from the site as we needed to top up supplies. The site has thoughtfully provided instructions of the quickest walking route. It is a large and spacious shop with other outlets. We split the load between us and made our way back to the site. When loaded with shopping it seems much longer!!!
Thursday 16th September. The day dawned bright and sunny and with the feel that it was going to be a warm day. For some reason we were a bit behind with our preparations for the day so decided rather that heading for Worthing on the bus we would instead walk to Highdown Gardens which is not far from the site. I say not far but it depends if you misunderstand the instructions provided by the campsite. We walked too far beyond where we should have turned right to cross a road to take us to the Gardens. There was further confusion because we seemed to have to transverse a Civic Amenity Tip with lorries going in and out all the time. It turned out that just to the left of the tip was a path leading up to the Gardens. I say up and now understand the meaning of Highdown as it was a steady uphill climb. At the top there were wonderful views out over the surrounding countryside with the odd glimpse of the sea in the far distance. However, none of this was appreciated until we had regained our oxygen levels!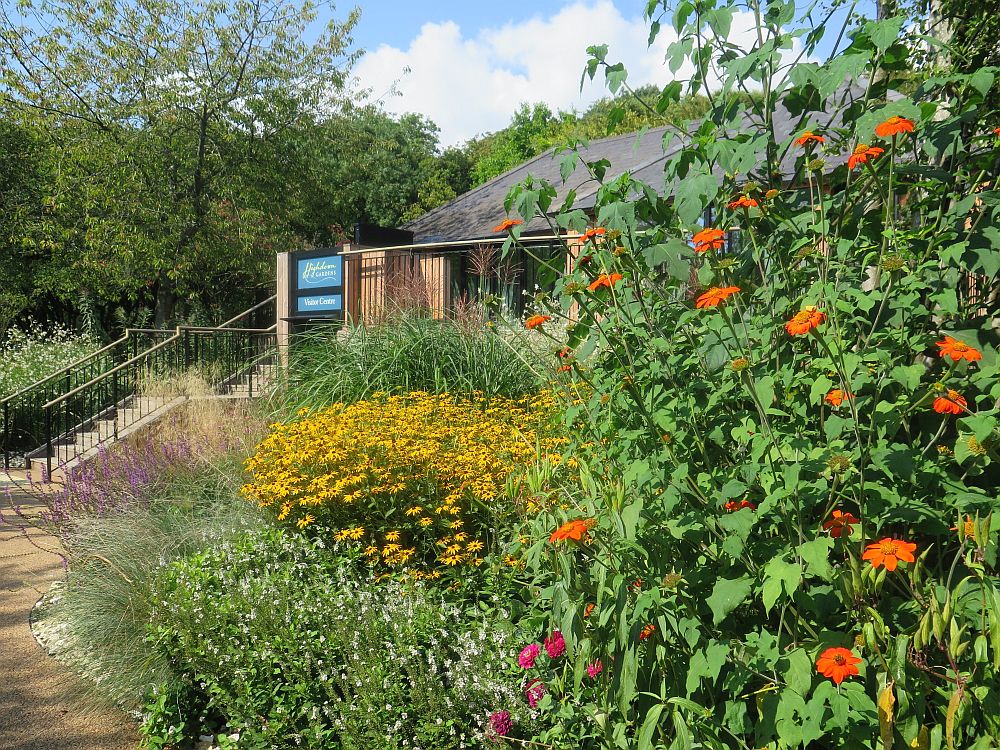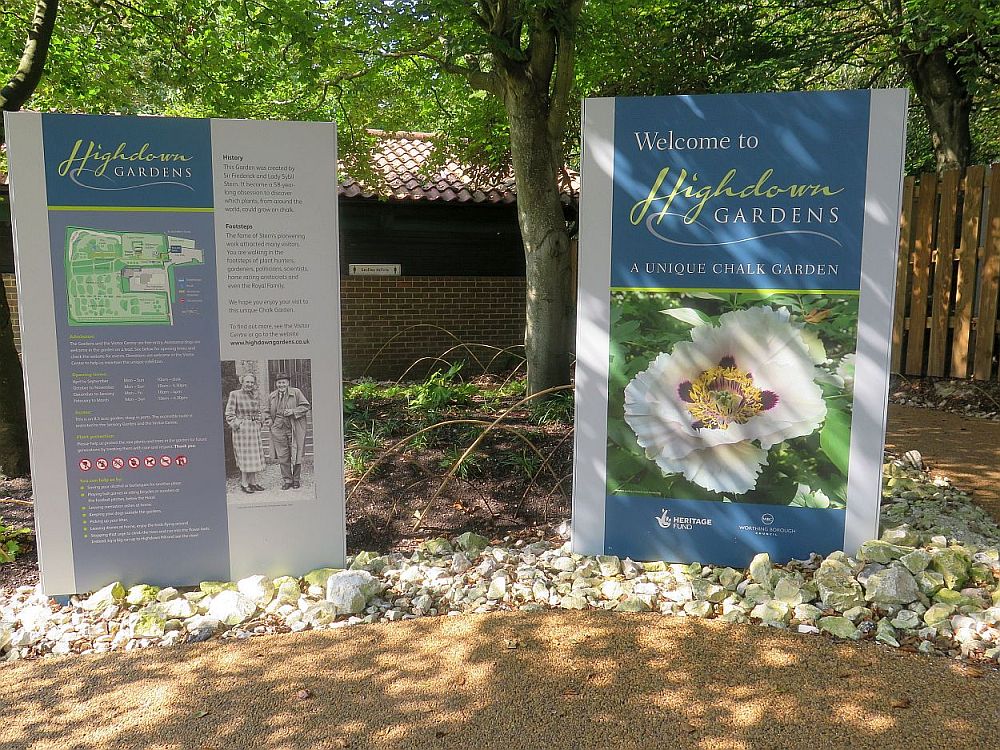 Highdown Gardens was the creation of Sir Frederick and Lady Sybil Stern between 1909 and 1967. The Gardens are free to visit and not overly large. Many parts of the Gardens would not be suitable for people with severe mobility problems but the central access would be suitable even for wheelchairs. For those that don't arrive by foot there is a car park. Next to the Gardens is the Highdown Restaurant and Tea Rooms where we refreshed ourselves after our mountaineering exploits. As is always the case going back seems so much quicker. Not sure if that was because it was downhill or we just knew where we were going?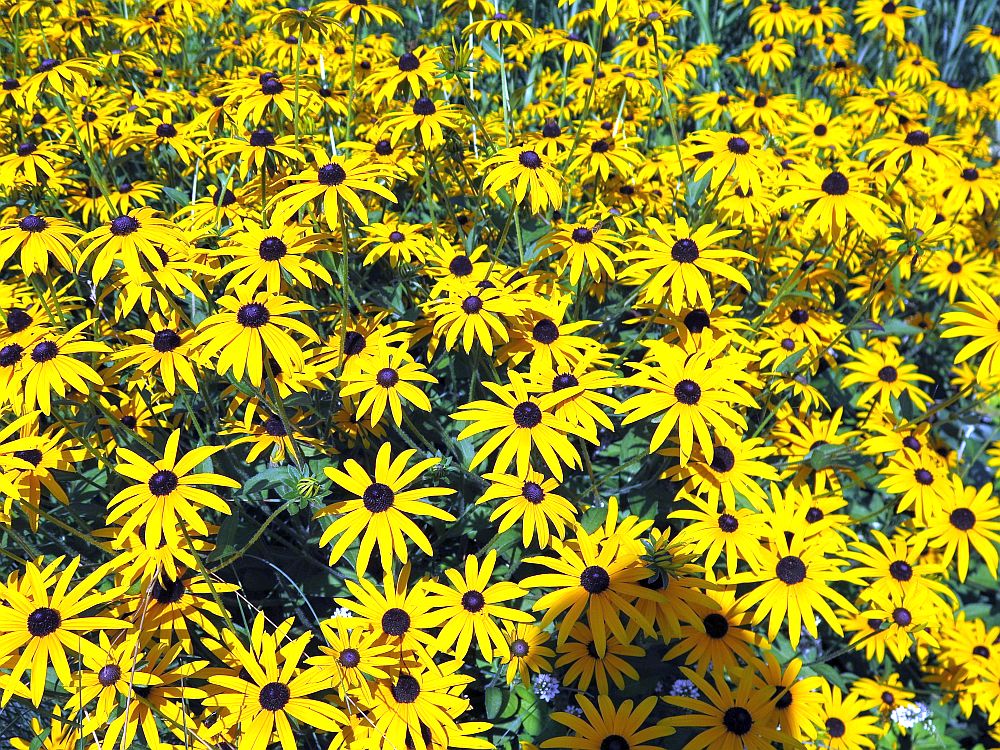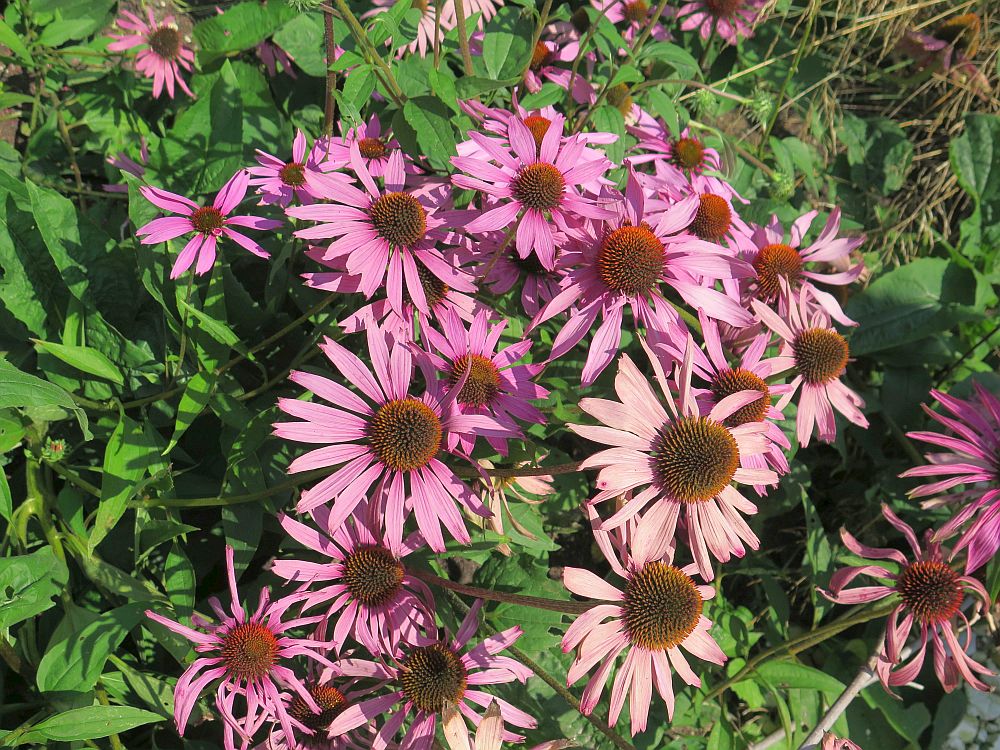 Friday 17th September. Just shows how fickle the weather forecast can be as we were promised a sunny day today. It did come eventually but not until later in the day. We took the bus into Worthing today. As we have been here nearly a week, we thought we should at least try! Reasonably comfortable on the bus but is seems a fair proportion not wearing masks, mainly but not exclusively people of a younger age!
We alighted in the Town Centre which is surprisingly near the sea front. Worthing seemed quite busy and had a good selection of shops. Although the likes of the old Debenhams are a bit of a blot on the landscape. There is work going on in the centre and I noticed that, what once must have been a shop, was being converted into apartments. What really caught my eye was the promise of a free electric bike on purchase! Quite an effort had been made with flowers around various lampposts.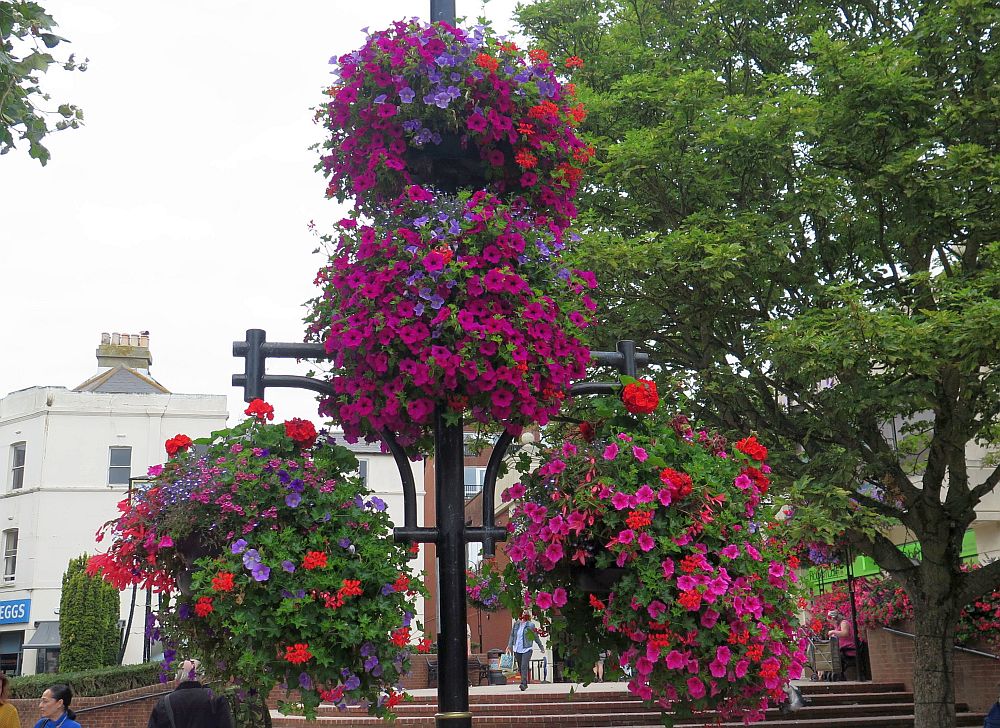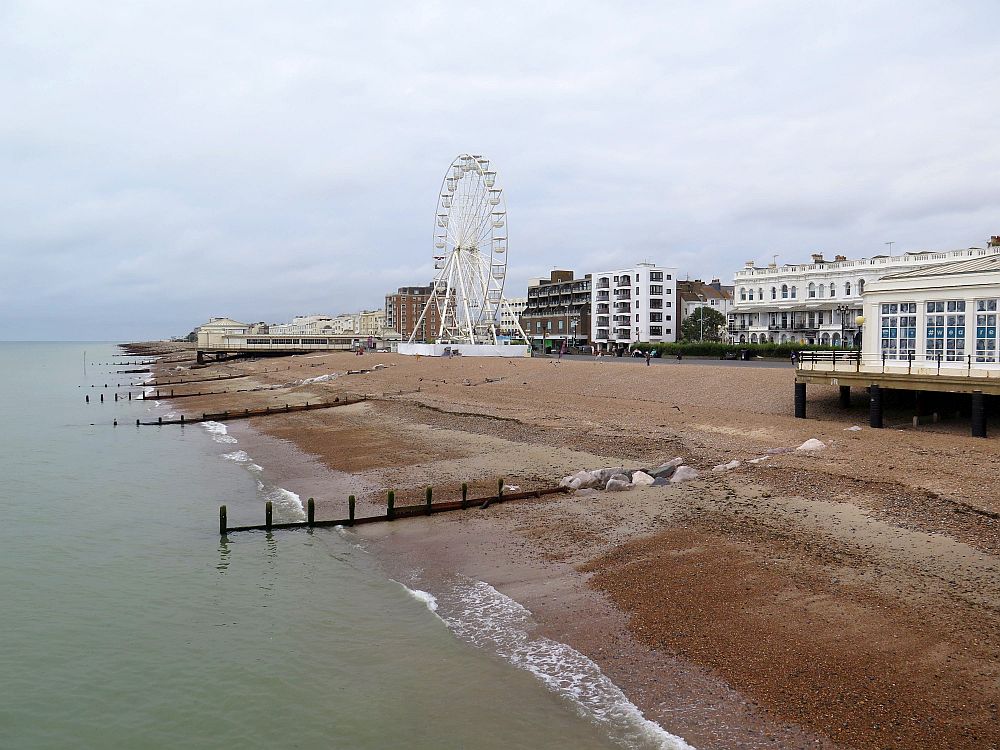 We wandered down to the seafront and found the Pier which we walked along. Piers are always a good place to get a look back at the town and along the coast. There was some interesting art work along the centre of the Pier celebrating various elements of the Town. They looked a bit like stained glass but could have just been painted glass. Because it was cloudy, although quite warm, we really didn't see Worthing in its full glory which is a shame. After our trip to the Pier, we crossed the road to the M&S. Is this the only M&S on a seafront anywhere? We were really more interested in their café where I enjoyed a bacon ciabatta and a strong coffee whereas Margaret opted for lemon drizzle cake and a cappuccino. A bit of shopping before catching the bus back to the site where by now miraculously the sun had come out!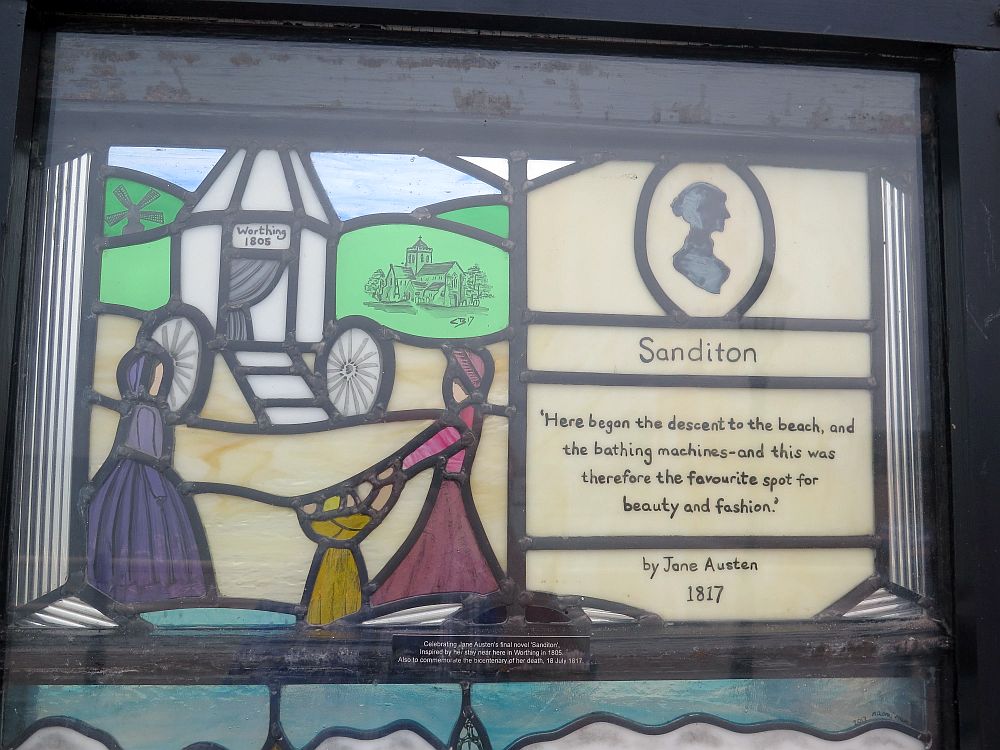 Saturday 18th September. We must have been tired as we slept in quite late, well quite late compared to home! It's been a lovely sunny day today although it starts to cool down around 4.00pm unless you happen to be in full sun. This is our last full day here in Worthing so we have to think about preparing for the journey home, so packing things away when we can. Otherwise, the rest of the day was spent enjoying the lovely weather. This is the second time this year we have spent a week in one place, unusual for us. It does allow you a bit more freedom as it gives you a few more options. So, if the weather is not so good one day you can put it off to the next! Been thinking about the route home as we don't relish the idea of heading back to the M25. The only real alternative is via the A27 to Portsmouth which can be a notorious road in its own right. From there we would join the M27/M3 and finally the A34 for the journey north. It's about 30 miles longer.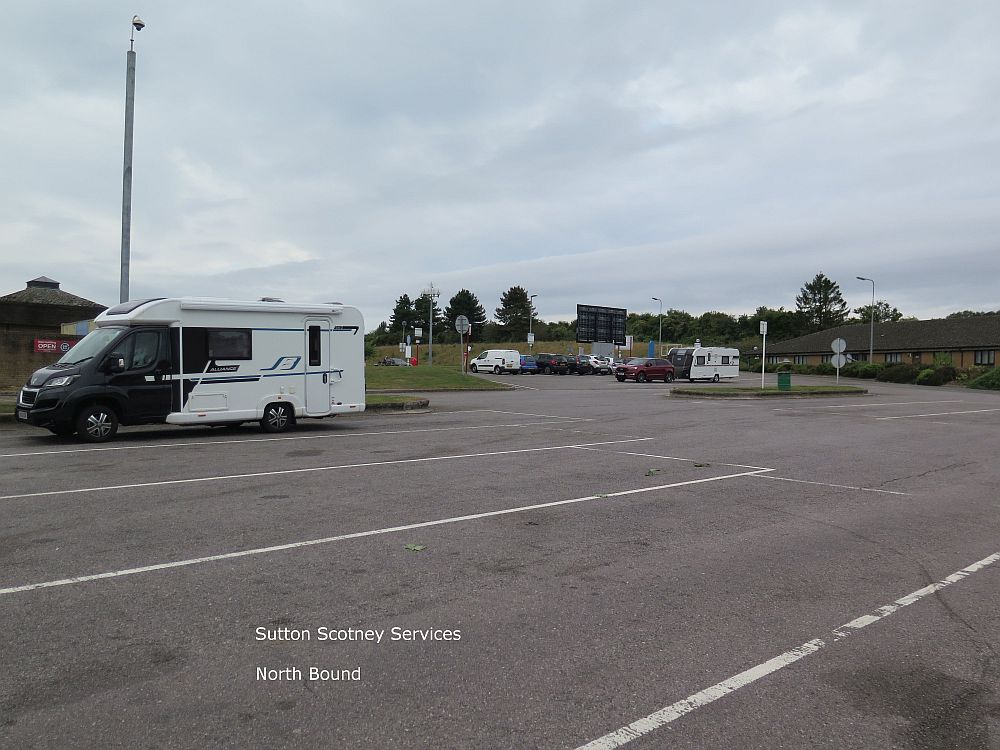 Sunday 19th September. We were up at 7.00am and off site by about 8.30am. The chosen route worked well despite being busy for most of the way but no hold ups. We had not realised that our leaving date coincided with the Goodwood Revival Meeting. There was a bit of a queue to get off the dual carriageway but nothing that delayed us. We stopped for a coffee about half way and filled up with fuel just before getting home at around 13.00pm so quite a long journey! So far this year we have spent 30 nights in the motorhome, way more than the 8 we did last year!
Henley on Thames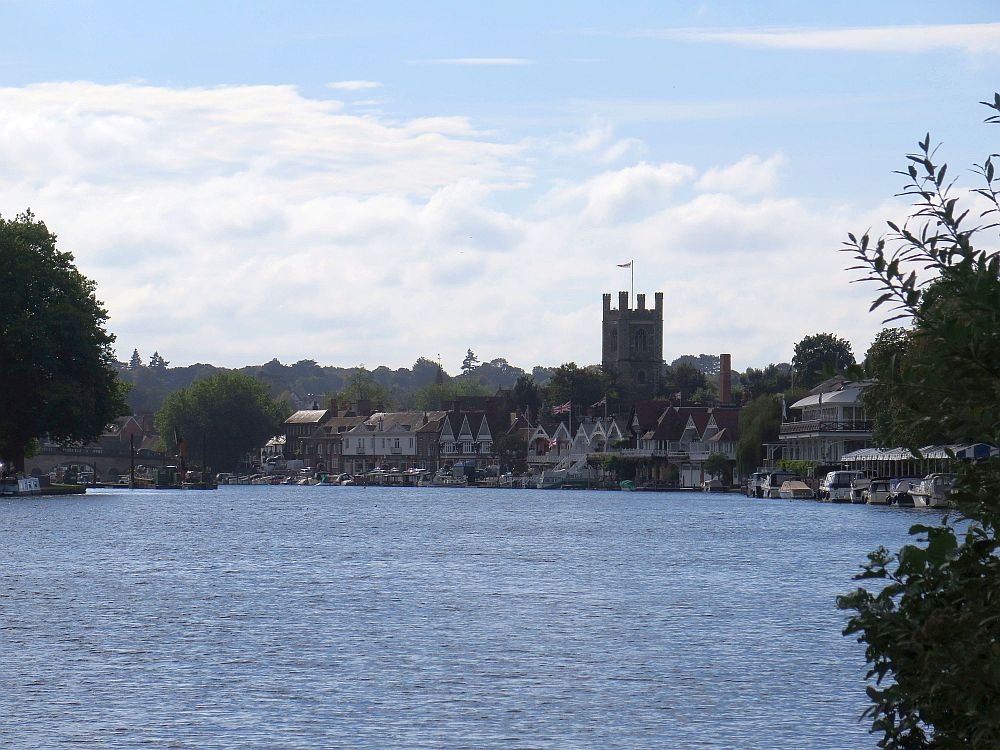 Sunday 10th October. We are off to Henley on Thames today. Originally, we only managed to book three days but would have preferred more. When the fuel panic started about two weeks ago, I noticed that suddenly there was masses of availability so took the opportunity to add another two days to our original booking. I was chatting to the wardens when we got to the site and they said that it seemed to spook quite a few people with some even cutting their stays short.
The last time we came to Henley we used the M40 and arrived at the site from the direction of Marlow. This time we used a more cross-country route via Oxford through Shillingford and Benson. I seem to recall that we used to tow this way with the caravan. It was a fairly relaxed route and once off the main roads there was not much traffic. We arrived at the site just after midday. I always have two fears about this site and they are that we will either have to use a grass pitch or we will have to use one of the pitches backing onto the notoriously noisy road. Fortunately, there was plenty of choice and we found a nice hardstanding in the middle of the site near a service point. I do seem to be having a problem reversing onto a pitch, as Margaret likes to remind me! Flaying arms don't mean a lot from the drivers, seat!!! No issue with getting next to the peg, just lining the van up level with the side of the pitch! By the time we got set up the sun was out and when sheltered from the wind it was quite warm. Warm enough, it seems, for some men to strip off to the waist, probably trying to build up their vitamin D levels ready for winter!!!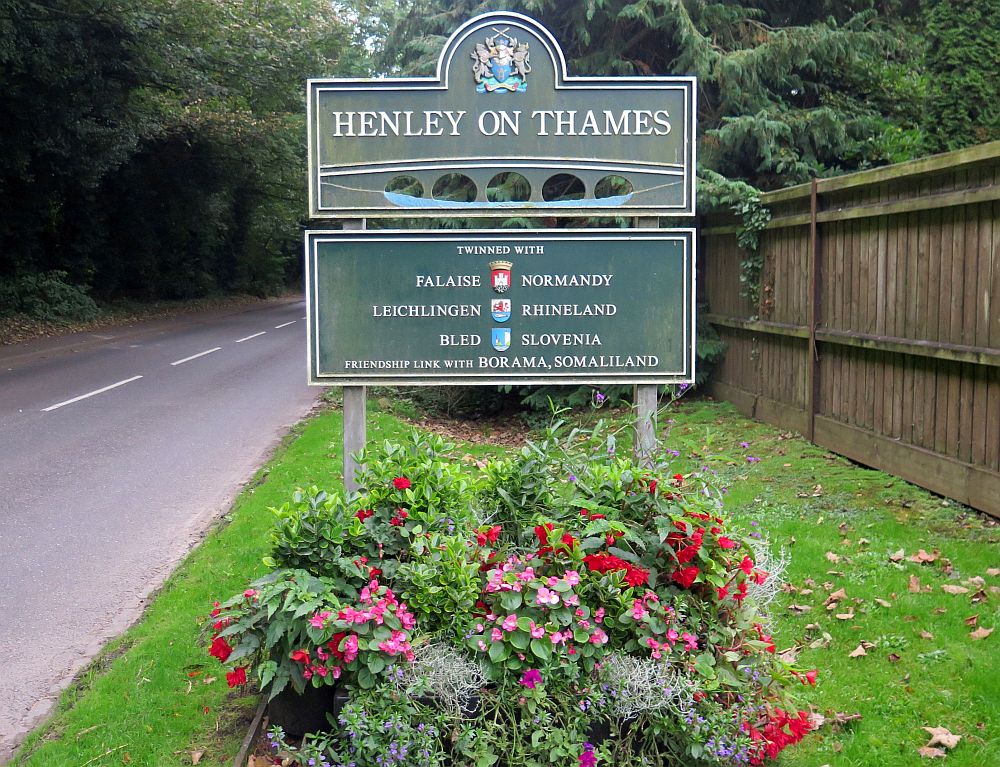 Monday 11th October. It eventually turned into a nice sunny day, although not as warm as yesterday. The penalty for sunny days at this time of year is that the nights are correspondingly colder! We walked into Henley on Thames today. A walk we have done many times before but we are both convinced the distance is getting longer!!! Checking my walking App, we appear to have walked over three miles today which is not bad for us. Henley is an attractive Thames side town but busy with traffic and people. After a coffee and a bit of shopping in Waitrose we headed back. En route we called into the Swiss Farm campsite as Margaret wanted to check out the shop. We also noticed they had a nice café which we might try if its open to non-residents. It was just about warm enough in the sun to sit outside to eat our lunch. One of the things we have noticed about the sites we have visited this year is the lack of a book exchange, obviously a COVID thing? Henley Four Oaks did have the start of book loans so we contributed another eight books which doubled the selection! Margaret has read so many books over the pandemic we almost have a room full at home!
Tuesday 12th October. Weather a bit less predictable today as more cloud but we did also see some nice sunshine. Overnight it was another cold one and I notice, as we sleep with our heads against the driver and passenger seats, how much cold there is coming from the floor area. When we have the heating on, we don't notice it as the vent is at floor level next to the seats. For two nights running I have been up about 5.00am to put the heating on!
We had a pretty lazy start to the day but after a late breakfast we decided to have a walk down to the river. We had noticed a path on our way into Henley, opposite the Rugby Club, yesterday. It goes down the side of Phyllis Court. After the rugby pitches it opens out into a riverside meadow and you can see Temple Island in the distance. On this side of the river there is no access into the town. Disappointingly there was not much activity on the river, only a rather smart launch and a single sculler. I was surprised not to see any hire boats plying up and down the river.
On the way back to the van we stopped off at the Swiss Farm campsite to use their café and shop. Non-residents of the campsite are welcome. We had a nice coffee and sandwich which saved us the bother when we got back to the van.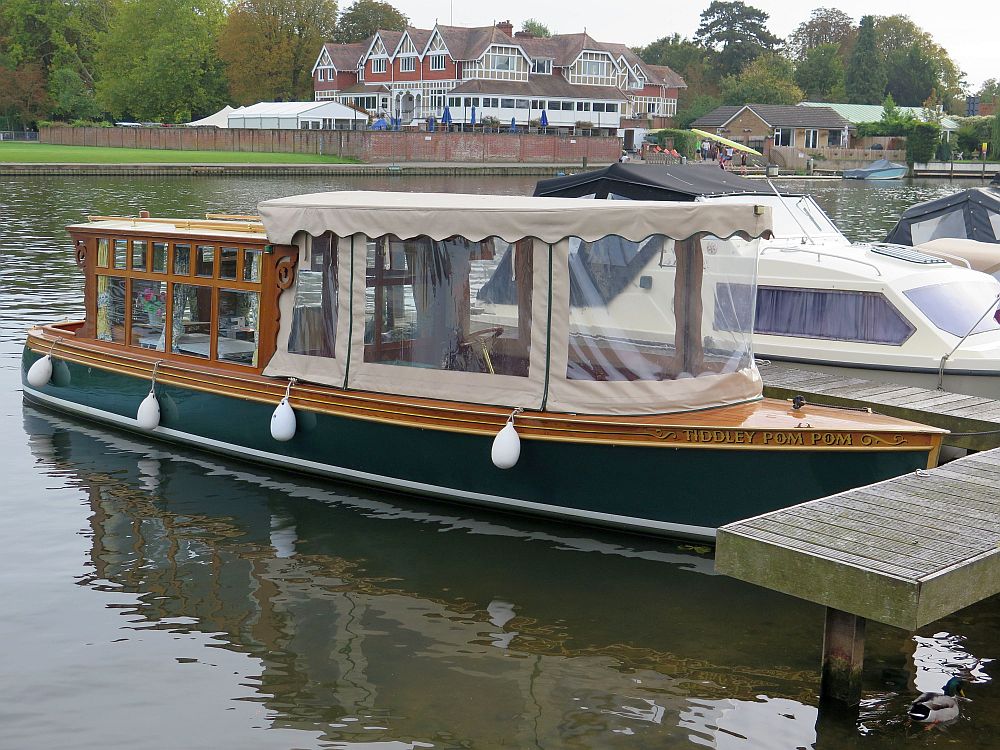 Wednesday 13th October. There was a bit of rain overnight but the day started dry and remained so. Less wind today so it felt a bit warmer. Around 1.30pm we walked into Henley to have a meal out, not something we have done very much in the last two years! For years I have collected Tesco Club Card points which we used, initially, to pay for our Eurotunnel crossings. Since Brexit we have not been abroad so have accumulated more points than we can usefully use!!! Before COVID I swapped some of my vouchers for a Zizzi voucher but the pandemic rather put an end to their use. Full credit to Tesco as they extended the expiry date more than once. Today we actually got the opportunity to eventually use them. Before we left home, I had noticed there was a Zizzi in Henley so took the vouchers with us. We still had to contribute to the cost and probably enough to pay for a meal next door at the Wetherspoons, but preferred the Italian menu. Being quite full the prospect of the walk back to the site did not appeal so we hopped on the bus that took us most of the way back to the site!!!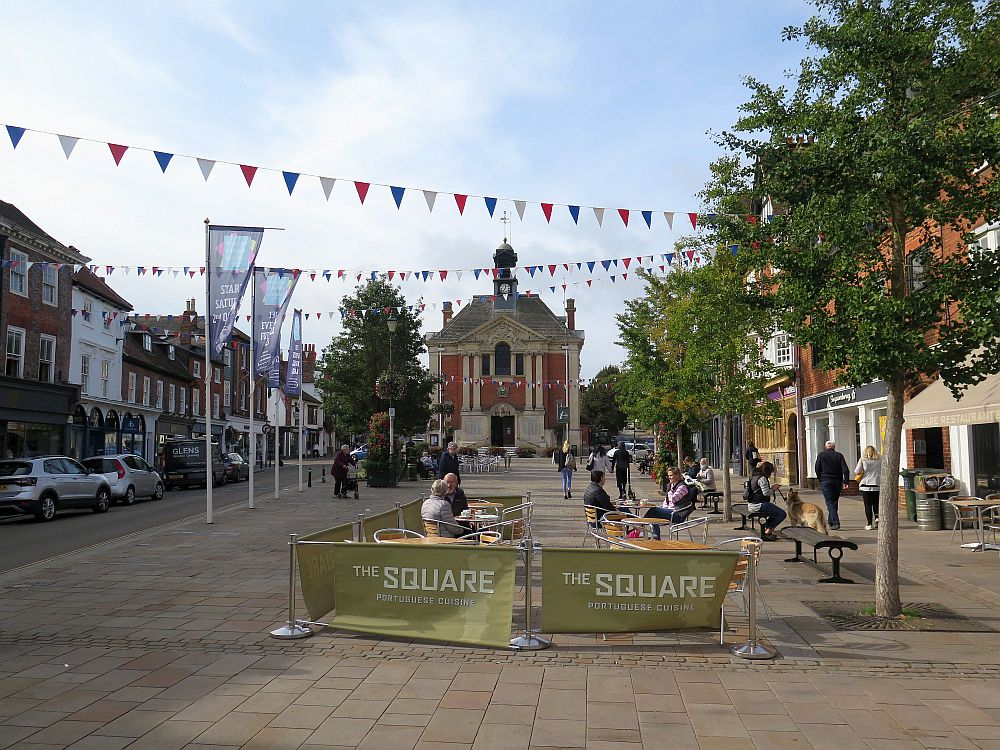 Thursday 14th October. Couldn't make up our minds what to do today so decided to have a lazy day. Early on it was a bit difficult to judge the weather which actually turned out not to be too bad. At least we got a chance to sit out in the sun.
At times this week the site has seemed not very full but we have had more arrivals today. Another odd thing I noticed was that earlier in our stay there did not seem to be many dogs which is unusual for a Club site but today that seems to have changed!
Friday 15th October. Fairly dull start to the day which also meant it had been a bit warmer overnight. We managed to get away not long after 9.30am and the journey, back via the way we came , was uneventful. We didn't bother to fill up with fuel when we got near to home as we had only done about 130 miles. Waiting at home is a Fiamma Back Box to be fixed to the van and once done Margaret will insist that we test its integrity. We will probably fill up after a test trip.