Caravan Travels in the UK 2022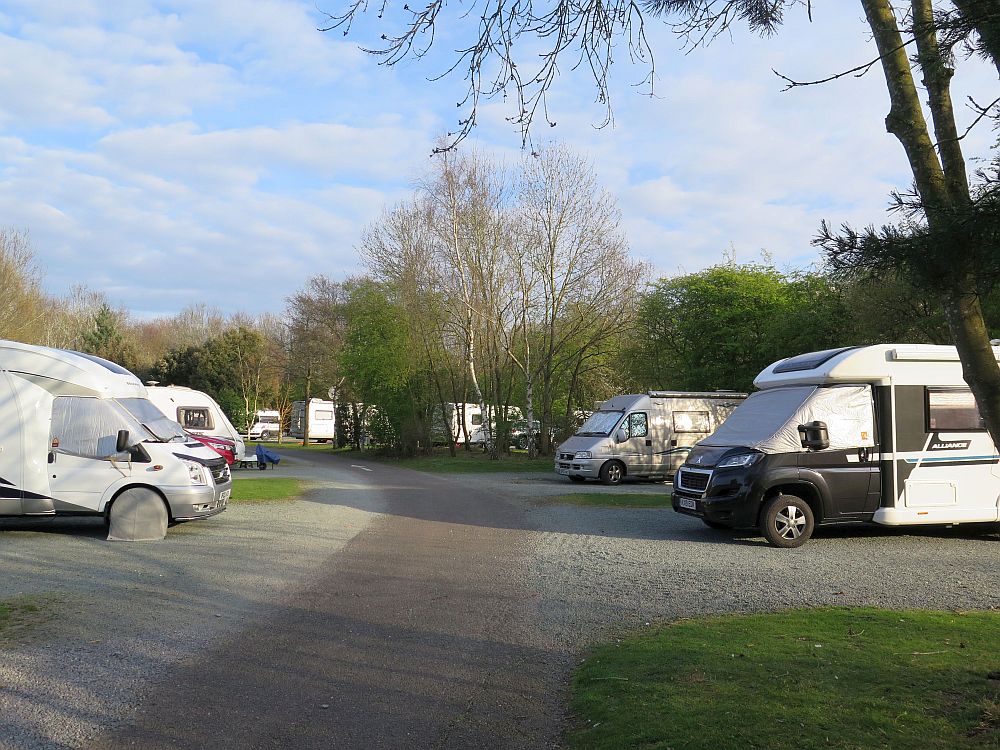 Peterborough
Sunday 3rd April. What seems like an absolute age we are going away for the first time in 2022. It was October last year that we were last away. We are off to Ferry Meadows at Peterborough which is only about 50 miles away so a relatively easy journey as it proved to be. We went via the slow route through Olney and joined the A45 at Wellingborough and then onto the A605. We stopped at the Peterborough Services for a coffee as we were a bit early to arrive on site. Not sure we parked in the right place but there were a couple of other motorhomes parked up so we joined them. We arrived at the site about half past one and were greeted by one of the site staff, clip board in hand! Check in was quite quick and we didn't venture too far into the site when we found an empty pitch not far from a service point. Far enough away so we don't see people emptying their toilets but near enough to be handy to get water for the kettle.
On our way through Olney, we were rather impressed that the whole town was decked out in full sized Ukrainian flags all along the high Street ,in support of the country which has been invaded by Russia about a month before. A strange coincidence is that 40 years ago, almost to the week, we spent our first ever weekend away in our first caravan on this very same site when the boys were very young. The coincidence is that it was 1982 at the time of the Falklands War!
Monday 4th April. Pretty cold overnight but no frost and some rain. The rain continued into the morning so we delayed going out until after lunch. We had a walk into the Park. Surprisingly windy near the lakes compared to back on the site where it was quite calm. Talking about the site quite a few leavers today but as many arrivals.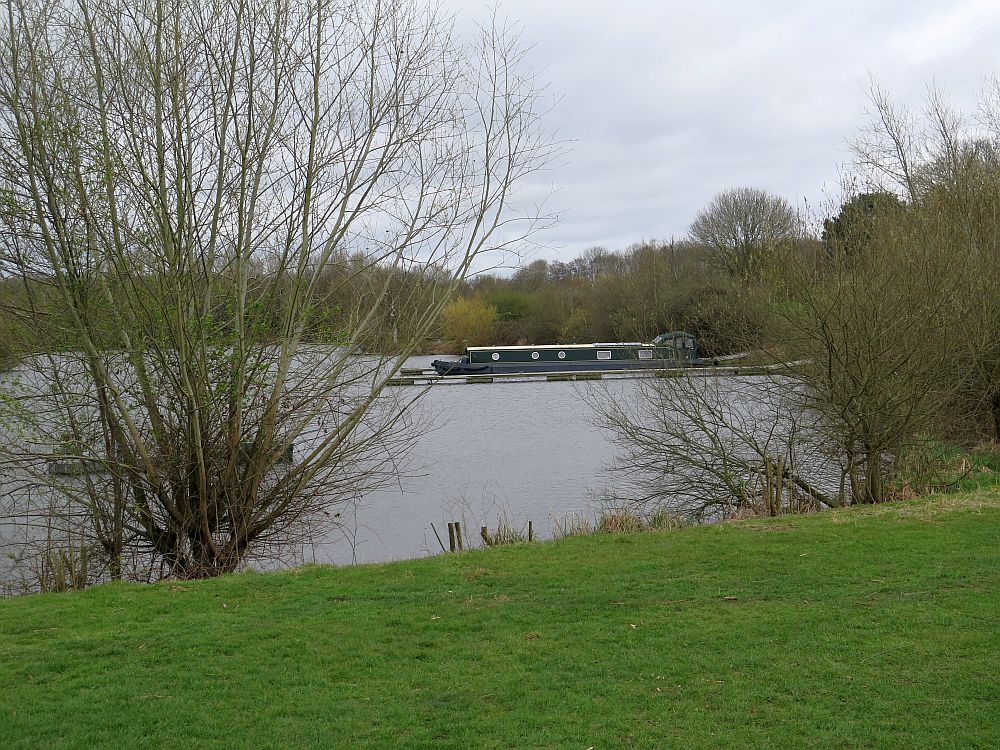 Tuesday 5th April. We actually had a bit of sunshine today, not all the time but enough to cheer you up. Much warmer overnight so no need to get up at 5.00am to put the heating on!
We walked down to Notcutts Garden Centre today. It is one aspect of staying at Ferry Meadows, you have a few options from the site without the need for a car. There was a nice choice of plants and I was tempted but we would have had to carry them back to the van. Having said that I did find a reasonably priced, supposedly, squirrel, resistant bird feeder. Be interesting to see how squirrel resistant it is! The café does a very nice fruit scone which fortified us until we got back to the van. Its about five months since we were away in the van and we are struggling with our legs and backs a bit. Hopefully we will find it easier the more we do!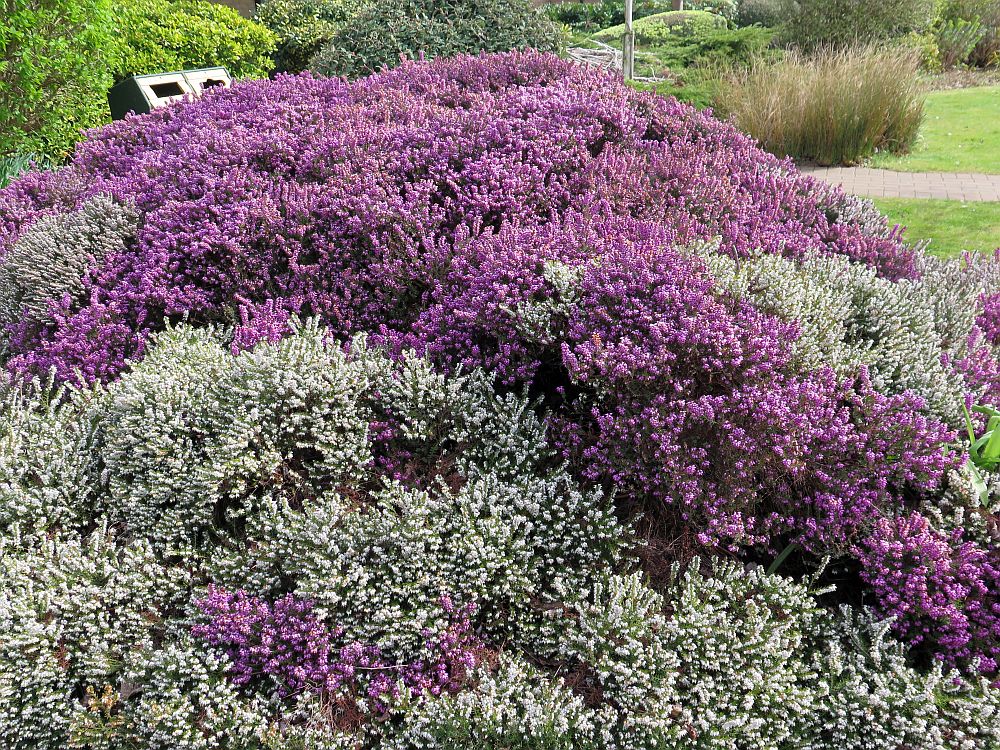 Wednesday 6th April. A very diverse day weather wise. Sunshine, rain and wind! This is our last day on site so I attended to some of the services like emptying the waste water tank. I did this manually as Ferry Meadows still doesn't have an open grill waste point. Anything we create in the meantime will be taken home with us! At least I can take the washing up water straight to the service point.
It has been quite relaxing being away in the van. It seems to have been so long, mid-October was the last time we were away. We are concerned that two years of minimal activity had taken a toll on our ability to walk too far and our general energy levels. To be fair we are both in our mid seventies so I suppose the days of doing as much as we once did will start to decline. We have some longer trips coming up, going to new places. Hopefully this will spur us on? Perhaps after 40 years its time to think of the unthinkable?
Thursday 7th April. The problem today for our trip home was the wind which was forecast to be gusting up to 40+ mph. We decided to use a different route via the A1 as we wanted to fill with fuel on our way home, more of that later! It was very uncomfortable as we headed south down the A1 and even when we turned on to the A421 at the Black Cat roundabout it was no better. We eventually crossed the M1 at junction 13 and headed to the Tesco at Kingston with the purpose of filling up with fuel but they had no diesel. Another garage we passed were also out of diesel. The two we passed with diesel had long queues and were at least 10p a litre more expensive so we decided to continue home and fill up at a later stage. We have a long trip planned for the beginning of May so we need a full tanks before we go!
One success of the trip has been the new water pump which replaced a submersible version which was not very successful. Despite the cost, £300+, it has certainly proved to be worthwhile. The main issue before was that the old pump continually needed to be repressurised between stops. Not an issue with the new set up and of course we have higher pressures to the taps an


Northern Trip, May 2022.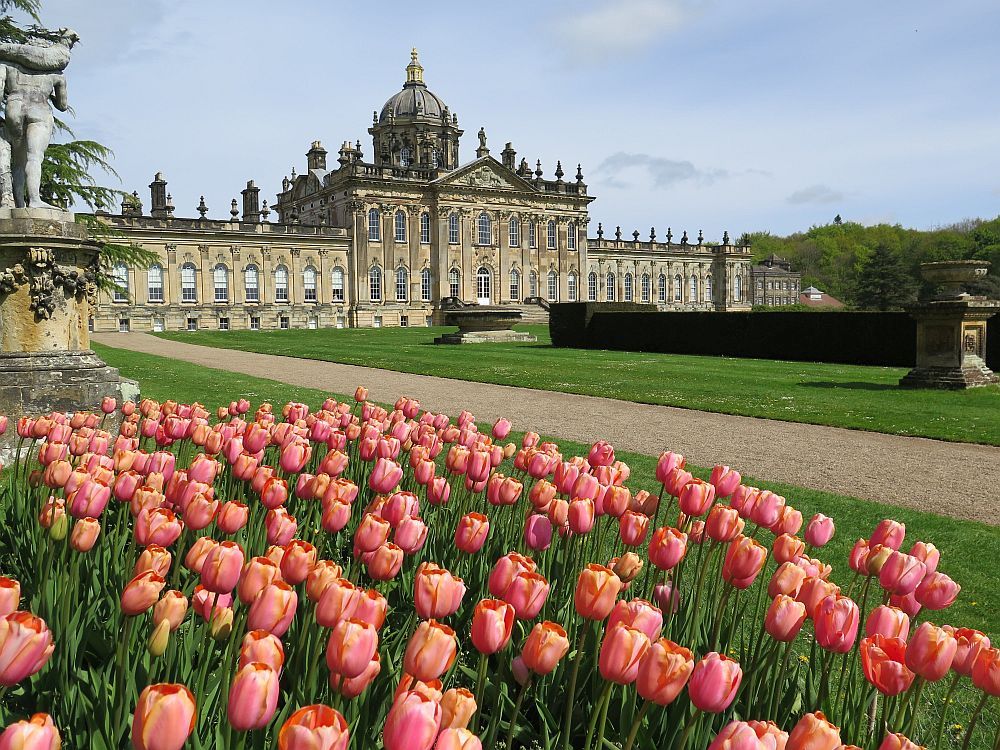 Staveley
Sunday 1st May. This will be our first long trip since 2019! Margaret has some misgivings about the length of the trip, something to do with the quantity of knickers required en voyage? The trip has already grown by a day as we decided to break the journey to North Yorkshire by stopping for one night en route.
We have spent the last week getting the van ready for the trip so there was little to do on the morning of departure and we were ready for the off by 11.00am. Our overnight stop is the CMC site at Staveley called Poolsbrook Country Park, a site we have used a couple of times before as it's only a couple of miles off the M1. Progress was good despite the traffic. Trouble is we had rain; it hasn't rained for almost a month so why does it when we decide to go away? We made a mid-way stop Leicester Forest East services. Since our last visit the lorry parking has been revamped and re-surfaced both very welcome. The other section of parking also seems to have undergone improvements with what looks like more space. We timed our arrival at Poolsbrook impeccably well at about a quarter of an hour after the 1.00pm opening. It didn't take long to set up as we are not unpacking everything as we are off in the morning. The site is pretty full as you would expect for a weekend and we were lucky to get a pitch which must have been due to a late cancellation.
The site information room has some interesting information of the history of the site before it was a campsite.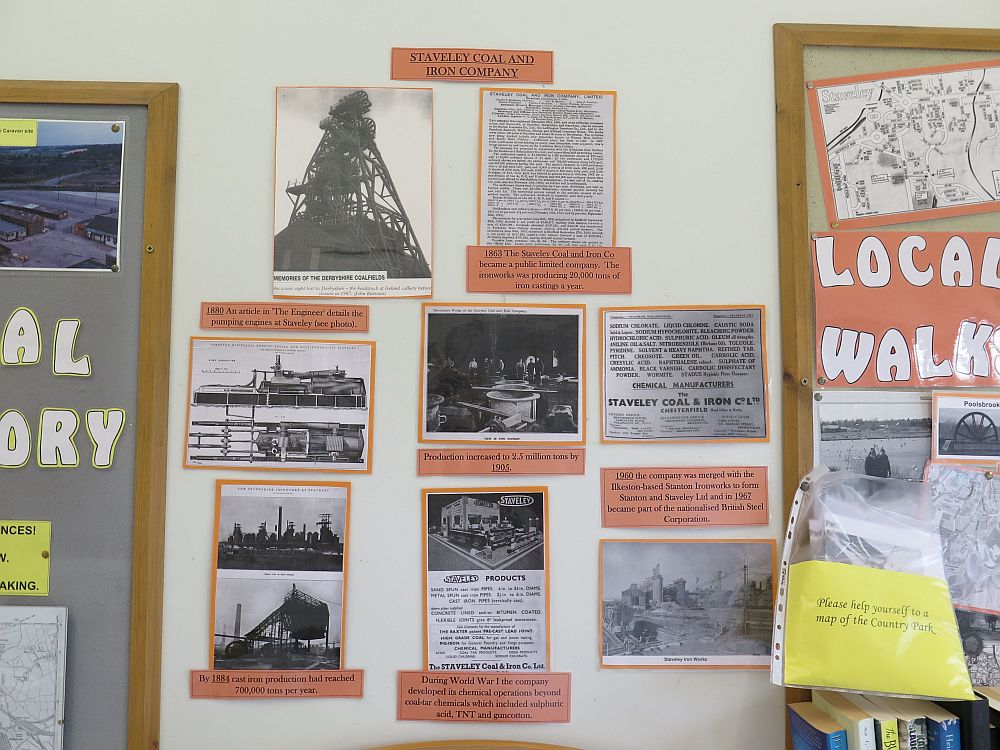 Slingsby
Monday 2nd May. We had to hang around a bit at Poolsbrook, because we couldn't arrive at our next site before 1.00pm. We weren't the only ones leaving today as it seemed the whole world and his wife were doing the same! It didn't take long to get back on the M1 but was it busy! There were wagons on the road but it was mainly private vehicles. When we hit the A64 towards York the volume of traffic coming from Scarborough was very dense and slow moving, typical Bank Holiday! About seven miles out of York we turned off to the left on a minor road which took us to Slingsby, via Castle Howard. I am a bit weary of using unclassified roads but it wasn't too bad although it was a bit up and down dale in places! As we progressed through the village of Slingsby there were lots of cars parked and we soon saw the reason why, they were having a dressing of the Maypole which seemed popular with the locals. As we arrived at the site, we joined a small queue of outfits waiting to get into the site. You can now elect to have the balance of your stay automatically taken the day of arrival so no need to visit the site office.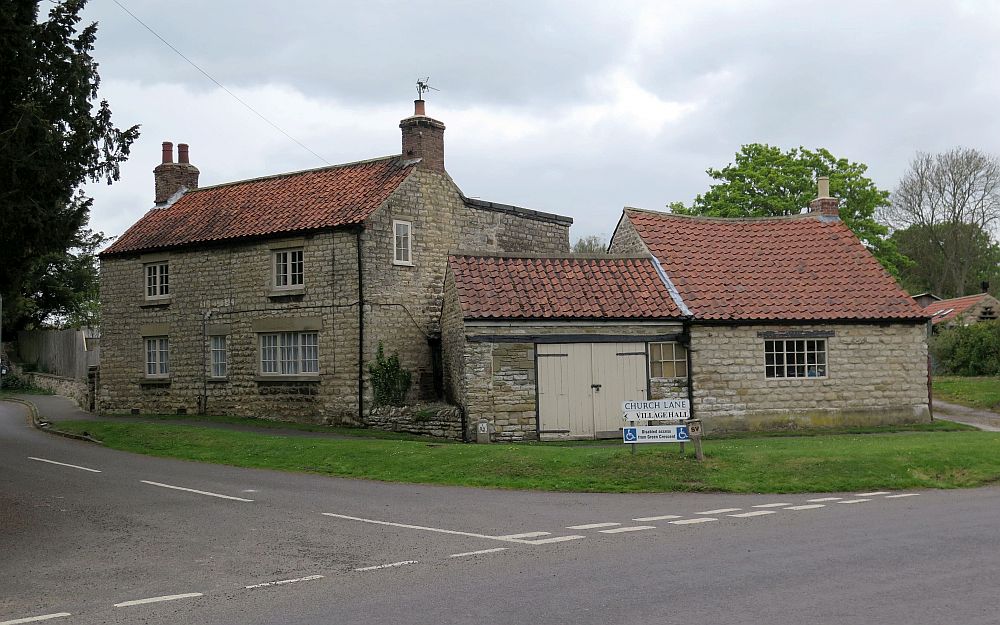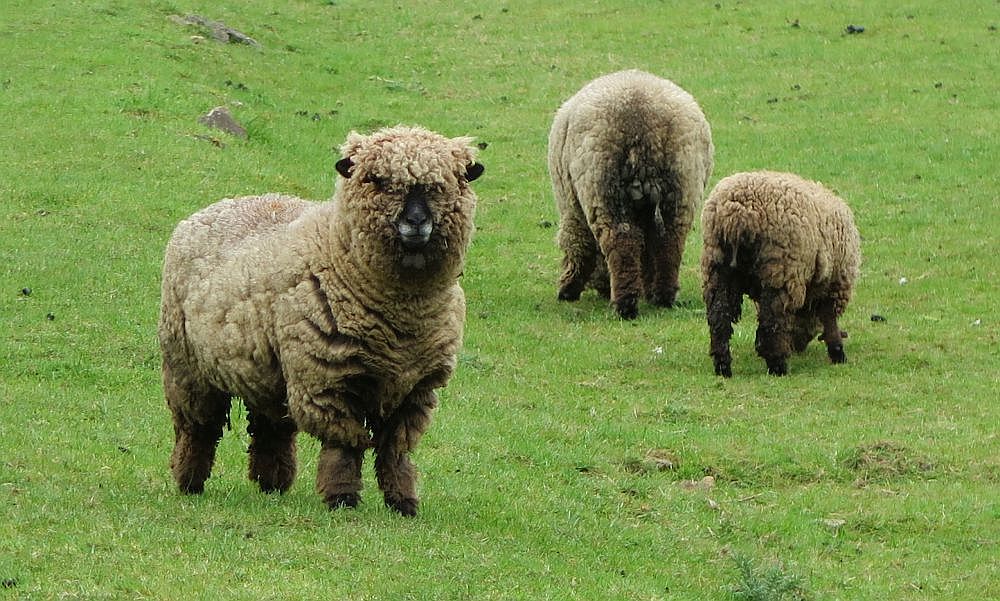 Tuesday 3rd May. Unfortunately, the weather is still dull, but at least mainly dry. We had a walk into the village of Slingsby today. Lots of nice stone-built houses and cottages which all look well-tended. Apart from the Grapes pub there does not seem to be any form of shopping or catering. We were hoping for a coffee shop! Having said that, other people were not much in evidence so whether people work elsewhere and just return at night?
There were a few sheep with very thick coats in a field adjacent to the campsite, so not completely without company!
The actual campsite occupies the land of the former Slingsby Railway Station which was on the Thirsk to Malton Railway. Apparently, the last excursion from Slingsby Railway Station was on 27th July 1964, my 18th birthday!
Wednesday 4th May. We were forced to a lazy day today as the weather forecast let us down! By the looks of it we were due rain in the morning which didn't materialise but we did have sunshine which wasn't forecast. It did rain later on. We had thought of taking a run out to Castle Howard but because we were either faint hearted or mistrustful of the weather we gave it a miss! The mistrust of the forecast wasn't totally misplaced as it bucketed it down later!!!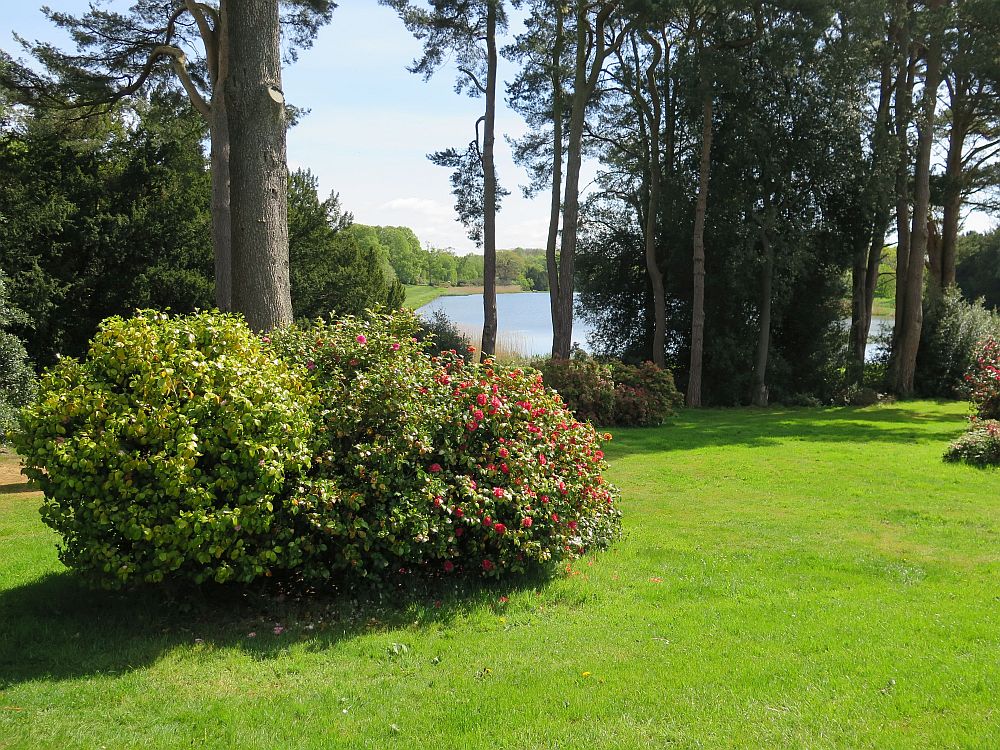 Thursday 5th May. A busy day as well as a sunny one. We managed to achieve our previously aborted visit to Castle Howard today en route to our next stop at Whitby. It's about five miles from the site. The car park was not too busy but we still ummed and ahed where to park but found a spot eventually. We are not really used to taking the motorhome off site. Given that we only had limited time as we were also travelling, we decided to just pay to look at the gardens, and of course you get a good view of the house from the gardens as well. I am sure Castle Howard is famous in its own right but perhaps the thing that many will remember it for is the TV series Brideshead Revisited. Yes, the do sell teddy bears in the gift shop! We started with the walled garden which has many nooks and crannies and is almost maze like. We got in but had to ask how to get out! We were told to look for a cast iron gate which we found. This took us out into the broad vista of the gardens at the rear of the house which is impressive as is the ornamental fountain of Atlas lifting the world aloft. Have I not seen something similar at Versailles? We continued our garden tour working our way towards the Big House and a welcome coffee in the café.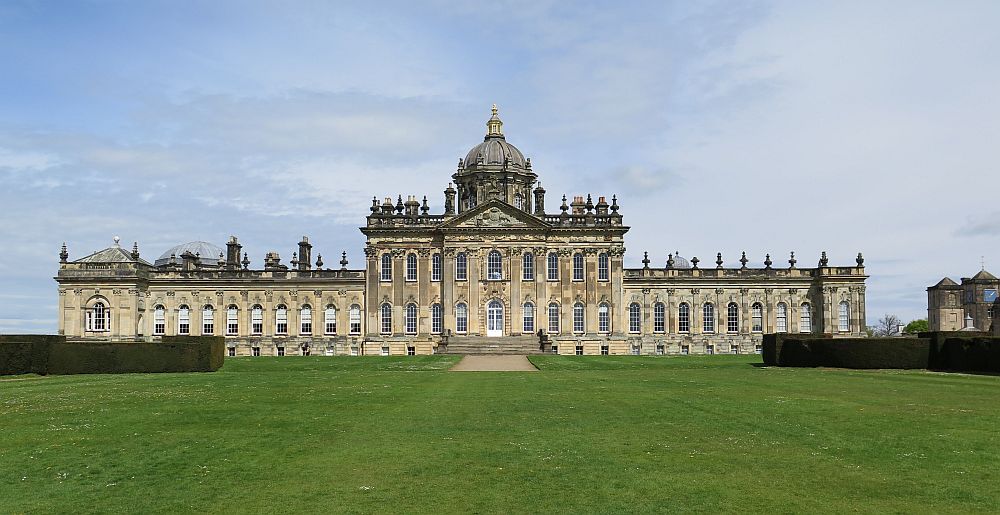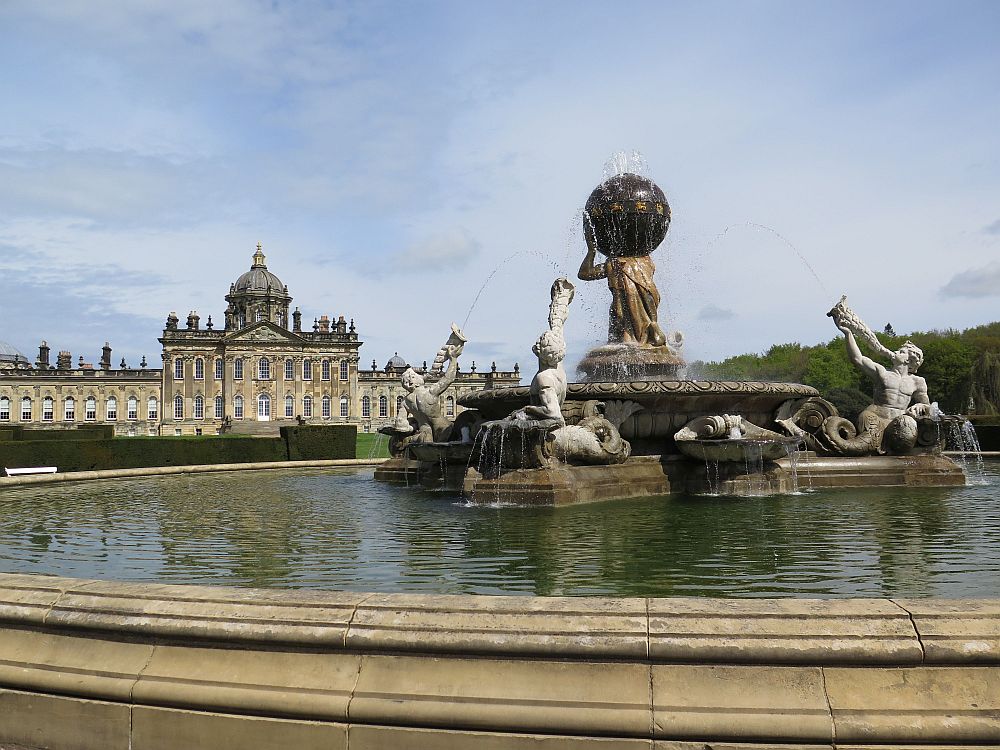 Whitby
The intention was to leave Castle Howard and head back to the A64 and head towards Scarborough and then to Whitby. Easy enough but the van sat nav thought otherwise. We did manage to sort it and the road from along the coast was resplendent in bright yellow gorse. The route was complicated by the fact that we wanted to do some shopping at the Sainsburys which was south of Whitby. We made it to the supermarket and then headed the final three miles to the campsite. As we had already paid, we were met at reception and escorted to our pitch.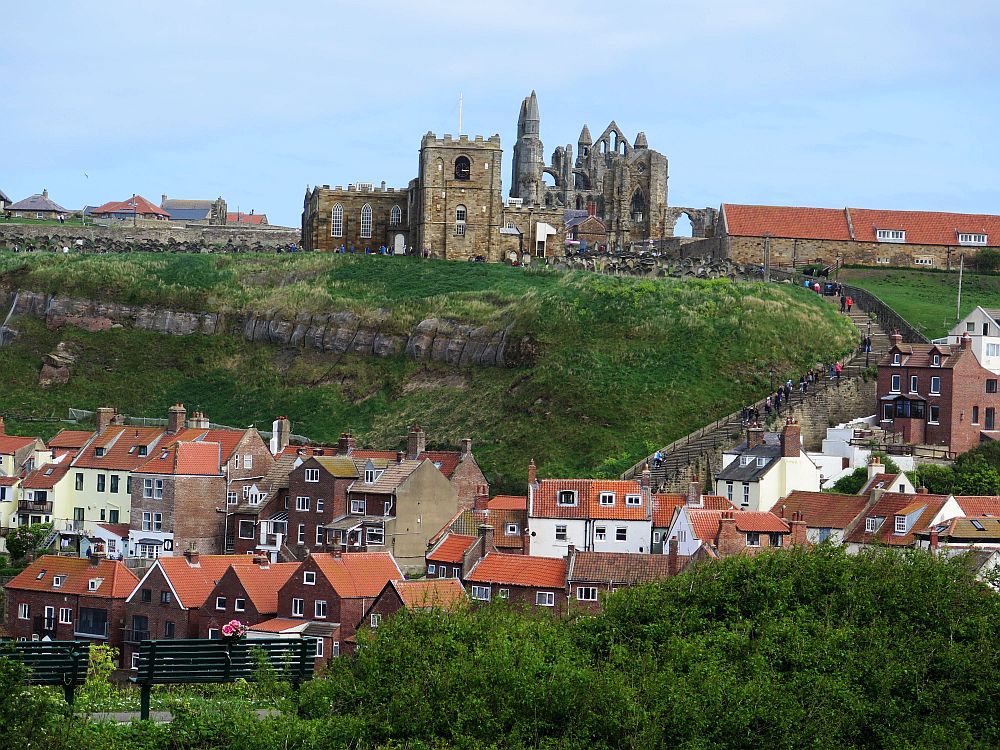 Friday 6th May. We caught the bus into Whitby today. Conveniently there is a half hourly service from the entrance to the campsite. It's about 2 miles into the centre and I am sure the fit would walk but unfortunately, we are past our best at walking and reserve our energies for exploring the town. We were surprised how busy it was. The bus station is alongside the railways station which is not only used by British Rail but also shared with the North Yorkshire Railway if you wish to explore further. We walked down past the old Town Bridge. I can't imagine the chaos had it not long ago been bypassed! We continued down to near the harbour entrance and sat next to an interesting sculpture of fisher women preparing fish to remind of how things used to be! On the way back into the centre of the town we stopped for a coffee to restore our flagging energy. Before catching the bus back to the site, we nipped into the convenient Co-Op store next to the Stations for a few bits. We had been blessed with some nice sunny weather which given we have been away for nearly a week we have not had much of!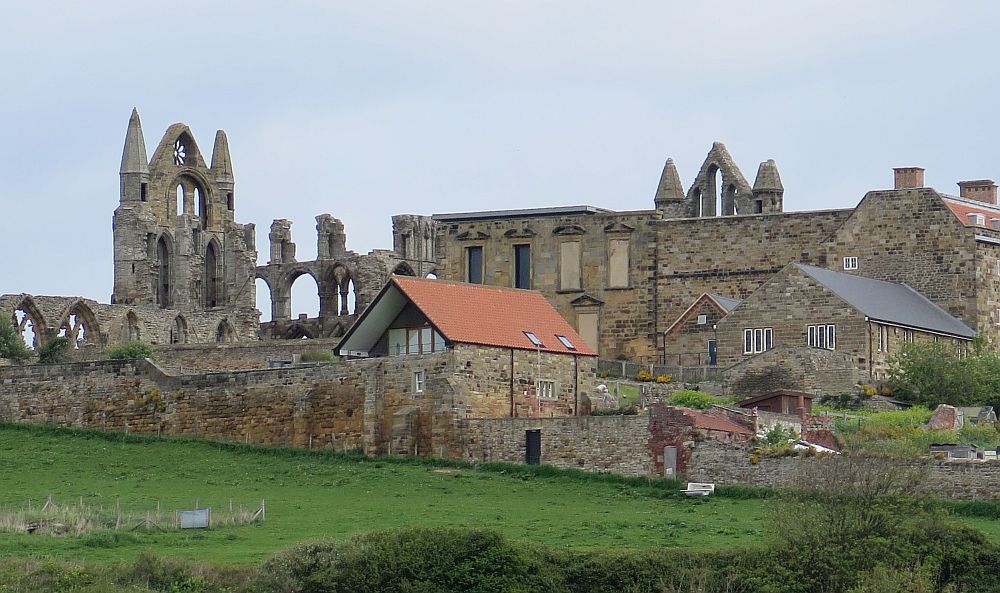 Saturday 7th May. Today marks the end of our first week away, time flies! Initially it was a pretty lazy day because of our exploits in Whitby yesterday. It was also pretty chilly and dull during the morning. It did gradually cheer up so we decided that a walk was in order. There is a path alongside our pitch which takes you down to the beach. What we didn't anticipate, but should have done, was how steep the path was which as we descended started to raise alarm bells on how we would get back! Once you get to the beach its nice and level which gives a false sense of security! In the distance we could see the Whitby harbour entrance which didn't look that far away although the mirage of the oasis in the desert might have been giving us that feeling. After a while we spoke to a friendly native walking her rather large dog. In the usual friendly manner here abouts she explained our options and the least worst seem to be to carry on to Whitby where we could get the bus back to the site. Putting all the angst to one side it was a lovely walk along the shore and when we got to the James Cook statue, we had a lovely view of the harbour and the Abbey ruins high on the hill opposite us. Thankfully it was all downhill from here, in a positive way! We did discover narrow roads and alleyways we had not previously seen. Margaret commented on how busy it was yesterday but there were far more people around today. As we approached the bus station the bus we needed pulled in, so no long wait. The final insult to injury was that I had to pay the bus fare as we had left the bus passes at the van!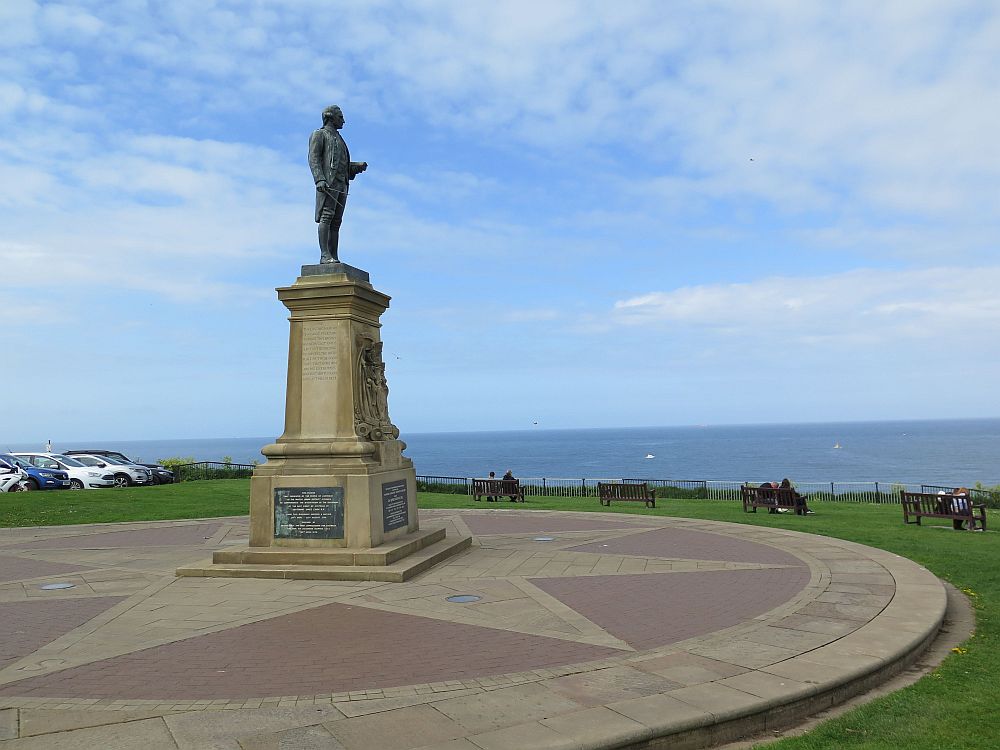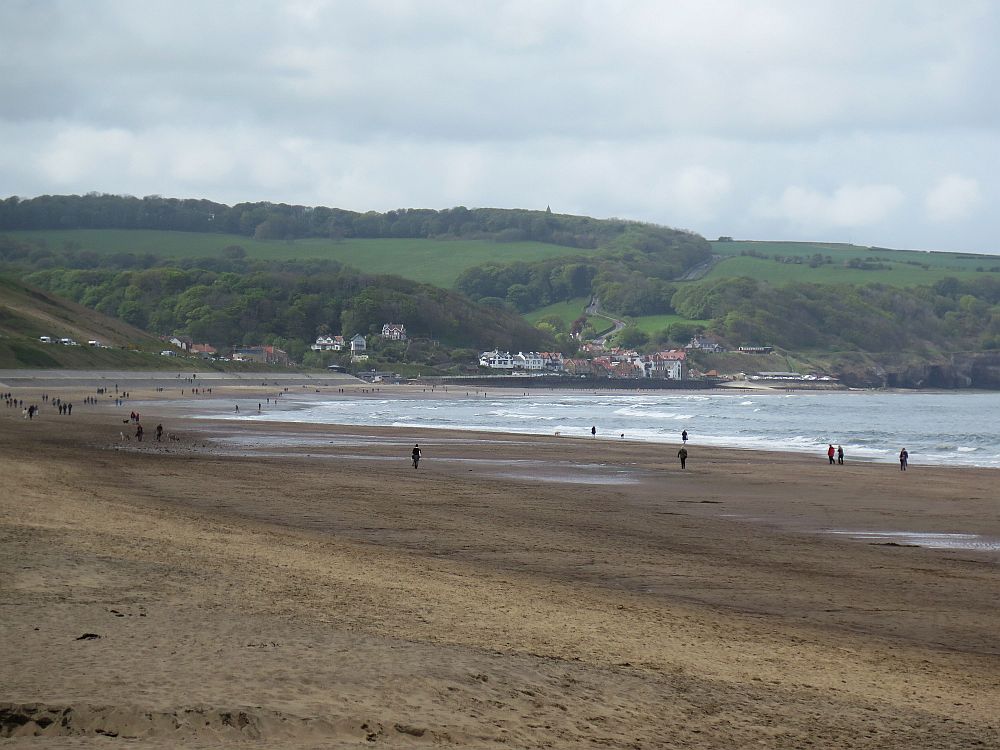 Sunday 8th May. Our last day at Whitby today and a lovely sunny one if not a bit chilly, but we are close to the North Sea! We were a bit exhausted after our longer than planned walk yesterday so beyond a walk around the site it has been a bit on the lazy side. For many I would imagine the layout of this campsite to be too regimented for some but all pitches have a sea view. The site is maintained to a high standard. What do they say? Location, location, location and to that end the site has it all, especially if you don't want to take a vehicle off site. Certainly, wouldn't rule out coming back.
South Shields
Monday 9th May. We left Whitby today to head for our next site at South Shields. I had made a slight miscalculation in the distance which meant we would probably arrive too early at Sandhaven. We did plan a stop at Middlesborough to fill up with fuel which we achieved and then set off the find the associated supermarket which was on the other side of the complex. It was very busy but I spied a parking area. Fortunately, it was relatively easy to exit and to find the A19 north, We, did arrive at the site a bit early but that didn't seem to cause and issue. After some lunch we had a bit of a walk around the local area. Next to the site is a Park which takes you down to the beautifully sandy beach which many might not associate with this part of the country.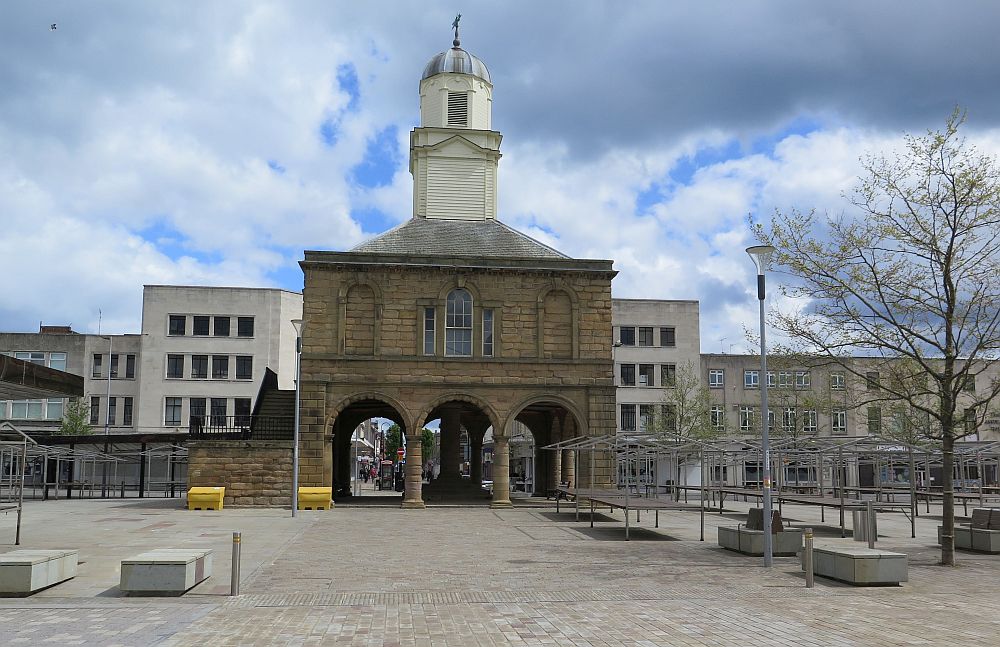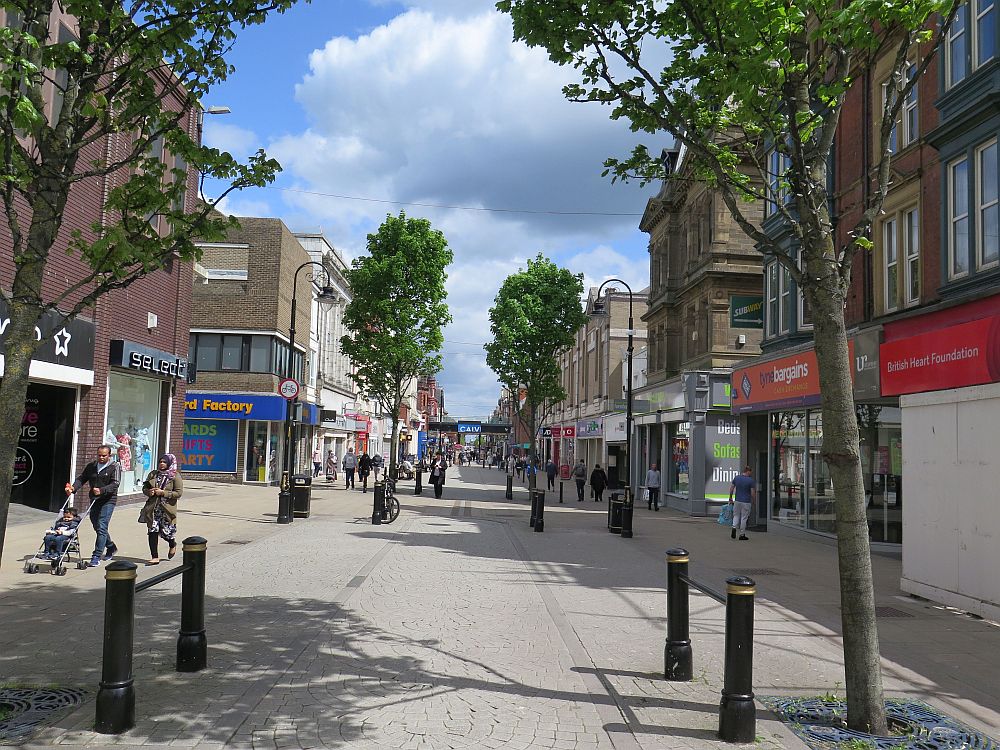 Tuesday 10th May. We took the bus into South Shields. Initially we walked down to the Tyne Ferry and decided to have a ride across to North Shields and back. It's surprising how wide the Tyne is at this point. Just upstream the ferry to the Netherlands was moored and we saw it sail by the campsite later in the day. Once back on dry land we headed into the main shopping area of South Shields passing en route a rather nice Market Cross. Unfortunately, that was the extent of the niceness! South Shields like many other similar towns is quite run down with many empty shops. We did manage to find a coffee shop before heading back on the site.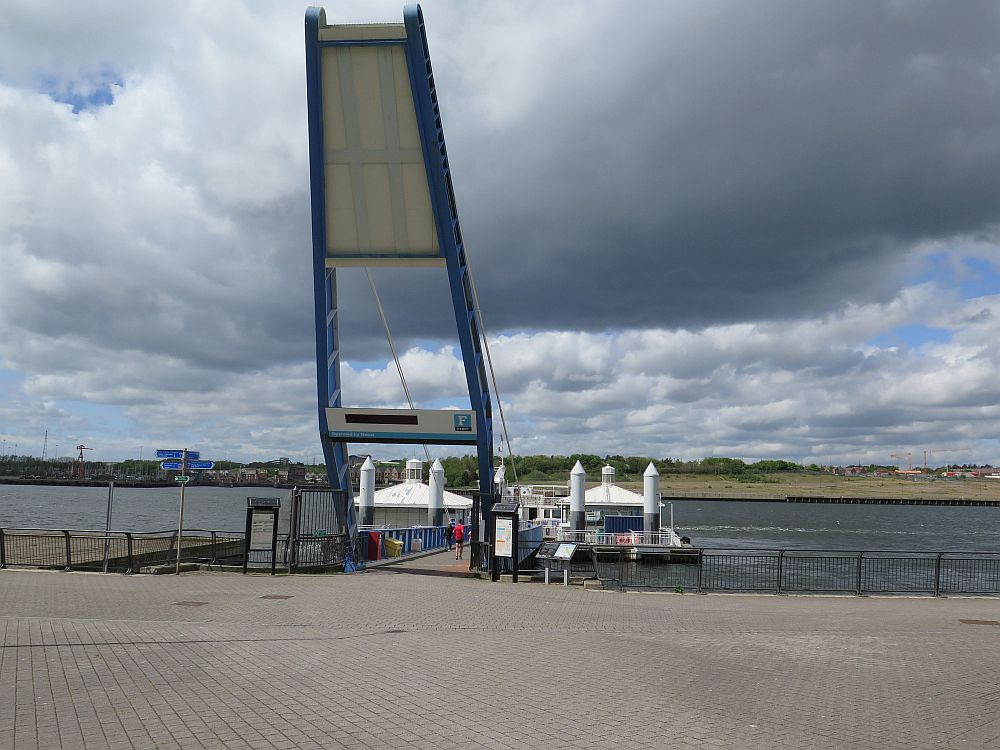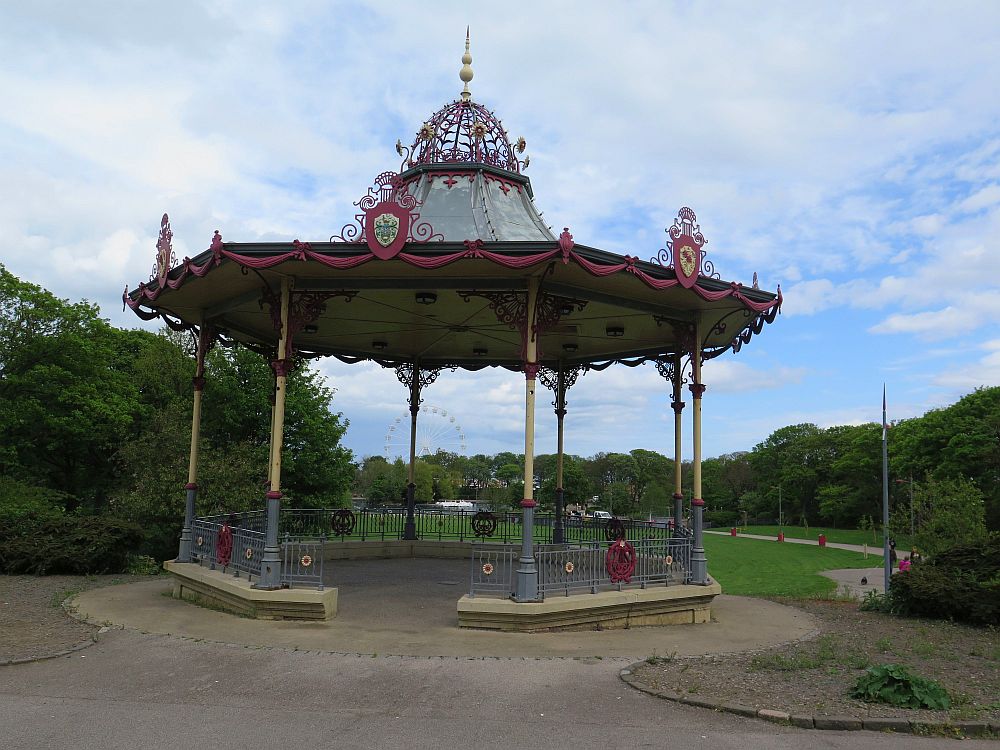 Wednesday 11th May. This is the last full day of our short stay in South Shields. We needed a few things so we walked up to the convenience store in the Westoe district which is on the landward side of the site. We discovered as we walked up to the small parade of shops that the housing development has been built on the old Westoe Colliery, it seems that regeneration funds were available to areas where pits once stood. There are several information boards explaining what previously existed, how it came to be closed and the new buildings that have replaced the pit. Apparently, Prince Charles was involved and you can see a bit of a resemblance to Poundbury! after all that educational stuff we needed a coffee which we enjoyed at the very nice Mac'n'Alli's café. In the afternoon we had another walk, this time through the parks which are adjacent to the campsite. We even managed to find the River Tyne where it exits into the sea. So quite a lot of walking today, 6500 steps, not bad for an old bloke with a stick and a dodgy knee!!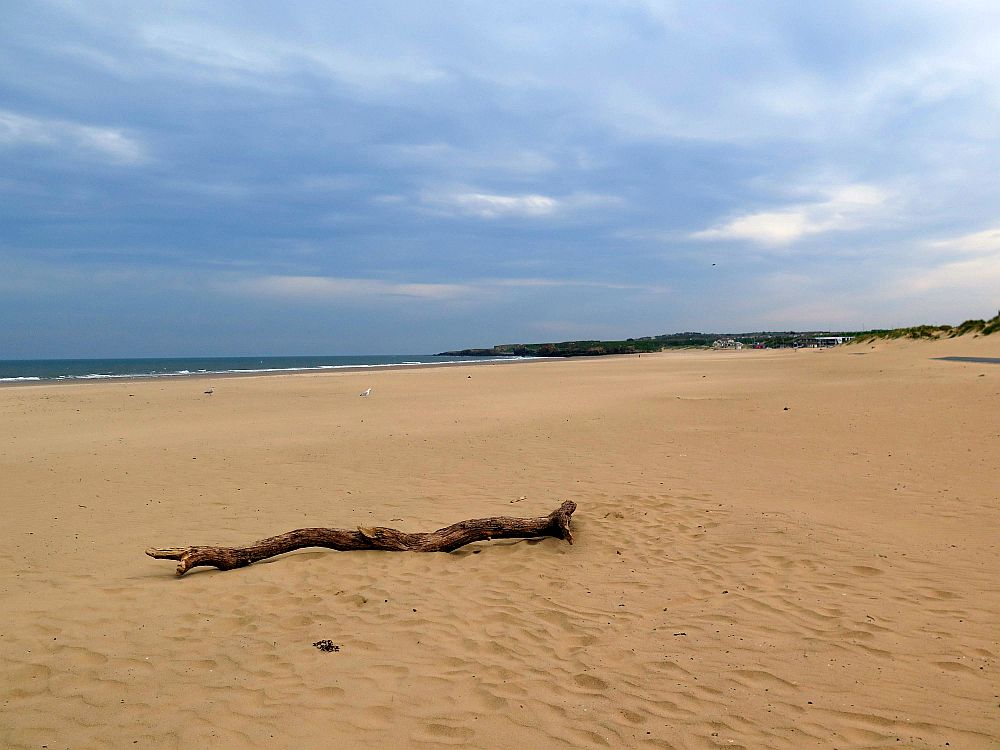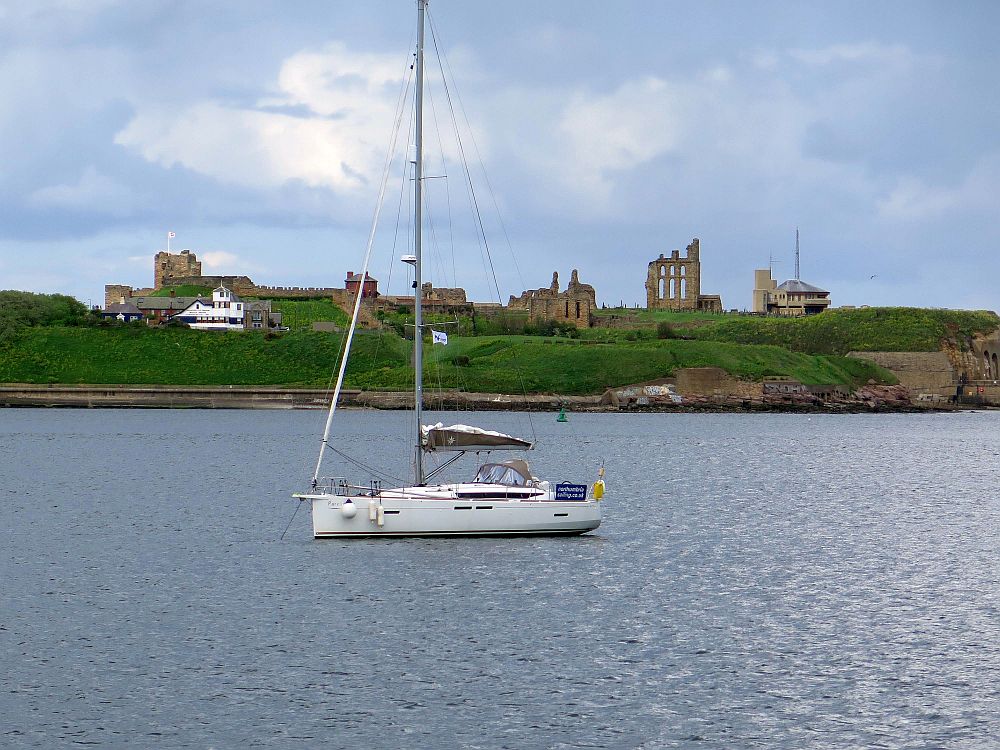 Ayr
Thursday 12th May. A long journey of 166 miles to Ayr in Scotland today. It was 20 miles before we eventually exited South Shields/Newcastle and set off across country on the A69. That is a lovely road right across the North of England. We joined the M6 at Carlisle for a short distance and had hoped to use the Services called Todhills. What a disappointment, a coffee shop and petrol station and hardly anywhere to park! We decided to use the A75/A76 to Ayr rather than continue on the M74. Not sure if that was a mistake but it is quite a scenic route if not particularly fast. We were getting desperate for a rest stop and a coffee but the A75 seemed devoid of such places. Eventually as we approached Dumfries, we spotted a Starbucks and a garage. Again, very limited parking but there was a bit of space behind the building. Not only was there a Starbucks but also a Greggs, so what more in the way of culinary delights would one want? A nice coffee from one and a sausage roll from the other! After Dumfries the road becomes a bit of a switchback but we soldier on. We had left South Shields just before 10.00am and arrived at the CMC site Cragie Gardens not long before 3.00pm!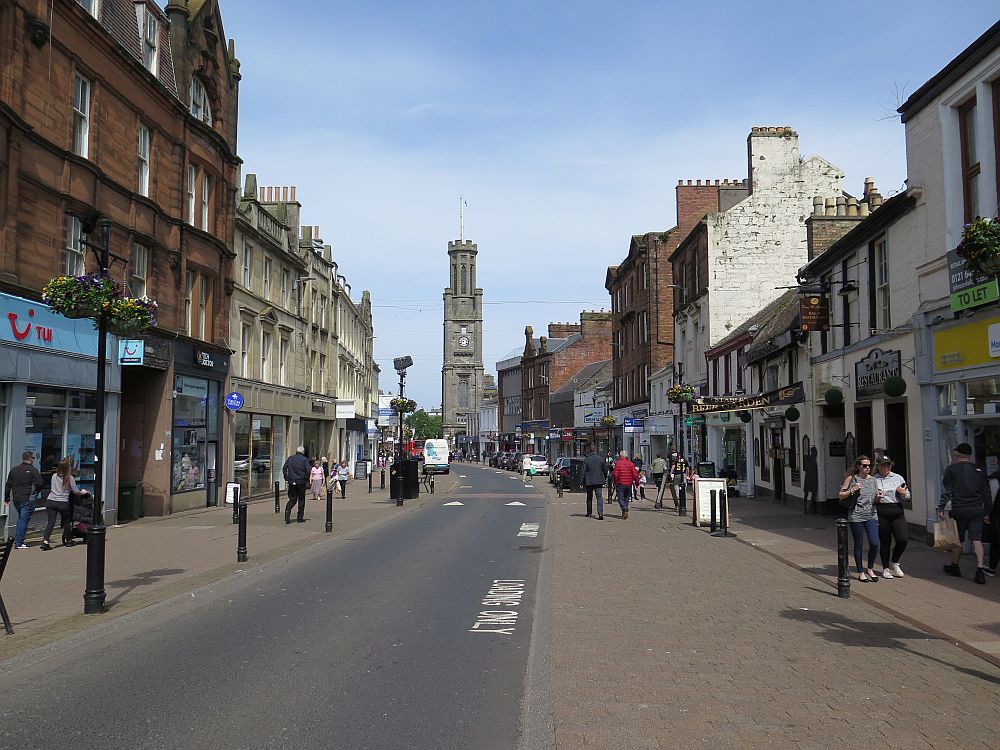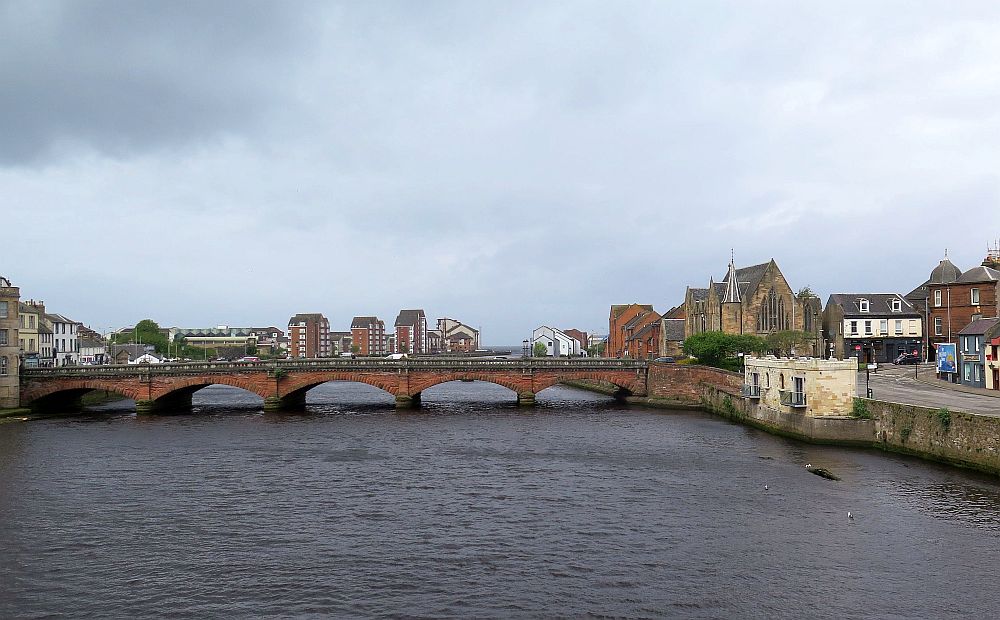 Friday 13th May. We walked into the town of Ayr today. We went the long way round as we didn't appreciate there was a shorter route so the step count today is higher than planned! We eventually got to the river and found the path alongside. We passed several river crossings and eventually crossed on the old Town Arched Bridge. This effectively brings you to the bottom of the High Street near the town hall and rather conveniently next to an M&S where we had coffee. Refreshed we made our way up the High Street to a newish shopping centre which was conveniently near the railway station so we knew we were not far from where we needed to cross the river. On the way back we followed what we thought was the short cut shown in the site information hut which turned out to be correct, must pay more attention in future! So, what about the town of Ayr? I think good in parts but like many similar towns it has suffered from the contraction of retail space so perhaps not as vibrant as it once was?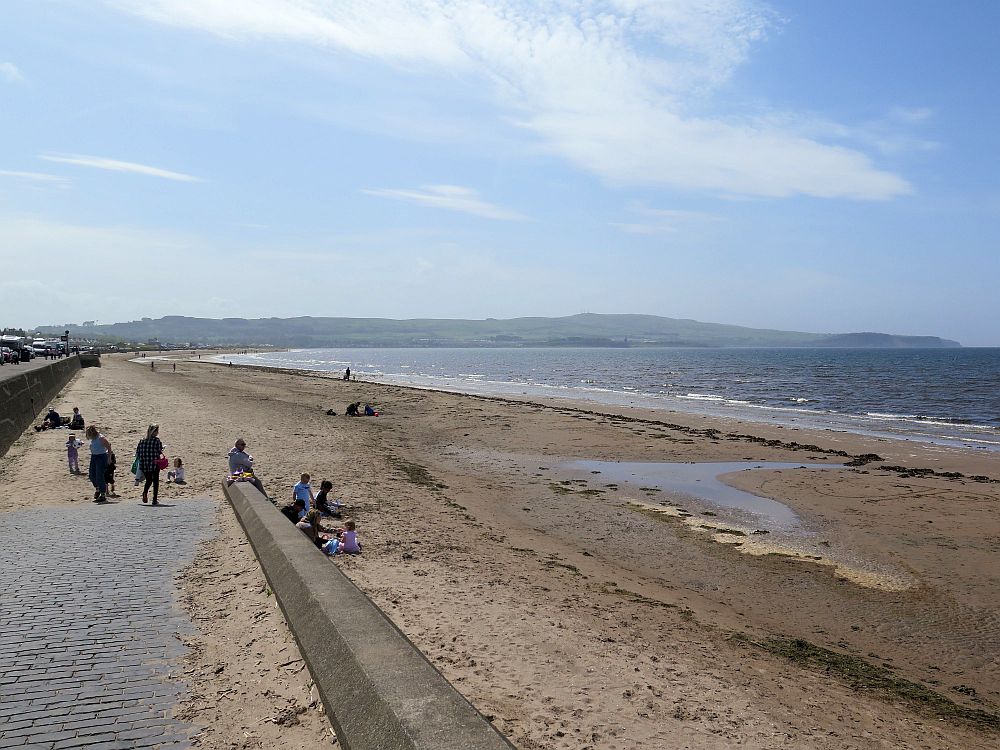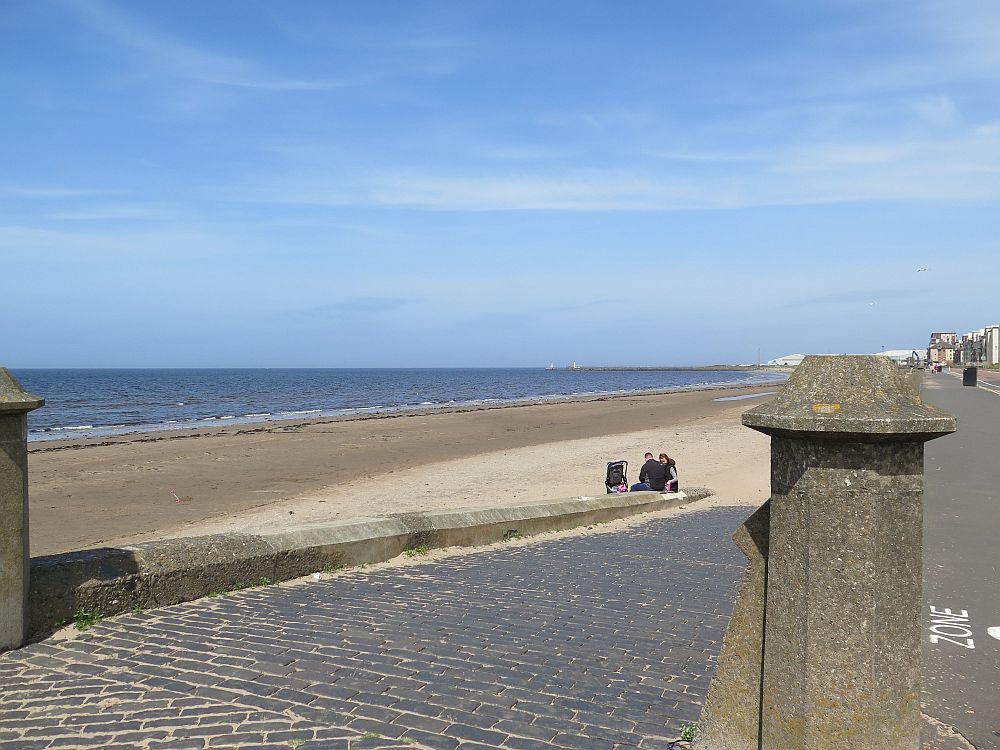 Saturday 14th May. Nice sunny day today but still a 5/6-degree temperature difference between Ayr and MK! We thought we would go in search of the beach today as Ayr is famous for being a seaside resort. Our newly discovered "short cut" meant we made quicker progress into the town but then we had to find the beach. It probably seemed longer as it was unfamiliar. I asked a lady and she kindly pointed me in the right direction. Interesting that access to the public toilets was by contactless payment! We found a café near the beach and fortified ourselves with coffee and doughnuts (allowable because we had walked so far!) Then along the sea wall for a while looking out over the sandy beach with a few hardy youngsters having a paddle. Here was me thinking, should I have worn my fleece? Time to turn inland to try and get to the High Street. It does seem that if the explore a bit in Ayr there are a few nice surprises in terms of buildings which suggest a grander past than perhaps initial impressions of the town on a dull day. We came across a tower of which we weren't sure whether it was the remains of a church or a castle, it turns out to be a church and is called St John's Tower. Apparently, Mary Queen of Scots used to stable her horses there! A completely pointless bit of information but there you are. We found the commercial centre, discovering some nice pedestrianised streets en route. Our goal was M&S again for their food hall. Then began the long slog back to the site. Perhaps it was easier than we thought as we crossed off the landmarks as we passed them. Once clear of the Victoria Bridge and on the path next to the river is a strange cylindrical construction which on close inspection reveals a small hydroelectric scheme using an Archimedes Screw device which is turned by the flow of the river to generate electricity, simple and effective I would imagine, why don't we have more?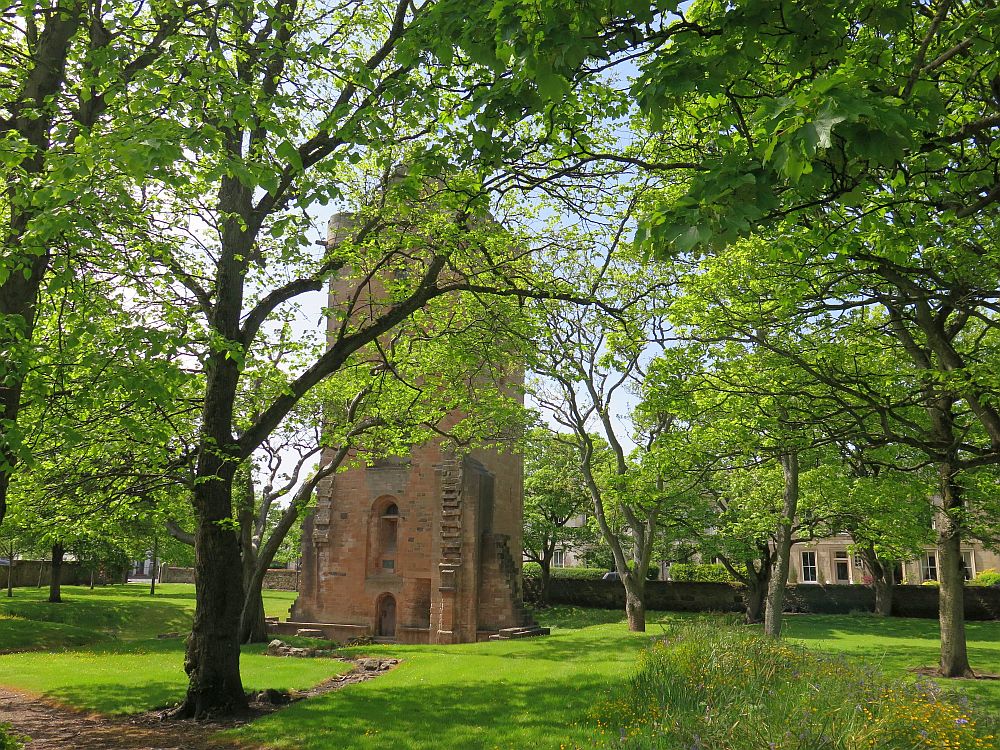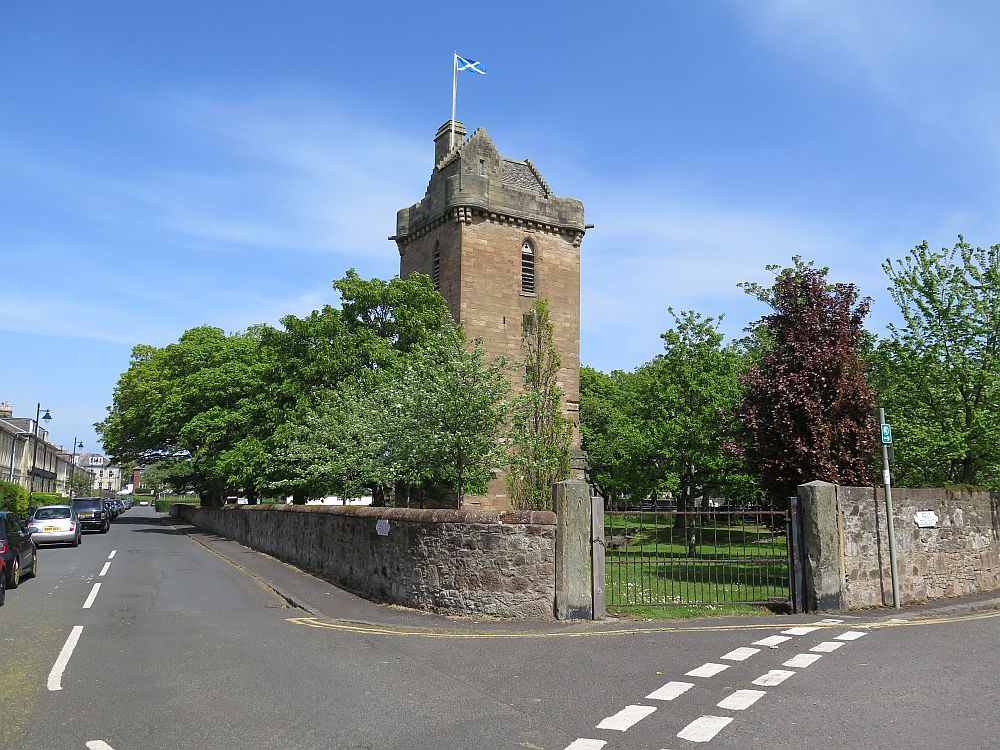 Sunday 15th May. It's been a bit dull and wet here today so we have not done much other than routine tasks. One thing that did brighten the site up was what looked like a restored Sprite Major caravan which had been painted green! We did stay up to see the results of the Eurovision Song Contest!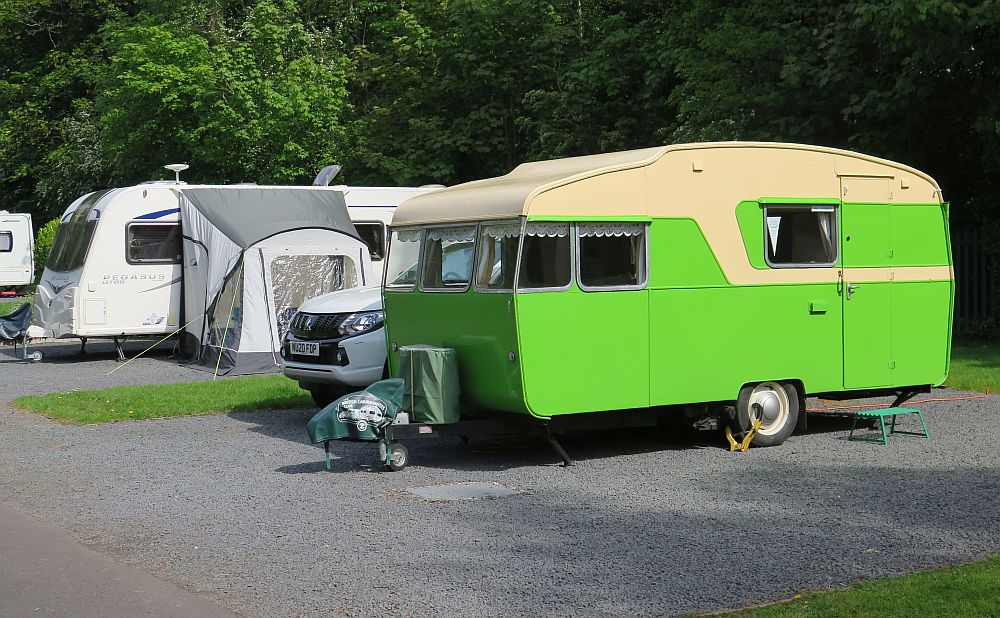 Monday 16th May. Another dull and wet start to the day. We had thought about going shopping but the thought of a mile each way in possible rain rather changed our minds! We will do it en route tomorrow. The site continues to be very busy with quite a few leaving each day to be replaced later by newcomers.
Tuesday 17th May. We left Ayr today and are heading for the CMC site at Garlieston. First off, we headed for the large Tesco for some shopping and hopefully to fill up with diesel. Shock horror no diesel. We still had slightly over half a tank so decided to wait to fill up when we leave Garlieston. Shopping completed we set off on the A77 coastal road. This is a very impressive road that as it hugs the coast for much of its length down to Stranraer. Just a shame that it was dull and wet so we didn't get the full beauty on this journey. After the Port we headed inland on the A75. The sat nav took us across country on what Margaret thought were unsuitable roads but, in my view, they were OK, at least they had a white line down the middle! It was even more confusing when we got down to the harbour in Garlieston and the sat nav told us to turn round, when possible, we could see the site from this point so TomTom was duly ignored! Interesting little site with one section right on the harbour side, apparently originally there was a saw mill on the site until 1964. The second section is in a walled area across the road. Had a bit of an explore including seeing a cat on a lead!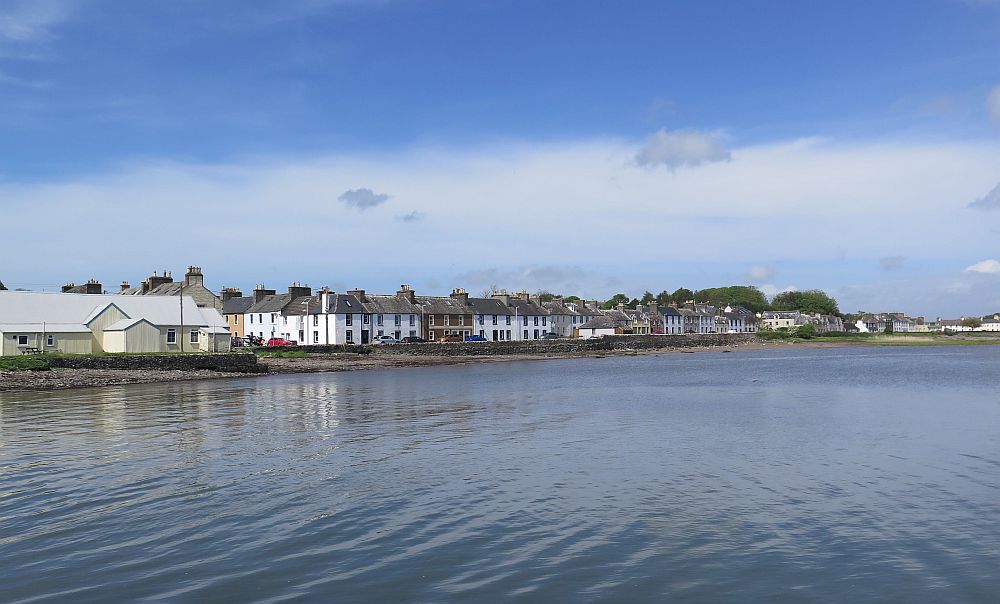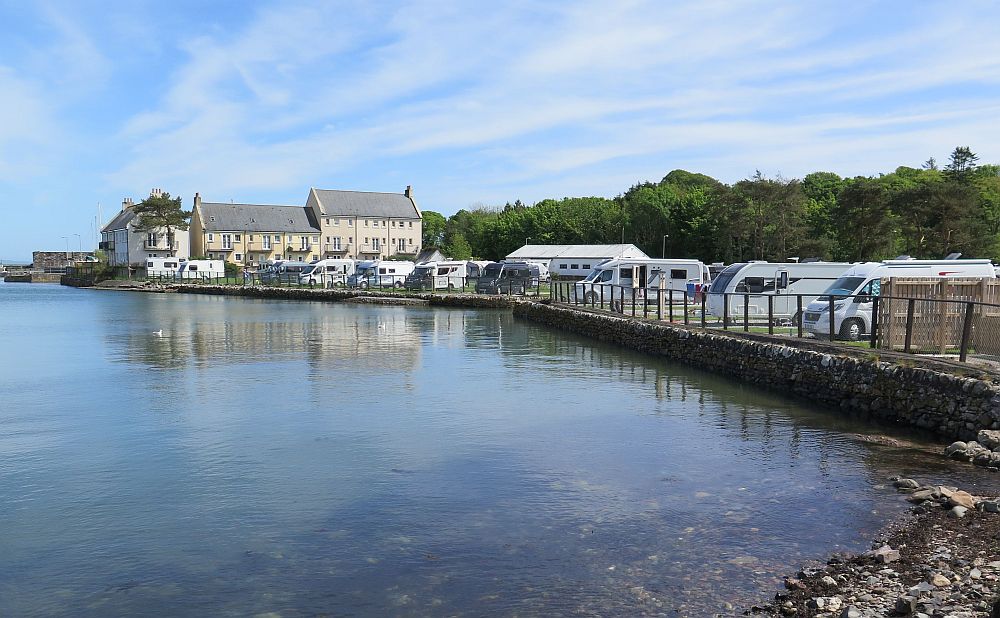 Wednesday 18th May. A better day today weather wise. Also, a bit of a red-letter day as it was the first day of the trip that we felt it worthwhile getting the chairs out! The pitches on the site can be a bit cheek by jowl and our nearest neighbours seem to intrude a bit on "our space". Not really their fault just the layout. However, this morning we noticed they had placed their rotary washing line very close, if not in, what we would consider "our space". Now Margaret can have "a look" which would put Medusa to shame and for many years it worked effectively on the two boys when they were young. With a look but without a word the washing line was moved into "their space"!
We had a wander around the village of Garlieston today. Up until now I had no idea that Garlieston was at the forefront of the development of the Mulberry Harbour which was used successfully after D-Day in WW2. I suppose the village is quite remote so was relatively safe from prying eyes? Once you start walking around and exploring you quickly get the sense of the size of the place and as such it seems difficult to imagine why there is not much in the way of commercial activity. It is, of course, difficult to know how many of those idyllic houses and cottages overlooking the Bay are second homes/holiday cottages so perhaps the normal population is smaller than you realise. Fortunately, there is a pub called the Harbour Inn where we enjoyed a coffee and a toasted teacake (it seemed a bit early for alcohol! They do serve meals and it seems they are popular, even Prince Charles is pictured in the bar enjoying a glass of beer. I often see pictures of him holding two thirds full glass of beer but I am never sure whether he actually likes beer or whether it is just a prop! Refreshed by our coffee we walked around the harbour side beyond the campsite. There seem to be a couple of fishing boats in residence but we saw no evidence of what is caught and landed.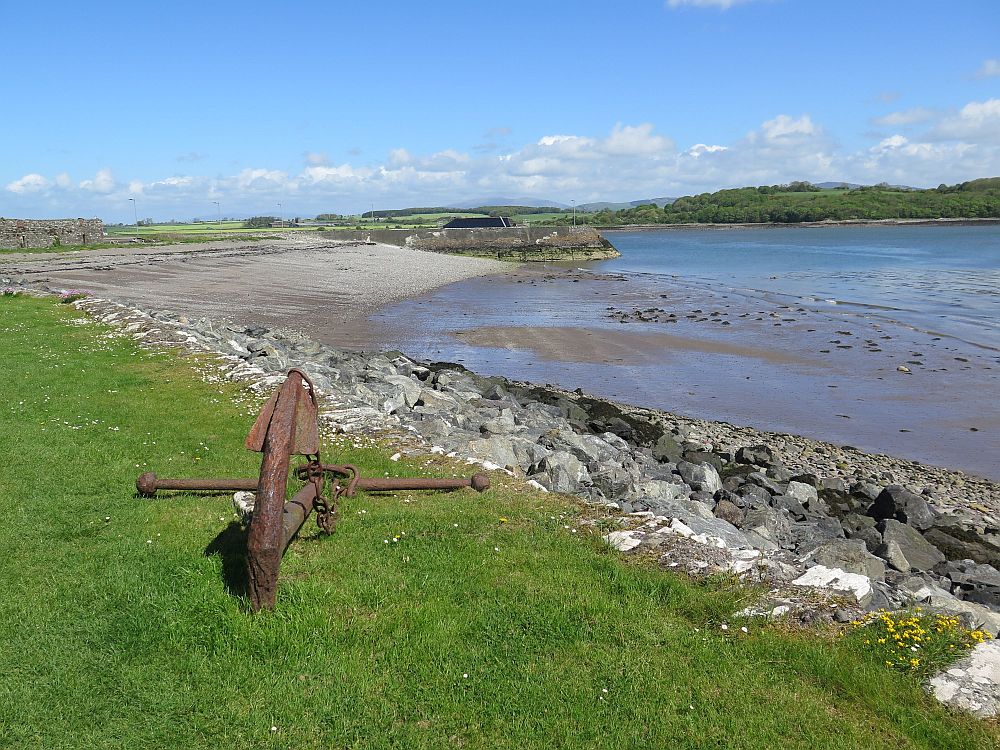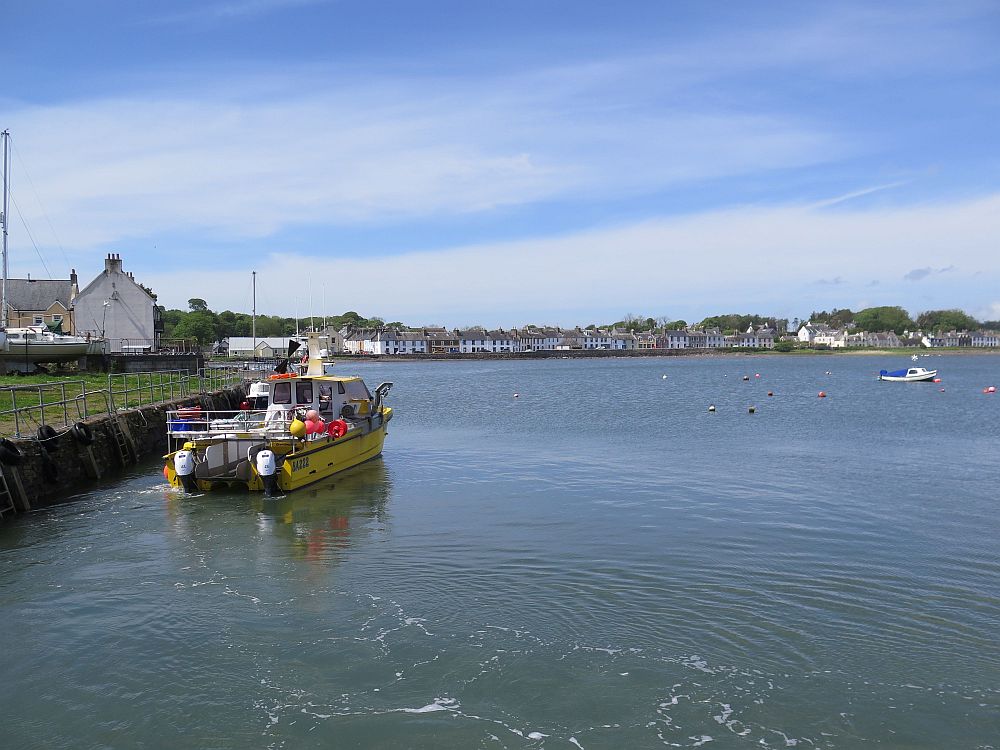 Thursday 19th May. Lovely sunny day albeit a bit chilly in the breeze for our last day here at Garlieston. This morning we decided to explore a little further around the coast in the hope of finding Galloway House Gardens. However, once the proper path ended and it became a way marked path the terrain became very difficult and proper ankle supporting footwear would have been advised. Having met a couple who said it didn't get any better we decided to turn round! We had a wander around the harbour on the way back. The tide was right out although it looked as if it had started to flow. Otherwise, a pretty lazy day. It has been and enjoyable location to visit but it is a long way from home.
Friday 20th May. Our Son Paul's 45 birthday today and he got a rather nice present from the Queen today. Her Majesty has decided to bestow City status on Milton Keynes. Paul as a Professional Planner and academic student of all things Planning and Milton Keynes will be as delighted as the rest of us.
We left Garlieston this morning after three nights as this delightful little place on the south west coast of Scotland. First stop was Tesco in Dumfries to refill with fuel. After the no diesel situation at Ayr, I was a bit worried that a fuel shortage might be more wide spread and I have had dark thoughts as I was trying to get to sleep thinking that we could run out! Consulting the range indicator on the dashboard suggested we could travel another 288 miles before running out. Not something I wanted to put to the test so I have several options in mind. Fortunately, there was no issue in Dumfries and we should have enough to get home. There was also plenty of room to park and interestingly there were a couple of hooked up caravans also in the carpark.
From Dumfries it was a bit of a slog road wise. We did think that the road from Carlisle to Ravenglass would be difficult which it proved to be in places. It was slow but we got to the site at around 3.00pm.
Saturday 21st May. Not a very promising start to the day with rain early on. Mind you after the journey yesterday we needed a bit of a rest, at least I didn't dream of running out of diesel!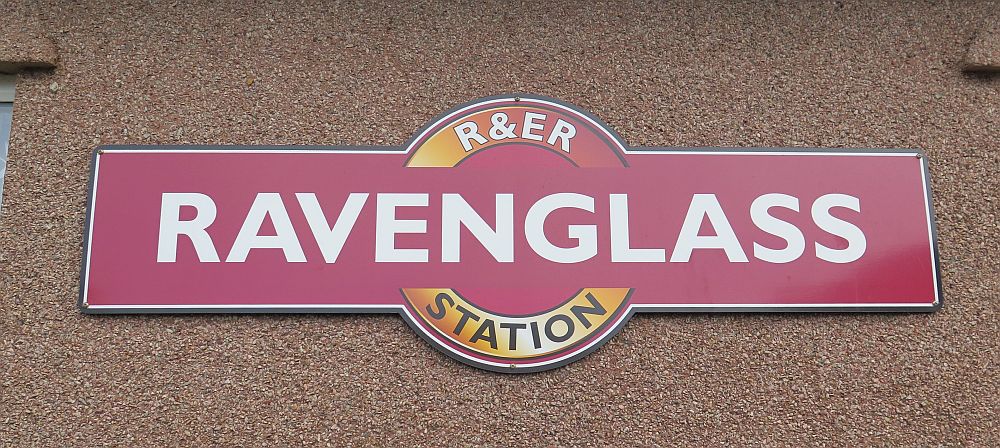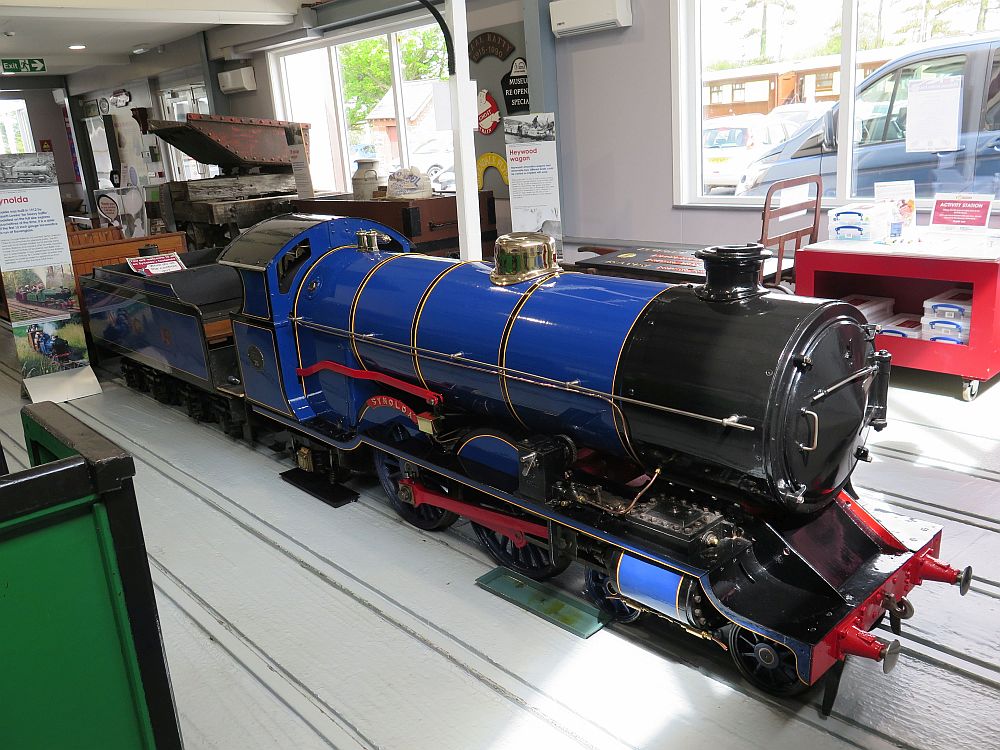 When the weather perked up a bit we put on our fleeces, still a chilly wind, and set off to discover Ravenglass. Apparently, there was a Roman Fort here in AD130. The village is served by two railways. The main coastal line to White Haven and Workington and the Ravenglass narrow gauge railway. It is the latter that is the tourist attraction and seems popular with visitors. Having looked at the diminutive coaches we decided that perhaps a train trip was not for us although had we been prepared to pay an excess to use the Pullman coach it would have been more comfortable. The steam engines are really quite small. Obviously bigger than you find in the local park but not much. We then visited the Museum, which was free, which explained the various incarnations of this railway. What I found interesting was that originally the gauge for this railway was 3 feet when it was in commercial use. When it fell into disuse around the early 1900's it was rescued by none other than Wenman Joseph Bassett-Lowke the Northampton model railway maker. For some reason he decided to reduce the gauge to 15 inches which is what we see today. Had he kept the original gauge it might have been a lot more comfortable!!! After the railway we wandered into Ravenglass, well what there is of it! There are some seats looking out over the Solway of Firth. Two days ago and many miles north we were looking in the opposite direction. The village has several pubs but we found a nice little café where we enjoyed an excellent coffee before returning to the site.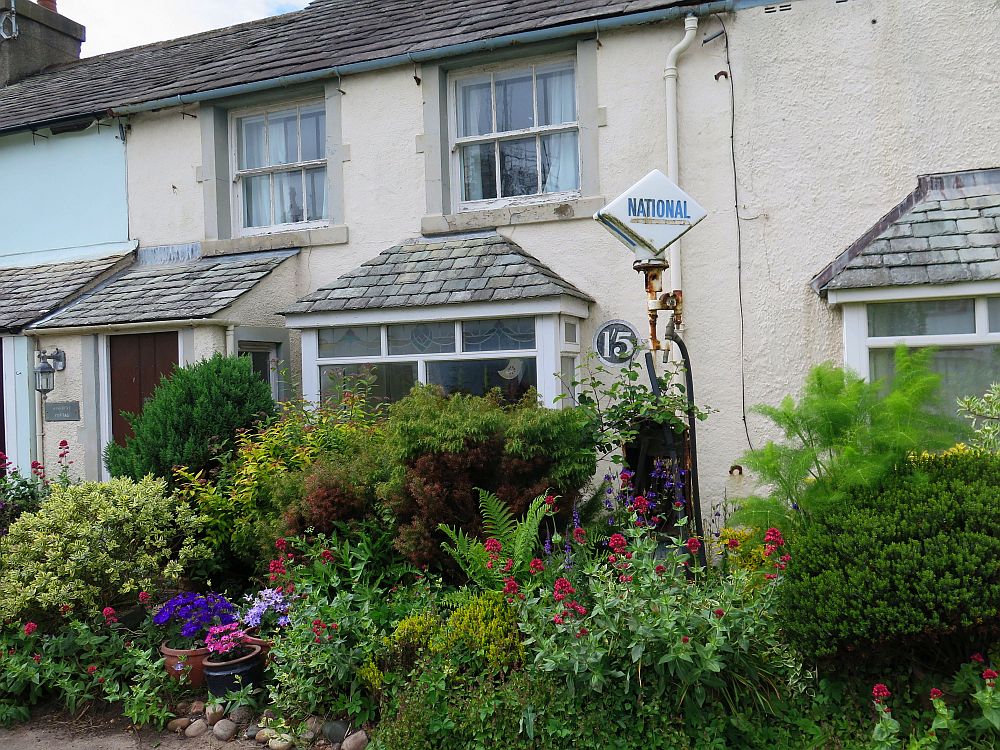 Sunday 22nd May. Today was a day of rest, not through choice though as it was wet for some of the day and just cloudy when not raining. Shame really as it would have been nice to visit the Roman Pump Room which is not far from the site. We move further south tomorrow to our last site on this trip.
Monday 23rd May. Saw a lot of the M6 today, although in a way it was very welcome! I think I have had my fill of narrow twisty roads, at least for a while. When we left Ravenglass we knew that we were in for some narrow and twisty roads as our atlas had arrows on the roads. Once we got to Newby Bridge the road did improve. We joined the M6 at junction 36 and left at 16. It was busy but far easier to cope with than constant gear changing! Having left the motorway and on our way towards Nantwich the sat nav did not recognise the way I wanted to go so I switched it off! I wanted to go via Audlem and then about a mile out of the village I knew there was a road to the right that would take us to Overwater Marina CL which is our stop for the next three nights. The approach road was narrow in places but there were some passing places so it was OK. I wish sat navs had a learning mode!
Tuesday 24th May. Weather a bit changeable today with a mix of sunshine and heavy rain. We did have a wander around the site and the Marina this morning. It is a big enterprise and goodness knows how much it all cost to establish? I imagine the Marina is the main business with the camping element supplementary to it. The CL is on the entrance road into the site, all nicely done. Behind the CL is the campsite proper, with one section for touring and another with seemingly seasonal pitches which look pretty permanent. Across from this is the Marina with lots of narrowboats moored. We did see one leave the mooring basin with a little terrier who marched up and down the roof of the cabin as though on patrol! They also have a nice café/shop in the main reception where we had coffee. Latter it decided to chuck it down which meant forced R&R watching the hailstones through the front window!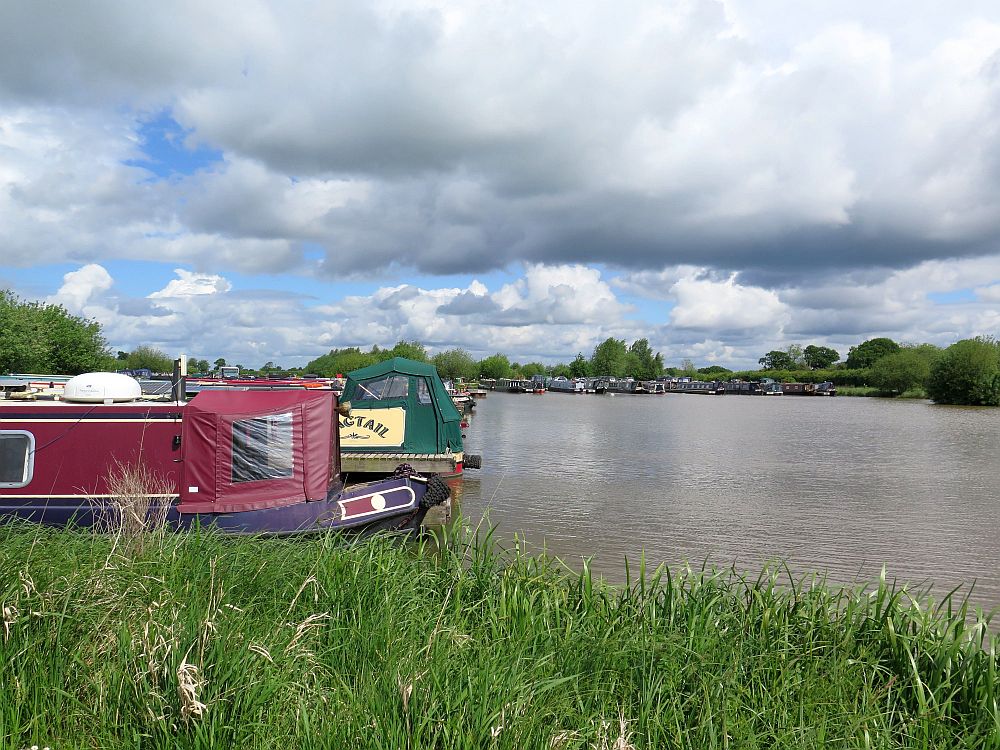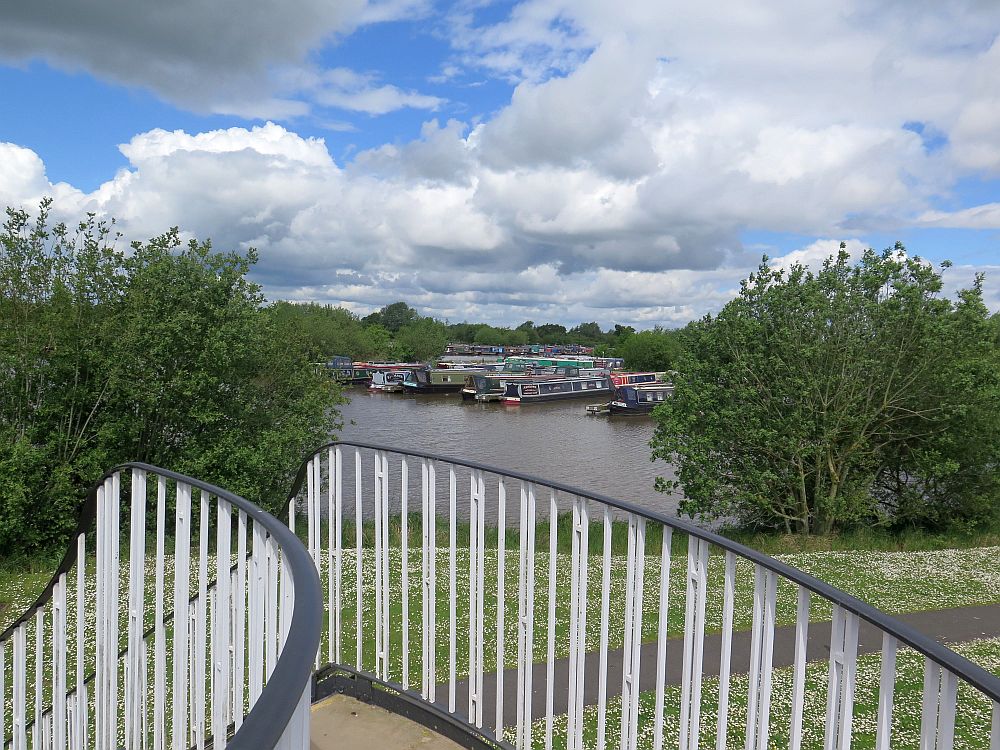 Wednesday 25th May. Another one of those days where the weather has interfered with any plans we may have had. I don't think May has been a good month for weather. We would have liked to have walked into Audlem but not if it meant getting wet! In the afternoon we did wander up to the Marina to have a look and encountered a lot of geese and their chicks. This is the last day of our 25 day trip and we are off home tomorrow.
Thursday 26th May. The sat nav wanted to take us back to the M6 further north but I decided differently! We cut across country to pick up the A41. An interesting road as it was clearly a major route in the pre motorway days. We then picked up the A5 which took us to the M6 and a quick link to the M6 Toll, or Midland Expressway as it is also called. We decided to treat ourselves to the toll road despite it costing a whopping £12.50! It is so much nicer than struggling around original M6. Going this way, we missed the birthday party for Spaghetti Junction which is now 50 years old. When it was being built, we were taking a narrowboat cruiser from Trevor in North Wales to Market Harborough and moored for the night underneath the columns. I am not sure at what point but they had to remove a pontoon bridge across the canal to let us through! I digress, we stopped at Norton Canes Services. The caravan parking now has signs saying caravans only although we did pull in and I felt guilty as a couple of caravans were looking for somewhere to park. Once Margaret had returned with the coffee, we drove around to additional lorry parking so hopefully made room for someone else. The odd thing about Norton Canes is that you automatically think that because it's a toll road it wouldn't be as busy but the opposite seems to be the case. Simon had warned us about the chaos at junction 15 on the M1 where we exit to fill up with fuel at Wolverton on the way home. They have just started to build the Roade bypass so I imagine we will have this issue for the next year at least!!!
West Country 2022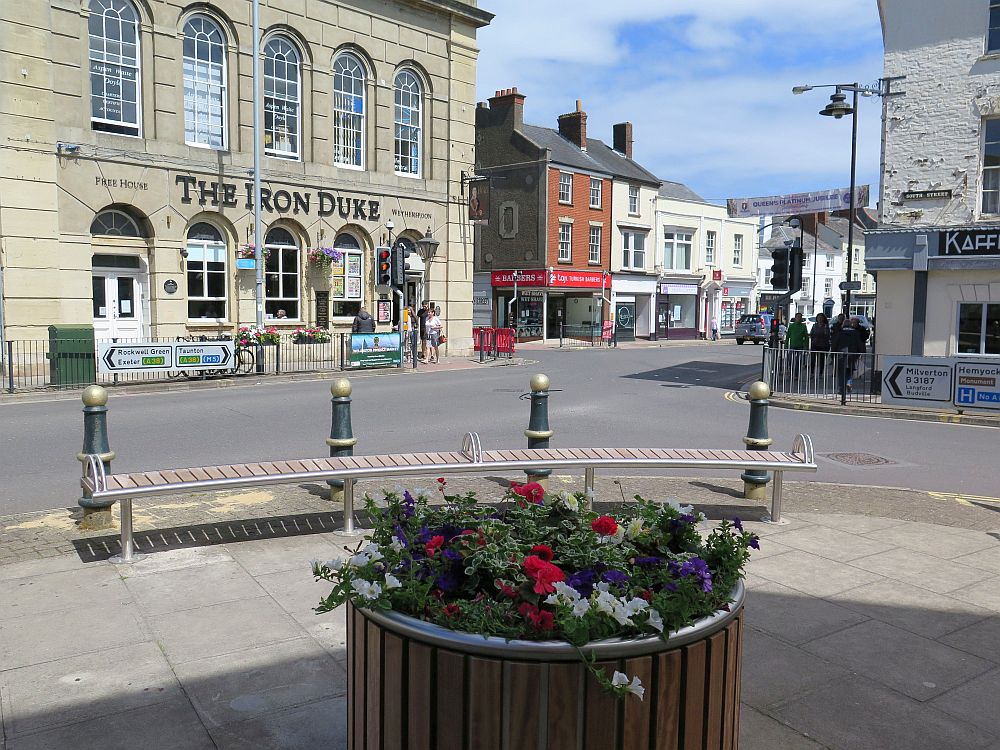 Wellington
Sunday 26th June. The longest planned journey of the trip today, 165 miles from MK to Wellington in Somerset. From MK its across country via Oxford and Swindon on a mix of roads. It was slow on the A34 as we approached Oxford. We joined the M4 at Swindon and made a pit stop at Leigh Delaware Services, even that was crowded. At Bristol we headed down the M5 to Wellington and to our base for the next three days at the CMC Cadeside campsite. It is a tiny site with just sixteen pitches. There is also a very large storage compound on site.
Monday 27th June. Weather was a bit changeable this morning but we decided to walk into Wellington anyway. It was about a mile of a gradual uphill walk from the campsite although the Council seem a bit indecisive on what side of the road the footpath should be. For future reference keep on the same side as the campsite! We did get caught in a shower as we got into town which was a good excuse to go for a coffee in the local Waitrose. Refreshed we wandered into the town proper. The centre piece of the High Street seems to be the Iron Duke pub, named after the Duke of Wellington according to the plaque on the outside wall of the pub. I don't think I have seen a High Street with so many charity shops. That is not meant to be a criticism but it did get me thinking how they all survive when regular shops seem not able to? I appreciate they are run by volunteers and the shops are probable on short, cheap leases. However, there is still a good selection of independent shops including a shoe shop called Wellington Boot which appealed to my sense of humour. Back to Waitrose for a bit of shopping and an argument with the Quick Check till. We are used to these working seamlessly but we seemed to need the attendance of several staff members to get us through the process. We did contemplate catching the bus back but it was all downhill so we walked.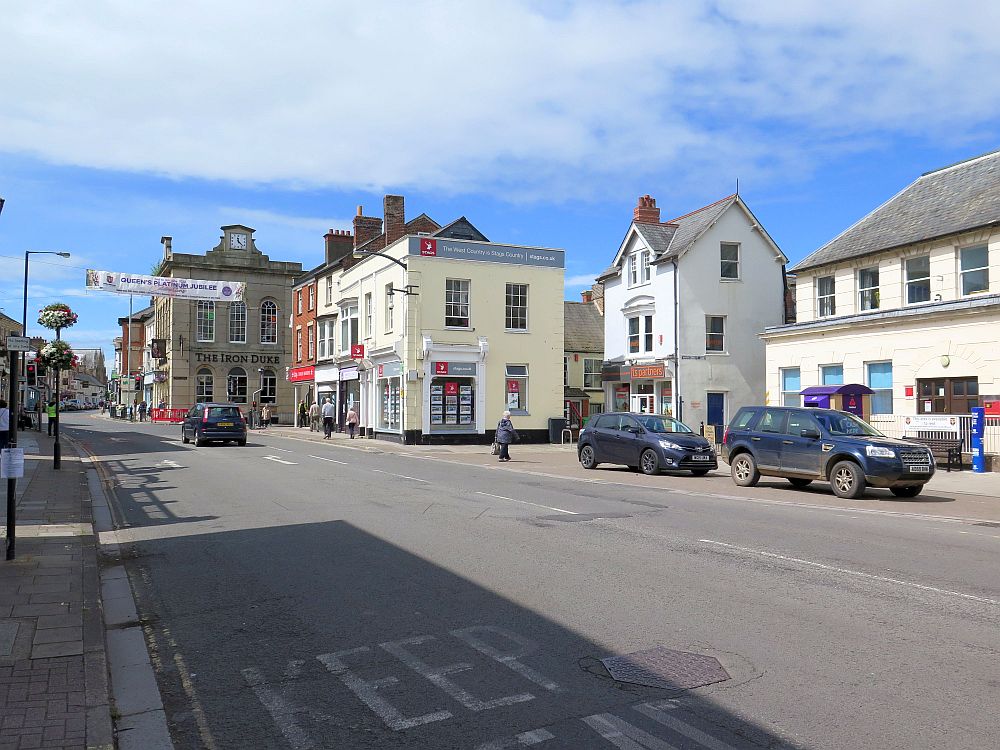 Tuesday 28th June. Not long before we came away, we purchased a new, low wattage, electric kettle. We did boil a few lots of water through it before leaving, hoping that would be enough to set it up for the holiday. However, what we have discovered that after several days use it is still tainting the water so we thought that if we had the opportunity we would buy, yet another kettle. It was a long shot but we thought we would try the supermarkets in Wellington. We thought we would try the bus which conveniently stops not far from the campsite, this saved us the walk uphill to the town! Also, the weather was not so kind to us and rain threatened. The Waitrose in Wellington is quite small so no luck there. The ASDA did have good value electric kettles but they were all 3Kw which means they would be near to the edge of the power available on site, especially if you forget to turn other high wattage items off! Also unbeknown to us at the time our next two sites only had 10 amp electricity so we would have been scuppered! It looks as if we will have to hope the other kettle improves. As we have been going in and out of the site, we have noticed a building site opposite. It seems they are building a Lidl which will be very convenient for anyone staying at Cadeside. This is our last day here and we move on in the morning.
Plymouth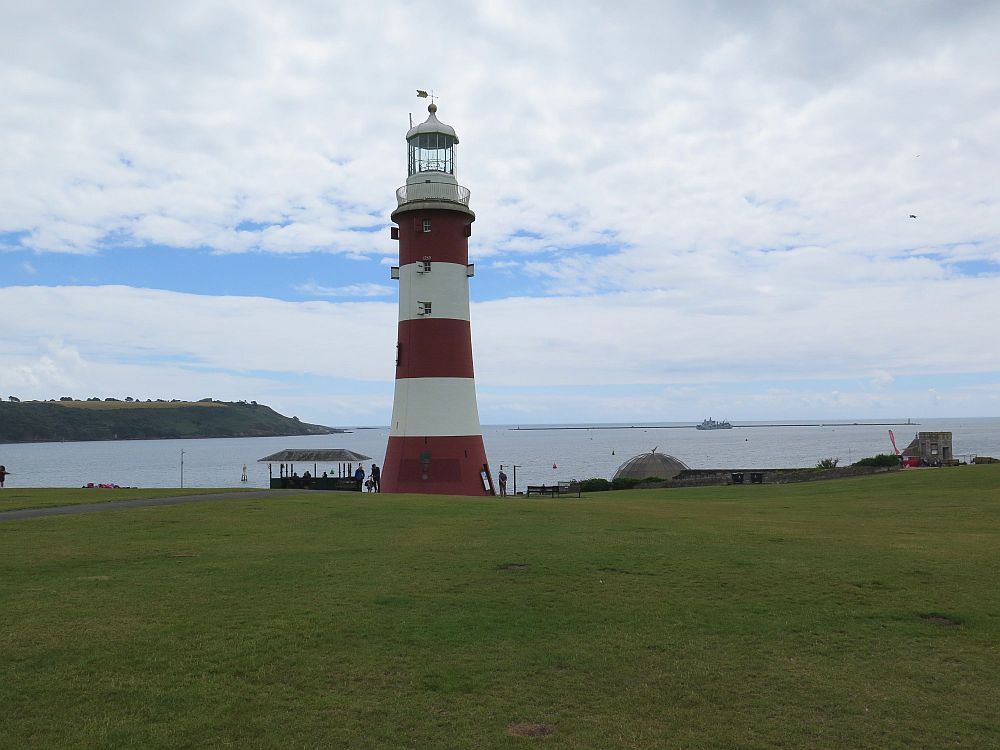 Wednesday 29th June. We left the Cadeside site at Wellington today and we are heading for Plymouth. We had quite a lot of rain overnight but it was sunny this morning if not particularly warm. Fortunately, the M5 and A38 were relatively quiet and we made good progress. Strange that you make good progress when it's not necessary! We stopped off at a Tesco at Ivybridge to fill up with fuel and do some shopping. It made a change not to hit the maximum limit when filling up. A bit surprised that supermarkets are no longer discounting fuel prices as the Tesco seem to be selling fuel at the same price as all other fuel stations? Another puzzlement is why is there such a large Tesco seemingly in the middle of nowhere. By the time we were ready to leave it seemed that we would still arrive a bit early at our next campsite, Riverside Caravan Park in Plymouth! The slightly early arrival didn't seem to faze the lady on reception who rather uncannily was a dead ringer for my sister-in-law! Strict instructions on which way we should pitch. If the door is on the UK side you reverse in but if it's on continental side you must drive in. Out of interest I asked why and the reason given was that the emergency services can always go to the same side of a van if they have to evacuate!!! Strange there are several examples around the site where this rule is not being applied.
Thursday 30th June. Last night I was under the bunk where the water tank is situated, we store things like toilet rolls under there, and I notice water on the floor. So, this morning I investigated further. It seems that water is collecting under the tank and a piece of folder kitchen towel was wet. I have checked all the connections and they seem secure. At lunch time I had another look and the new piece of paper towel was not wet so we appear to have soaked up the excess? I wondered if it was happening whilst I was filling the tank but when Margaret filled as I watched I could see nothing. I am wondering if water is escaping whilst we are on the move. It's not coming out of the inspection hatch as I have a towel over that which was perfectly dry! When we next move on I will make sure we don't have a full tank to see if that makes a difference?
Given my exploits with the water tank we abandoned our trip into Plymouth for today but instead went on a recce to see where the bus stop was. When we got to the stop there was a lady waiting for the bus who kindly provided us with lots of information on the bus number to get. We passed a large Next Store on the corner of the road to the campsite so we decided to have a coffee in their Costa concession before walking back to the site. It's about three quarters of a mile from our pitch to the bus stop and hopefully it will seem short the next time we walk!!!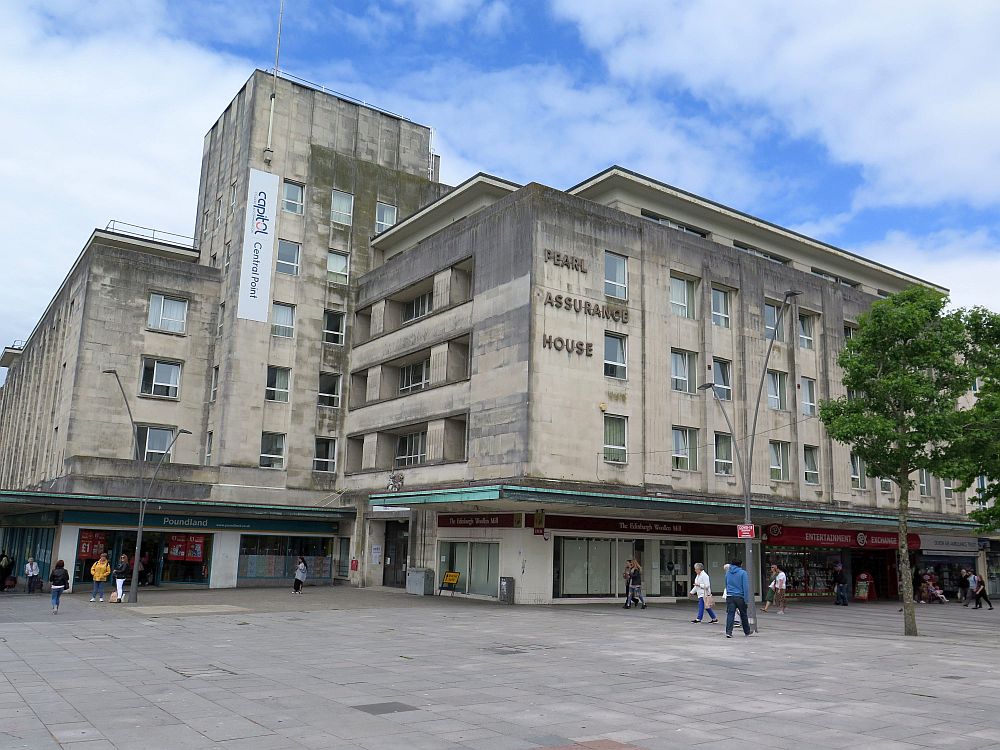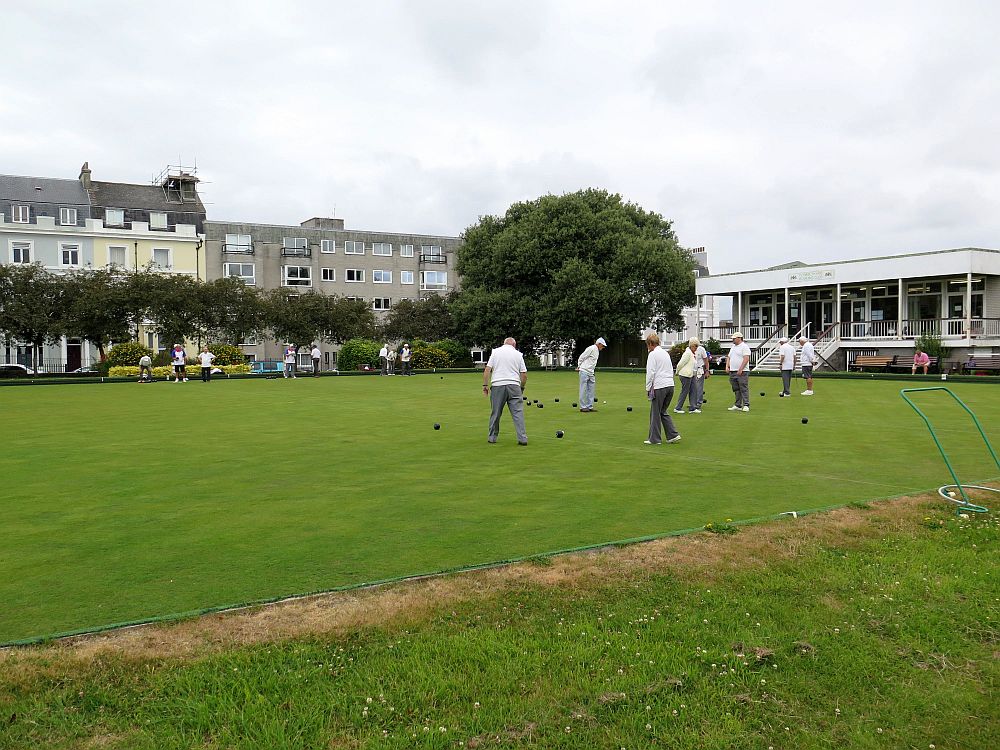 Friday 1st July. Finally made it into Plymouth today. For us it's a fairly long walk just to get to the bus stop! As suggested by the lady yesterday we caught the number 50 bus which took us right into the centre of Plymouth. I seem to recall a previous visit to the City but it was many years ago. I think like my home town of Southampton, Plymouth suffered a lot of destruction in WW2 and had to be rebuilt so I remember the shopping centre being about the same vintage of Southampton and of similar design. Not sure Plymouth is as vibrant as it once was. We decided to go into the House of Fraser store (almost surprised it was still there!) to use the toilet. That all went well but we got trapped in the lift on the way down! I think I pressed the wrong button and then the right one in quick succession which probably confused the circuit board! At least we were not between floors and the doors did eventually open much to Margaret's visible relief!!! Needed a black coffee after that!!!
The bus lady yesterday suggested we find the number 25 bus to have a ride around Plymouth Hoe. We were directed to the wrong bus stop by a driver so decided to have a closer look at the City Map on one of the bus stops. It seems that where we wanted to be was not too far from where we were. It turns out that the number 25 is a tourist bus that does the circuit around the Hoe and probably doesn't accept bus passes! It even dawned on me that Plymouth had been designed for the Centre to open up to the sea at the Hoe? Off we set, strangely uphill? On the right we passed the Plymouth Bowling Club and wonder if that was where Drake was playing when the Spanish Armada was approaching? I was tempted to call out to the assembled players to see if there was a Francis playing today but Margaret gave me one of her looks! Onwards and still upwards we reached the big Royal Navy Memorial and beyond that the Smeaton Tower or should that be lighthouse? There was a Junior School group by the tower playing on the grass whilst smaller groups were taken up the tower. When the groups had succeeded in their quest, they all had a piled out of the door with a look of joy and success on their faces. We have not been blessed with the best of weather since we have been away and I am sure that had it been warmer we would have lingered longer. We did treat ourselves to a fish and chips takeaway from the site facility which were not only freshly cooked for us they were piping hot and very nice.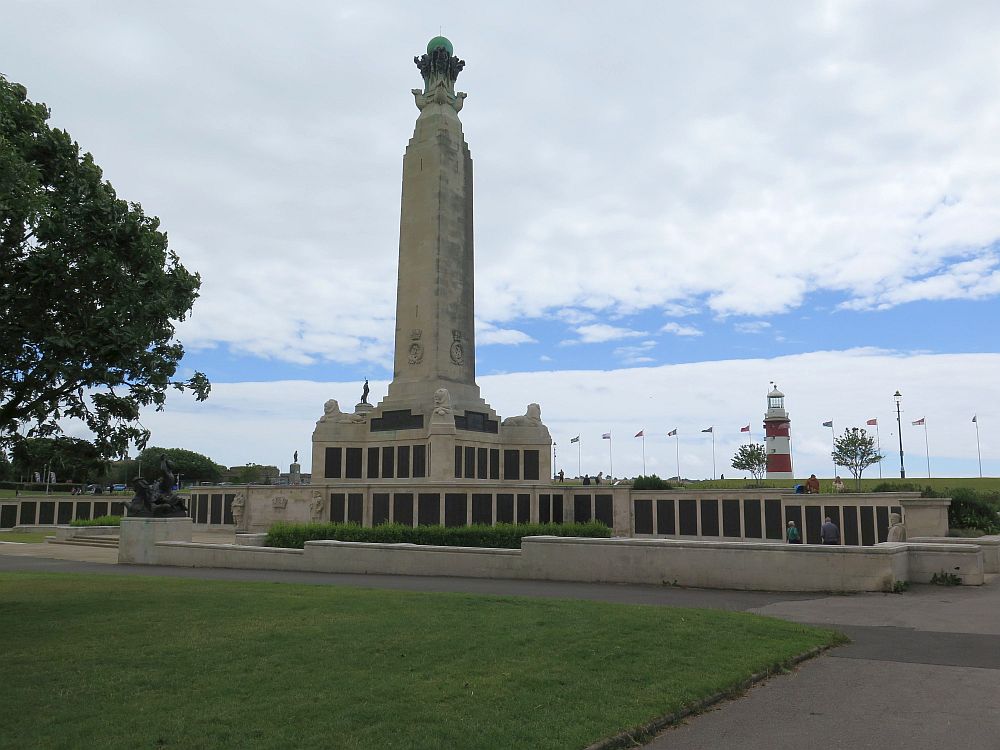 Saturday 2nd July. Today marks the end of our first week away. Unfortunately, we have not had the best of weather. Not always wet but often dull and not too warm. I wonder how the Norwegians are coping with temperatures in the mid-thirties, especially in the Artic Circle? All due to the Gulf Stream plummeting below the UK giving us poor weather and them a heat wave! I half expected the campsite to fill up for the weekend. Whilst there has been an influx of units it is far from full which is what you usually expect on a Club site.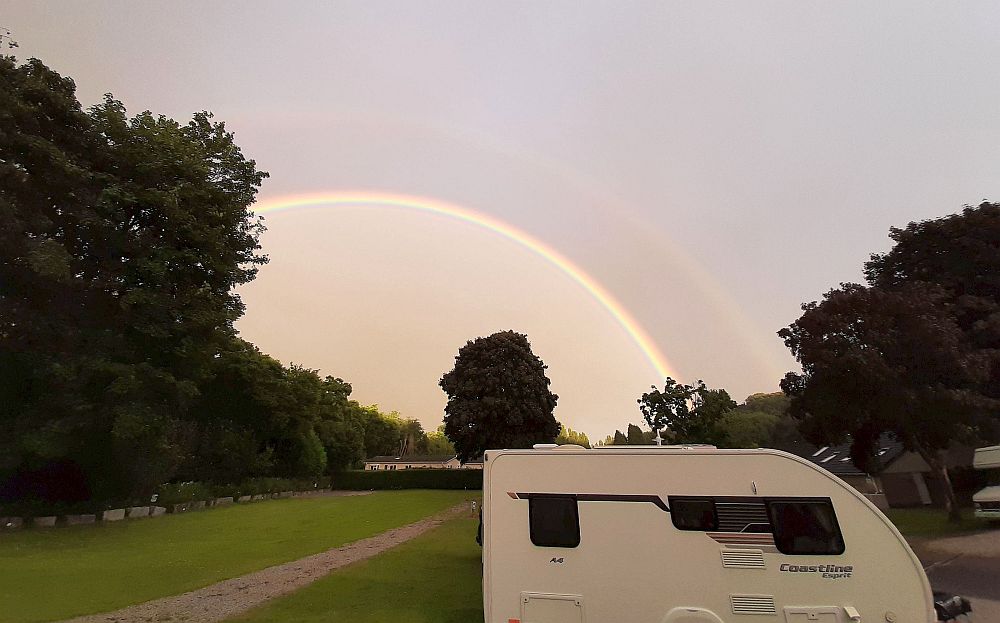 Sunday 3rd July. A pretty lazy day today because it was the Silverstone GP, and what a race it proved to be. Only seconds into the race there was a very serious crash. Fortunately, both drivers were fine but very scary. The British Grand Prix is always live so takes up all of the afternoon. Tomorrow, we move on to our next site.
Dawlish Warren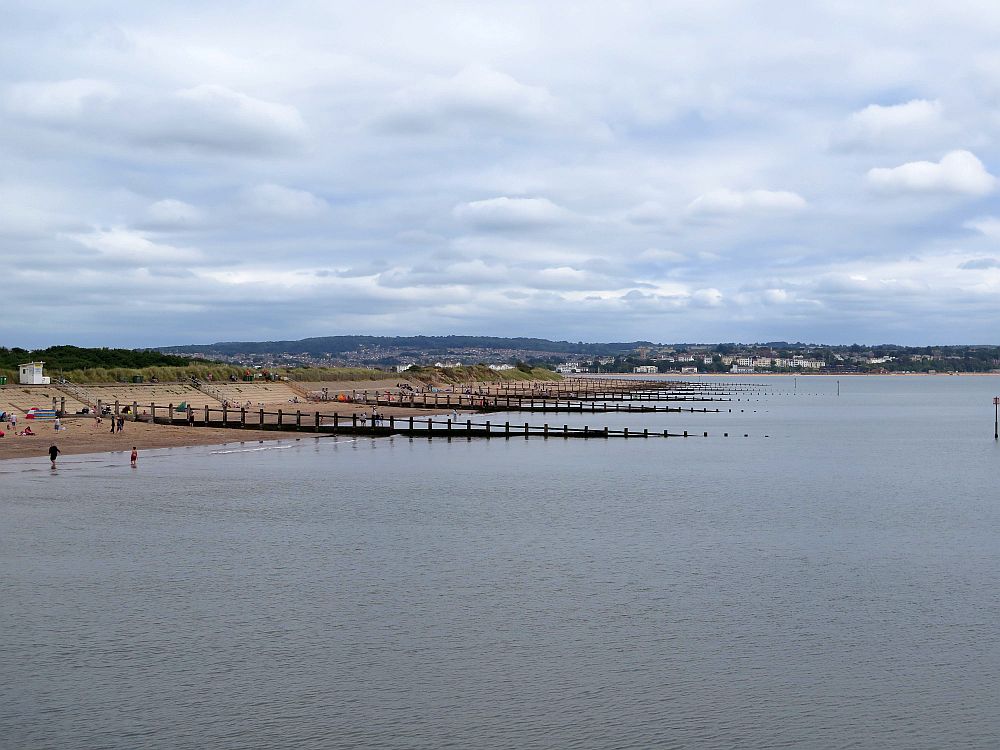 Monday 4th July. Today we moved on to a new site in Dawlish Warren called Lady's Mile. It was only a short journey of just over 40 miles. We stopped at Ivybridge at the same Tesco as on the way down for some shopping. Perhaps not a good decision as there were fuel price go slow protests on the A38. Fortunately, we seem to have avoided the protest! However, that was the end of our good luck! The sat nav decided that it was acceptable to take us down some roads that were barely wide enough for the motorhome. Thank goodness we didn't meet anyone coming the other way! Bit strange the mirrors hitting bushes on both sides at once! We did eventually arrive, safely, at the campsite. Ladysmile, is a massive campsite but it seems well organised. We found a serviced pitch at the top of the site, all serviced and a new toilet block a few metres away.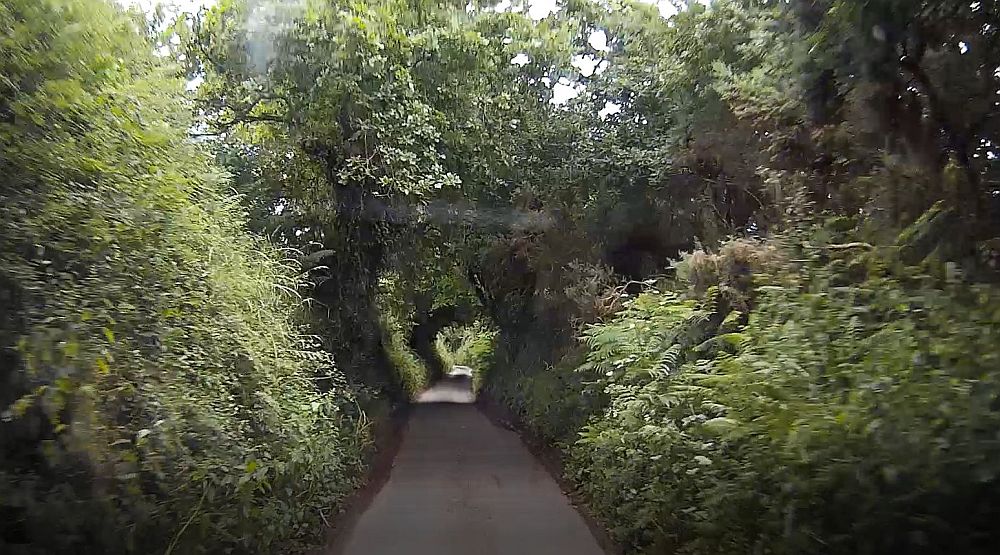 Tuesday 5th July. We walked into Dawlish Warren today. There is a short cut out the back of the site which is handy given the size of the campsite! What we didn't quite appreciate was that it was so downhill from the campsite to the village! This is turning into the story of our lives on this trip. Weather is still a bit strange, one minute sunny and then cloudy but fortunately dry. Quite a lot of visitors on their way to the beach. We walked up to the sea wall and found a seat. Next to us a mother and her son (about four) sat down to enjoy a drink and a doughnut. Suddenly there was a shriek and the lad exploded with mix of fear and anger as a seagull had swooped down and pinched his doughnut. I don't think he was going to be a fan of seagulls going forward? At least he came to no harm. Often the problem with seasonal places is there are rarely "nice" places to get a decent coffee. However, we did give the Boatman a try and the coffee and cookie was more than OK. We took the precaution of sitting under one of the umbrellas just in case the seagulls decided to take our cookie!
Given the steepness of the hill back to the site we decided to wait for the bus to take us up the hill, which dropped us off not far from the short cut into the site. There was another campsite by the bus stop which looked quite nice although it seemed only to have grass pitches. A little further along the road was a neatly mown field with fences and electric points but completely empty, so whether it is used for rallies or overflow pitches I don't know.
Wednesday 6th July. We maybe on holiday but one can't ignore the political storm in progress with the current Government with resignations a plenty, where will it all end? Apart from the day we arrived we have not visited the reception area of the site since we arrived and we have only explored the upper sections of the site thus far. So, we wandered down to the front of the site which by any measure is massive. I appreciate that they very thought of this would put many people off. However, where we are pitched it is away from all that and you could almost be on another campsite. I would struggle to guess how many pitches there are as there is a mix of fixed accommodation, seasonal pitches and touring pitches, all in their own areas. Coupled with this are the facilities to service such a large site like swimming pools and restaurant/bars. We saw all this as we wandered down through the site on our way to the local supermarket just along the main road. On the way back we stopped for a coffee from the bar before the mountaineering task of getting back to our pitch up the very steep site road. Margaret says the only thing missing from the site is a funicular railway up to the top of the site!!!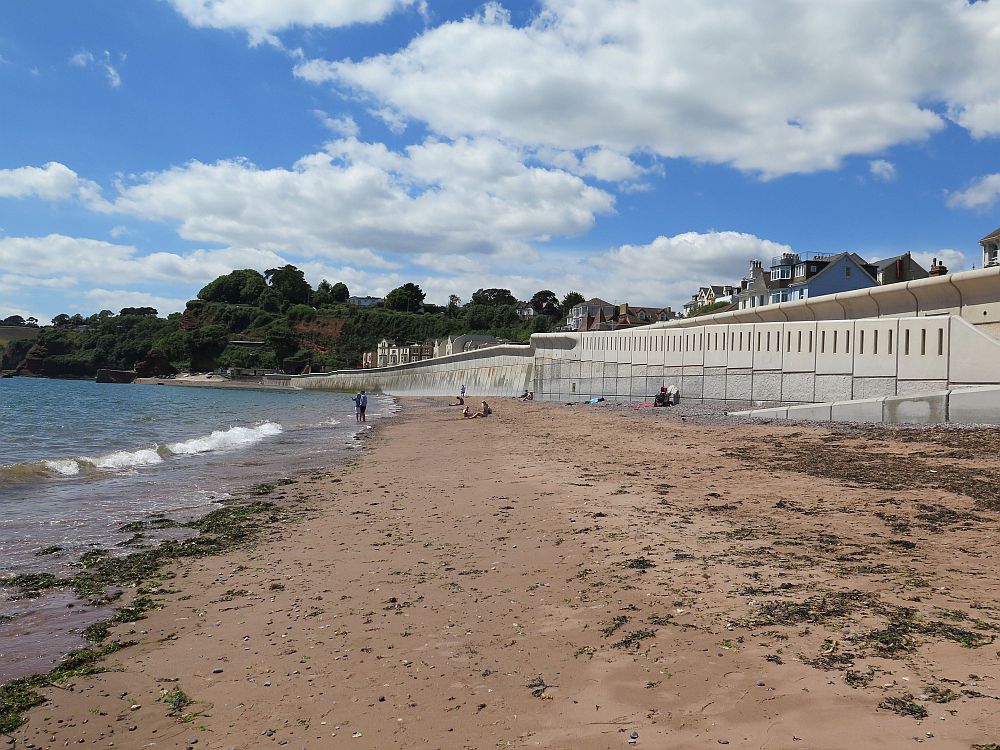 Thursday 7th July. We have had a pretty lazy day today sitting around the van. Weather is better and seems to be getting hotter. We have had the wind out awning out today to provide some shade. Also pleased with our Maxxair fitted fan as it helps to cool down the inside of the van by pumping the hot air out. The day after we arrived another couple in a motorhome pitched next to us despite the whole section being almost empty! The pitches here are quite generous with a large section of hardstanding, enough for the unit plus an awning and an area of grass for sitting out on. Our new neighbours decided they wanted to put their drive away awning on the grass so they are, effectively parked to the wrong side of their pitch. This means the wall of the awning is about two metres from the wall of our motorhome. This might not have been so bad but every day they have had guests chatting away under our windows so not much hope of peace and quiet for us. It does make you appreciate the stricter rules of the Caravan and Motorhome Club!
Friday 8th July. It's strange that every morning we seem to get a bit of cloud but by mid-morning it gives way to lovely sunshine. The weather generally has been better for a few days now, getting hotter as each day passes. It seems the weather pattern has changed with the jet stream Now over the northern end of the UK.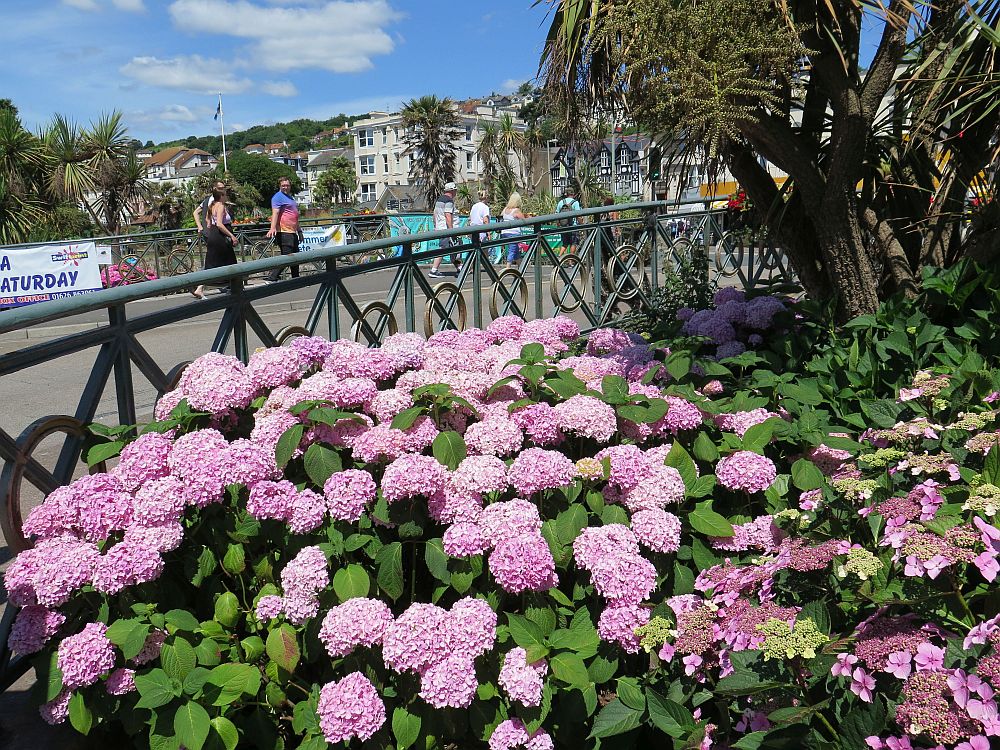 Today we felt we had to do something so we caught the bus to Dawlish. It seemed a very attractive little town with a small river running into the sea through a rather nice municipal Park. There didn't seem much of a beach but the tide was right in. It was here of course a few years ago that the sea wall, and the railway line that run alongside was washed away in a storm. Whilst contractors are still working onsite much of it now seems to be restored or rebuilt. We wandered up into the town which seems to border the aforementioned Park on both sides. We stopped for a nice coffee at a café with a French sounding name. Both ways we caught the bus from near the front of the site as they are more regular but it did mean climbing that hill again!
Saturday 9th July. Over the last couple of days, I had the feeling I was getting a cold. Years ago, we would have just shrugged that off and got on with life! Now unfortunately a cold can mean the dreaded COVID something I have been lucky to avoid since the start of the Pandemic. I decided to test and it proved to be positive so decision had to be made. The next day we were due to move to our next site anyway. Because I sensed it was a bit more than a cold, we decided that we should make a dash for home whilst I at least felt up to driving all that way. We would obviously forfeit the remaining night at Lady's Mile but I wondered if our next site, Wells Touring Park would show some flexibility by perhaps moving the booking or perhaps a discount on a future visit. None of that was part of their business plan and when I informed them, they rather coldly replied that they hoped my insurance will cover the nearly £200 loss!!! Not quite what I expected. In future I will be very weary of paying upfront for campsites.
It was a long journey of over 200 miles. Fortunately, the main roads were not too busy and we made good progress but it was still just after 5.00pm before we eventually got home. I am writing this a week after our departure as it's the first time I have felt enthusiastic enough to do so. I appreciate that illness and other misfortunes can strike at any time but best laid plans etc.etc!