Caravan Travels in the UK 2022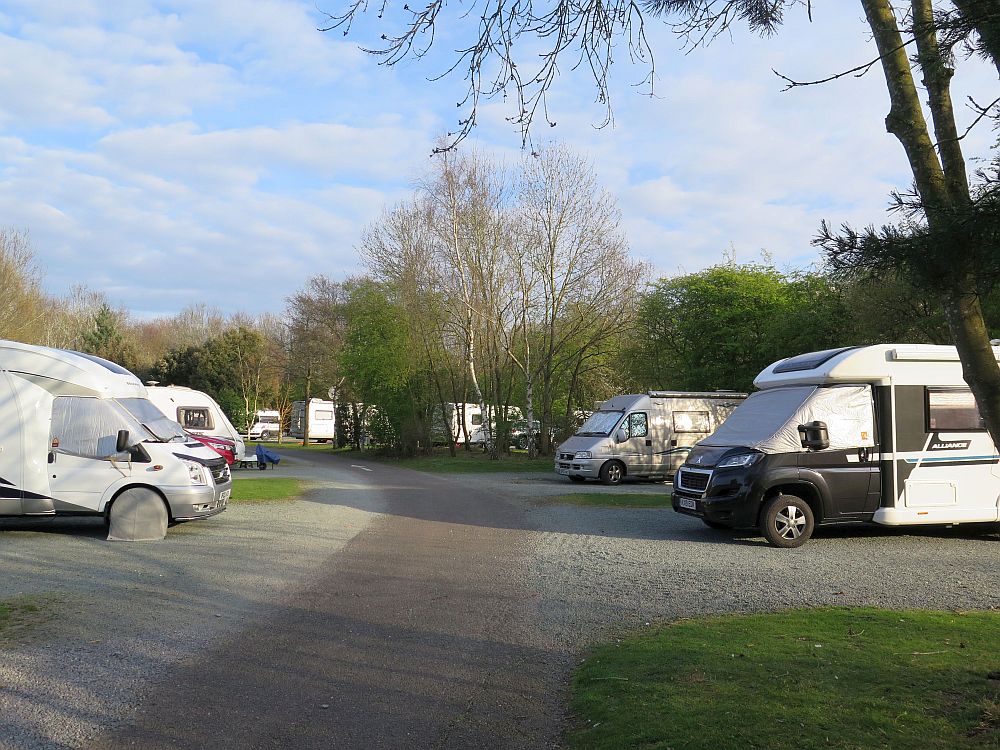 Peterborough
Sunday 3rd April. What seems like an absolute age we are going away for the first time in 2022. It was October last year that we were last away. We are off to Ferry Meadows at Peterborough which is only about 50 miles away so a relatively easy journey as it proved to be. We went via the slow route through Olney and joined the A45 at Wellingborough and then onto the A605. We stopped at the Peterborough Services for a coffee as we were a bit early to arrive on site. Not sure we parked in the right place but there were a couple of other motorhomes parked up so we joined them. We arrived at the site about half past one and were greeted by one of the site staff, clip board in hand! Check in was quite quick and we didn't venture too far into the site when we found an empty pitch not far from a service point. Far enough away so we don't see people emptying their toilets but near enough to be handy to get water for the kettle.
On our way through Olney, we were rather impressed that the whole town was decked out in full sized Ukrainian flags all along the high Street ,in support of the country which has been invaded by Russia about a month before. A strange coincidence is that 40 years ago, almost to the week, we spent our first ever weekend away in our first caravan on this very same site when the boys were very young. The coincidence is that it was 1982 at the time of the Falklands War!
Monday 4th April. Pretty cold overnight but no frost and some rain. The rain continued into the morning so we delayed going out until after lunch. We had a walk into the Park. Surprisingly windy near the lakes compared to back on the site where it was quite calm. Talking about the site quite a few leavers today but as many arrivals.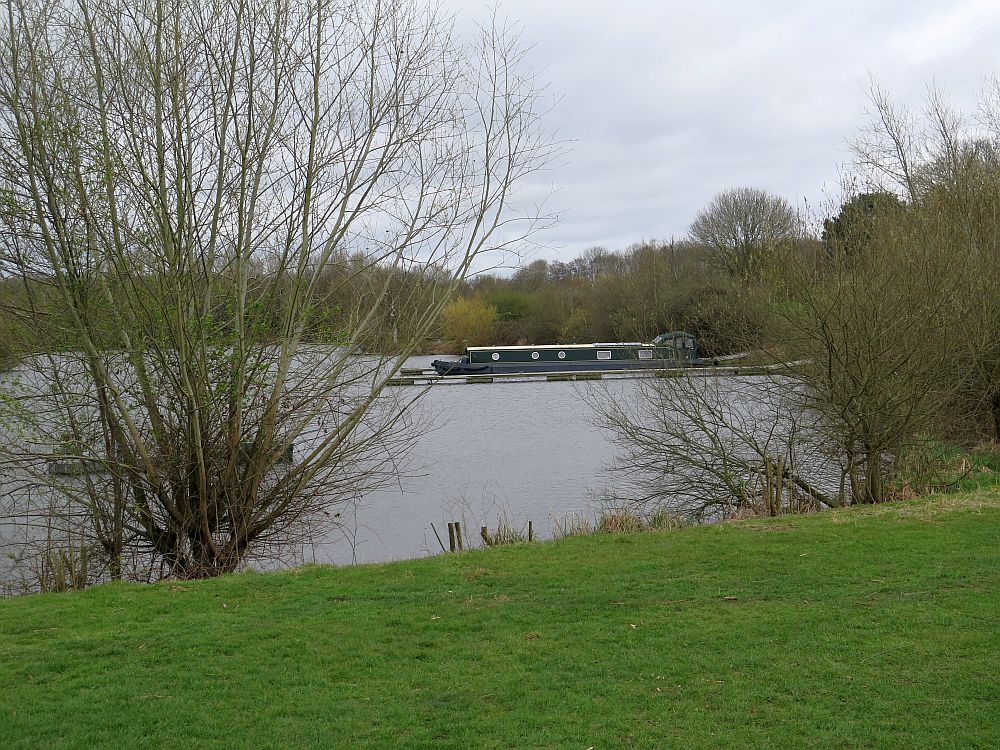 Tuesday 5th April. We actually had a bit of sunshine today, not all the time but enough to cheer you up. Much warmer overnight so no need to get up at 5.00am to put the heating on!
We walked down to Notcutts Garden Centre today. It is one aspect of staying at Ferry Meadows, you have a few options from the site without the need for a car. There was a nice choice of plants and I was tempted but we would have had to carry them back to the van. Having said that I did find a reasonably priced, supposedly, squirrel, resistant bird feeder. Be interesting to see how squirrel resistant it is! The café does a very nice fruit scone which fortified us until we got back to the van. Its about five months since we were away in the van and we are struggling with our legs and backs a bit. Hopefully we will find it easier the more we do!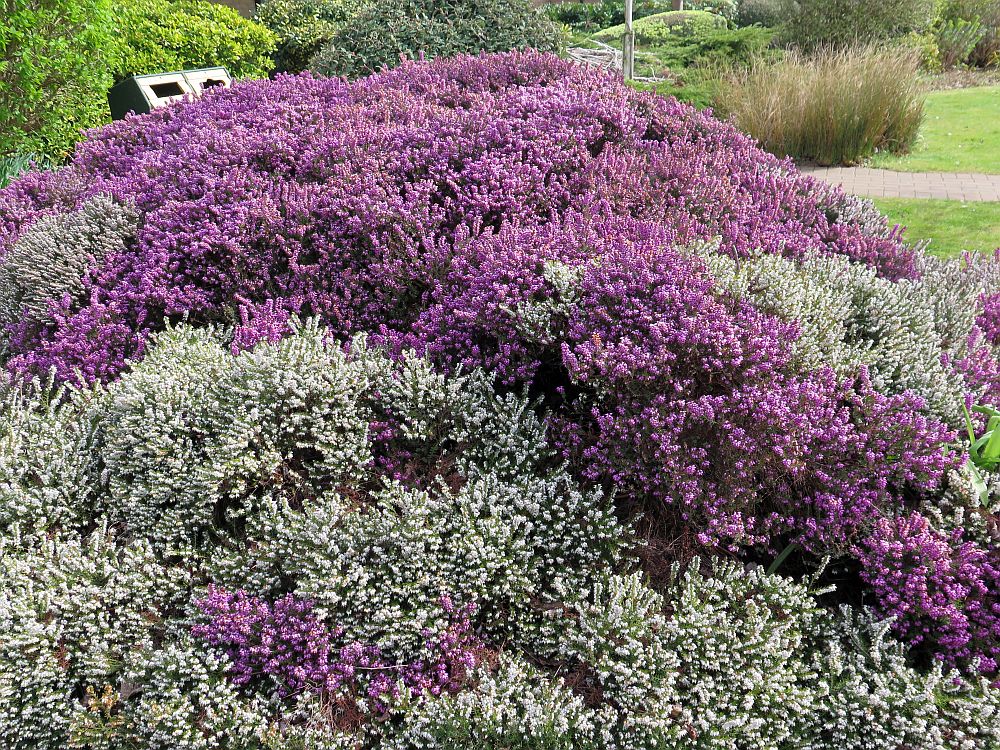 Wednesday 6th April. A very diverse day weather wise. Sunshine, rain and wind! This is our last day on site so I attended to some of the services like emptying the waste water tank. I did this manually as Ferry Meadows still doesn't have an open grill waste point. Anything we create in the meantime will be taken home with us! At least I can take the washing up water straight to the service point.
It has been quite relaxing being away in the van. It seems to have been so long, mid-October was the last time we were away. We are concerned that two years of minimal activity had taken a toll on our ability to walk too far and our general energy levels. To be fair we are both in our mid seventies so I suppose the days of doing as much as we once did will start to decline. We have some longer trips coming up, going to new places. Hopefully this will spur us on? Perhaps after 40 years its time to think of the unthinkable?
Thursday 7th April. The problem today for our trip home was the wind which was forecast to be gusting up to 40+ mph. We decided to use a different route via the A1 as we wanted to fill with fuel on our way home, more of that later! It was very uncomfortable as we headed south down the A1 and even when we turned on to the A421 at the Black Cat roundabout it was no better. We eventually crossed the M1 at junction 13 and headed to the Tesco at Kingston with the purpose of filling up with fuel but they had no diesel. Another garage we passed were also out of diesel. The two we passed with diesel had long queues and were at least 10p a litre more expensive so we decided to continue home and fill up at a later stage. We have a long trip planned for the beginning of May so we need a full tanks before we go!
One success of the trip has been the new water pump which replaced a submersible version which was not very successful. Despite the cost, £300+, it has certainly proved to be worthwhile. The main issue before was that the old pump continually needed to be repressurised between stops. Not an issue with the new set up and of course we have higher pressures to the taps an