Chester Fairoaks Caravan Club Site, Rake Lane, Cheshire, CH2 4HS, Tel 01513551600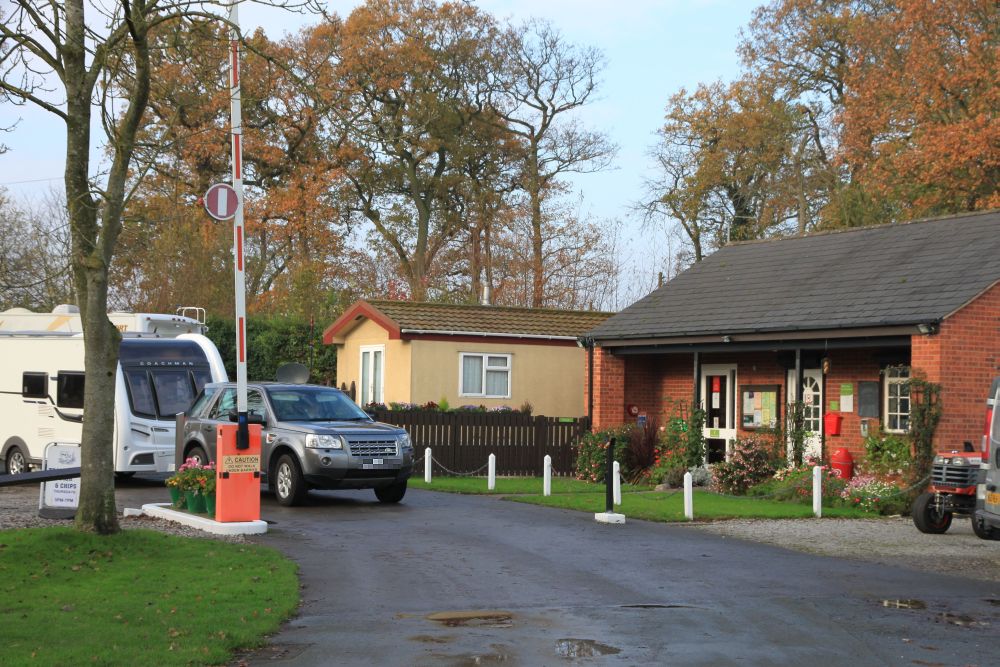 To Find Site:- Leave M53 at junction 10 onto A5117, signed for Queensferry, keep in the left hand lane. (Be aware that traffic to the Cheshire Oaks Outlet Shopping Centre can back up to the M53 at weekends which causes delays) Go through traffic lights and watch for International Caravan Site sign left into Rake Lane (opposite Harvester Pub) Campsite is on left 200 metres past Rake Inn.
Cheshire Fairoaks is a handy site for exploring the many attractions in the area. There are 100 pitches, most of which are on hardstandings but there are also a handful of grass pitches. After heavy rain surface water seems to remain in places. The site is open all year and non-members are accepted. Electric points are convenient to pitches and connections are rated at 16amps. There are no TV connections on the bollards. Satellite reception can be difficult from quite a few pitches because of tree cover, the general direction of the dish needs to be slightly to the left of the line of the toilet block with the back of the dish towards reception. There is one central toilet block which has recently been restored to a very high standard. The block now includes an enclosed washing up area plus a laundry. There are four service points, although only three have a chemical emptying point which leaves some pitches a distance from the nearest point. The motorhome water/waste point is adjacent to the toilet block, it has good access and has recently been upgraded to an open grill empting point for grey waste. There is a good information room with lots of local information including local transport links. For children there is an adventure style playground. Reception sells a few essentials. There is site wide WiFi and time can be purchased online. There is a reasonable 4G signal on site. Because of the proximity of the motorway there is often the hum of traffic noise although we did not find it that intrusive.
This is one of those campsites where there is so much to do within a ten mile radius. Almost on its doorstep, about a mile away, is the Cheshire Oaks Outlet Shopping Centre which could keep shopaholics happy for days! Three miles away is the Ellsemere Port National Waterways Museum which is an excellent day out for those interested in Industrial Archaeology. The City of Chester is about nine miles from the site and has a couple of Park and Rides. If you wish to take the bus you have two choices the number one which goes via Chester Zoo or the X8 which takes a more direct route. Details can be found in the site information room. There are three pub/restaurants within walking distance of the site, the nearest The Rake Inn is virtually next door to the campsite. OK it's part of the Hungry Horse chain which won't suit all but it offers very good value especially with children. Cheshire Oaks offers even more choice. For food shopping there is a large Sainsburys in the Cheshire Oaks complex and it also has a motorhome friendly fuel station. Be aware the Rake Lane from the site to the main road does not have a footpath so extra care is required, especially with children. Likewise if walking to the shopping centre the roads are exceptionally busy. There is a pedestrian crossing but as soon as you get in the centre the pavement runs out! Best to skirt round the Sainsburys fuel station and go down the steps and across the supermarket car park. Further afield Liverpool is within striking distance and in the other direction Manchester. On the canal theme the Anderton Boat Lift is not too far away at Northwich. For those not wanting to use their own transport there are regular bus services to both Chester and Liverpool from Cheshire Oaks and the site has details of local taxi companies.