Cirencester Park Caravan Club Site, Stroud Road, Cirencester, GL7 1UT, Tel 01285 651546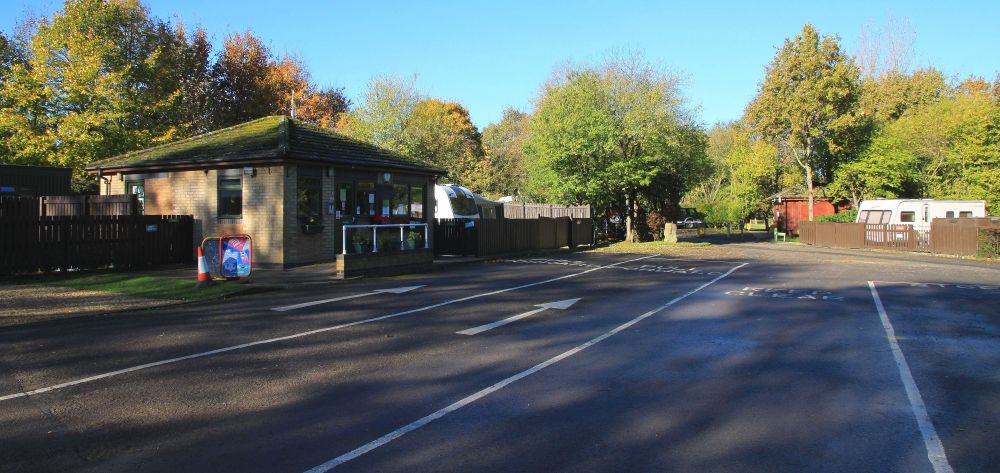 To Find Site:- Once on the Cirencester ring road follow signs for Stroud. At the end of the dual carriageway take A419 signed for Stroud but be prepared to turn right in about 50 yards and right again for another 100 yards turning left into the lane to the site which is approx 250 yards further on. This lane is not an even width but you should have no problems passing other vehicles as the sight line is good. This lane also gives access to Cirencester College so be aware the lane is used by pedestrians.
A Large, members only, site with over 200 pitches with a mix of grass and hardstandings and it is open from March to early January. The pitches are in two section, one containing grass pitches and its own toilet block, however this section is closed during the winter months. The main section immediately ahead from Reception has mainly hardstandings, however they do vary in size and some are not large enough to take Caravan/awning/car side by side. Depending on outfit length it may be possible to park a car across the width of the pitch in front of the caravan. Some pitches may require a degree of levelling. The Club have recently converted 16 pitches to serviced ones with individual water and waste disposal. These are available for an additional nightly fee. Electric bollards, 16 amp using CEE17 connectors, are situated near to pitches but a long lead (25mts) may be needed on some pitches. The bollards also have a co-ax connector for digital TV, you need to provide your own lead although they can be purchased from Reception. There is a centrally situated toilet block in each section, the one that was open is of a high standard and large enough to cope with possible demand. In front of the toilet block is the motorhome service point which has been converted to an open grill type, although from some parts, motorhomes have to exit and re-enter the site to get to the service point! There are several service points around the site but only one of the three in the section that was open had a toilet disposal point which means from quite a few pitches, a long walk to the toilet block. Unfortunately no thought had been given to providing all weather walkways from the various parts of the site which meant either a long walk around site roads or a very muddy trip across grass to get to the toilet block. For reference, in the closed section with the grass pitches all three service points have chemical disposal points! Just a shame the nearest one wasn't kept open to service the hardstanding pitches nearby. For children there is an adventure playground and on the edge of the site a large kick about area next to the dog walk. Near to Reception is an information room. Reception sells milk and ice cream and newspapers can be ordered for the following day. This site is supposed to have site wide WiFi but frustratingly this was not working properly during our mid November visit. I could get a poor signal in the information room but that was about it.
Likewise some mobile network reception is a bit hit and miss.
As the name suggests the site is adjacent to Cirencester Park. You can access the Park from the site but this does involve negotiating some muddy paths so good walking shoes would be advisable. There is an alternative route into Cirencester which follows, in part, the main road although it has a wide footpath. Cirencester is a pleasant Cotswold town with a good range of shops. For shopping there is a Waitrose on the way into the town.