Cornish Farm Touring Park, Shoreditch, Taunton, Somerset, TA3 7BS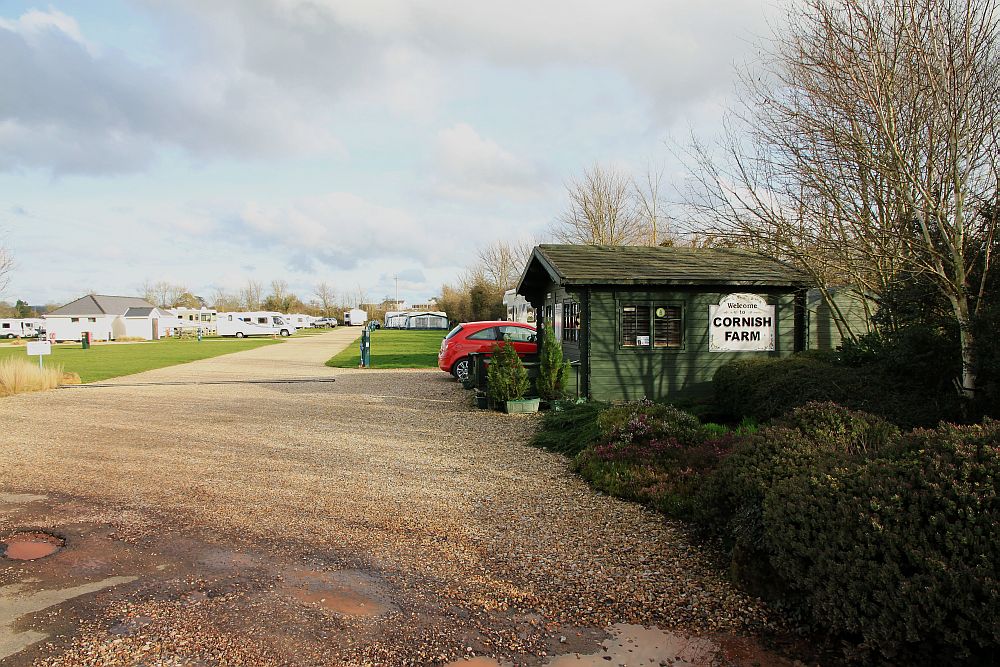 To Find Site:- The site is about 4 miles from junction 25 on the M5 at Taunton. Follow A38 towards Taunton. At the first set of traffic lights turn left towards Corfe on the B3170. The campsite is well signed along the route. The final approach does narrow in places. Once over the motorway bridge the entrance to the site is left turn in about 50 metres.
Cornish Farm is a small basic campsite with an open aspect not far from junction 25 on the M5 at Taunton and is open all year. Reception sells a few essentials including a good range of caravan/motorhome bits. There are 48 pitches, 25 of which are hardstanding on gravel. The hardstanding pitches are quite long but not very wide so it would be a tight fit to get caravan and awning without encroaching on the grass. There seem to be a number of seasonal campers on site. Electric points are convenient to the pitches and are rated at 10 amps. Likewise water points are dotted around the site. There is a very nice quality central toilet block which also contains washing machines and a dishwash area. Next to the toilet block is a motorhome service point. The site has free WiFi although not the strongest signal I have used. There are no facilities for children. Being close to the M5 there is some background hum from the motorway although you quickly get used to it.
It has come to my notice that this campsite is now using ANPR to allow access to the site. The vehicle registration number is now part of the booking system
This campsite is a convenient stopover near to the M5. It would also be a useful place to stay to visit the surrounding area. For motorhomers Vanbitz the motorhome specialist fitter of accessories is right next door. Taunton is a busy commercial centre with a good range of shops. The Museum of Somerset, in the town, is worth a detour and it's free. Just off junction 25 is a large Sainsburys with a fuel station that is suitable for motorhomes.