Dunnet Bay Caravan Club Site, Dunnet, Thurso, KW14 8XD, 01847821319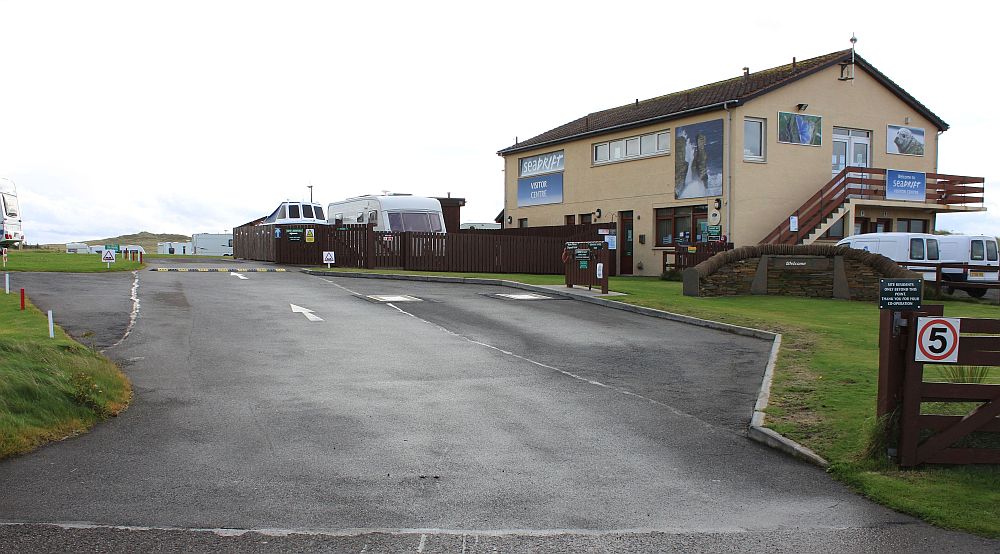 To Find Site:- From Thurso take A836 signed for John O'Groats. About 2 miles past Castletown towards Dunnet the site is on the left and can be seen from the road.
This site has a lovely location on the low cliffs overlooking Dunnet Bay on the north coast of Scotland. Non-members and tent campers are accepted. It's not a particularly large site with only 57 pitches all of which are on grass. The ground is quite up and down so some form of levelling will be required on most pitches. There is a strict pitching regime with front and rear pitch markers! The site has a very nice quality toilet block and there are a couple of service points in easy reach of most pitches. There is also a motorhome service point near the site entrance. The A836 runs along one site of the site but we did not find traffic noise intrusive. Reception sells a variety of essentials. There are no play facilities on site for children but with a lovely sandy beach a stone's throw from the site I doubt they will be bothered! Obviously, given its location, the site is quite exposed should the wind come up so this should be taken into account when erecting awnings and canopies. There is no campsite WiFi but I was able to get a GPRS signal on my Vodafone dongle albeit quite slow. Date of visit early September 2011.
For excursions Thurso is about 8 miles from the site where there are shopping opportunities as well as several fuel stations. Scrabster on the edge of Thurso is a ferry departure point for the Orkneys. Dunnet Head and Lighthouse is a short drive from the site, make sure you climb up to the higher view point as you have a lovely 360 degrees view from there. John O'Groats is about 15 miles from the site and it is from here that you can take the passenger ferry over to the Orkneys. There are good car parks near the harbour. The car ferry leaves from Gills Bay which is nearby. Also on the same road is the Castle of Mey which used to be the Queen Mother's home until she died. It is now run by a Trust and is open to visitors. Wick, about 28 miles along the coast road has a large Tesco and cheaper fuel.
Click on thumbnails below for larger picture.