Edinburgh CMC Site, Marine Drive, Edinburgh, EH4 5EN, 01303126874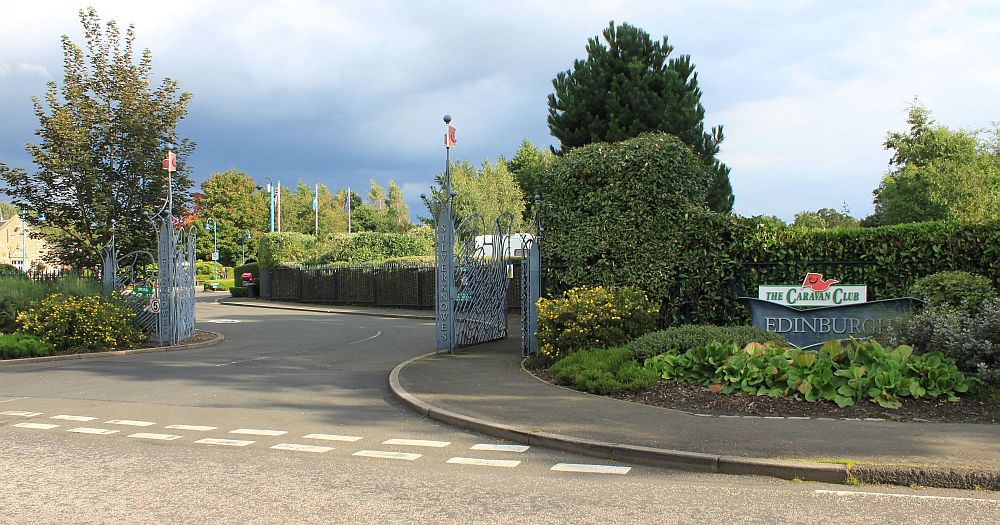 To find site:- With a caravan, or large motorhome it is best to approach the site from the Western end of the City bypass from the Gogar roundabout onto the A8. Then turn left onto A902, signed for Forth Road Bridge. In about a mile and a half turn right at traffic lights onto A90. After another mile and a quarter keep left onto A902 to the Crewe Toll roundabout. Take first left and immediately ahead is tubular steel bridge, at traffic lights turn right into West Granton Access Road. Turn left into West Granton Road and continue to roundabout and take third exit into Marine Drive and the site is on left in half a mile. The site can be approached from the A1, via Portobello and Leith and it is possible a sat nav will try and take you this way. However with anything other than a smaller motorhome I would suggest avoiding this route as it is busy, narrow caused by parked cars and slow.
This campsite is located between the urban areas to the north of Edinburgh and the Firth of Forth. It is a very busy site with arrivals throughout the day. The road outside the site, Marine Drive, seems to be reasonably quiet. The one thing that many people will find annoying is the almost constant stream of aircraft going into Edinburgh Airport, not just during the day. The site is open all year and accepts non-members and tent campers. Site reception has long hours compared too many other club sites and allows arrivals from 9.00am. Outside of these hours there is a small late night arrival area complete with electric points. Most of the 148 pitches are on hardstanding with 12 of them being fully serviced at an extra charge. They are all of a good size and pitching areas have stands of trees and shrubs between the rows to give the site a greener feel. In the separate tent section there is a cooking/eating shelter. There are two toilet blocks which now seem to be a bit dated, they could come under pressure at certain times of day when the site is full. They both have dish wash areas but they are not fully enclosed against the weather. There is a good supply water/waste water service points around the site and there are three motorhome service points, unfortunately all require heavy drain covers to be lifted to dispose of waste water. Electric points are convenient to all pitches and they use CEE17 connectors rated at 16 amps. The bollards also have a TV connector, which are free to use but you need to supply your own co-ax cable. For children there is a small playground. There is site wide WiFi available on this site at normal Club rates. I also found that the 4G signal on site was good which could be used as an alternative for data. The site offers bike lockers as there have been a few issues with bike theft. Receptions sell a variety of essentials and next door is an Information Room. Take away food vendors visit the site.
The City of Edinburgh and all of the delights it offers is only a short distance away from the campsite. Public transport is a 10/15 minute walk from the site. The number 27 bus is probably the best for the City Centre, it also passes the Botanic Gardens. Edinburgh buses operate an exact fare payment policy, no change given. Fortunately they are currently introducing contactless payment onto all buses. Personally I would not want to walk back to the site from the bus stop in the dark along an unlit road! Alternatively there is mini bus service direct from the site which whilst a little more expensive is more convenient with a drop off point at the top end of Princes Street, the site will provide information on arrival. However if you wish to spend an evening in the City and arrive back later in the night a taxi might be the best option. In Leith the ex-Royal Yacht Britannia is moored next to a new shopping area called Ocean Terminal. The Britannia is well worth a visit. The nearest supermarket and fuel is a new Morrisons about two miles from the site.