Eifel Ferienpark Waxweiler, Schwimmbadstrasse 7, 54649 Waxweiler, Tel.: 06554 9200-0
http://www.ferienpark-waxweiler.de/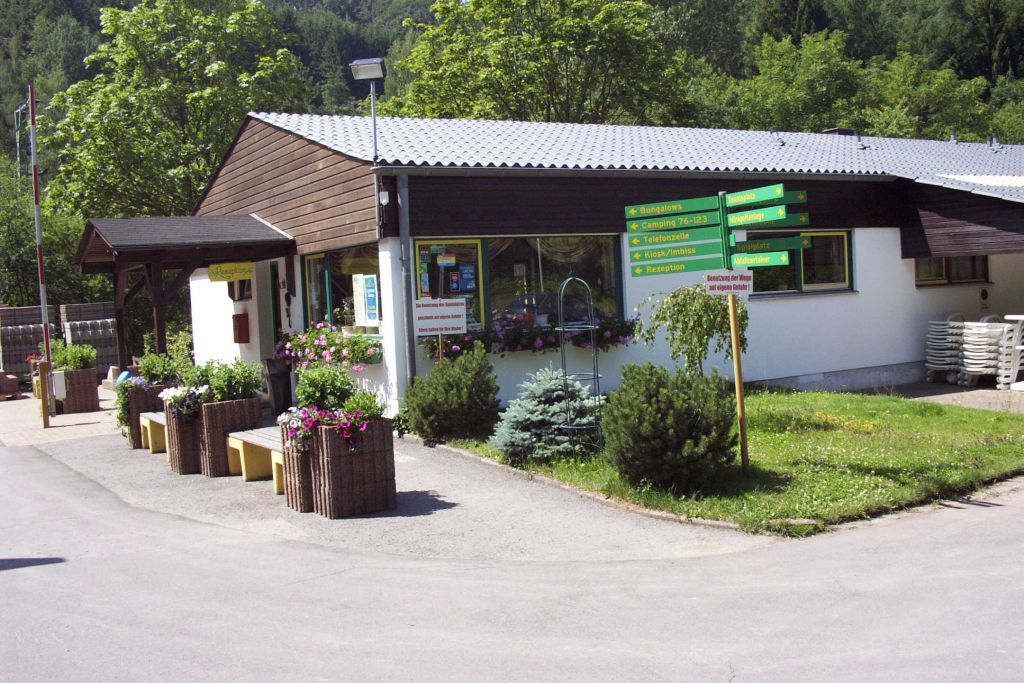 To Find Site:- Coming from the north exit the A60 autobahn at junction 4, signed for Prüm, at the end of the spur road turn left for Lünesbach and once in village turn left to Waxweiler. On the outskirts of Waxweiler turn right at sign for Eifel Ferienpark Waxweiler to site. From the south exit A60 at junction 5 and take road to Waxweiler. The last 3kms is quite twisty and steep but should not be a problem. As you come into Waxweiler you come to a T junction, turn right here and proceed through town. Watch carefully a V junction with a sign to the campsite.
Eifel Ferienpark Waxweiler has 95 pitches set out on grass in two areas. The pitches vary in size but most are of between 90/100 sq metres. Most have electrics and water supply is available from either taps near the pitches or at the toilet block. The campsite is part of a larger holiday centre but the chalets are separated from the camping area as they are set out on the hillside above the campsite. The toilet block, which is kept locked but you are provided with a key, is of a high standard. There is a nice children's play area catering for quite a wide age range. A small shop opens for 3 hours each morning selling mainly bread and some rather lovely 'kuchen'. It is best to order bread the day before as little extra supplies are kept. Next to the shop is a small bar/restaurant which seems to do reasonably priced meals. Next to the site is a municipal swimming pool. Out of season the site accepts Touring Cheques which can make a stay good value.
The town of Waxweiler is a short walk away. There are numerous hotels which do meals, a filling station and a supermarket. This is very much hidden Germany being not far over the border from Luxembourg. Prüm, about 14 miles away, is worth a visit as is a drive in the surrounding countryside. During our stay the site was quiet and there was plenty of room. We enjoyed our stay here.
Date of visit late June 2004