Fakenham Racecourse Caravan and Camping Site, NR21 7NY, 01328862388.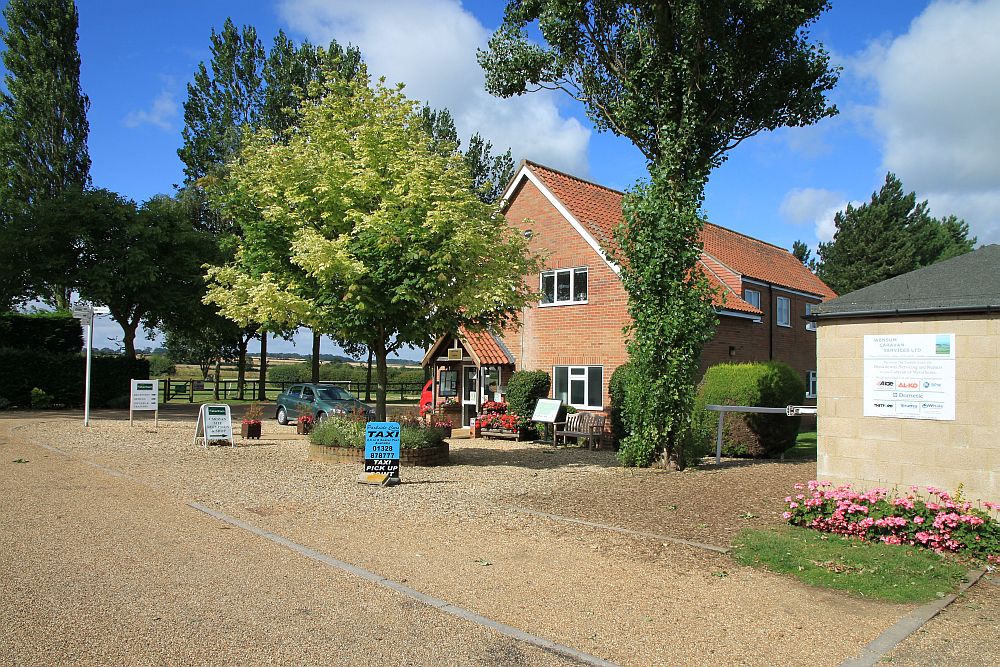 To Find Site:- Follow signs to Fakenham Racecourse and camping signs. Site arrival time is from 2.00pm.
The Racecourse and this campsite are situated on the outskirts of the Market Town of Fakenham. The site is open all year. When booking you seem to be allocated a pitch number, plan on website, although when we arrived we were told that if the pitch was not suitable to go back to reception to discuss an alternative. There are around 200 pitches, most of which are on grass but there are some gravel and paved areas. Some will need to be levelled as there is a two slope, albeit only a gentle one. There are several pitching areas most enclosed with conifer hedges. At the far end of the site are two large fields used for tent camping and other units not requiring electrics. In the main areas electric hook-ups are handy to all pitched and are rated at 15 amps using CEE17 blue connectors. The bollards also have a co-ax television connector. Likewise water taps are dotted around the site. Grey waste water can only be disposed of at the three chemical toilet emptying points, all of these are situated near the front of the site which means a long haul from some pitches. There is a motorhome service point near to reception but the emptying point could be awkward, unless you have a drain hose, as the drain is quite small. There are three toilet blocks. The newest block is on the back the Prince of Wales Stand and is of a good standard. The other two blocks are older and have had makeovers to improve the look and feel of the facilities. Reception contains a small shop selling essentials and daily newspapers can be ordered, there is also a book exchange within reception. Next door is a small information room with information on attractions in the surrounding areas. Only two dogs are permitted per unit. WiFi is available on some pitches and costs £2 a day. There are no play facilities for children on site but away from the pitching areas are some large open areas (normally used for parking on race days) which can be used as kick about areas.
Important to note:- On race days all units have to be moved to the centre of the racecourse (no electricity) for the duration of the meeting and return to their normal pitch once the meeting is finished, Contact the Racecourse for more details of dates when this applies.
The town of Fakenham is about a 15/20 minute walk from the site. There are bus connections to Norwich, Kings Lynn, Cromer and Wells next to Sea for those that don't have their own transport. In the town there are several pub style restaurants and a few cafes. There is a Tesco just a couple of minutes on foot out of the centre. Market Day is Thursday. Just before the entrance the site is a Sports Club which campers can use. It has a bar which also offers meals and on some days there is entertainment. Adjacent to the Sports Club are tennis courts and Fakenham Golf Course.