Hippersons Boatyard, CMC_CL Gillingham Dam, Beccles, NR34 0EB. Telephone 01502712166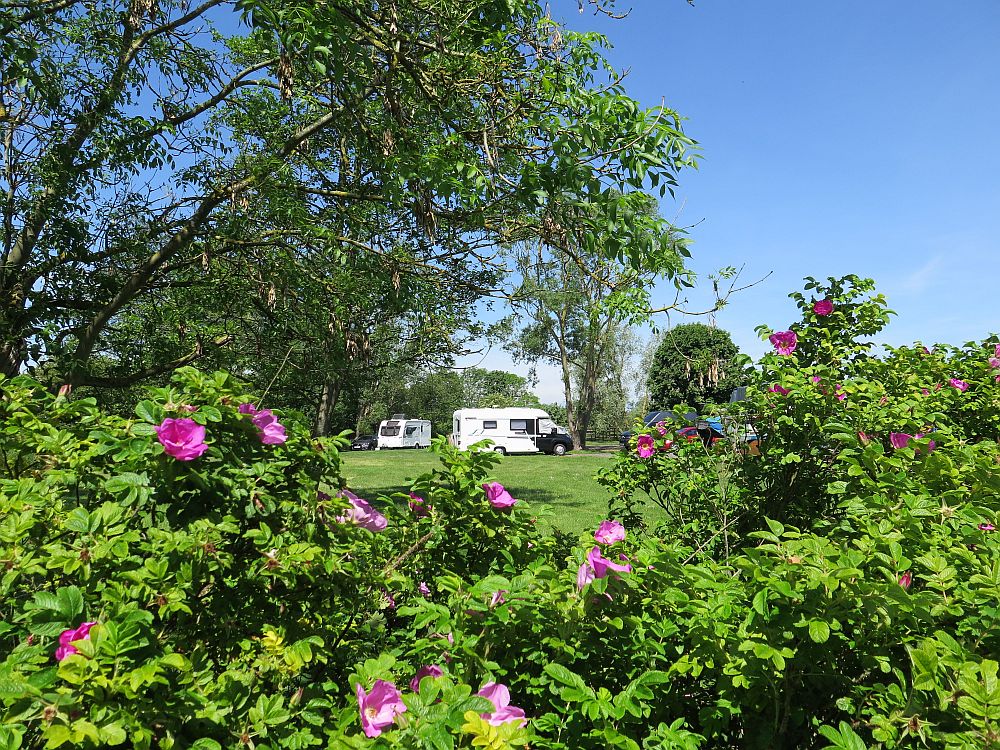 To Find Site:- From Norwich take A146 towards Lowestoft. At roundabout where the A143 goes off towards Yarmouth continue towards Beccles. Within a couple of hundred metres turn right at Gillingham into Gillingham Dam. Follow this road almost all the way to Beccles but at the 30 mph sign turn left (good access) into Hipperson's yard and pull forward to Reception on the right.
Sadly I have been informed that this CL is now permanently closed, November 2020.
This site is a Certificated Location for the exclusive use of Caravan and Motorhome Club members and accepts five units at a time. It is located on the edge of the delightful small town of Beccles in Suffolk. The site is part of a working boatyard which has moorings and has day boats and houseboats for hire. The latter could be useful if you wanted to meet up with non-caravanning friends. The CL is on a large L shaped grass area between the Gillingham Road on one side and the boatyard parking area with the mooring beyond. During our stay the ground conditions were firm. However if any motorhomers were concerned they could discuss with Simon, the owner, the option of parking the front drive wheels on the edge of the car park as we did. There is plenty of pitching space and where you set up is only restricted by how long your electric hook-up lead is as there are only two electric distribution points, with multiple connections. Fresh water is available from the taps next to the boat moorings which is down a shallow bank from the car park. There is a hose reel but this would only reach as far as the car park which might be OK for filling a motorhome water tank. There is a waste water/chemical emptying point near to Reception but no specific motorhome emptying point. There are two toilets for use by campers, and seemingly boatyard customers, but no showers This is not a secluded CL and there is a little traffic noise from the road and the car park is in regular use during the day, we did not find this an issue and it was quiet at night. The gates to the premises are locked overnight although there is an access code for both the main and pedestrian gates. This CL is good value for money which includes electric hook-up. The site also has free WiFi available but I did find this a bit intermittent. Fortunately the 4G network seemed to work well from our pitch. Card payment is accepted.
The beauty of this CL is its location just a short walk into the delightful small town of Beccles. There are numerous shops and restaurants in the town and it is well served by supermarkets with Roys, Tesco and Morrisons to choose from. The immediate area is well served by public transport. There is a railway station with trains to Lowestoft and Ipswich. There is also an excellent half hourly bus service, running between Norwich/Beccles/Lowestoft. Other bus services also go to Southwold and other villages. This would be an ideal site for exploring the Broads and the Suffolk Coast.