Harrogate Caravan Park, Great Yorkshire Showground, Harrogate, HG2 8QZ. Tel 01423 546145
www.harrogatecaravanpark.co.uk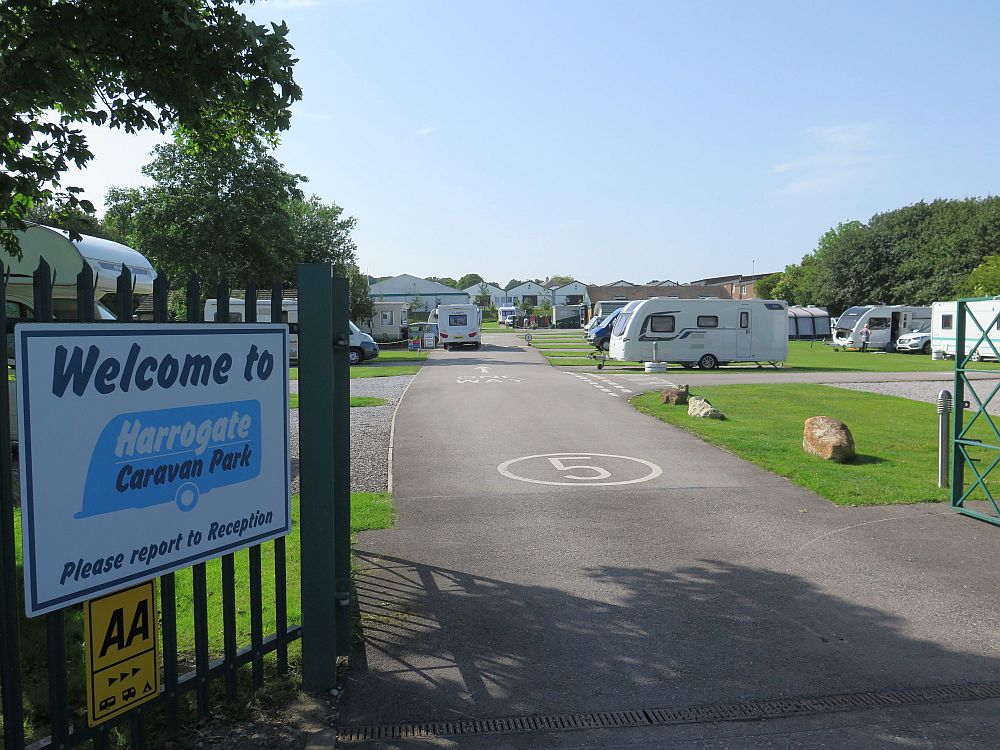 To Find Site:- From the A661 Wetherby Road on the approach to Harrogate. At traffic lights, with Sainsbury's fuel station ahead turn left into Railway Road. Pass Fodders Farm Shop on right and campsite is about a hundred metres further on, also on the right.
This site is situated on the edge of the Great Yorkshire Showground on the outskirts of Harrogate. I think many moons ago it must have been the one run by the CMC but since then it has been taken under the control of the Showground owners and substantially upgraded. There are two sections to the site, the larger part near to reception has a mix of grass and hardstanding pitches and a second area at the end of the site the pitches are all on grass, and in total there are 67 pitches. Pitch size varies but pitches are allocated depending on size and type of outfit. Electric points are handy to all pitches, they are rated at 16 amps and use CEE17 blue connectors. There is one central toilet block of a good quality which also contains a wash up area and a laundry. The disabled toilet is in a separate cabin. For those that need it there is a dog shower as well! There are a couple of water points also with waste water. There is no specific motorhome service point but there is a grilled drain for emptying and a hose at the toilet block for filling. The site does have free WiFi however I found this a bit problematic. If I could initially get logged in it proved to be quite stable but sometimes it was difficult to get past the log in. Being near to Harrogate the 4G signal was fine for using the internet. This site requires a £50 deposit on booking and full payment at least seven days before arrival.
This site is ideally suited for visiting Harrogate. There is a half hourly bus service from the main road about a five minute walk from the site. Harrogate is a lovely town to visit and it is famous for the original Bettys Tea Shop where you should treat yourself. Harrogate has a decent shopping centre. The town also has excellent transport links by both bus and train thus making the site a good base, especially for those not wanting to use their own transport. Knaresborough is only a short bus journey from Harrogate. Next to the site is the excellent Fodder's Farm Shop which also has a handy cafe. There is a large Sainsbury's supermarket within easy walking distance.