Hendre Mynach Touring and Camping Park, Llanaber Road, Barmouth, LL42 1YR, Tel 01341280262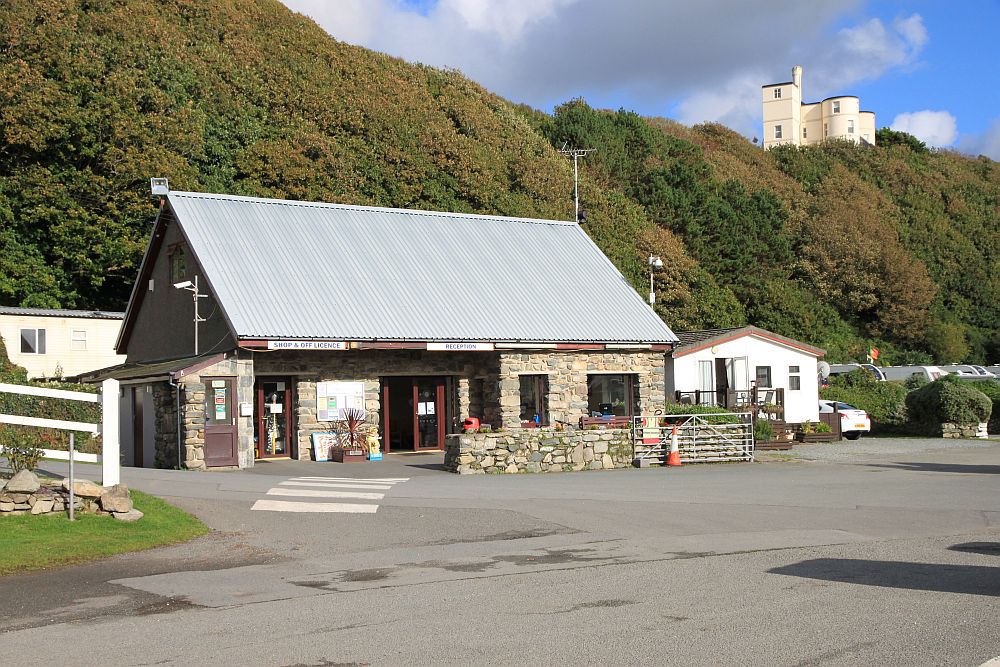 To Find Site:- From Barmouth on the A496, towards Tal-y-bont, the site is about a mile and a half outside the town. Watch out for campsite sign and take care with very sharp left turn into steep downward site road. Reception is immediately at the end of this on the left.
Hendre Mynach is situation just out of the delightful small town of Barmouth which is on the West Wales coast facing out onto Cardigan Bay. There is direct access from the site, over a railway crossing, to the promenade and beautiful sandy beaches. There was a friendly welcome by all who worked in reception and they were always ready to help with any questions. The site has a fairly long season and is open from early March to about mid-January. The site is long and split into two sections either side of reception, with an additional section at the far end exclusively for tents, there are also some seasonal pitches. The site has just under 200 pitches of which about 80 are on hardstandings with an area of grass to the door side. Electric points are convenient to all pitches, except some of the non-electric tent pitches. They are rated at 10 amps and use CEE17 blue connectors. Many of the pitches have their own water supply but not waste although there are some pitches which are fully serviced. The site is let down a little by the lack of grey water and chemical disposal points as there are only two for the entire site which means a long walk from some pitches. The waste point I used from my pitch was had seen better days and could do with refurbishment. Our neighbour who is a regular here said the new owners had gradually been upgrading the site so perhaps the waste points are on the to do list? There are two toilet blocks of similar vintage one in each section of the site. They are perfectly functional and clean but could likewise do with refurbishment as they are a bit gloomy inside. The block nearest reception has a laundry room. There is a dish wash area but it is quite small and exposed to the elements. The very good motorhome service point, at the far end of the site, looks like a recent improvement with plenty of space and open grills to drain water down. There is also a chemical disposal point adjacent. For younger children there is a small play area. Reception has lots of information on the local area and next door is a small shop with a pretty extensive range of essentials including wine and beer. There is site wide WiFi, not particularly cheap, but it seems to provide reasonable signal strength for general web surfing. Running the length of the site is a local railway line. Services are fairly infrequent and they don't run through the night so should cause minimum disturbance to campers.
This site has the twin advantage of being next to a good beach and reasonably close to the town of Barmouth which is a flat walk of about a mile and a half along the promenade. It will, no doubt be popular with families during the school holidays and seemingly dog owners out of season. There are bus and train links from the town. For eating out there is a good choice of cafes and pubs in the town. For shopping there is a Co-Op supermarket near the railways station. This could be a good base for those wanting to visit the various narrow gauge railways in the area.