Henley on Thames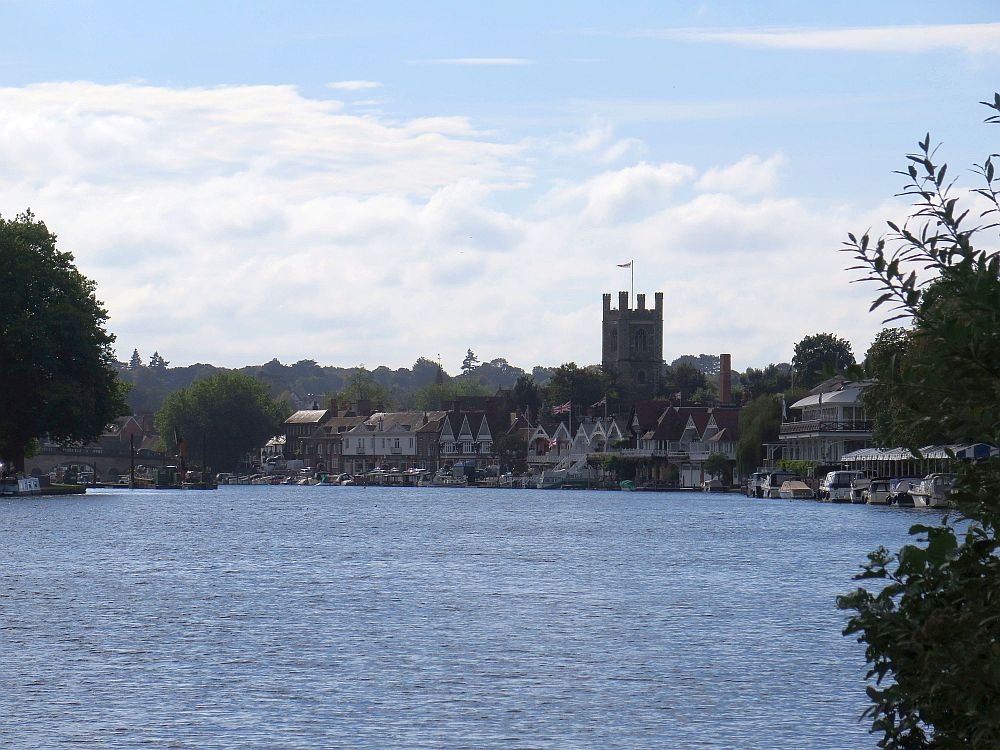 Sunday 10th October. We are off to Henley on Thames today. Originally, we only managed to book three days but would have preferred more. When the fuel panic started about two weeks ago, I noticed that suddenly there was masses of availability so took the opportunity to add another two days to our original booking. I was chatting to the wardens when we got to the site and they said that it seemed to spook quite a few people with some even cutting their stays short.
The last time we came to Henley we used the M40 and arrived at the site from the direction of Marlow. This time we used a more cross-country route via Oxford through Shillingford and Benson. I seem to recall that we used to tow this way with the caravan. It was a fairly relaxed route and once off the main roads there was not much traffic. We arrived at the site just after midday. I always have two fears about this site and they are that we will either have to use a grass pitch or we will have to use one of the pitches backing onto the notoriously noisy road. Fortunately, there was plenty of choice and we found a nice hardstanding in the middle of the site near a service point. I do seem to be having a problem reversing onto a pitch, as Margaret likes to remind me! Flaying arms don't mean a lot from the drivers, seat!!! No issue with getting next to the peg, just lining the van up level with the side of the pitch! By the time we got set up the sun was out and when sheltered from the wind it was quite warm. Warm enough, it seems, for some men to strip off to the waist, probably trying to build up their vitamin D levels ready for winter!!!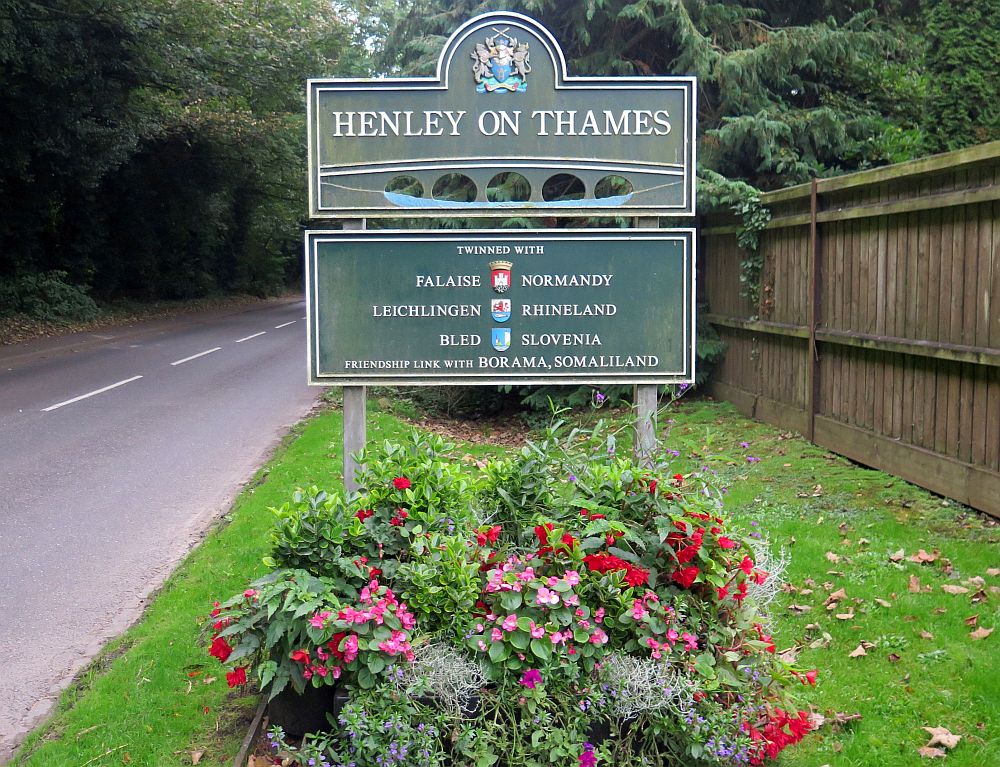 Monday 11th October. It eventually turned into a nice sunny day, although not as warm as yesterday. The penalty for sunny days at this time of year is that the nights are correspondingly colder! We walked into Henley on Thames today. A walk we have done many times before but we are both convinced the distance is getting longer!!! Checking my walking App, we appear to have walked over three miles today which is not bad for us. Henley is an attractive Thames side town but busy with traffic and people. After a coffee and a bit of shopping in Waitrose we headed back. En route we called into the Swiss Farm campsite as Margaret wanted to check out the shop. We also noticed they had a nice café which we might try if its open to non-residents. It was just about warm enough in the sun to sit outside to eat our lunch. One of the things we have noticed about the sites we have visited this year is the lack of a book exchange, obviously a COVID thing? Henley Four Oaks did have the start of book loans so we contributed another eight books which doubled the selection! Margaret has read so many books over the pandemic we almost have a room full at home!
Tuesday 12th October. Weather a bit less predictable today as more cloud but we did also see some nice sunshine. Overnight it was another cold one and I notice, as we sleep with our heads against the driver and passenger seats, how much cold there is coming from the floor area. When we have the heating on, we don't notice it as the vent is at floor level next to the seats. For two nights running I have been up about 5.00am to put the heating on!
We had a pretty lazy start to the day but after a late breakfast we decided to have a walk down to the river. We had noticed a path on our way into Henley, opposite the Rugby Club, yesterday. It goes down the side of Phyllis Court. After the rugby pitches it opens out into a riverside meadow and you can see Temple Island in the distance. On this side of the river there is no access into the town. Disappointingly there was not much activity on the river, only a rather smart launch and a single sculler. I was surprised not to see any hire boats plying up and down the river.
On the way back to the van we stopped off at the Swiss Farm campsite to use their café and shop. Non-residents of the campsite are welcome. We had a nice coffee and sandwich which saved us the bother when we got back to the van.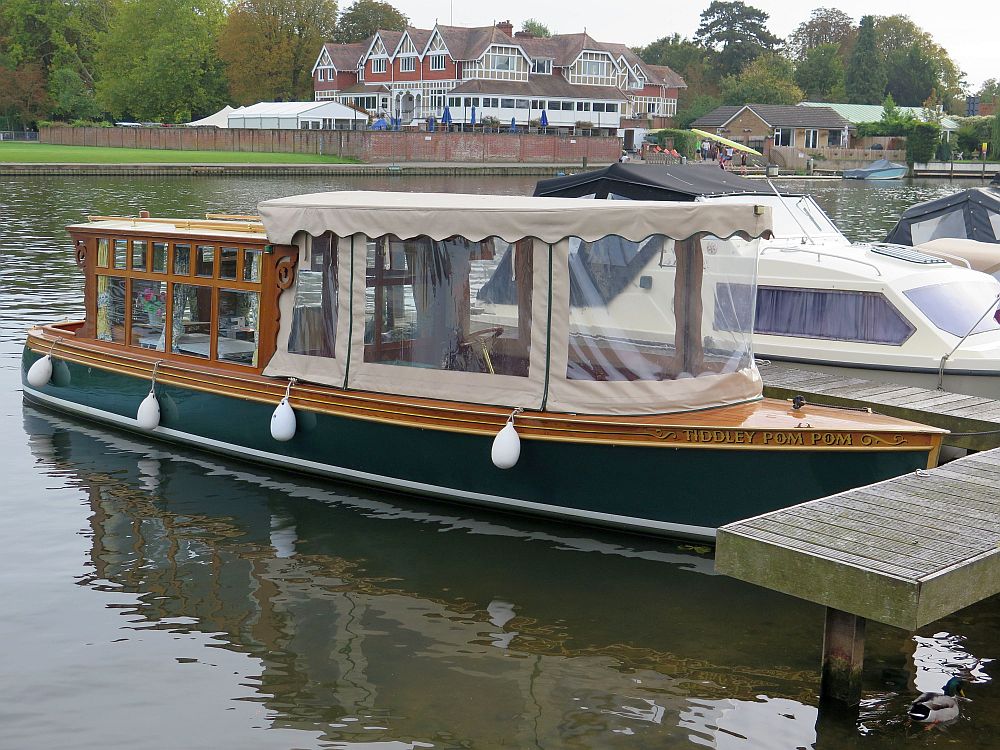 Wednesday 13th October. There was a bit of rain overnight but the day started dry and remained so. Less wind today so it felt a bit warmer. Around 1.30pm we walked into Henley to have a meal out, not something we have done very much in the last two years! For years I have collected Tesco Club Card points which we used, initially, to pay for our Eurotunnel crossings. Since Brexit we have not been abroad so have accumulated more points than we can usefully use!!! Before COVID I swapped some of my vouchers for a Zizzi voucher but the pandemic rather put an end to their use. Full credit to Tesco as they extended the expiry date more than once. Today we actually got the opportunity to eventually use them. Before we left home, I had noticed there was a Zizzi in Henley so took the vouchers with us. We still had to contribute to the cost and probably enough to pay for a meal next door at the Wetherspoons, but preferred the Italian menu. Being quite full the prospect of the walk back to the site did not appeal so we hopped on the bus that took us most of the way back to the site!!!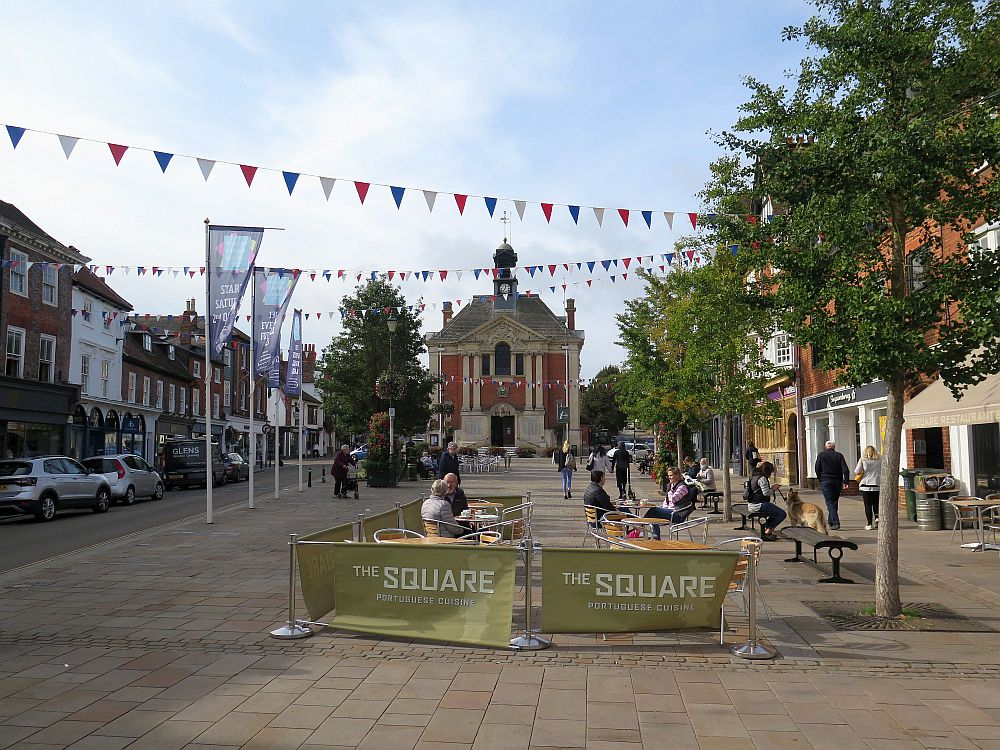 Thursday 14th October. Couldn't make up our minds what to do today so decided to have a lazy day. Early on it was a bit difficult to judge the weather which actually turned out not to be too bad. At least we got a chance to sit out in the sun.
At times this week the site has seemed not very full but we have had more arrivals today. Another odd thing I noticed was that earlier in our stay there did not seem to be many dogs which is unusual for a Club site but today that seems to have changed!
Friday 15th October. Fairly dull start to the day which also meant it had been a bit warmer overnight. We managed to get away not long after 9.30am and the journey, back via the way we came , was uneventful. We didn't bother to fill up with fuel when we got near to home as we had only done about 130 miles. Waiting at home is a Fiamma Back Box to be fixed to the van and once done Margaret will insist that we test its integrity. We will probably fill up after a test trip.