Hertford C&CC Site, Mangrove Road, Hertford, Tel 01992586696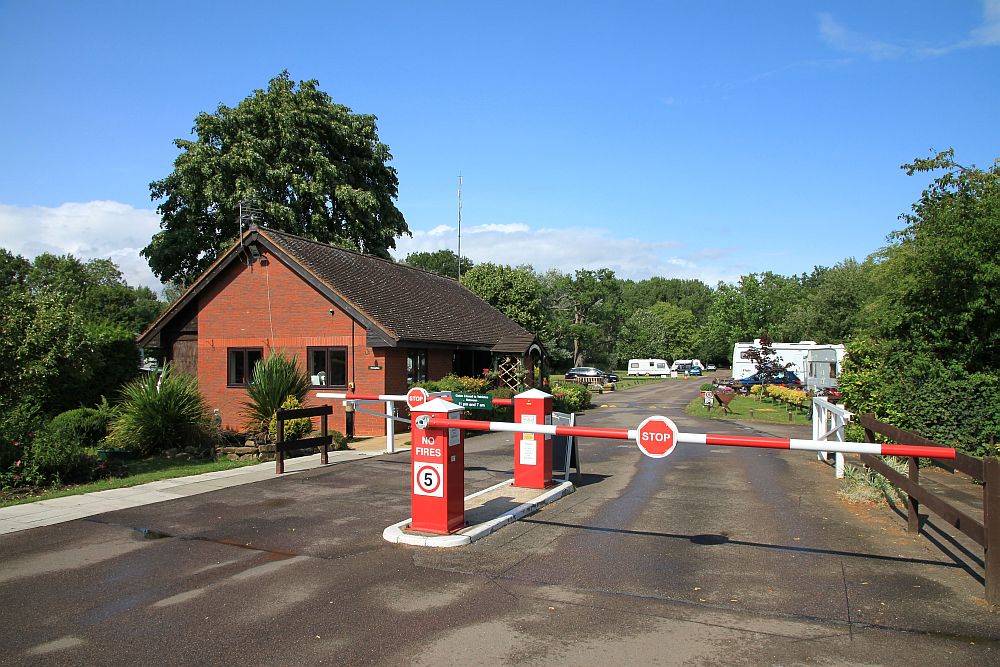 To Find Site:- Leave A10 onto A414 towards Herford. After first roundabout watch for brown camping sign and take slip road to left and bear left into Mangrove road. Continue past school on left and follow road for about half a mile to the site. The entire road on the approach to the site is quite narrow so care is required. On Sundays perhaps best not to arrive too close the midday departure to avoid meeting units leaving site.
NB. Hertford is one of several sites the C&CC have decided to close for the remains of 2021 but is due to reopen next year.
The Hertford C&CC site is quite large with around 250 pitches with quite a rustic feel about it. The site is open all year and non-members are accepted. There is a mix of hardstanding and mainly grass pitches. The hardstanding pitches are narrow so only room for unit and awning but not car. The pitches are set out in two main sections each with its own toilet block. Pitches are allocated on arrival although the site managers will take into account of any personal requirements if that is possible although that does not quite explain why we were directed to the back of the site when there was plenty of room elsewhere. There are a number of seasonal units on the site which to my mind don't add to the ambiance! The toilet blocks are of a good standard although I suspect they could struggle if the site was full. The only chemical disposal points are at the toilet blocks so a long walk from many of the pitches. Whilst water points are dotted around the site there really needs to be more of them as again it is a long water to collect and dispose of grey water waste from many of the pitches. I am still not a fan of having the drinking water taps and the waste rinsing taps in the same place. The motorhome service point is tucked away behind reception but it does have a full width drain point. Electric points are rated at 16amps and use CEE17 blue connectors, given the way the site is laid out a long lead might be required in some parts. The only rubbish disposal is at the entrance to the site. There is site wide Wi-Fi and time can be purchased online or at reception. I found it quite reasonable speed wise during our stay. For children there is an adventure style playground and quite a large kick about area. Reception sells a few essentials.
Storage is also available on this site.
The town of Hertford is either a short car ride away or a 20/25 minute walk. There is no bus service within the immediate vicinity of the site but there are both a bus and train station in the town. Obviously the site could be used as a base for many excursions within the local area as well as by train to London, although perhaps not so good for those without or preferring not to use their own transport. For food shopping the nearest is an M&S Simply food at the end of the footpath into the town however, there is also a Waitrose, Sainsbury and Tesco within walking distance of the town centre